One of the best upgrades you can do to a Glock is adding one of the best Glock triggers. The standard Glock trigger is lacking and has a pull of about 5.5 lbs.
Thank you for reading this post, don't forget to follow and signup for notifications!
Adding one of the best Glock triggers will increase your accuracy and be able to shoot quicker.
Because of the popularity of Glocks, there are a lot of options, and this post will recommend the best Glock triggers you can buy.
This post will review the best Glock triggers for every generation and model.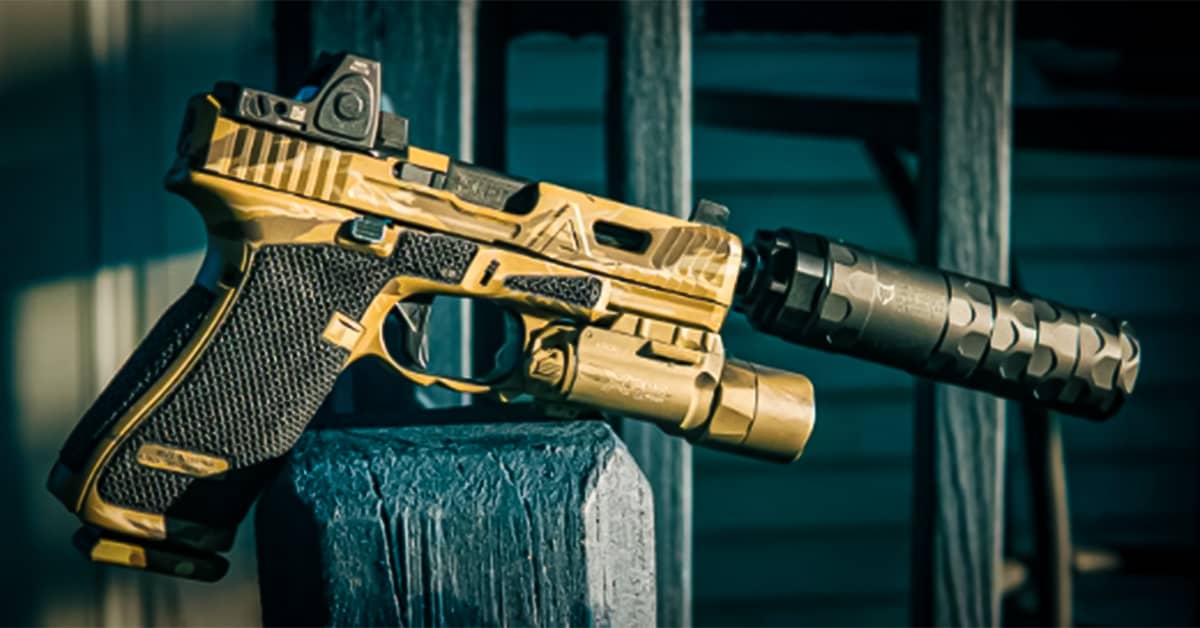 Best Budget Glock Trigger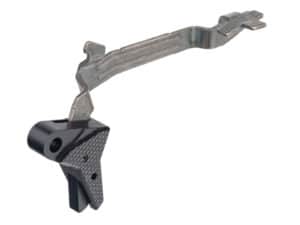 The TRYBE Defense aftermarket Glock trigger is the best budget option. It is a huge improvement over the stock Glock trigger but isn't overpriced.
Overall Best Glock Trigger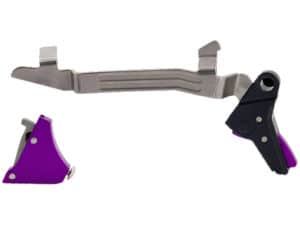 The Timney Trigger is the best overall option to upgrade the stock Glock trigger. It is lighter, smoother, shorter reset, reliable, and will allow you to shoot more accurately.
Why Get A Different Glock Trigger?
If you want to improve your Glock, one of the easiest things to do is add a good aftermarket trigger. A newly upgraded trigger will increase your accuracy because of a lighter and smoother pull.
With a heavy and gritty trigger, you will miss shots. Also, with a long and heavy reset, you will not be able to shoot fast while being accurate.
Out of all the customization you can do to your Glocks, adding the best Glock triggers is where you should start. Overall, this will make the most difference in your shooting experience.
If you want to see my full list of the Best Glock Upgrades & Accessories, you can check it out.
Increased Accuracy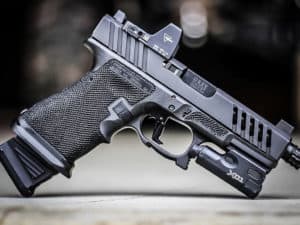 A shorter trigger pull will allow you to shoot more accurately. With a long trigger pull, you are waiting for the gun to fire as you pull. Often you will move off target with a long trigger pull and also try to anticipate the trigger's break.
With a very short and light trigger pull, you will maintain a steady aim and not drift off target. You almost want to be surprised when you start squeezing the trigger of the breaking point.
I understand why factory triggers are heavier, it is because of safety reasons. Your finger shouldn't even be on the trigger until you are aiming and ready to fire.
So the biggest benefit of a premium aftermarket trigger is accuracy. You still need to practice and have basic shooting fundamentals.
Shooting Faster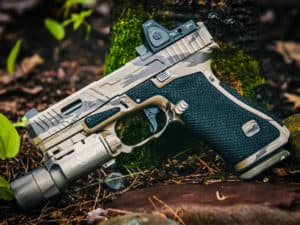 Shooting faster is another reason you want to upgrade the standard Glock trigger. With a shorter trigger reset, you can shoot more follow-up shots faster. Combine this with a shorter pull, and you can shoot quickly while staying on target.
Not everyone will want to shoot fast, but in a real-world scenario where you must defend yourself, putting as many rounds on target as quickly as possible is ideal to stop the threat.
Adding one of these best Glock triggers will give you both advantages. You will shoot quicker and be more accurate.
Best Glock Triggers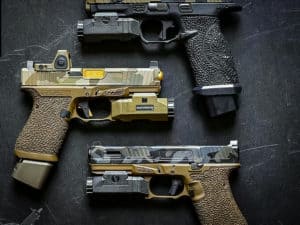 One concern many people have with even thinking about touching a trigger on a firearm, especially Glocks, is that the gun will still function properly and safely.
Because of the trigger design on Glocks, there is no external thumb safety but a split trigger safety. People do not want to make guns unsafe by adding a new trigger mechanism.
The good thing is that all the aftermarket triggers mentioned below are still safe and function properly. Your gun will operate even better.
Here are the best Glock triggers…
1. Agency Arms Syndicate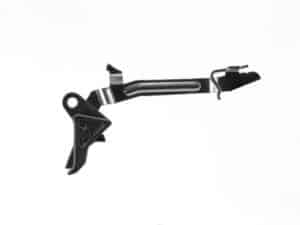 One of the best Glock triggers for someone on a budget is the Agency Arms Syndicate Glock Trigger.
These are made from a polymer like the stock Glock trigger, which is strong and light. They are a wide flat-face trigger design that will apply even amounts of pressure across the surface area.
The Agency Arms Syndicate is a drop-in replacement trigger, so no special tools are needed, and it can be installed at home fairly easily.
This trigger includes the trigger shoe and trigger bar. The trigger pull has minimal takeup and a clean break.
Take note, this trigger does need some breaking in, so it will take time to get it where you want it. That is the biggest downside.
When most people buy an aftermarket trigger, they want it ready to go immediately. They only designed this trigger for Gen 3 & Gen 4 model Glocks.
Click Here to check the current prices of the Agency Arms Syndicate Glock Trigger
2. TRYBE Defense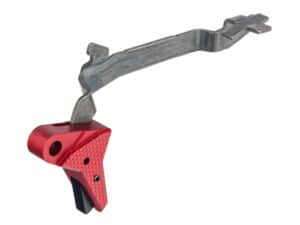 One of my favorite triggers and another one of the best Glock triggers is the TRYBE Defense Glock Trigger.
This single stage trigger is made for the Gen 5 Glock models. It is made from polymer and is lightweight and durable. They make this trigger for the Gen 3 & Gen 4 models but they are hard to find in stock.
These have a smooth and crisp pull weight set to 4.5 lbs, slightly lighter than the factory Glock trigger. The TRYBE Defense triggers are offered in 4 colors for greater customization and aesthetics.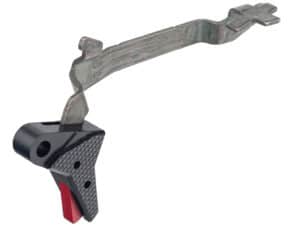 It has just the right amount of resistance for a clean pull. It is compatible with the G17, G19, G19x, G26, G34, and G45.
This trigger is reliable and can be purchased at a reasonable price, making it one of the best options available.
Click Here to check the current prices of the TRYBE Defense Glock Trigger
3. Tyrant Designs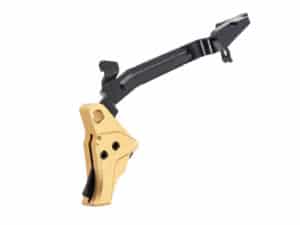 Known for being the fastest resetting trigger on the market, the Tyrant Designs Glock Trigger is another one of the best Glock triggers out there.
This trigger is armed with a 30 percent power spring to ensure lightning-fast resets after every shot. When this power spring is used, the trigger and the sear become re-engaged, and you can fire the pistol again with full force.
Overall, the Tyrant Designs boasts a stronger reset over other standard triggers, making it one of the best-performing Glock triggers you can find.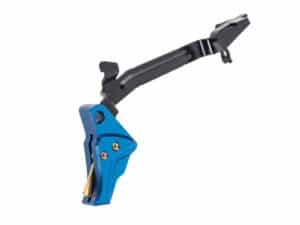 They only make this for Gen 3 and Gen 4 models currently, and you can get this in a regular curved trigger or a flat faced trigger.
The break is crisp, and a short reset makes this a great trigger at a good price point. The difference between any stock Glock triggers and this one is night and day. The factory polymer trigger does not have a crisp trigger break, and the Tyrant Designs is overall much better.
Click Here to check the current prices of the Tyrant Designs Glock Trigger
4. Apex Tactical Specialties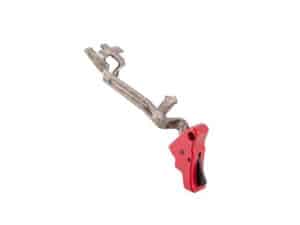 One of the best aftermarket Glock triggers and a go-to of mine is the Apex Tactical Glock Trigger.
This direct drop-in replacement of the factory polymer trigger reduces overall trigger travel while providing smooth uptake and reset with a crisp trigger break.
The Apex Tactical Glock Trigger is made for every generation and model of Glock and offers a couple of different colors.
The trigger has a large face, making a nice even trigger squeeze. Very easy to install and of good quality. Fitment is flawless of the trigger shoe. You can't beat the upgrade for the price.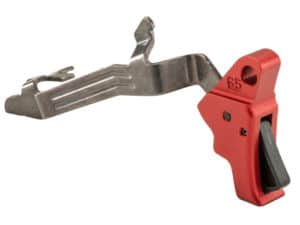 It looks and feels great with a 3 lb trigger pull weight that is very consistent and reliable. I recommend a trigger that will not give you the agitation like the stock trigger does with the trigger safety that sticks out after it is compressed. This safety goes flush and uses the stock gen 3 trigger bar. So very little fear of accidental failure of the internal safety system.
Compared to the OEM trigger, this thing is great. Take-up is smooth and predictable. This trigger is a relatively inexpensive upgrade for your Glock and is worth the money.
You should polish the trigger bar if you want to feel the difference compared to the stock trigger. All Glock pistols will perform better with a polished trigger bar.
You should pick one up if you have never tried an Apex trigger. This is one of the best Glock trigger upgrades.
Click Here to check the current prices of the Apex Tactical Specialties Glock Trigger
5. Overwatch Precision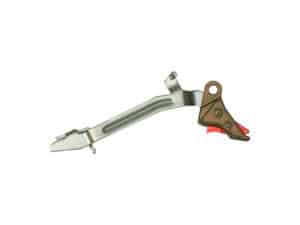 The Overwatch Precision TAC Glock Trigger is a flat faced, direct drop-in replacement for your OEM trigger.
Each trigger shoe and trigger safety tab is machined in the USA out of 7075-T6 aluminum alloy and affixed to an NP3 plated or polished trigger bar by 316 stainless steel coil spring pins.
The trigger shoe and safety tab are Type III hard coat anodized to MIL-A-8625 standard. The small indexing hook ensures consistent trigger finger placement, and the broad, flat face of the trigger allows a uniquely self-correcting, straight rearward press.
Pre-travel has been reduced by as much as 20% (depending on frame tolerances) without compromising firearm safety features resulting in a clean, crisp break and reduced over-travel, making this an ideal option for smaller statured shooters.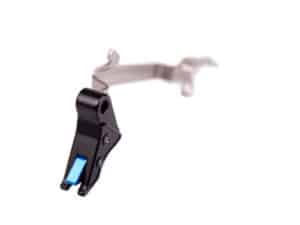 CTI's NP3 plating provides virtually impermeable corrosion resistance and smooth, grit-free operation.
The addition of this trigger alone does not change the pull weight. Still, when combined with the Overwatch Precision competition trigger spring and Overwatch Precision minus connector, you can expect a reduction in trigger pull weight of one-half to one full pound.
This will work for every model but not the Gen 5 models.
Click Here to check the current prices of the Overwatch Precision TAC Glock Trigger
6. Timney Triggers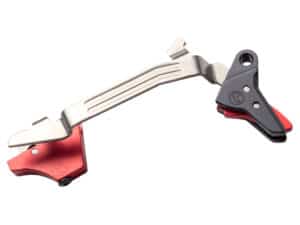 One of the absolute best Glock triggers is the Timney Glock Trigger. This company makes some of the best aftermarket triggers in the firearms community.
This changes how the Glock stock trigger feels completely. Quality is excellent, the trigger shoe is very nicely machined.
Outstanding and consistent break weight of 3 lbs. Striker spring doesn't affect break weight like other high-end trigger assemblies.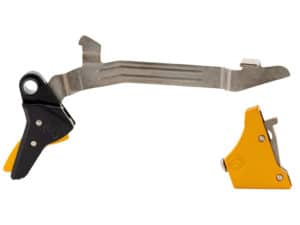 It has a very short take up to a soft wall, followed by a crisp break and a crisp short reset.
Timney makes these for every model and generation of Glock pistol. If you truly want a great trigger, then the Timney is an excellent choice and well worth the money.
Click Here to check the current prices of the Timney Glock Trigger
7. ZEV Technologies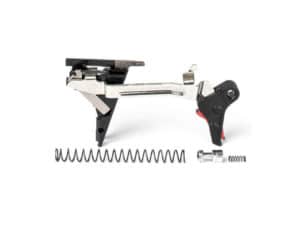 If you want a gull trigger kit, then the ZEV Technologies Trigger Kit is the way to go. This full trigger kit comes with a replacement flat face trigger, trigger bar, connector, firing pin safety, firing pin safety spring, striker spring, and a spring ejector housing.
This is a complete package that will greatly improve the standard Glock trigger. This kit is only made for early generations and will not work in Gen 5 Glocks.
The installation is a little more involved than other aftermarket triggers on my list, and you will need some special tools.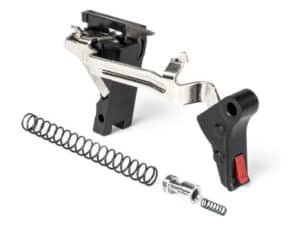 All of the parts in this kit are already polished and precisely fit together. It will greatly smooth up the trigger pull and reduce the pull weight giving you a smooth and crisp break.
The trigger resets sooner and has a noticeably smoother trigger pull. This one is better than most of the complete trigger kits.
It is more expensive, but that is what you get with all ZEV parts. You are paying a little extra for the name.
Click Here to check the current prices of the ZEV Technologies Trigger Kit
8. Glock Triggers Skimmer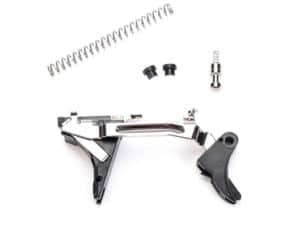 Another full trigger kit that is a great trigger upgrade is the Skimmer Trigger Kit.
This trigger kit is manufactured using 100% OEM parts. All metal components are individually hand polished to a mirror finish for consistent, reliable action.
The mated surfaces glide freely, adding a smooth short transition into a predictable wall. The trigger break is crisp and clean, reducing muzzle movement.
This is made possible by pre-travel reduction modification, which is non-adjustable. Multiple inspection points are part of the production process.
This system is completely drop-in with no fitting required. Trigger safety catches every time, and reset is predictable. A major pro is that the trigger bar pushes on the plunger properly every time and doesn't give me concerns about not resetting or hanging up when I need it.
This trigger upgrades the standard OEM parts while keeping the same feel and weight of the stock Glock trigger. The Skimmer Trigger Kit is made for most Glock models and generations.
Click Here to check the current prices of the Skimmer Trigger Kit
9. CMC Triggers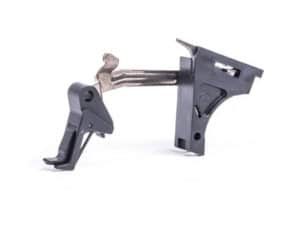 Another good option for a complete aftermarket trigger kit is the CMC Glock Trigger Kit.
The CMC Triggers Glock Replacement Trigger is a complete unit that features OEM internals, including a Glock OEM trigger bar, springs, and housing.
However, the design features a flat faced trigger shoe with a hooked bottom that reduces pull weight by two pounds over the OEM design. The trigger is constructed from 8620 alloy steel and S7 tool steel and features a positive trigger reset.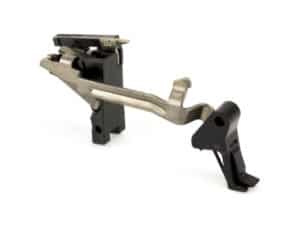 Very smooth operation and easy installation. Some people do not like the feel of this trigger and think it is worse than the factory trigger. It is the heaviest pull weight on this list and not for everyone.
I would consider this a good choice for a carry gun but definitely not for competition use.
Click Here to check the current prices of the CMC Glock Trigger Kit
Final Considerations
Adding a new trigger might take a little time to get used to, so I recommend shooting a few hundred rounds after any Glock trigger upgrades. Also, remember what you intend the pistol will primarily be used for.
Are you going for strictly a concealed carry setup or a competition setup?
You could always have the standard trigger polished by a gunsmith or do it yourself with some rubbing compound and a Dremel tool. Please be very careful if you polish your trigger parts yourself.
A new Glock trigger isn't always better than the stock trigger for some people. The stock trigger isn't great, but many people get used to them. I recommend a new Glock trigger because I cant stand the stock trigger.
Keep in mind how different a flat faced trigger will feel if you have never used one before. Some people swear by them, but others do not like them. I am someone who prefers a regular curved trigger myself.
A Glock pistol doesn't need a trigger upgrade, and you can be very proficient with them out of the box, but the best Glock trigger will make shooting more enjoyable and increase your accuracy.
Best Glock Trigger FAQ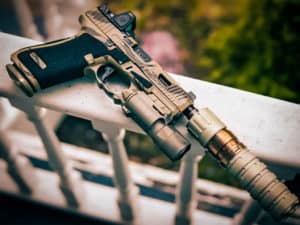 What Glock model has the best trigger?
All the Glocks come with the same trigger, no matter the model. They all have about a 5.5 lb pull weight.
Are aftermarket Glock triggers worth it?
Yes, they are. Adding a better trigger will give you better accuracy and allow you to shoot faster while maintaining accuracy.
Are Gen 5 Glock triggers any better?
The newer Gen 5 Glocks seem t have a slightly better trigger from the factory but should still be upgraded.
Are Apex triggers worth it in Glocks?
They are a huge improvement, and the change is noticeable. One of the best upgrades you could do to your Glock is adding an Apex trigger.
What's the average trigger pull weight?
On modern striker-fired pistols, the average trigger pull weight is between 5 to 8lbs.
Complete List of Items Mentioned
(Click the links for the most up-to-date prices)
Agency Arms Syndicate Glock Trigger
TRYBE Defense Glock Trigger
Tyrant Designs Glock Trigger
Apex Tactical Specialties Glock Trigger
Overwatch Precision TAC Glock Trigger
Timney Glock Trigger
ZEV Technologies Trigger Kit
Skimmer Trigger Kit
CMC Glock Trigger Kit
Have you ever used an aftermarket trigger? Which one did you decide to go with, and have you made any other upgrades to your Glocks?
Let me know in the comments below.
Further reading on Firstworldcrusader.com: Are you interested in learning more about guns and gear?
This list of the Best Red Dot Sights can help you choose the best optic for your rifle.
In addition, here are the Best AR-15 Upgrades & Accessories that can help you get more out of your primary battle rifle.