If you own a Q Sugar Weasel and are ready to dress it up, you need the best Q Sugar Weasel upgrades and accessories.
Thank you for reading this post, don't forget to follow and signup for notifications!
Q makes their firearms great from the factory and is less expensive than the Honey Badger. I think this gun is better after adding some upgraded parts.
This post will explain the best Q Sugar Weasel upgrades and accessories.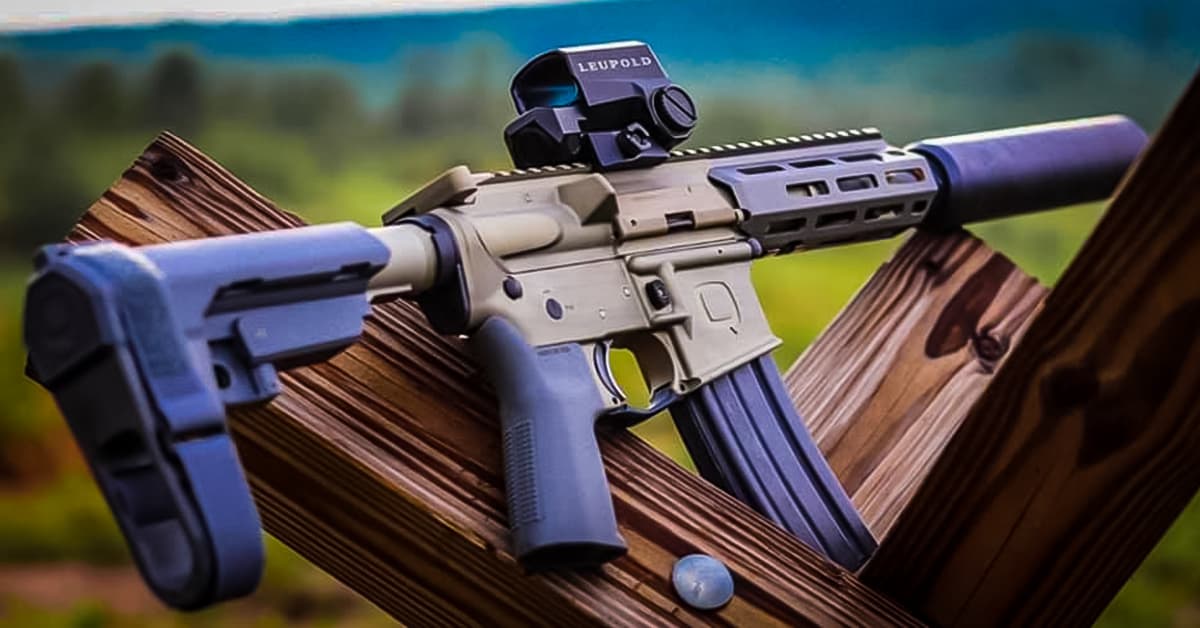 What Is A Q Sugar Weasel?
It's a sugar weasel, the Boney Badger's annoying little brother. Although not as packed full of features as the honey badger, dismantling is much more familiar, and parts are easier to come by.
It is also about $1,000 less expensive.
The Sugar Weasel is a 7-inch direct impingement pistol chambered in 300 BLK. It's built on a clear anodized M16 spec receiver set with no forward assist (not needed) and features the same fast-twist barrel Cherry Bomb muzzle brake adjustable gas block and 6-inch M-LOK handguard as the Q Honey Badger.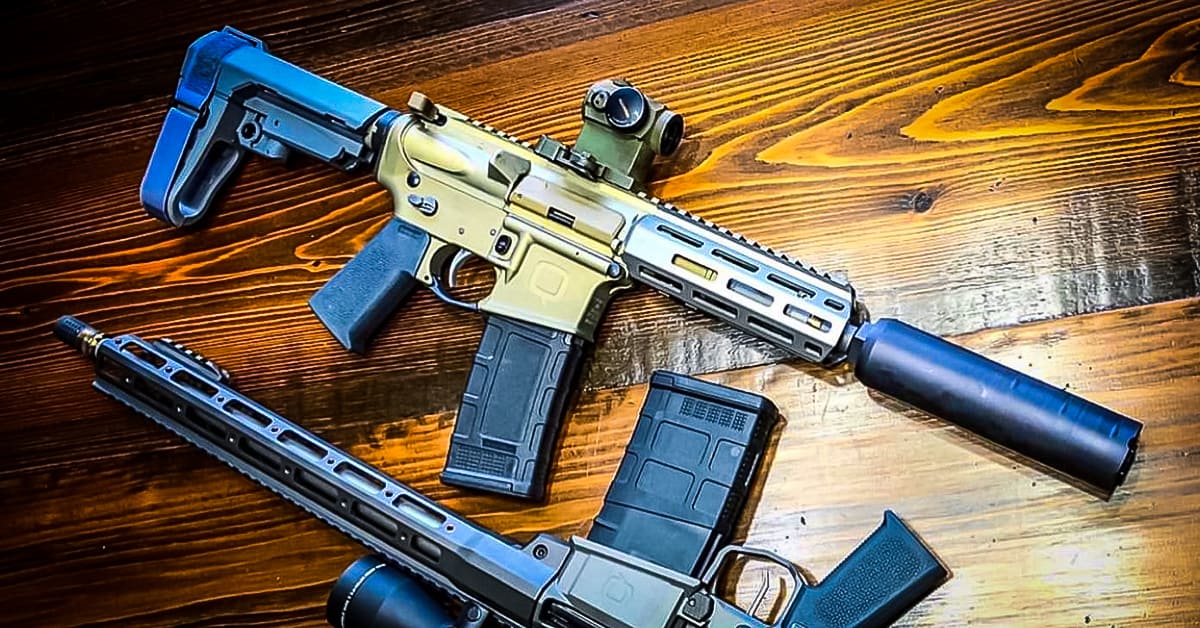 It uses a 6-position buffer tube that houses a carbine length action spring and buffer and is topped off with a custom grey SB Tactical SBA3 Pistol Stabilizing Brace.
This is the ultimate truck gun and is designed to be run suppressed.
Where To Purchase A Q Sugar Weasel?
The Q Sugar Weasel guns are in high demand, and Q isn't a giant firearms manufacturer, so you usually have to wait to find them in stock.
Many online dealers will have you on a waiting list, and you will be notified when more become available.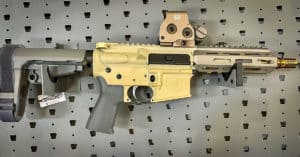 Good luck finding one at your local gun store or FFL dealer because I have never seen any Q products on store shelves.
Your best bet to pick one up is to search online and have one delivered to your local FFL.
Click Here to check the current prices and availability of the Q Sugar Weasel
Q SUGAR WEASEL CURRENT MODELS IN PRODUCTION
Click Here to view them on Q's website
Click Here to download the owner's manual
Best Q Sugar Weasel Upgrades & Accessories
Let's face it. These things are pretty awesome, straight from the factory. They have made some changes with the trigger on how they ship.
The main point of this gun design is to shoot with a suppressor. This will unlock the full potential of the Sugar Weasel. Now, you could always move if you live in a state where they don't allow suppressors. (just kidding but seriously, you should consider it)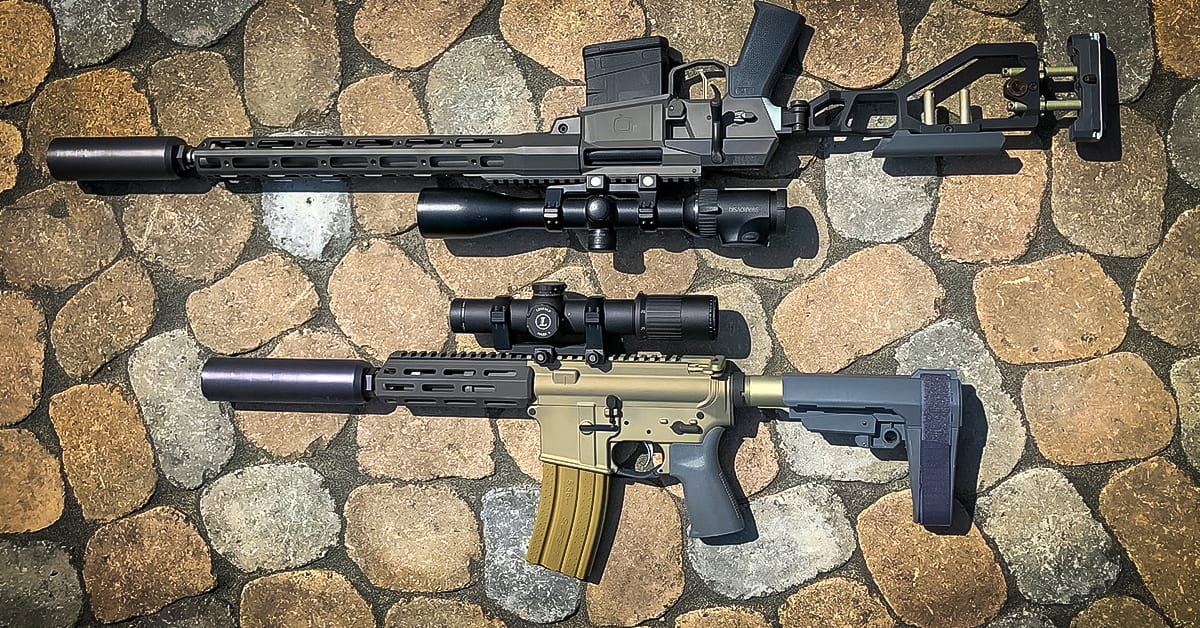 If this isn't an option, you can add a muzzle device to make shooting this gun more enjoyable without a suppressor.
You should add a good-quality optic and a weapon light alongside a suppressor. No matter what your intended purpose of this gun or what role you want it to fulfill, these upgrades and accessories I recommend work great on the Sugar Weasel.
Best Q Sugar Weasel Optic
We currently live in the golden era of firearms technology, and there are many good options for optics.
Because of how short the barrel is on this platform and the primary purpose this firearm was designed for, I recommend a holographic weapon sight with an optional magnifier.
This is a good all-around setup and will give you more flexibility with the firearm.
EOTech EXPS3 With G33 Magnifier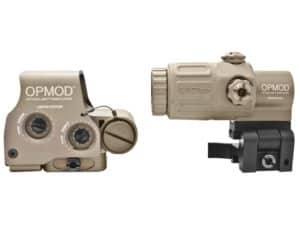 The EOTech EXPS3 w/G33 Magnifier has been around for a while and is still one of the best options when adding a red dot. Technically it is not a red dot and a holographic weapon sight.
This major difference is why I recommend this style of optic to anyone who has astigmatism. It will still appear very clear and crisp if you have one.
A circle with a dot in the center is what the reticle looks like. This sight style is lightning fast for target acquisition and transitioning from multiple targets.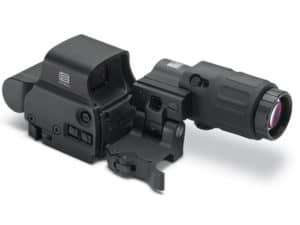 The EOTech EXPS3's have been battle-tested and used by militaries and police departments all across the globe.
The battery life isn't as good as the Trijicon or the Aimpoint, but the huge field of view and the reliability outweighs this.
You do not have to buy a separate mount because the EOTech EXPS3 has the mounting system integrated.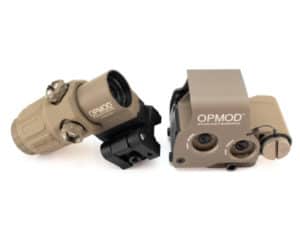 They are heavier than most similar sights, but because the Sugar Weasel is light to start, the EOTech EXPS3 is a perfect upgrade.
Pairing this optic with the G33 Magnifier will give you the best of both worlds. It will increase the magnification by 3.25x and allow you to shoot further distances.
I hight recommend this optic setup, especially for the Sugar Weasel.
Click here to check the current prices of the EOTech EXPS3 w/G33 Magnifier
Best Q Sugar Weasel Suppressor
The gun shines when it is run suppressed. This isn't an option for everyone I know, but if you can legally purchase a suppressor, I highly recommend it for this gun.
It can be a little confusing if you have never gone through the process of getting a tax stamp and waiting for an approval letter from the ATF.
When you order a suppressor, you first must know your local laws and if it is even allowed in your State. Then you must have it sent to an FFL dealer with a SOT. Then you must do paperwork, pay $200, and wait about six months for your approval letter to be sent.
After you get the letter, there are special rules and laws you must follow with the handling and possession of the suppressor.
Ultimately it is your responsibility to know and follow all of the laws.
SureFire SOCOM 7.62 RC2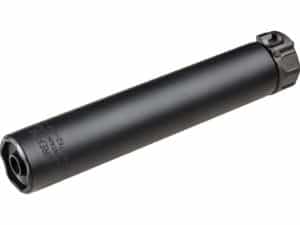 One of the best suppressors for the Sugar Weasel is the SureFire SOCOM 7.62 RC2. It works great with the 300 Blackout cartridge and will reduce the noise to a hearing safe of under 140 decibels.
This suppressor is the second generation of the USSOCOM-selected SOCOM762-RC suppressor.
It weighs 19.5 ounces and is 8.4″ long and 1.5″ in diameter. The front plate design and proprietary gas flow improvements eliminate the first-round flash.
This is also a quick detach, making installing and removing the suppressor quick and easy.
Click Here to check the current prices of the SureFire SOCOM 7.62 RC2
Best Q Sugar Weasel Stock Upgrade
This gun packs a lot of punch in a small and compact package. Adding a folding stock adapter decreases the overall size and profile even more.
This upgrade is cool and will make the gun fit in smaller compartments or bags, a great setup for a dedicated truck gun.
Law Tactical Folding Stock Adapter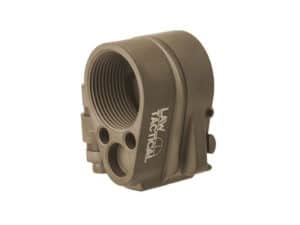 The Law Tactical Folding Stock Adapter is a must-have addition for anyone who wishes to transport their firearm inconspicuously or confined within a tight space. It pairs up nicely with the Sugar Weasel.
You'll also find that the Law Tactical Steel AR Folding Stock Adapter's low hinge reduces interference when charging your weapon.
To prevent additional damage to the adapter while in the folded position, the Tactical Gen 3-M Folding Stock Adapter is equipped with replaceable O-Rings and is crafted out of 4140 steel, making it incredibly durable.
Click Here to check the current prices of the Law Tactical Folding Stock Adapter
Best Q Sugar Weasel Weapon Light
No weapon setup is complete without a good weapon light. Identifying your target properly is crucial, and having a good rail-mounted light will accomplish this.
There are many great options, but because of how compact and the limited rail space, I recommend an all-in-one package with a weapon light for the Sugar Weasel.
Cloud Defensive OWL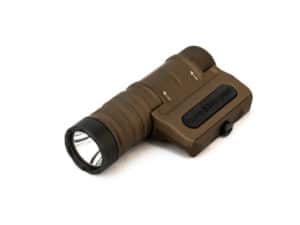 The best all-in-one weapon light is the Cloud Defensive OWL. It is a bright and reliable weapon light ideal for limited rail space.
The pressure pad is built in alongside the mount. It has a bright output of 1250 lumens and will last for about 85 to 110 minutes. The brightness fades with the battery life, but that is the same for any flashlight.
The best thing about this light is how simple it is. You slap it on your rail, ready to go with one button.
Click Here to check the current prices of the Cloud Defensive OWL
Best Q Sugar Weasel Ammo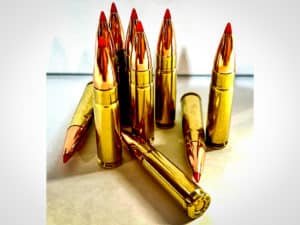 You will always need more ammo, and with prices at a high, the best idea is to better it whenever you see a sale or buy in bulk.
300 Blackout is pretty common, so it's normally easy to find.
Be sure to click the links and check the current prices and availability of the ammo because prices always change.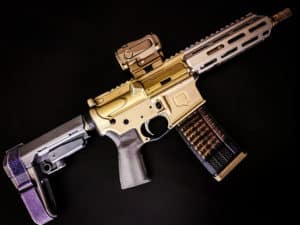 Complete List of Items Mentioned
(Click the links for the most up-to-date prices)
Q Sugar Weasel
EOTech EXPS3 w/G33 Magnifier
SureFire SOCOM 7.62 RC2
Law Tactical Folding Stock Adapter
Cloud Defensive OWL
300 Blackout Ammo
Have you added any accessories to the Q Sugar Weasel?
Did you initially start with an optic?
Let me know in the comments below.
Further reading on Firstworldcrusader.com: Are you interested in learning more about guns and gear?
This list of the Best Red Dot Sights can help you choose the best optic for your rifle.
In addition, here are the Best AR-15 Upgrades & Accessories that can help you get more out of your primary battle rifle.