A NEW PAIR OF PRIMARY ARMS OPTICS. CAN THEY SURVIVE THE PROVING GROUNDS?
Primary Arms Optics has spent the last several years making an excellent name for themselves for offering budget-friendly optics with solid feature suites and cleverly designed, easy-to-use reticles. 
Thank you for reading this post, don't forget to follow and signup for notifications!
But, in a sense, Primary Arms scopes have lived in the shadow of their more expensive counterparts. They're viewed by some as "a great option, if you can't afford one from [insert preferred brand here]."
We recently had the chance to evaluate Primary Arms' newest LPVO, their PLx Compact 1-8x. In addition to the T&E performed for this article, Editor-In-Chief Iain Harrison took a second PLx 1-8x to the inaugural Proving Grounds match in South Carolina, where he placed second in his division with it. 
After giving this scope a thorough shakedown, we think Primary Arms has put its competition on notice and pushed back hard against any perception of being an "economical alternative" brand.
WHAT'S IN A NAME?
This isn't Primary Arms' first 1-8x scope, nor is it their first 1-8x FFP. But it's specifically billed as a compact rifle scope — rightfully so. At 9.28 inches long and a supermodel-skinny 16.95 ounces, it's one of the shortest and lightest first focal plane 1-8x options we've encountered. 
While current trends seem to be pushing magnification higher and higher, with 1-10x and even 1-12x options making their way to market, more magnification means more glass, which means more weight. 
For general-purpose use — whether recreational plinking, action carbine matches, small-game getting, or just-in-case defensive use — an 8x top end will still give you more than enough reach to accomplish the task at reasonably expected distances, with a substantial weight and cost savings over those higher-magnification options. 
Particularly when looking at fully outfitted carbines that may include lights, lasers, and suppressors, having a lighter, shorter optic that still allows you to punch out at distance can be a boon to keeping your carbine as nimble as possible. 
But there's more to this scope than just its diminutive size. The PLx Compact 1-8x is considerately appointed all around. The magnification adjustment ring features a low-profile throw lever that can be removed by two small screws. 
The illumination dial features "off" stops in between each setting, so you're always one click away from your desired brightness. Additionally, this model features Primary Arms' AutoLive system — a motion-activated sensor that'll turn your illumination off after 3 minutes of rest, then back on again when motion is detected.
Optical quality is, in a word, impressive. We found both image clarity and color fidelity to be fantastic, with no discernible hue or tint to the glass. Edge distortion, while unavoidable, is minimal. 
While the image does distort dimensionally, it doesn't come with the accompanying fuzz or blurriness sometimes seen with lower-quality lenses. Eye relief ranges between 3.2 and 3.7 inches depending on magnification. We found that quickly picking up a sight picture, even at the higher end of magnification, was easier with the PLx compact than many other more expensive LPVOs. 
We were also especially impressed with the capped adjustment turrets. The click rings are made of hardened steel, as opposed to brass, and provide very definitive tactile and audible clicks with no wiggle between clicks or sliding one click too far. 
The adjustment value is 0.1 mil per click. On one hand, this was slightly off-putting because the ACSS reticle on our sample was set in yards. But since the reticle completely eliminates the need to dial anything ever, we figure it's really a non-issue. Speaking of reticles — there'll be three options available for the PLx compact 1-8x: ACSS Raptor M8 (yards), ACSS Raptor M8 (meters), and ACSS Griffin MIL M8. The test sample seen here came with the Raptor M8 (yards). 
BDC and quick-reference reticles can be a bit of a mixed bag, and their value is sometimes contested among shooters. Those who have a baseline skillset in precision shooting, whether from PRS or professional sniper/marksman training, tend to eschew them as not having enough flexibility, and/or not allowing precise ranging and spotting. 
For those who don't have the knowledge or experience in traditional milling and ranging techniques, pre-programed reticles like the ACSS line are an immediate force multiplier. 
What you lose in fine calculation you gain in rapid "readability." Instead of measuring a target in mils and converting in your head, you simply lay the ranging lines over the target until you find the distance line that matches up, then adjust for wind.
The Raptor M8 features both vertical and horizontal ranging lines, stadia for distance holds at every 100 yards (out to 800 yards), wind hold dots for 5-, 10-, 15-, and 20-mph crosswinds, and lateral dots at the center of the window for movers — with trailing dots for walking, jogging, and running speeds. 
While you definitely sacrifice the ability for precise calculation at any specific distance, the Raptor M8 gives shooters of all experience levels the ability to figure target range with no mental math and make quick hits even against crosswind or moving targets. 
For what it is, we think the Raptor M8 is a highly refined version of the BDC reticle concept, providing all the information you need without being either cluttered or oversimplified. At lower-end magnification, the illuminated center chevron and horseshoe behave essentially like a red dot in the center of the crosshair, making fast shots close-up a breeze. The maximum illumination isn't quite as scorching as the brightest scopes out there.
TWO'S COMPANY
While the PLx compact's low-power setting is clear and easy to use fast, we took advantage of this opportunity to also test out Primary Arms' new micro red dot — the RS-10. The RS-10 uses a Docter-Noblex mounting footprint, making it viable for rifle or pistol use. In this case, we attached it to an Arisaka Defense offset dot mount to use in conjunction with the PLx 1-8x. 
The RS-10 has a 3 MOA dot, and the side-loading 2032 battery is rated for 40,000 hours on the "medium" setting. We're not sure exactly which setting "medium" is since there are 11 individual brightness levels, including two dedicated night vision settings. 
But that's not the worst problem to have. Besides, whenever the battery does run out, it can be changed without having to take the optic off its mount. 
The RS-10 does everything you'd expect of it, and our only gripe is that the refresh rate is a little bit slow — so the dot seems to flicker and trail a little bit when swinging aggressively between targets or doing "ready-up" drills on the timer. 
But this is hardly a deal breaker. It's noticeable but not distracting, and we've seen plenty of other sights exhibit this issue to a much greater degree. While it appears to be optimized for slide mounting, we found it to be an excellent close-in companion to the PLx compact 1-8x. Click adjustments are 1 MOA each, in all directions, making rapid gross adjustments a cinch. 
Whether you're looking for a lightweight way to reach out and touch something, or an affordable avenue into micro dot sights, Primary Arms has you covered with a level of quality and continuous improvement that is itself improving every day. 
SPECS:
Primary Arms PLx Compact 1-8x
Battery Type: CR2032 3V Lithium Coin
Click Value: 0.1 Mil
Exit Pupil Diameter: Low: 8mm / High: 3mm
Eye Relief: Low: 3.2 in / High: 3.7 in
Field View 100: Low: 121 ft / High: 14.6 ft
First Focal Plane
Illuminated
Length: 9.28 in.
Magnification: 1X – 8X
Night Vision Compatible
Objective Diameter: 24mm
Optic Series: PLx
Reticle: ACSS Raptor M8 Yard
Reticle Color: Red
Reticle Type: BDC
Total Elevation Adjustment: 100 MOA/29.1 MIL
Total Windage Adjustment: 100 MOA/29.1 MIL
Tube Diameter30mm
Weight: 16.95 oz.
MSRP: $1,500
Primary Arms SLx RS-10
Battery Life: 40,000 Hours
Battery Type: CR2032 3V Lithium Coin
Finish: Hardcoat Anodized
Material: Aluminum – 7075
Night Vision Compatible
Reticle Color: Red
Warranty: Lifetime
Weight: 1.07 Oz
MSRP: $200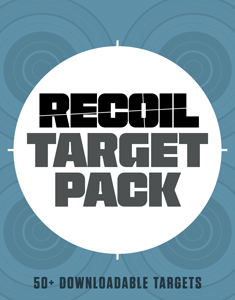 NEXT STEP: Download Your Free Target Pack from RECOIL
For years, RECOIL magazine has treated its readers to a full-size (sometimes full color!) shooting target tucked into each big issue. Now we've compiled over 50 of our most popular targets into this one digital PDF download. From handgun drills to AR-15 practice, these 50+ targets have you covered. Print off as many as you like (ammo not included).
Get your pack of 50 Print-at-Home targets when you subscribe to the RECOIL email newsletter. We'll send you weekly updates on guns, gear, industry news, and special offers from leading manufacturers – your guide to the firearms lifestyle.
You want this. Trust Us.