DALLAS — The Bloomington (Indiana) Police Department (BPD) began an embedded police social worker (PSW) program in 2019. Funded by the department budget, the program started with one PSW and has grown to three full-time PSWs. Many police agencies have seen the benefits of having PSWs on staff as it can decrease call volume and increase law enforcement effectiveness when dealing with subjects experiencing mental illness.
Thank you for reading this post, don't forget to follow and signup for notifications!
During a session at the 129th International Association of Chiefs of Police conference, BPD's Chief of Police Michael Diekhoff and senior social worker Melissa Stone, MSW, LSW, detailed those benefits through data and case studies that span the program's history. They also discussed the additional benefits of embedded PSW positions, such as improving officer wellness.
Memorable quotes on embedded police social worker programs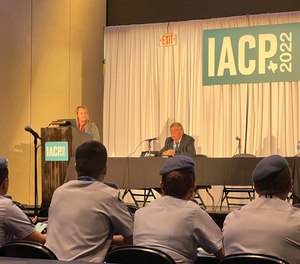 "Programs all across the country show having social workers is reducing call volume." – Melissa Stone
"People are surprised that the police department is following up on death calls, which is good for community connections." – Melissa Stone
"This is one of those changes in policing we will continue to see grow because of the national attention around police response to mental crisis calls." – Chief Michael Diekhoff
"An officer struggling with mental health can find that to be stigmatizing. Having an embedded social worker they are familiar with makes it easier for them to reach out to that person for help with their problems." – Chief Michael Diekhoff
Social worker response models
There are many different types of mental health outreach programs currently in operation in the United States. Melissa outlined the three main types of programs:
A fully embedded social worker program where social workers work within the police department, respond with LEOs to calls and are paid out of the police department budget
Co-responder models where a law enforcement agency may contract with an outside provider of mental health services to respond with the police officer and the law enforcement agency pays per billable hour.
Mobile units run outside of a law enforcement agency where social workers respond to crisis calls without law enforcement officers.
Bloomington PD decided to go with a fully embedded model for several reasons:
The agency was facing an officer shortage so wanted to try an alternative way to deal with mental health crisis calls to ultimately free up officer time
Having a social worker in-house provided the agency with access to that social worker's expertise not only to deal with community members in crisis but also to help improve officer mental well-being.
By having a social worker as a paid member of the department, the agency would not have to worry about billable hours, which would have been the case if they had contracted with an outside provider.
program success to date
During the presentation, the speakers shared data on the increase in referrals to social workers since the program started. Many of these individuals are referred to the social workers after they have some level of interaction with sworn officers, so while the social workers' caseload has increased, calls for service have decreased. Individuals may require assistance with obtaining housing or healthcare, as well as other community services.
The following chart shows the number of referrals to social workers since the program started. There was a spike in referrals during the height of COVID-19, as people struggled to cope with pandemic-related stressors.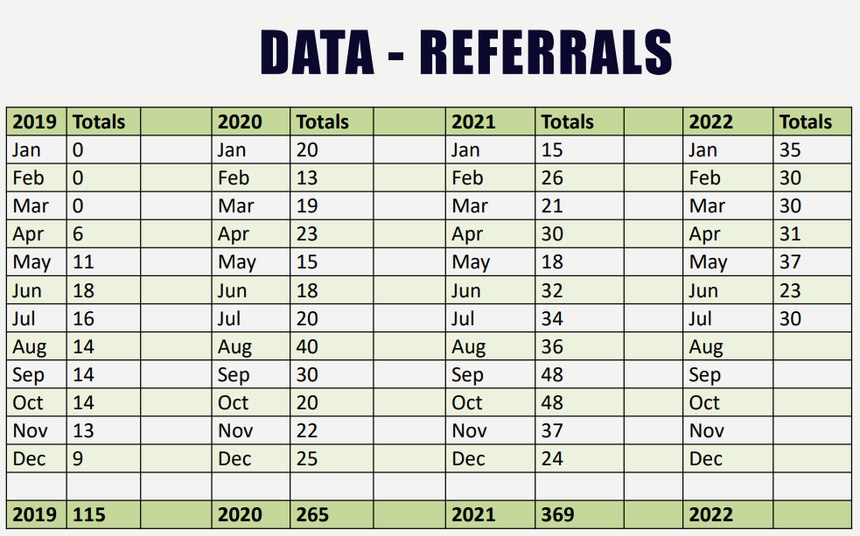 The following chart shows the number of interactions the social workers have with both new and ongoing clients, which include the interactions social workers have with various community-based services to access care and assistance for the individuals in the program.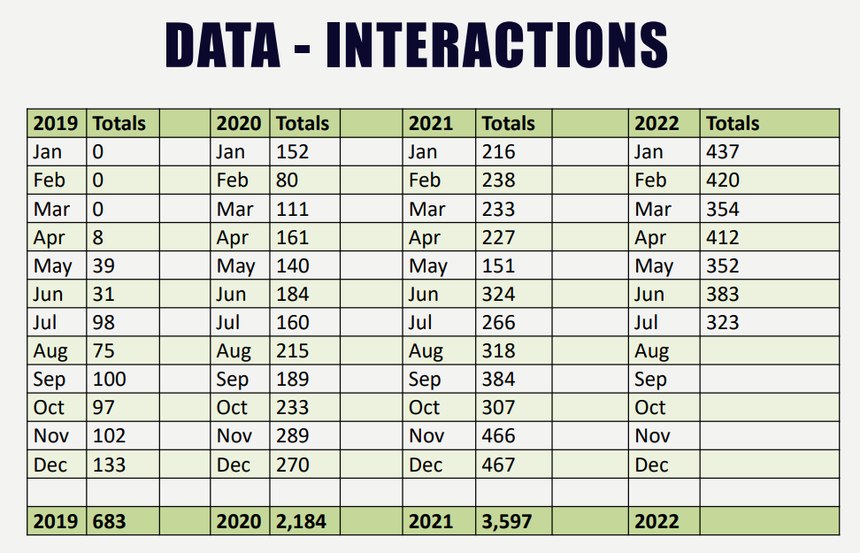 Improving officer well-being
As Chief Diekhoff made clear throughout the presentation, one of the main pluses of having social workers embedded within a law enforcement agency is the benefits they offer regarding improving officer wellness.
As the social workers have gained the trust of sworn officers when responding to calls for service in the community, those same officers have turned to the social workers for assistance with their own emotional well-being, as well as other non-work-related problems.
Melissa discussed one case where a Bloomington officer was struggling to find assistance for his elderly mother so turned to Melissa for referrals for service. Melissa and the other social workers can also provide officers with advice regarding obtaining services for their own mental wellness care.
The work doesn't stop there. The team of social workers hosts family events for the LEOs and their family members to attend where they can discuss the stresses associated with law enforcement families, as well as have some fun at holiday parties.
Upcoming conference
Last October, industry leaders from the law enforcement and social work fields came together for the first time to explore successful methods and best practices for embedded social workers in police departments. The event was so successful that it has been broadened to address the needs of all those in public safety working in conjunction with social workers.
The next conference will be held November 1-3 in Indianapolis, Indiana. For more information, visit https://ncpolicesocialwork.com/.
NEXT: Follow Police1's IACP coverage here.