NEW from Daniel Defense comes the SoundGuard Suppressors, powered by KGM!
Thank you for reading this post, don't forget to follow and signup for notifications!
Boasting multiple patent-pending design features, Daniel Defense says their three new suppressors (SG-556, SG-30, and SG-30Ti) utilize cutting-edge gas-flow dynamics that eliminate over-gassing and direct gas forward, substantially decreasing the amount of blowback.
These patent-pending gas-flow paths also help stabilize rounds as they pass through and exit the can, thus proving a "negligible" point-of-impact shift.
If that isn't enough, patented baffle stack design and proprietary coatings reduce the flash signature to almost zero.
Combined, these are big claims and would represent some major innovations in suppressor technology. But with the surge of popularity in cans, we've seen some huge changes in recent years.
Daniel Defense is backing their SoundGuard Suppressors with a 100% satisfaction guarantee.
MSRP is $750 for the SG-556 and SG-30, $1,000 for the SG-30Ti.
Daniel Defense SoundGuard Suppressors will feature the industry-standard 1.375-24UNS thread pitch, which allows for the use of multiple attachment options such as Keymo and ASR, and will debut with three direct-thread models: SG-556 (.223/5.56mm), SG-30 (.223 Rem – 300PRC), and SG-30Ti Titanium (.223 – 300PRC). Each model will include a direct-thread adapter.
If you're interested in getting your hands on the newest and best suppressors, come out to CANCON this Veterans Day Weekend! Attendees will be some of the first to be able to shoot the most advanced suppressors available. Tickets are on sale now.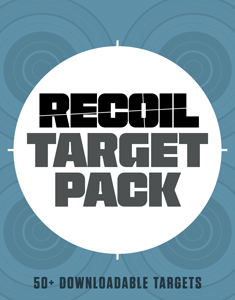 NEXT STEP: Download Your Free Target Pack from RECOIL
For years, RECOIL magazine has treated its readers to a full-size (sometimes full color!) shooting target tucked into each big issue. Now we've compiled over 50 of our most popular targets into this one digital PDF download. From handgun drills to AR-15 practice, these 50+ targets have you covered. Print off as many as you like (ammo not included).
Get your pack of 50 Print-at-Home targets when you subscribe to the RECOIL email newsletter. We'll send you weekly updates on guns, gear, industry news, and special offers from leading manufacturers – your guide to the firearms lifestyle.
You want this. Trust Us.