By Chris Palmer
The Philadelphia Inquirer
Thank you for reading this post, don't forget to follow and signup for notifications!
PHILADELPHIA — A Philadelphia judge dismissed all charges Tuesday against former city police officer Ryan Pownall, ruling that prosecutors had failed years ago to provide proper legal instructions to a grand jury as it weighed whether to charge him with murder in a 2017 on-duty shooting.
Common Pleas Court Judge Barbara A. McDermott said there were "so many things wrong" with how the District Attorney's Office instructed grand jurors before they approved a presentment recommending murder charges in the landmark case.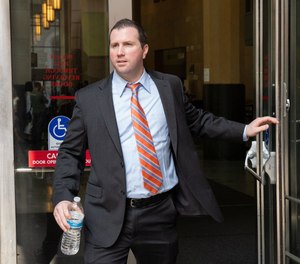 In particular, McDermott said during a pretrial hearing, prosecutors had failed to provide the panel with information on how and when officers are legally justified in firing their weapons. "How could the grand jury do [its] job without knowing that?" she asked.
She chastised prosecutors for what she viewed as a series of other errors, saying that if a defense attorney had behaved in a similar fashion before her, "I would declare them incompetent."
"You cannot rely on the presentment," she concluded, calling the document "no good." She then moved for all counts to be dismissed.
The decision was a stinging rebuke for District Attorney Larry Krasner's office, which has long sought to emphasize its commitment to prosecuting wrongdoing by police. Pownall, at the time he was charged, was the first city officer to face a potential murder trial over an on-duty shooting in two decades.
Pa. Supreme Court sides with former Philly cop facing murder charges and says DA Krasner can't 'rewrite the law'
The ruling was celebrated by Pownall and his supporters, some of whom sat in the courtroom Tuesday afternoon. His attorneys — Fortunato Perri Jr., Brian McMonagle, and Charles Gibbs — called the prosecution a "travesty of justice," and said Krasner's office had manipulated a grand jury without regard for the facts or the law.
John McNesby, president of the police officers' union, which had long backed Pownall, called the case an "absolute disgrace" and said that with Pownall no longer facing charges, the Fraternal Order of Police Lodge 5 would begin working to try to get him reinstated to the force.
Prosecutors declined to comment while leaving the courthouse. They can move to appeal McDermott's ruling or seek to refile the charges, though doing so could effectively mean restarting a prosecution that had been just weeks away from a long-delayed trial.
Jane Roh, a spokesperson for the DA's Office, said in a statement: " The District Attorney's Office strongly disagrees on many levels with the court's decision today in this matter, and will be reviewing our options in the coming days."
Gloria Jones, the mother of David Jones, whom Pownall shot during a 2017 traffic stop in North Philadelphia, called the case's collapse "horrible" and said by phone Tuesday that she and her family members strongly disagreed with McDermott's ruling.
Speaking of her children — Jones' siblings — she said: "They feel in this world, there's no justice for them."
Pownall's case began when he pulled Jones over for illegally riding a dirt bike on the street, then frisked him and felt a gun. Police said at the time that the two got into a scuffle over the weapon and that when Jones broke free and ran away, Pownall opened fire and shot Jones in the back.
Pownall was dismissed from the force not long after the shooting. And in 2018, prosecutors charged him with crimes including first-degree murder and possessing an instrument of crime, saying a grand jury had recommended those charges after a yearlong investigation (a judge later downgraded the case to third-degree murder).
The presentment and the manner in which prosecutors oversaw the process were the subjects of Tuesday's hearing.
Pownall's attorneys said in a motion to dismiss the case that prosecutors had failed to properly instruct grand jurors on the law before they voted to approve the presentment. Panelists were never instructed on the different degrees of murder, the attorneys said, and were never told about a section of the law that dictates when and how officers can legally use their weapons.
"[Pownall's] due process was being violated," said Perri, one of the attorneys, adding: "The record is clear."
The use-of-force law had already been a significant issue in Pownall's case. In 2019, as the case awaited trial, prosecutors asked McDermott to give jurors instructions about the statute that differed from the state's criminal code.
McDermott declined to do so, and prosecutors appealed to the Pennsylvania Supreme Court. The high court this year affirmed McDermott's decision, saying prosecutors had chosen the wrong venue — Pownall's trial — to try to upend the use-of-force law, which they viewed as unconstitutional.
McDermott on Tuesday referenced that protracted back-and-forth, asking prosecutors: If the law was so significant that they wanted her and the state Supreme Court to overturn it, how could they have failed to mention it to grand jurors who were weighing whether to charge Pownall?
"The Commonwealth is trying to speak out of both sides of its mouth," McDermott said.
Assistant District Attorney Vincent Corrigan said judges had subsequently upheld most charges within the presentment, making the process of its approval by the grand jury "moot."
"We've moved on," Corrigan said.
But McDermott was not convinced. The presentment was so flawed, she said, it could not be the basis on which prosecutors could be allowed to move forward.
Her ruling echoed portions of an opinion issued this summer by Justice Kevin Dougherty, who sharply criticized how Krasner's office had handled the case — including how prosecutors instructed grand jurors on the law.
The decision could also fuel criticism from a legislative committee seeking to impeach Krasner. The committee had asked Krasner for records related to Pownall's case in a subpoena delivered to Krasner's office this summer.
(c)2022 The Philadelphia Inquirer
Visit The Philadelphia Inquirer at www.inquirer.com
Distributed by Tribune Content Agency, LLC.