By Sabrina Schnur
Las Vegas Review-Journal
Thank you for reading this post, don't forget to follow and signup for notifications!
LAS VEGAS — A man accused of stabbing eight people on the Strip thought he was being ridiculed when he tried to take a photo with women dressed as showgirls, according to his arrest report.
Yoni Barrios, 32, was arrested Thursday and appeared briefly in court Friday afternoon wearing orange restraints over his hands. He faces six counts of attempted murder and two counts of murder.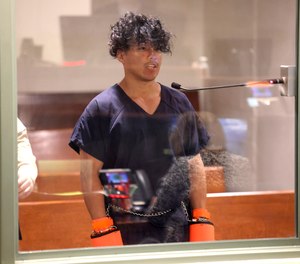 Clark County District Attorney Steve Wolfson said officials had not found a motive for the attacks.
"We're still looking into why a person would do this," he said after Friday's hearing.
He said he did not know why Barrios had been placed in hand restraints, in addition to the wrist restraints typically used on inmates.
Hearing Master Daniel Westmeyer said Barrios will be held without bail until his next hearing on Tuesday.
Barrios is accused of fatally stabbing Las Vegas residents Maris DiGiovanni, 30, and Brent Hallett, 47, on Thursday morning on the 3100 block of Las Vegas Boulevard South.
The Clark County coroner's office ruled on Friday that DiGiovanni died from a stab wound to the chest and that Hallett died from a stab wound to the back, according to county spokesman Dan Kulin.
DiGiovanni was among four women posing as showgirls, and Barrios asked to take a photo with them, according to the arrest report released Friday by the Metropolitan Police Department. Witnesses said he was wearing a chef's long-sleeved white jacket and holding a large knife. He claimed he was selling knives.
One showgirl told police she was uncomfortable with his proposal and backed away, but the man charged at her and stabbed her in the back as she ran from him.
Witnesses said Barrios then stabbed DiGiovanni before running down the Strip and stabbing several more people, according to the arrest report.
Two of the women, including one who was stabbed, ran into Wynn Las Vegas seeking help and waited for police there. A man who was stabbed told police that Barrios said "sorry man" before stabbing him in the back.
Police said Barrios threw a 12-inch knife into bushes on the sidewalk while running but was detained by Las Vegas Sands Corp. security guards behind the Palazzo.
Native of Mexico
Barrios, who had an address in Los Angeles, told police he arrived in Las Vegas a couple of days earlier to move in with a friend, but the friend told him he could not stay at the house. Barrios then packed his things and took a bus to the Strip.
"Barrios stated that on the bus ride to the strip people were making fun of him and he wasn't being treated like a human being," officers wrote in the report.
He told police he went into Wynn Las Vegas asking a janitor about jobs.
"The security guard told Barrios to jump in front of a train," detectives wrote in the arrest report.
Barrios then went outside and met the women on the pedestrian bridge.
"Barrios thought the women were laughing at him and making fun of his clothing," the arrest report states.
He told police that after attacking the women on the bridge, he started looking for groups of people on the Strip to harm so he could "let the anger out," according to the report.
Barrios said he wanted to make money to go home to Guatemala, but he was hoping officers would shoot him, according to the arrest report. The report describes Barrios as a native of Mexico.
"My information is that he's not a citizen of the United States," Wolfson told reporters on Friday.
Wolfson also said the defendant's citizenship status would not affect how the case is prosecuted. Neither Wolfson nor the arrest report indicated whether Barrios was in the country legally.
In response to a Las Vegas Review-Journal request to interview Barrios at the Clark County Detention Center, a Metro spokesperson wrote on Friday: "Due to his current housing, he will not be able to conduct any jail house interviews at this time."
An online fundraiser said the women worked for Best Showgirls in Vegas. Cheryl Lowthorp, owner of Best Showgirls, confirmed that three workers were wounded and DiGiovanni was killed.
"This fund is being created with the purpose to provide our girls with the resources they need to recover," she wrote. "This will go towards, funeral, medical, professional help, and other financial recovery efforts."
Women dressed as showgirls could be seen posing for photos in front of The Mirage on Friday afternoon.
'Beautiful spirit and soul'
Gage DiGiovanni identified his younger sister as Maris Jordan, a 2014 Washington State University graduate who loved to travel the world.
"Maris and her husband Cole made their way through dozens of countries," Gage DiGiovanni wrote in a statement to the Review-Journal. "Their adventures led them all over Europe, Asia, while eventually calling Hong Kong home."
The couple moved to Las Vegas because they enjoyed concerts and festivals.
"Maris always saw the best in people, always gave them a chance, and always accepted people for who they were," her brother wrote. "Her huge capacity for love lead her to have lasting friendships from all over the world. She was a beautiful spirit and soul, and we will miss her for the rest of our lives."
The family has started an online fundraiser to help with funeral expenses, moving costs and travel arrangements.
Gage DiGiovanni also posted about his sister's death on Facebook.
"Please pray for our family and her husband," he wrote. "We appreciate the space to grieve in the coming days and know she touched your lives as she did ours."
His Facebook page indicated that the family was from Spokane, Washington.
Cole Jordan could not be reached for comment Friday. Facebook posts indicate that he and Maris were married in 2017.
Wolfson said prosecutors should decide in the next 30 to 60 days whether they will seek the death penalty in the murder case. In the meantime, he said, visitors to the Strip should not be concerned for their safety.
"These are isolated incidents. These are random, very unusual incidents," Wolfson said.
(C)2022 Las Vegas Review-Journal. Visit reviewjournal.com.. Distributed by Tribune Content Agency, LLC.