Whether you're shooting long-range centerfire or poking at steel from inside a few hundred yards in rimfire competition, upgrading your rifle with a chassis system is a great way to increase your fun factor while potentially decreasing your group sizes. 
Thank you for reading this post, don't forget to follow and signup for notifications!
The main benefit of a chassis over a standard rifle stock is its adaptability. A well-thought-out chassis system offers a host of ergonomic adjustments that make a rifle fit better and accessory attachment points that allow shooting more efficiently. 
While the OEM market is catching up on some of these points by offering semi-custom chassis features, an aftermarket chassis is the way to go for no-holds-barred performance.
While there's no shortage of excellent options from the established brands in the chassis market, two newcomers caught our attention with their mixture of novel features. Let's look at the freshman efforts from a couple of new names in precision rifle chassis, both hailing from northern Europe.
SPUHR SICS
A Swedish company, Spuhr is well-known in the U.S. for its high-end optic mounts and rings. The SICS, or Spuhr Ideal Chassis System, grew from the mind of one of the company's owners, Håkan Spuhr. Spuhr wanted a chassis for his personal use and couldn't find one on the market that he liked.
So Spuhr, a machinist, decided to make his own and spent his own time working in his home shop on the project. When it was done, his business partner, Ulf Nelsson, saw it and immediately recognized Spuhr's garage creation as a serious competitor in the chassis market and the company decided to bring it to market.
SICS: KILLER FEATURE
One of the main goals Spuhr had when setting out on this project was to offer an easy way for the shooter to adjust the length-of-pull on the fly. "The length from the shoulder to your eye is very important," says Spuhr, "as the distance from the scope to your eye changes depending on your shooting position, I think this is a very important thing to be able to adjust. So, this is really the main feature." 
Unlike other chassis that use slow thumbscrews to change the LOP, all you need to do to change the LOP on the SICS is pinch the two arms on the underside of the stock and slide the stock in or out, as needed. Letting go of the arms as the stock slides into one of the detent positions locks it into place using a conical lug system that locks up tightly and eliminates any play, leaving the SICS feeling as solid as any fixed stock. The system is self-adjusting and features setscrews that limit the stock's adjustment range for quick adjustments when on the clock.
SICS: RIGIDITY EQUALS ACCURACY
But the adjustable LOP isn't the only interesting thing the SICS brings to the table. Looking at the SICS' 7075 aluminum center section, one of the first things to jump out is what appears to be a huge magazine well. On closer inspection of the AICS-compatible magwell, you'll see its walls extend forward, providing about an inch-worth of standoff between the front of an inserted mag and the leading edge of the SCIS' barricade stop.
At first, it appears the reason for this space it to prevent any contact between a barricade or shooting bag and the magazine, thus eliminating feeding problems that could come from something putting pressure on the mag. 
While that's true, that's an added benefit that comes with the real reason for the extra material … Spuhr says he added the material in front of the magwell because, "the accuracy of any rifle system lies within the receiver's rigidity. My intention is to make the middle section of the chassis as rigid as possible and that way the receiver can borrow some rigidity from the chassis and make the action more stable and more rigid."
SICS: UP FRONT
Spuhr continues his quest for rigidity by using an enclosed forend that adds strength while giving shooters a lot of real estate to press down on when stabilizing a rifle from above. It also affords the ability to mount clip-on night vision and other accessories, as it's adorned with attachment points for Spuhr's own accessory mounting system. 
As with any enclosed forend on a precision rifle, it's important to note the height of the forend tube and make sure your optic mount is tall enough for the scope bell to clear it. The tube on the SICS extends far enough back that it'll interfere with a long optic in a low mount. 
We needed to change from a medium set of rings to a taller, 1.5-inch mount so our Leupold Mark8 3.5-25 would clear the top of the forend.
The underside of the 16-inch forend features an Arca rail with detents that interface with Spuhr's optional Arca Rail Grabber. The Rail Grabber is a locking plate that moves along the rail when the side button is pressed. It sits between the rail and any Arca accessory, allowing quick, precise, and stable bipod or rail-connected bag adjustments.
SICS: CONTROLS AND ADJUSTMENT
Moving back to the center section, you'll find a Spuhr-branded adjustable grip that slides fore-and-aft after releasing a couple of screws. You can swap the grip for any AR-style grip, as well. For those who like thumb-right grip, there's no boss or thumb shelf on the right side. 
Instead, the whole rear of the chassis is sculpted away at the chassis' hinge, creating a broad surface along the centerline of the rifle where you can place your thumb. Guys used to using a thumb shelf that's closer to the trigger might not like this solution as much, but it provides an effective, alternate grip position.
The SICS comes standard with a hinged buttstock. It's a right-side folder, featuring a tightly locking, conical mechanism that's manually adjustable for tension, if needed. It locks up bank vault-tight and should stay that way through many seasons of use.
Out back, the comb height adjustment is performed with an easily grasped thumbscrew and the buttpad is height-adjustable on the fly with a pushbutton. The Limbsaver buttpad is absorbent without feeling plush and does a great job managing recoil.
SICS: BUILDING IT UP
The SICS was host to a Zermatt Arms Origin Remington 700 clone action with a 26-inch 6.5 Creedmoor Hawk Hill Custom "marksman profile" barrel. The action dropped in and fit the V-bed chassis without issue. The trigger pocket accommodated Timney's The HIT trigger, the action's tang lined up with the rear of the action pocket, and there was plenty of room for the Origin's 0.25-inch recoil lug. 
We used a couple of Spuhr's external SICS weights up front to balance out the rifle. Internal weights are also available. Fun fact: Spuhr scalloped the top of the external weights as a comfortable and indexable spot for your thumb when gripping the forend.
A note on action fitting — Spuhr sells two models of the SICS for the Rem 700 footprint. There's the stock SICS which is fine with factory Rem 700 actions, and there's the "LCP" version that has material cut out behind the tang to accommodate the low cocking piece found on some clone actions.
Running the bolt on our Origin action, we could see how closely the cocking piece rides over the chassis and recommend getting the LCP version for all Rem 700 actions, clone or no. 
SICS: ON THE RANGE
With the action screws torqued to 45-inch-pounds, the rifle averaged 0.5 MOA over five five-shot groups with 140-grain Hornady American Gunner ammo, which is typical for this barreled action. We ran AI-branded AICS mags, Magpul PMAGs, and MDT 10-round mags and had no problems. All mags locked up tightly and fed reliably. 
Spuhr warned us that the SICS can get a little cranky with MDT mags, but we had no issues. While on the subject of mags, we can point out one thing on the SICS we weren't so fond of. The mag catch works, but it's an old-school, centerline tab that's not as finger-friendly as those that extend out to the sides of the trigger guard. 
It's not a dealbreaker, but with as much innovation as there is in other areas of the chassis, we were hoping for a more ergonomic interface.
Moving from prone firing positions to barricades to benches, we definitely came to appreciate the on-the-fly LOP adjustment. Instead of scooching back and forth on the cheek riser, we could just pinch the tabs for the best eye relief no matter what position we were in, aiding shot-to-shot consistency. 
We loved the ability to drive the barricade stop forward into a bag without worrying about the mag getting out of position and causing feeding issues.
SICS: FINAL THOUGHTS
Getting behind the SICS, there's a feeling of reverence for the platform. The chassis elevates the gun in every way. The tubular forend is great when riding the gun on barricades. 
The chassis kills it in the adjustment department, offering quick-adjust LOP for perfect eye-relief in every shooting position and it's exquisitely (over-)built with monastic attention paid to machining that's evident in every perfect hole, corner, and joint. 
If you're looking for a high performing chassis with a few exclusive benefits and features, the Spuhr SICS is worth checking out. 
SPECS:
SPUHR SICS 16-inch Rem 700 
Short Action
Action Types: Remington 700 SA, Tikka T3/T3x SA, Tikka T3/T3x LA
Materials: 7075 Aluminum (center section and buttstock), 
6082 Aluminum (forend)
Finish: Black Type III Hardcoat Anodized
Weight: 5 pounds
Forend Length: 16 inches
MSRP: $1,895 
Accessories:
Weights, External: $63 (2-pack)
Weights, Internal: $63 (2-pack)
Arca RailGrabber: $131
URL: www.spuhr.biz
VISION CHASSIS
Based in Rogaland, Norway, Vision & Design AS is relatively unknown in the States. The company formed in 2012 as a side-gig for CNC operator, industrial design engineer, and shooting enthusiast Christian Berg. 
Like many Norwegians, Berg was involved in the national pastime of precision shooting with the very popular (in Scandinavia) SIG Sauer 200 STR. It's a familiar origin story: when he couldn't find the rifle parts he wanted for himself, he made his own. It began with compensators and bipods and, as the company grew, in 2017, Berg wanted a chassis for his 200 STR and began working on drawings of what would become the Vision precision rifle chassis.
In early 2019, Berg met with the American company TrackingPoint which was looking for a chassis for its resurrected precision guided rifle system. Berg adapted his chassis design to fit the Rem 700 and delivered four prototypes to TrackingPoint. They ordered 25. This got the product off the ground. 
Berg wanted to expand his offering and ended up getting referred to American custom rifle builder GCP Rifle Company. They worked with Berg on making the chassis compatible with the wide range of Rem 700 clones on the U.S. market. That relationship grew and led to GCP becoming the exclusive U.S. importer of the Vision Chassis System which now includes models for R700, Tikka, Sako, and SIG Sauer inlets.
VISION: KILLER FEATURES
The three-piece modular chassis (buttstock, mid-section, forend) is made in several different footprints, and each of the three main components are swappable. 
That means whether you change actions down the road or want a different forend, you can buy just the section you want instead of shelling out for a whole new chassis. Pretty cool.
One of the things that separates the Vision chassis from its peers is its adjustable bag rider. 
Berg wanted a way to improve his prone shooting performance when using a rear bag. He says bags work pretty well for him, but he wanted a way to increase his shot-to-shot consistency. He decided to combine the stability offered by a rear bag with the precision of mechanical adjustment. The result is a wide-footed bag rider that slides up and down when released using a thumb screw on the right side of the buttstock.
Another well-thought-out area is the Vision's barricade stop. Its chamfer, bevel, and texture really digs in and provides solid lockup against a bag or surface while still allowing you to move and pivot the rifle under pressure. 
It's also pushed forward of the magwell, which alleviates mag bumping concerns and also promotes accuracy by adding strength and rigidity to the center section of the chassis. We don't know who came up with this idea first, but it's something we've only seen on the two new Scandinavian chassis we're covering here. 
It's a good concept that provides performance benefits, and we expect to see this feature adopted by other chassis makers in the future.
VISION: UP FRONT
Vision is offered in a few forend configurations: 17.5-inch competition, 15.5-inch competition/mid-length, and 14-inch standard. 
The competition forend, which is what we're featuring in this article, is the longest version with a 16-inch Arca rail, eight M-LOK slots, six QD-cups, and an optional, modular night-vision bridge that can be run with one, two, or three sections from front to back to make a fully enclosed forend (shown here with a single section mounted up front). 
The comp/mid-length has the same features as the competition but is a couple inches shorter and is ideal for running shorter-barreled, precision rimfire setups. The standard front end is likely geared more to the European market with its combined Arca and UIT (Anschutz) rail, Versapod spigot mount, and QD-cups in the front. 
VISION: OTHER FEATURES
The mid-section of the chassis is made in one operation, which allows greater control of manufacturing tolerances and features V-bedding and an AICS compatible magwell with a ½-inch recoil lug pocket that should fit just about any R700 clone action out there. 
The ambi, side-activated mag release feels and works well. 
The broad, four-position thumb shelf allows fine-tuning of the trigger reach for thumb-over shooters. The AR-grip tang allows the use of any flat-topped AR grip. The included unbranded, overmolded soft grip is a good enough starting point, but we'd opt for a more vertical grip to suit a different shooting style.
This chassis came with Vision's optional hinge, which is reversible for right or left-side folding. It opens easily and smoothly with the push of a button and locks up tightly. A series of set screws on the mating face of the hinge provides adjustment as the mechanism ages. 
For the shortest LOP available, Vision offers an optional short buttstock interface that replaces the stock interface or hinge and cuts off about an inch. For reference, the shortest length of pull is 13.2 inches with the hinge or fixed adapter, and 12.2 inches with the short adapter.
Out back, in addition to the previously covered adjustable bag rider, are thumbscrew-controlled adjustments for LOP and comb height, button-activated buttpad height adjustment, and a wheel-activated buttpad rotation adjustment. In all, the Vision offers one of, if not, the most comprehensive suites of tool-free buttstock adjustments on the market.
VISION: BUILDING IT UP
As with the Spuhr SICS, we mounted our Zermatt Arms Origin action with a 26-inch 6.5 Creedmoor barrel from Hawk Hill Customs and torqued the action screws to 60 inch-pounds. There were no clearance issues with the recoil lug, tang, trigger pocket, or bolt inlet. To balance out the rifle, a couple of Vision's forend weights were mounted up front using the M-LOK interface. 
A cool feature of Vision's weight system is that there's only one weight and it's mountable in three ways: externally via M-LOK, stacked and screwed to each other externally, and screwed down internally (inside the barrel channel). Buy a set of weights and run them in any position or configuration you like.
VISION: ON THE RANGE
Bench testing the rifle with five five-shot groups using 140-grain Hornady American Gunner ammo resulted an average of 0.53 MOA, which is right on the money for this barreled action. As fun as benching a rifle for groups is, we were most excited to see how the chassis reacted to the demands of positional and barricade shooting. 
Group sizes stayed incredibly proportionate across a range of supported shooting positions, and even tightened up to produce a 0.4 MOA group when shooting paper at 100 yards from a kneeling barricade position while pushing the Vision's stop against an Armageddon Gear Gamechanger. 
Even with its rounded profile, whether jamming the stop into a bag or a 2×4, the rifle was controllable, and recoil was pleasantly predictable.
At first blush, we were disappointed at the Vision's lack of an adjustable mag catch, something we value thanks to problems with other mag/chassis combos we've had in the past. 
But our concern was unwarranted as we had no stoppages running a combination of 10-round AICS-pattern mags from Accuracy International, MDT, and Magpul over a combined 150 rounds. Mag changes were solid and butter smooth thanks to the large, easily accessible mag catch.
While the adjustable bag rider was appreciated when there was time to set it up off-the-clock for prone stages, it's a little finicky to set up under pressure. It was used in more of a set-and-forget fashion in settings that called for mid-stage position changes.
VISION: FINAL THOUGHTS
Looking at the Vision as tested in Competition configuration, it offers excellent accuracy performance and a massive amount of shooter customization. Looking at it in terms of the Vision's system of swappable components, it's even more of a one-chassis-to-rule-them-all proposition.
For a chassis that's $1,915 (as tested) you should expect equal parts performance, durability, and polish — and it delivers on all fronts. The Vision Chassis is a supremely capable and good-looking rig, especially when decked out in the custom Cerakote camo GCP Rifles provided to us. It stands among the leaders in the ever-growing chassis market. 
SPECS:
Design & Vision AS Vision Chassis System – Competition
Action Types: Remington 700 SA (+LH), Remington 700 LA (+LH), SIG 200 STR/SSG 3000, Sako TRG-22, Tikka CTR, Tikka T3 SA, Tikka T3 LA
Materials: 7075 Aluminum (center section and buttstock), 6082 Aluminum (forend)
Finish: Cerakote (Custom applications available)
Weight: 5.4 pounds (with hinge and single forend bridge)
MSRP: $1,600 (non-folding) 
Accessories: 
Weights, External/Internal: 
$65 (2-pack) 
Folding Buttstock Hinge: $250
URL: gcprifleco.com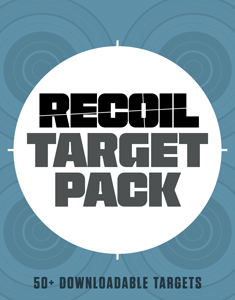 NEXT STEP: Download Your Free Target Pack from RECOIL
For years, RECOIL magazine has treated its readers to a full-size (sometimes full color!) shooting target tucked into each big issue. Now we've compiled over 50 of our most popular targets into this one digital PDF download. From handgun drills to AR-15 practice, these 50+ targets have you covered. Print off as many as you like (ammo not included).
Get your pack of 50 Print-at-Home targets when you subscribe to the RECOIL email newsletter. We'll send you weekly updates on guns, gear, industry news, and special offers from leading manufacturers – your guide to the firearms lifestyle.
You want this. Trust Us.