By Christopher Nyerges.
Thank you for reading this post, don't forget to follow and signup for notifications!
[Nyerges is the author of "Guide to Wild Foods," "Urban Survival Guide," "How to Survive Anywhere," and about two dozen other books. More information on his books and classes is found at www.SchoolofSelf-Reliance.com]
I love potatoes and the vast variety of flavors and textures that can be produced from them.
In the potato mythology of my past, I think about a farmer in the fields in the fall, burning a pile of dry leaves, and baking a potato in the coals as smoke billows up this way and that.
When I lived on my grandfather's farm in rural Ohio after high school, I would drive 26 miles each way to work, from Chardon to Middlefield, through the countryside, and would often see brush piles burning along the road, always wondering if there were a few potatoes being baked in the smouldering pile.
When I finally did my own potato baking in coals, it was a bit messier than I expected, but still produced a delicious afternoon meal that was so wonderfully enhanced with just a bit of Amish butter.
At home in the kitchen or in the backyard, or in the forest, I still love baking potatoes and its woodsy aromatic odor.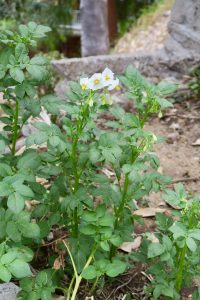 GROWING YOUR OWN
Eventually, I learned the ease with which I could grow my own potatoes. I first read up on it, and learned that you can cut out the sprouts of a sprouting potato and plant each of those in the garden. It sounded complicated, and being a lazy gardener, I planted the whole sprouted potatoes in various garden patches, including some raised beds. I just dug a hole, making sure it was good loamy soil, and planted the potato.
The plant grows up and resembles a wild nightshade plant – of course, that's because potatoes are in the Nightshade Family. Then, in a few months when the plant has matured and faded, you can dig into the soil and presto! – each potato will have produced about a dozen new potatoes. I was really amazed that very first time to see many potatoes where I only planted one!
I have never discarded sprouted potatoes ever since. I plant them in different spots, and I have at least one spot where I always leave a few in the ground, creating a semi-permanent, perennial patch of potatoes.
I don't think you'd want to live off potatoes entirely, but you'd not starve if you had potatoes. They are a decent source of calories (between 70 and 90 calories per 100 grams of potatoes), not much fat, and between 15 to 20 grams of carbohydrate per 100 grams. The numbers, according to the USDA, vary due to the different ways that potatoes are processed (peels or no peels), and cooked. Each 100 grams of potatoes contains about 300 to 500 mg. of potassium, about 15 to 20 mg. of Vitamin C, 40 to 65 mg. of phosphorus, and trace amounts of many more vitamins and minerals. And you know how we all eat potatoes–no one eats them plain! By the time you've added diced onions, and maybe some garlic, and cheese, and butter, you have a pretty satisfactory meal!
My brother was a fanatic lover of "French fries" when we were growing up, something I never understood. He always ordered a side of French fries when he ordered a burger from the local burger joint. He seemed to relish them immensely, dipping each deep-fried potato stick into gobs of ketchup before consuming it. For whatever reason, I never developed a liking for French fries, and find this to be the least desirable way to eat the honorable potato.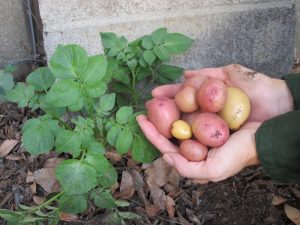 Today, the potato (Solanum tuberosum) is considered one of the most important food plants of the world.
The "European" or "Irish" potato is believed to have descended from the plants which originated in the temperate Andes of South America, where it is believed that they have been grown and eaten for at least 2000 years.
It was most likely introduced into Europe via Spain, in the late 1500s. These early potatoes were longer than wide, and knobby, much like the "fingerling" potatoes gaining in popularity today.
Potatoes are perennials, which – under the right conditions – yield a higher food value per acre than any cereal. Their chief commercial disadvantage when compared to cereals (grasses) are the high water content (which adds to the cost of transportation), and the shorter storage-life.
(By comparison, cereal grains can be stored for hundreds, if not thousands, of years).
Perhaps my favorite way to cook potatoes was taught to me by Tree and Water expert Timothy Hall, who would often prepare potatoes during our meal times at the non-profit of which we were both members.
Hall first sliced the potatoes into pieces about 1/4 inch thick, but more often he'd simply cut the potato lengthwise into four large pieces. He'd slowly simmer these in olive oil in a large cast iron skillet until done, and then sprinkle some garlic or pepper over them. These were awesome!
I love potatoes! I like the Timothy Hall-style, boiled, baked, in salad, and potato chips. How can anyone not like potato chips?