The X-Vision Optics Thermal Reflex Sight Wide View (TRW1) is your tactical advantage for any close encounter situation. This thermal device is perfect for home defense, tracking, scanning, and close-range shooting within 100 yards. With an extra wide field of view, the quick-target acquisition sight is the most compact, lightweight, and durable thermal device on the market.
Thank you for reading this post, don't forget to follow and signup for notifications!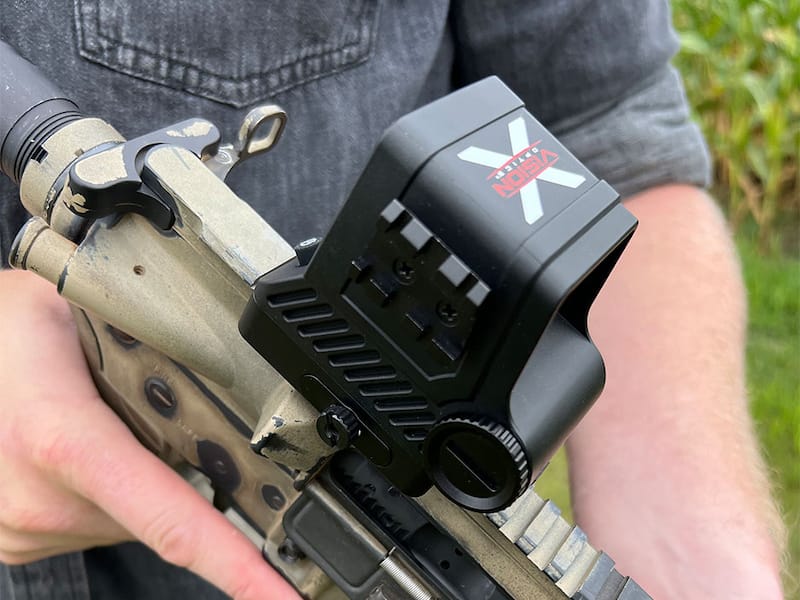 With the vast field of view, the device allows for easy target detection and unparalleled target acquisition. The Thermal Reflex Sight Wide View has a 500-yard maximum detection range and a 225-yard recognition range. At a frame rate of 25 Hz, the device captures sharp thermal images and smoothly tracks rapidly moving targets. The objective lens is 6.8 mm and has a field of view of 250 ft @ 100 yds. The thermal reflex sight also has a 1 to 4x magnification with a detector resolution of 240 x 210 for a clean field of view.

The thermal reflex sight provides both day and night use for hunting, scouting, and surveilling. This unit is capable of handling over 53 ft/lb. of recoil allowing compatibility with a large variety of firearms and crossbows. Additionally, the TRW1 is dust and water-resistant to an international protection rating of IP67. The TRW1 has a 1.63" display with infinite eye relief and a quick-release Picatinny mount and is compact and lightweight weighing only .55 lbs. and under 3" tall.

The visible 650 nm laser allows for rapid target acquisition and identification. The sight has four reticle options with four different reticle color options with each palette option able to detect heat and display it in the selected color. The four-color palettes include White Hot, Black Hot, Red Hot, and Full Color. The four reticle patterns include Crosshair, Half Crosshair, Single Dot, and Single Dot with surrounding brackets.
The TRW1 is capable of manual or automatic shutter calibration, ensuring a clear image every time. The unit can save four sets of zeroing data, allowing for quick use and easy mounting on multiple firearms and crossbows as well as saving different ballistic models for the same firearm. The X-Vision Optics Thermal Reflex Sight has an MRSP of $1,199.99.

X-Vision TRW1 Specifications
Magnification: 1 – 4x
Thermal Sensor: 240 x 210
Pixel Size: 17 µm
Frame Rate: 25 Hz
Objective Lens: 6.8 mm
Field of View: 175 ft @ 100 yds
Detection Range: 500 yards
Recognition Range: 225 yd
Laser: 650 nm
Reticle: 4 patterns and 4 color options
Color Palettes: 4
Display Screen: 1.63" AMOLED
Power Supply: CR123 (qty. 1)
Battery Life: 3.5 hours
IP Rating: IP67
Dimension: 2.3 x 3.17 x 2.9 in
Weight: 0.55 lb
Mount: Quick Release Picatinny
Accessories: dual battery charger, rechargeable CR123 battery (2 inc.), USB-C cable