NEW from Vudoo Gun Works is the Möbius 1911! 
Thank you for reading this post, don't forget to follow and signup for notifications!
Well known for their top-tier precision rimfire rifles, Vudoo Gun Works is now stepping into the world of high-end 1911 pistols. Offered in 9mm, .45 ACP, and .22 LR, these new pistols come in 3 colors (stainless, black, and two tone), ship with 3 magazines (two magazines for the .22 LR model), and a list of classic features.
Features
Novak Sights
VZ Vudoo Grips
3 color options, Stainless, Black, and two tone
2 Stainless Steel Magazines
Available in 9mm or .45ACP
Staying true to Vudoo's roots, the .22 LR model of 1911 has some compelling features. From Vudoo:
"The target .22lr has its own, proprietary adjustable sights, slide mounted optic ready pic rail
and ships with two magazines. The .22lr slide assembly with mag will also be available as a conversion kit to the standard Möbius 1911."
"The creation of the Möbius is a radical departure from other custom 1911s in that we literally turn the firearm inside out. Every process has been re-engineered from the ground up. With methods common in the aerospace industry, Vudoo has been able to redefine the production of the 1911. This is accomplished by ensuring that all components are manufactured to very close tolerances, allowing for proper assembly and function with an absolute minimum of hand-fitting. These advancements have led to precise and reliable operation, smooth fit and finish, and lead times that are measured in weeks rather than months."
MSRP for the .45 ACP and 9mm Möbius is $2,995. MSRP for the .22 LR Möbius and the .22 LR slide conversion kit is TBD.
Vudoo has long been a leader in precision rimfire rifles for long range .22 LR shooting. Their rifles have won hundreds of NRL22 and PRS Rimfire matches and are commonly seen as one of the top performing repeating .22 LR actions in the world. 
We're excited to see their dedication to quality and innovation come to the 1911 platform.
A full review of the Möbius 1911 coming soon!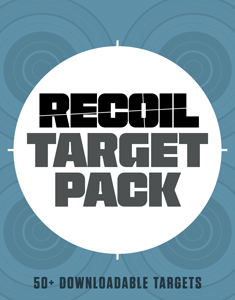 NEXT STEP: Download Your Free Target Pack from RECOIL
For years, RECOIL magazine has treated its readers to a full-size (sometimes full color!) shooting target tucked into each big issue. Now we've compiled over 50 of our most popular targets into this one digital PDF download. From handgun drills to AR-15 practice, these 50+ targets have you covered. Print off as many as you like (ammo not included).
Get your pack of 50 Print-at-Home targets when you subscribe to the RECOIL email newsletter. We'll send you weekly updates on guns, gear, industry news, and special offers from leading manufacturers – your guide to the firearms lifestyle.
You want this. Trust Us.