STAY STRAPPED OR GET
CLAPPED

CLAWED?

While standard waistband holsters may work best for most EDC applications, there are some situations where toting a sidearm on your midsection just isn't practical. For example, if you're hiking through bear country and toting a 50-pound pack. To stabilize and distribute the weight of your gear, that backpack had better have a waistbelt. 

Thank you for reading this post, don't forget to follow and signup for notifications!

Unfortunately, a backpack waistbelt can make wearing an OWB holster virtually impossible. Even if you can manage it, accessing your weapon could take some Olympic-level acrobatics. However, leaving your .44 Magnum revolver or 10mm pistol in camp when you could find yourself nose to nose with a big bruin isn't exactly a smart option. 
So what are you supposed to do?
Enter the chest rig. 
WHAT IS A CHEST HOLSTER?
Although chest holsters come in a wide variety of styles and designs, they all share the same basic concept. Chest rigs use a harness that straps over the shoulder or behind the neck to support the weight of your firearm, positioning the weapon across the upper torso. 
The chest rig is nothing new. World War II tank crews and paratroopers used basic versions of these holsters. The design allowed easy access to their sidearms without a holster hindering their ability to sit in a tank, wear a pack, or jump from airplanes. 
Thankfully, we aren't stuck in WW II, and modern materials (think Kydex and ballistic nylon), production methods, and designs have brought these holstering gems well into the 21st century. 
WHO SHOULD WEAR A CHEST HOLSTER?
Outdoor adventurers are most likely to use a chest holster. If you're planning to hunt, hike, fish, camp, or ride a horse, a quality chest holster will work in tandem with the other gear you might have strapped to your body. 
However, big game hunters and backcountry hikers aren't the only people who could benefit from a chest holster. A good chest rig provides improved accessibility for wheelchair-bound and other disabled shooters. 
A chest holster can also be more comfortable for individuals with limited upper body strength because the weight and pressure of the firearm are distributed across a greater surface area. 
A word of caution: chest rigs are designed for open carry. Be sure to check your local laws regarding the open carry of firearms before you venture out into public with your new holster.
CHEST HOLSTER ADVANTAGES
We live in a world where concealed carry is king, and open carry is often mocked and derided. However, there are plenty of advantages to using an open carry chest rig to haul your sidearm. 
Here is a quick breakdown of some of the chest holster's best advantages. 
Comfort
OWB and IWB holsters have come a long way in the comfort department. However, toting a sidearm on your waistband can be seriously cumbersome, especially if you're carrying a hefty big bore for hunting, bear defense, or general intimidation. 
A chest rig's shoulder and sternum straps allow your torso to support the weight of your gun instead of your belt, preventing fatigue. 
Snug Fit
When you're walking in the woods, the last thing you need is a bulky sidearm flopping around and snagging on every branch you pass. A chest holster holds your gun snugly against your body, making it less likely to hang up on vegetation or bump against boulders.
The tight-against-the-body fit of a chest holster also simplifies weapon retention, allowing you to maintain control better if a nefarious ne'er-do-well tries to snatch your gun. 
Easy Access to Your Firearm
Drawing from a chest holster can take some practice, especially if you're used to on-the-waist carry. However, having front access to your firearm allows you to draw from a variety of positions. Being able to pull your gun when an agitated bear is rolling you around could keep you from becoming his afternoon snack.
With a few simple strap adjustments, most chest rigs will fit over bulky winter clothing. Because you don't have to tuck your firearm under your coat, you'll never have to fumble with layers to gain access to your weapon. 
BEST CHEST HOLSTERS
Gunfighters Inc. Kenai Chest Holster
Chest carry caters to a pretty niche crowd. Although the circle is tight, the Kenai chest holster from Gunfighters Inc. is definitely a fan favorite. With its "comfort first" design, efficient draw, and plenty of custom design options, it's no wonder this holster has an enthusiastic and dedicated fan base. 
The Kenai features a molded Kydex shell and a comfortable web suspension system. The holster's wide, flat nylon webbing is designed to prevent rubbing and uncomfortable chaffing, even on extended excursions. To increase durability, the nylon is coated with waterproofing and a unique UV protectant.
Designers at Gunfighters Inc. have obviously been in the woods a time or two, and it shows. The buckles on this holster are strategically placed to keep them well out of the way of your bino harness, pack straps, and rifle sling. 
The Kenai is made with a 4-way stretch yoke and adjustable straps. Designed for all body types, this holster can be adjusted for either a high or low carry, whether you're 5'2" or 6'6". The stretchy material also provides plenty of freedom of movement, which is a necessary feature for physically demanding outdoor adventure. 
Gunfighters Inc. has Kydex molds for over 200 models, including both revolvers and semi-auto pistols. If they don't carry a fit for your firearm, or if you need a holster to accommodate a light, laser, or optic, they take custom orders.
Galco Great Alaskan Chest Holster
Galco makes some of the finest leather holsters on Planet Earth, and their chest holsters are no exception. The Great Alaskan is designed for large frame revolvers with up to four-inch barrels. It features a simple snap retention strap that holds your revolver in place when you're hiking but releases easily when you need quick access. 
This holster is crafted from premium steer hide and lined with smooth leather for a buttery, unhindered draw.
The Great Alaskan also has a Fastex buckle located on the shoulder strap, so you can easily strap it on or off without needing a buddy to help. The straps also easily adjust for high or low carry cross draw, so you can fit your holster around your other outdoor gear. 
Galco Kodiak Chest Holster
If snubbies aren't your cup of tea, Galco makes a holster for all of you go-big-or-go-home guys. Their Kodiak chest holster is made for magnum revolvers.
Perfect for those extra-long hiking trips, the Kodiak uses the same load-bearing principles as modern backpacks.  It has both a padded shoulder strap and a torso strap that allows you to make quick adjustments and shift the weight of your firearm from shoulder to back. The design allows you to rest your shoulders and prevent fatigue for those full days of field carry. 
Man Gear Alaska
A serious company that makes serious holsters, Man Gear Alaska is a small, family-run business located in Wasilla, Alaska, right in the heart of bear country. Tough and practical, this company's chest holsters are built for regular use and rough abuse, which makes sense since they are made in Alaska.  
Built with double-thickness 1680 denier with a multi-layer waterproof interior, this is one rugged holster.
It also features a doubled-up, tightly woven elastic retention strap. The strap keeps your sidearm secure when you don't need it, but provides a lightning-fast release when you do. 
Need to customize your carry angle? Man Gear Alaska includes a D-ring on the shoulder harness system, which allows for some flexibility in both the angle and height of carry. 
NW Retention Scout Chest Holster
Although ordering any type of holster from a big-brand major manufacturer might offer some peace of mind, sometimes those smaller, family-owned businesses really got it going on. 
That's certainly true with NW Retention. While their handcrafted holsters were originally churned out of a tiny apartment kitchen, NW Retention's commitment to integrity, quality, and hard work has helped it grow into a full-fledged company.
It's still a relatively small operation, and you'll likely have to wait 2-3 weeks for your holster to ship, but what you get is well worth the wait time. 
The Scout features a molded Kydex shell with a full trigger guard and positive click retention, so you always know when your sidearm is secure. The retention can be fine-tuned using the screw in front of the trigger guard. Whether you like a little looser fit or prefer to put a little muscle into your draw, retention adjustments are quick and easy. 
NW Retention offers the Scout's Kydex shell in a wide array of colors and patterns, including showstoppers like the Gadsden Flag and a red flannel check. If you want to make a fashion statement with your chest rig, this is the way to do it. 
The Scout also features plenty of slide buckles and tri-glides, so you can find the perfect Goldilocks fit. 
Simply Rugged Chesty Puller
Simply Rugged Holsters was founded by Army veteran Rob Leahy, who spent time fishing Alaska's Russian River in prime brown bear country. After a face-to-face with a burly bruin, Leahy realized how important it was to keep his .44 Magnum Mountain Gun in an easily accessible location. 
Thus was born the Chesty Puller, affectionately named after the highly decorated Marine Corps officer, Lewis Burwell "Chesty" Puller. 
The Chesty Puller is actually a suspension system for the company's leather pancake hip holsters. The straps are highly adjustable, allowing you to just as easily wear it over a plain cotton t-shirt as you can over a bulky winter coat. 
A shoulder strap supports the weight of your sidearm, while a drop strap snaps to your belt, anchoring the holster in place for a smooth, unhindered draw. 
Simply Rugged engineered the Chesty Puller to fit folks from a short 5'6" and 130 pounds to a towering 6'3" and 325 pounds. Bigger guys (or gals… I'm not judging) can separately purchase the 15-inch extension strap. Unfortunately, if you're super tiny, you're just SOL. 
Alien Gear Cloak Chest Gun Holster
This chest holster from Alien Gear is surprisingly comfortable and durable for a holster with such an affordable price tag. 
The harness features durable woven nylon straps with polymer buckles that provide great adjustability and adequate comfort. They also tend to be pretty quiet when you're moving through the woods.
The holster base is reinforced with layers of spring steel and woven ballistic nylon, which creates a strong platform for the holster. The back of the base is covered in a cushiony layer of breathable, moisture-wicking neoprene to prevent that swampy feeling you sometimes get when hiking in warmer weather.
On top of the holster base is a custom-molded retention shell with adjustable passive retention, so the holster fits your firearm like a glove. 
LOOSE ROUNDS
If you spend any amount of time in the woods, a chest holster makes a smart addition to your outdoor gear list, especially if you're worried about big predators (whether those predators are the super furry kind or the two-legged variety). With one of these babies, you'll never have to fumble for your firearm. It will always be right there and ready to go.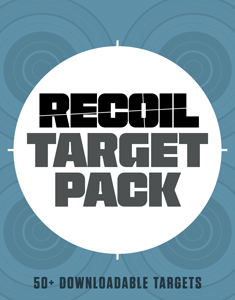 NEXT STEP: Download Your Free Target Pack from RECOIL
For years, RECOIL magazine has treated its readers to a full-size (sometimes full color!) shooting target tucked into each big issue. Now we've compiled over 50 of our most popular targets into this one digital PDF download. From handgun drills to AR-15 practice, these 50+ targets have you covered. Print off as many as you like (ammo not included).
Get your pack of 50 Print-at-Home targets when you subscribe to the RECOIL email newsletter. We'll send you weekly updates on guns, gear, industry news, and special offers from leading manufacturers – your guide to the firearms lifestyle.
You want this. Trust Us.