On any given day in Pasco County, Florida, K9s Charlie, Mango and Tacoma are riding around with their handlers, responding to calls for service. The calls are diverse and include business alarms, welfare checks and traffic crashes. None of these calls specifically require a K9 team to respond, but the secondary benefits are significant. The impact of these K9 teams is unique since they are animal-assisted therapy (AAT) canines used to benefit citizens who may be experiencing a crisis.
Thank you for reading this post, don't forget to follow and signup for notifications!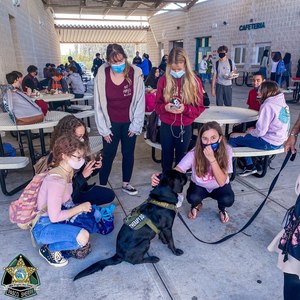 For example, K9 Charlie recently responded to a traffic crash that killed a parent of an individual with autism. Such an event would be traumatic for anyone, but it was compounded for this individual with a developmental disability who did not understand what just happened to their parent. Charlie and his K9 handler, Detective Pedro Leos, responded to the scene and provided emotional support and comfort until family members arrived.
The Pasco Sheriff's Office (PSO) established its AAT program in February 2020 with two K9 handlers providing coverage seven days a week. The K9 teams were incorporated into the agency's Behavioral Health Intervention Team (BHIT), which works with community partners to identify high utilizers of emergency services with mental health or substance abuse concerns and connect them to community-based providers for recovery and stability.
The creation of these teams came just in time for the COVID-19 pandemic, which isolated individuals and raised awareness of mental well-being. Over the next two years, the K9 teams provided support for the entire community, including citizens in crisis, essential employees still going to work daily and sheriff's office employees. The K9 teams supported the local health department, 9-1-1 dispatch center, a local substance abuse detox facility and other area businesses.
AAT HAS MANY BENEFITS
Animals have long been used to assist people with physical disabilities. Canines are used to assist those with limited vision or full blindness and warn owners of impending seizures. As awareness of how animals can improve people's quality of life grows, canines have been used more and more for emotional health and well-being. AAT has been used since the early 1800s to reduce depression and anxiety and bolster the courage of patients to communicate. As AAT has increased in popularity, additional psychological benefits have been identified that greatly enhance the services provided by the PSO BHIT.
Animal-assisted therapy dogs can include any breed or mix. Law enforcement agencies have used dogs from poodles to pit bulls as well as traditional retrievers. The canines with the Pasco Sheriff's Office were provided free of charge through the Brevard County Sheriff's Office Paws & Stripes program. The Paws & Stripes program started in 2006 as a basic dog obedience program to help save dogs in the Brevard County Animal Shelter. Carefully selected and trained jail inmates were paired with shelter dogs and trained them in both voice commands and hand signals. The dogs were housebroken and learned basic obedience skills (heel, sit, down, stay and come), all with the goal of getting them adopted.
The Pasco Sheriff's Office K9 program worked with Brevard County to identify and select shelter dogs that would best suit the agency's needs and the personalities of the PSO K9 handlers. Once a team was identified, they attended a free weeklong training offered by the Brevard County Sheriff's Office. The K9 teams continue training monthly, focusing on obedience and interaction with the public.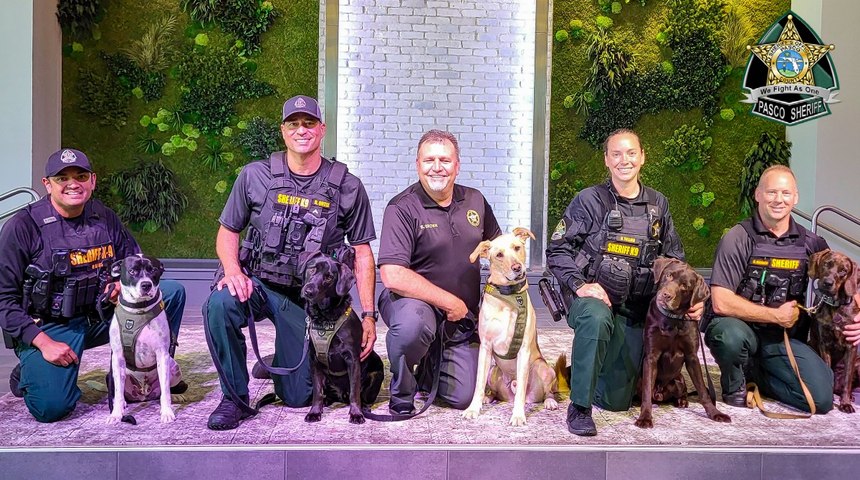 DOGS' SUPPORT EXTENDS TO PSO
The benefits of developing AAT programs within law enforcement agencies are considerable. Utilizing animals to de-escalate crises is an advantage for everyone on scene by reducing the risk of injury to both the individual and the officer. Building a rapport between subjects and officers can be difficult, and K9s often reduce the time it takes, allowing swifter resolution of calls and quicker returns to service. On one occasion K9 Mango and his handler visited a facility for troubled youth to explain the program's benefits. After the team left one of the individuals told their case manager, "I would have been Baker Acted way less" had K9 Mango and his handler responded to their calls for service. (The Baker Act is Florida's involuntary commitment law.)
The Pasco Sheriff's Office also uses the K9 teams for its internal wellness program. During the height of the pandemic, our colleagues would call and email to request the presence of the K9 teams within their departments to ease stress and anxiety for the members working. While the AAT program was developed to help the behavioral health team develop rapport with its clients, the opportunity to support members became apparent, and the team quickly expanded, with K9 JoJo coming on board with his handler, who oversees the agency's wellness and resiliency program. In 2021 the AAT K9s were used when Tampa Bay had two law enforcement officers killed in the line of duty. The dogs attended the funeral services to support not only the families but all LEOs present.
From a community engagement perspective, the use of K9s in law enforcement has always been a community interest. However, with their traditional roles in law enforcement, interaction with K9s is prohibited. The use of AAT K9s provides opportunities for the community to interact positively with law enforcement and working K9s. PSO uses the AAT K9s to engage the public, visit with children and enhance community relations. The K9 teams attend public events, stop in at local businesses and visit students at schools. K9s Mango and Woodie are used for community engagement purposes.
Any dog owner will tell you having a dog will change your life. For the Pasco Sheriff's Office, it changed how we interact with and serve our community. Chasing suspects and sniffing out illegal narcotics are vital functions of a traditional K9 program, but there are additional ways to help people. De-escalating an individual in crisis or building rapport with citizens through a K9 therapy dog can be just as impactful. For our officers, the use of K9s as a method of rapport-building and connection allows our citizens to engage with law enforcement on a whole new level. Therapy K9s facilitate communication with vulnerable populations such as victims and those experiencing a mental health crisis. Embedding K9 therapy programs within law enforcement agencies is a recipe for successful engagement with the communities we serve.
NEXT: How Crisis Response Canines brings comfort to first responders and the communities they serve