HOT NEW FIGHTING RIFLE FROM EUROPE, HOW DOES IT COMPARE?
The Republic of Slovenia is in central Europe, with Austria to the north, Croatia to the south, Italy to the west, and Hungary to the east. 
Thank you for reading this post, don't forget to follow and signup for notifications!
The majority of its population is of Slavic descent. After World War II, Slovenia was subsumed into Yugoslavia, until it broke away in 1991 as communism finally fell in Eastern Europe. Following its independence came economic growth and prosperity, and Slovenia eventually joined NATO and the European Union.
While firearms are heavily regulated in Slovenia, we've seen some of their guns coming to the U.S, such as pistols from AREX Defense. The latest is from Tinck Arms, founded by Tomaz Razpet. Having established a hydro turbine engineering company, Razpet began developing firearms designs, as he'd always been fascinated by guns since childhood.
As maligned or fiercely defended as Stoner's AR-15 design is, the truth is that it works very well for many use cases. It's accurate, reliable, and versatile. However, there's always room for improvement, and companies have been refining the AR in imaginative ways for decades. 
Today's AR is a great weapon system. Tinck Arms appreciates the virtues of the AR platform, as well as the enormous selection of aftermarket parts for it that allow end users to endlessly customize their guns for their specific needs. Tinck wanted to tap into that, while also reaping the benefits of a gas piston operating system to create a "best of all worlds" design.
The result is the Perun X16, originally released in 2019 in Europe. AEA Arms has worked with Tinck to tailor it for and bring it into the U.S. market, finally beginning to ship rifles this year.
The system is an interestingly designed mash-up, with everything of note going on in the upper assembly. An AR barrel is secured to Tinck's upper receiver with a barrel nut. An AR gas block, an adjustable Superlative Arms unit in our example, routes gas back through a modified AR gas tube to the piston, which sits in a gas piston receiver directly above the barrel nut. 
So the Perun is essentially direct impingement from the gas block to the barrel nut, then gas piston behind that — business in the front, party in the back (or vice versa, if you prefer). 
The bolt carrier group looks reminiscent of a SCAR or Tavor, with the piston on top, bolt below it, a captive action spring, and bolt guide rod. The bolt and firing pin are standard AR parts as well. A modified version of a typical M-LOK AR handguard slides over the barrel nut, and a monolithic top rail bridges the lower handguard and the upper receiver. 
The top rail also houses the non-reciprocating forward charging handle, which can be installed on the left or right side. AEA Arms worked with Tinck to implement some changes for the U.S. market, such as enlarging the ejection port and tweaking gas ports and piston size. As a result, it works well with 300BLK, especially subsonic loads.
The back plate is the FN SCAR design, locked in place by the lower; when it's removed, you can slide it off the upper to field strip the gun, like a SCAR. One variant has a vertical Picatinny rail to attach your preferred buttstock or brace for pistol versions. 
Or you can opt for a Magpul ACR stock (AEA has a limited number of these on hand) or a very similar stock made by F5 Mfg. The latter folds to the left so you can fire and operate it with the stock folded, while the ACR stock folds to the right and might interfere with ejected shells. There's also a similar F5 brace for pistol builds. 
Or you could also attach any other SCAR-compatible assembly.
The lower is standard AR, with the receiver extension threads chopped off; it attaches to the upper with two takedown pins just like an AR. Unlike the aluminum European version, AEA Arms opted to use a modified Kaiser US composite lower. 
Some might worry about composite AR lowers — especially where the receiver extension threads in, which can be a weak point. Fret not, though. First, Kaiser's lowers are reinforced with metal at the trigger and hammer pin holes, the pivot and takedown pin holes, and the receiver extension threads — see RECOIL Issue 21 for a lightweight build we put together with one. 
Second, in the Perun, with the receiver extension threads completely milled off, all the lower does is house the fire control group and magazine well. It does less work than the Vice President, and the lower isn't stressed at all during the firing and cycling operation. Additionally, the Kaiser lower has a bit more girth at the top than regular mil-spec lowers, which matches nicely with the Perun's upper.
AEA Arms offers the Perun as a complete rifle, SBR, or pistol, with choice of barrel lengths ranging from 6.5 to 16 inches. Depending on barrel length, there are varying lengths for the top rail and handguard. You can also order a builder's kit, which includes a complete upper assembly and a stripped lower with the receiver threads milled off, so you can outfit it with your favorite components. 
Other options include tritium backup iron sights, muzzle devices, triggers, buttstocks, and so forth. Our tester came with a Triggertech Combat trigger, ambidextrous safety selector, and JMAC 360 KeyMo muzzle brake.
Everyone we showed the Perun to thought it looked like various different firearms, from the SCAR to the CZ Bren. The double-decker handguard/top rail arrangement makes for some interesting configurations and handy ergonomics.
Knitting out the Perun
We had 11.5- and 16-inch barreled variants in 5.56mm to test out, so we decided to outfit the Perun for general-purpose duties. An LPVO with offset red dot was perfect for the role — it's hard to beat Vortex's excellent Razor HD Gen III 1-10x scope, which features a wide zoom range, useful Christmas tree MRAD first-focal-plane reticle for elevation and windage holds, and scorching bright illumination that's truly daylight-bright, even for the visually challenged. 
We mounted it in the Scalarworks LEAP/09 quick-detach mount; we appreciated the loving OCD with which it's designed and manufactured. The built-in LevelDrive feature made it a cinch to level the optic, and the RMR-footprint KICK/02 attachment mounts an offset red dot as compactly as possible. 
The downside of the tight quarters is that it's difficult to reach controls located on the left side of the sight, so we opted for a Trijicon RMR, with its large buttons on the hood.
We discovered the dimensions on the top Picatinny rail of our test unit were a tad undersized, so some quick detach models such as auto-adjusting Bobro and PRI mounts were a bit loose. All our other mounts were able to clamp down securely, so this only affected a few of our mounts. The company indicated this would be remedied.
A weapon light is a must, so we mounted SureFire's new Turbo Scout Light Pro, which reaches out with a blinding 71,000 candelas and mounts easily and tightly against the handguard thanks to the built-in hinged M-LOK low profile mount. It's a dual fuel model, so it can be powered by a rechargeable 18650 or two CR123A batteries. 
An Insight DBAL-A3 fit perfectly on the end of the lower handguard, completely out of view of the Vortex scope — a nice benefit of the double-decker upper. And SureFire's dual pad pressure switch on the top rail provided convenient control over the light and IR designator with our support thumb, with a zip tie to corral the cords. 
This configuration worked well for us, but you could easily relocate items to fit how you like to run your weapon.
To keep things quiet, we grabbed the new 3D-printed titanium BDE Suppressor from Primary Weapons Systems (elsewhere in this issue). AEA ships Peruns with a choice of muzzle device; ours came with a JMAC 360 KeyMo brake. So we installed a Dead Air KeyMo HUB adapter onto the BDE for quick-detach silencer goodness.
GOING HOT
The Perun has great ergonomics — fire control is just like an AR, which is as good as it gets, and the gun's well balanced, though a bit heavier than your average AR. The ACR-style buttstock has QD sockets and adjusts for length and cheek riser height, and it's handy to fold it for transport or storage. 
Note that while the Magpul stock provides some resistance to keep it folded, the F5 stock swings back open easily, like your grandma's screen door. Our test gun's TriggerTech trigger broke at just a tad over 5 pounds; it was very crisp with a short reset, though we'd have preferred one of the lighter variants.
The upper is taller than an AR, with height over bore similar to a SCAR. The Perun is comfortable and intuitive to shoulder, and you can adjust your stock and scope mount heights to dial in your desired style of cheek weld.
We chronoed and grouped the longer upper off sandbags. The Perun's 16-inch barrel preferred lighter bullets. Norma Golden Target Match in 69-grain and 77-grain grouped around 1.5 to 1.7 MOA at averages of 2,814 and 2,622 fps, respectively. Meanwhile, our best group came from pedestrian Winchester White Box at just over 1 MOA and 3,148 fps.
However, letting loose is where the Perun really shines. It's an amazingly soft shooter with very low felt recoil. All the reciprocating parts are contained in the middle of the gun. We ripped off 1-to-5 drills, snapping quickly from target to target and blasting out the A-zones. 
With the PWS BDE suppressor attached, the report was quiet and comfortable without hearing protection. The gun ran perfectly suppressed and unsuppressed on the same gas settings. In fact, we didn't experience any malfunctions or issues, even while purposely running the gun completely dry.
CONCLUSION
At an MSRP of $2,279 for the Perun X16 shown here, it isn't cheap. But it's unique and rigs up very well, if we do say so ourselves. It's cleverly designed and uses many widely available AR components to customize it to your liking. 
With its modular design, you could switch calibers and make it longer or shorter — a short pistol or SBR version in 300BLK with the folder would be a great configuration in addition to those we tested. Most importantly, it's a fantastic shooter. Not to repeat ourselves, but it's really a joy to shoot. 
The gun's namesake is a Slavic deity — in Slavic mythology, Perun was the god of thunder and lightning, and also known as the god of war and associated with weapons. Who needs a hammer when you can grab a gun like this instead? 
TINCK ARMS PERUN X16 SPECS
Caliber: 5.56mm, 300BLK
Capacity: 30
Barrel length: 6.5, 10.5, 11.5, 16 inches
Overall length: 22.4 inches (folded), 32.1 inches (fully extended) for 11.5-inch barrel; 27 inches (folded), 37.75 inches (fully extended) for 16-inch barrel
Weight: 6.8 pounds (11.5-inch barrel); 7.8 pounds (16-inch barrel)
MSRP: $2,279
Accessories:
Primary Weapons Systems BDE Suppressor $1,100
Dead Air Silencers KeyMo HUB adapter $249
Vortex Optics Razor HD Gen III 1-10×24 FFP scope $3,600
Trijicon RMR sight $720
Scalarworks LEAP/09 34mm 
1.57-in scope mount $439
Scalarworks KICK/02 offset mount $119
SureFire Turbo Scout Light Pro $399
SureFire DS-SR07-D-IT switch $229
Steiner DBAL-A3 $1,974
Price as configured: $11,108
READY FOR MORE?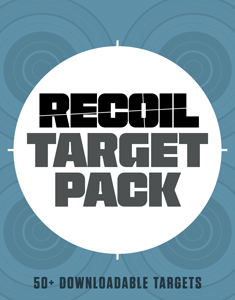 NEXT STEP: Download Your Free Target Pack from RECOIL
For years, RECOIL magazine has treated its readers to a full-size (sometimes full color!) shooting target tucked into each big issue. Now we've compiled over 50 of our most popular targets into this one digital PDF download. From handgun drills to AR-15 practice, these 50+ targets have you covered. Print off as many as you like (ammo not included).
Get your pack of 50 Print-at-Home targets when you subscribe to the RECOIL email newsletter. We'll send you weekly updates on guns, gear, industry news, and special offers from leading manufacturers – your guide to the firearms lifestyle.
You want this. Trust Us.