10mm Auto was first introduced in 1983. It wasn't particularly popular right out of the gates, but brief use by the FBI helped draw it into the public eye. 
Thank you for reading this post, don't forget to follow and signup for notifications!
While 10mm hasn't managed to stay consistently popular since then, this powerful, versatile round does have a growing cult following.
Whether you're a member of that cult or are just curious about 10mm and looking to learn more, this guide will walk you through the best 10mm ammo options currently on the market.
But first, let's take a look at why people opt for 10mm in the first place.
BEST 10MM AMMO
Federal Premium American Eagle 10mm Auto 180 Grain FMJ
Remington UMC 10mm Auto 180-grain FMJ
Hornady 10mm Auto 175-gr FlexLock Critical Duty
Federal Premium Personal Defense Hydra-Shok 10mm Auto
Hornady Custom 10mm Auto 180 gr XTP 
Federal Premium 180-grain Trophy Bonded Bear Claw JSP 
Buffalo Bore Heavy Outdoorsman 10mm 220 gr. Hard Cast FN
WHY 10MM?
10mm is a versatile round that's great for all kinds of purposes. While it's most popular for self-defense, it can be used for competition, recreational shooting, home defense, hunting medium to large game, and even as a bear gun. 
It's not as popular as some other rounds, but it's popular enough that you can find it in a good variety of different types of ammunition (as you'll see in our recommendations below). 
Still, you'll need to shop online to really see the breadth of options available to you, as the round still isn't popular enough to merit brick-and-mortar stores allocating limited shelf space for a bunch of different choices. 
Since I mentioned its applications for bears, you've probably already guessed that 10mm is powerful. Certainly far more powerful than 9mm but also more powerful than .45 ACP. Of course, that comes at the expense of some significant recoil, but not that much more than you'd expect from .45.
And since 10mm is closer to 9mm in size, you get capacities closer to 9mm too. You can generally expect a full-size 10mm pistol to have a capacity of between 8 and 15 rounds. 
10mm does tend to be significantly more expensive than 9mm, but only a little more than .45 ACP.
CHOOSING AMMO
Now that you know why you might want to go with 10mm, let's look at how to choose the right round for you. 
Purpose 
What exactly you'll be using it for is one of the most basic considerations for choosing any ammo, but especially so for a round as versatile as 10mm. Thus, it's also the basis on which I've sorted my ammo recommendations below. 
And it ties into a lot of the other considerations that we touch on below, so we'll be getting into more detail about what the purpose of your ammo means for the traits it should have in a second.
For now, just think about what you'll be using it for. Hunting and defense are both very common uses for 10mm, but what they require from ammunition is slightly different. If you're using ammo for either of these things, you'll also want ammunition for training. And then, of course, there are also people who just want to shoot recreationally. 
Price
As we've already covered, 10mm is costlier than more popular handgun rounds. Unless you're Scrooge McDuck, you'll probably, therefore, want to keep costs as low as possible to avoid draining your wallet. 
That means you'll want to invest in ammo for purposes like hunting and defense, but you can cut costs with more budget ammo for plinking and training. 
Recoil
Even within the same caliber, not all ammo has equal recoil. Since 10mm is a heavily recoiling round, a lot of shooters like to save themselves a bit of pain by opting for a 10mm round that recoils less. 
Looking at the round's energy specs will give you a rough idea of how much recoil you can expect, but there are also recoil calculators online that you can put more detailed information about the round and your gun into to get a more accurate idea. 
Bullet Weight
Bullet weight is measured in a unit called grains. The more grains, the heavier the bullet.
A larger bullet has more stopping power, but it also means heavier recoil, so if you're already concerned about 10mm powerful recoil, you might want to opt for a lighter bullet. 
Bullet Type
The two most common types of bullets are full metal jackets (FMJ) and jacketed hollow points (JHP).
FMJ bullets are defined by their lower rate of expansion, which leads them to be faster and penetrate deeper than other bullet types. They're also more affordable than JHP bullets. These factors mean that FMJ is the round of choice for range shooting.
JHP expand after hitting a target to inflict more damage, making them better suited for hunting and self-defense. Good hollow points will have a controlled rate of expansion, helping them penetrate clothing and thick hides and ensuring that they're deeper into the flesh when they do the most damage.
Let's start with some affordable but still decent rounds that do the job when you're running drills or just relaxing at the range. 
Federal Premium American Eagle 10mm Auto 180 Grain FMJ
Federal American Eagle 180 grain FMJ is a subsonic round. That means that it has a relatively light recoil (well, for 10mm anyway) that allows you to spend as much time as possible at the range before getting tired and sore. It could also be handy for competition since the light recoil keeps your hand steady and your shots more accurate. 
As a subsonic round, it's also quieter, helping to protect your ears, especially when combined with a suppressor. Of course, you'll still need to use proper hearing protection like ear muffs and/or ear plugs. 
Finally, it's very affordable without sacrificing quality, so you won't have to worry about draining your wallet or jamming your pistol.
Remington UMC 10mm Auto 180-grain FMJ
Remington UMC is a popular favorite for range ammo, and this 10mm version fits that trend. 
This round isn't anything special, but it's cheap and reliable, which is really all you need for training or plinking. I'd stick with the Federal American Eagle for competition.
BEST 10MM AMMO FOR DEFENSE
Now let's move on to some rounds to stock up on for your carry or home defense weapon. 
Hornady 10mm Auto 175-gr FlexLock Critical Duty
Hornady Critical Duty rounds are used by various law enforcement agencies, so that should be some assurance that it's good enough for you too. 
The Flex tip and thick jacket help control the bullet's expansion rate, so it's solidly in flesh when it expands. The round's nickel plating fosters smooth feeding.
This round's velocity and energy are pretty middle-of-the-road but certainly high enough to get the job done without having to sweat too much about overpenetration. 
Federal Premium Personal Defense Hydra-Shok 10mm Auto
Federal Hydra-Shok rounds have been a popular choice for defense for the more than three decades since Federal first introduced them. 
The copper jacket provides a consistent expansion rate for more damage and deeper wounds. The recoil isn't outrageous, so these rounds are great for beginners. The also provide enviable accuracy. 
BEST 10MM AMMO FOR HUNTING
Finally, let's finish up with some rounds for taking down medium to large game. 
Hornady Custom 10mm Auto 180 gr XTP 
Hornady Custom ammo uses Hornady's XTP bullet which is great for hunting. It's a hollow point, so it expands, but not to the same degree as the hollow points above. Instead, it's made for deeper penetration, which is helpful for hunting large game. 
It's also useful for defending against animal attackers. While I wouldn't use this round for bears, it should be plenty suitable for protecting yourself against feral hogs or dogs. 
Federal Premium 180-grain Trophy Bonded Bear Claw JSP 
Federal Trophy Bonded JSP rounds are ideal for hunting.
The soft point bullet offers good velocity for a hunting round, enhancing the bullet's accuracy and allowing for deep penetration. These rounds are also quite powerful and will have no problem getting through thick hides and bones and doing plenty of damage while they do. 
They're a great option for both hunting and defense against medium to large animals. 
The brass cartridges are also great for reloading if that's your thing.
BEST 10MM AMMO FOR BEARS
10mm is powerful, but I wouldn't use it for bear hunting. Rather, I suggest 10mm as a defensive weapon when you're hunting, hiking, or whatever else in bear country. 
For that reason, I've listed my preferred bear rounds separately from my recommendations for defensive and hunting rounds. And because it's a pretty specific use, I've only recommended one round. 
Buffalo Bore Heavy Outdoorsman 10mm 220 gr. Hard Cast FN
It's hard to top Buffalo Bore Heavy Outdoorsman 220 gr. has the heaviest bullet of any 10mm ammo on the market, at least as far as I know.
The bullet doesn't offer a lot of expansion, but it's hard to top for penetration, and that's what you need when trying to defend yourself from a bear — something that will have no problem breaking through a bear's thick skull. 
LOOSE ROUNDS
Whatever you need 10mm ammo for, there's a round above that will do the job for you. However, no ammo is a substitute for training and skill. Ammunition, and the guns you put that ammo in, mean nothing if you don't take the time to get good. 
So grab some ammo and get shooting!
READY FOR MORE?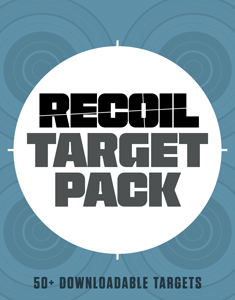 NEXT STEP: Download Your Free Target Pack from RECOIL
For years, RECOIL magazine has treated its readers to a full-size (sometimes full color!) shooting target tucked into each big issue. Now we've compiled over 50 of our most popular targets into this one digital PDF download. From handgun drills to AR-15 practice, these 50+ targets have you covered. Print off as many as you like (ammo not included).
Get your pack of 50 Print-at-Home targets when you subscribe to the RECOIL email newsletter. We'll send you weekly updates on guns, gear, industry news, and special offers from leading manufacturers – your guide to the firearms lifestyle.
You want this. Trust Us.