STEPPING INTO THE NFA GAME, PWS BRINGS THEIR FIRST SUPPRESSOR TO MARKET
Primary Weapons Systems is best known for its line of piston-driven AR guns, jumping early into the arena of expanding the technological envelope of the mainstream AR platform. 
Thank you for reading this post, don't forget to follow and signup for notifications!
They've now turned their sights on the fast-growing suppressor market, releasing their first-ever silencer, the BDE Suppressor. PWS says the moniker stands for Bravo Delta Echo, but a quick Google search may provide an alternate yet even more appropriate meaning.
The BDE is composed of titanium that's 3D printed and CNC turned, allowing for precise and intricate designs, concentricity, and use of a strong and lightweight material. It's anodized and Cerakoted, with exterior texturing designed to help dissipate heat mirage and look snazzy in the process. 
It's modular, with four removable baffles to exactly configure the BDE to your desired length and performance. The shortest configuration with just the endcap is 6.5 inches; screwing on all four provided baffles increases the length to 8.2 inches. 
Overall weight ranges from 12.7 to 17.4 ounces. Those who prefer fewer moving parts might wish that PWS had provided two longer double-baffled segments rather than four singlets, but the BDE features tapered threading to help prevent binding or carbon locking while sealing gases and preventing loosening. 
Additionally, the internal baffle notches are symmetrical to optimize accuracy and the serialization is on the blast chamber, so you can easily upgrade or service it in the future.
As you'd expect, removing baffles sacrifices noise suppression performance. PWS' test results range from 121.5 dB in the longest configuration at the shooter's left ear with an 8-inch 300BLK bolt gun to 140.7 dB in the shortest with a 16-inch .308 direct-impingement AR.
The BDE ships with a 5/8-24 direct-thread adapter, but you can easily remove it and attach any 1.375×24 HUB mount adapter that you'd like to the entrance chamber. PWS also supplies two wrenches; you can snap them on a 3/8-inch torque wrench to tighten baffles to spec. At 1.75 inches in diameter, the BDE's a bit girthy.
PWS rates the BDE for full-auto use, with no barrel length restrictions, and accommodates up to .300 Win Mag. We replaced the supplied direct-mount adapter with a Dead Air Silencers KeyMo HUB adapter and tested the can on the 11.5-inch Tinck Perun.
The BDE was comfortably hearing-safe and a bit quieter than some other suppressors in the stable. It was a delight to shoot, especially as the Perun is an extremely soft shooting gun. The Perun is also a gas-piston gun; we occasionally felt a bit of gas blowback, but most of the time we didn't notice any.
PWS has really come out swinging with their new BDE Suppressor, and we look forward to what they'll do in the future given its modularity. The BDE certainly put a spring in our step when we tested it. 
PWS BDE 762 SUPPRESSOR SPECS
Caliber: Up to .300WM
Length: 6.5 to 8.2 inches
Diameter: 1.75 inches
Weight: 12.7 to 17.4 ounces
MSRP: $1,100
URL: primaryweapons.com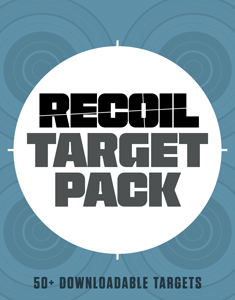 NEXT STEP: Download Your Free Target Pack from RECOIL
For years, RECOIL magazine has treated its readers to a full-size (sometimes full color!) shooting target tucked into each big issue. Now we've compiled over 50 of our most popular targets into this one digital PDF download. From handgun drills to AR-15 practice, these 50+ targets have you covered. Print off as many as you like (ammo not included).
Get your pack of 50 Print-at-Home targets when you subscribe to the RECOIL email newsletter. We'll send you weekly updates on guns, gear, industry news, and special offers from leading manufacturers – your guide to the firearms lifestyle.
You want this. Trust Us.