Trending: Ammo in Stock, Best AR-15s, & Best Beginner Handguns
Taurus is known for making affordable, dependable guns. Yes, they've had their hiccups, but I believe those days are behind us.
Thank you for reading this post, don't forget to follow and signup for notifications!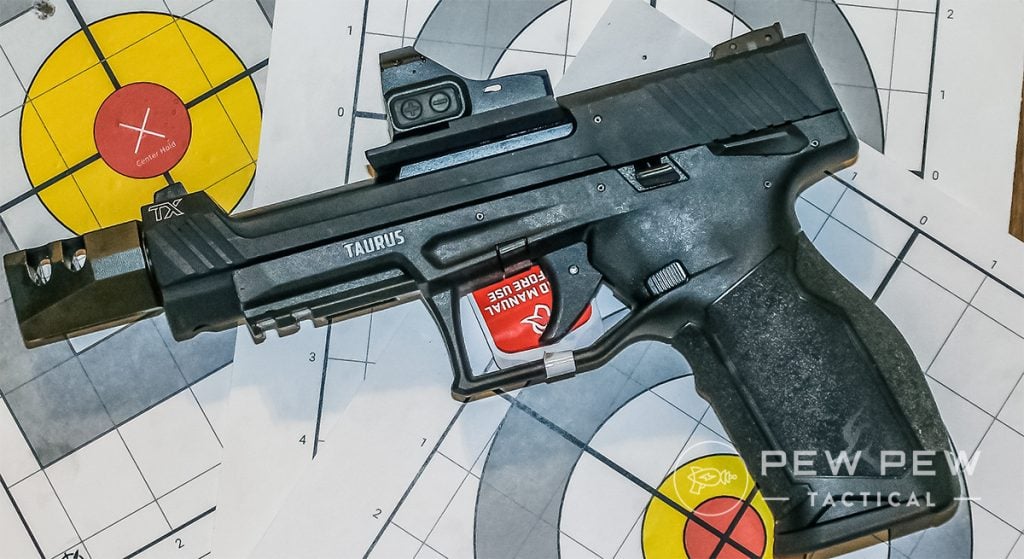 The company's new TX22 has recently been issued in competition finery, with a relieved slide, 4-pound trigger, threaded barrel, and optics-ready slide.
But does this budget-friendly pistol really stack up on the stages? We're going to walk you through the pros, cons, specs, and features to let you know.
So keep reading!
Table of Contents
Loading…
Taurus TX22 Competition Review at a Glance
Pros
The gun reliably spits lead with every pull of the trigger and shucked the empties clear.
You get three 16-round mags with loading pull-down tabs.
An optics base plate is installed at the factory, and adapter plates allow different red dot sights to be mounted.
Cons
Grip texturing is fairly non-existent, and the grip feels slippery.
The MSRP of $533 seems a bit pricy for a Taurus .22, even with the included accessories.
One of the included mags was missing its round pull-down tab that allows quick loading. The mag was still functional, but this was a QC miss.
The Bottom Line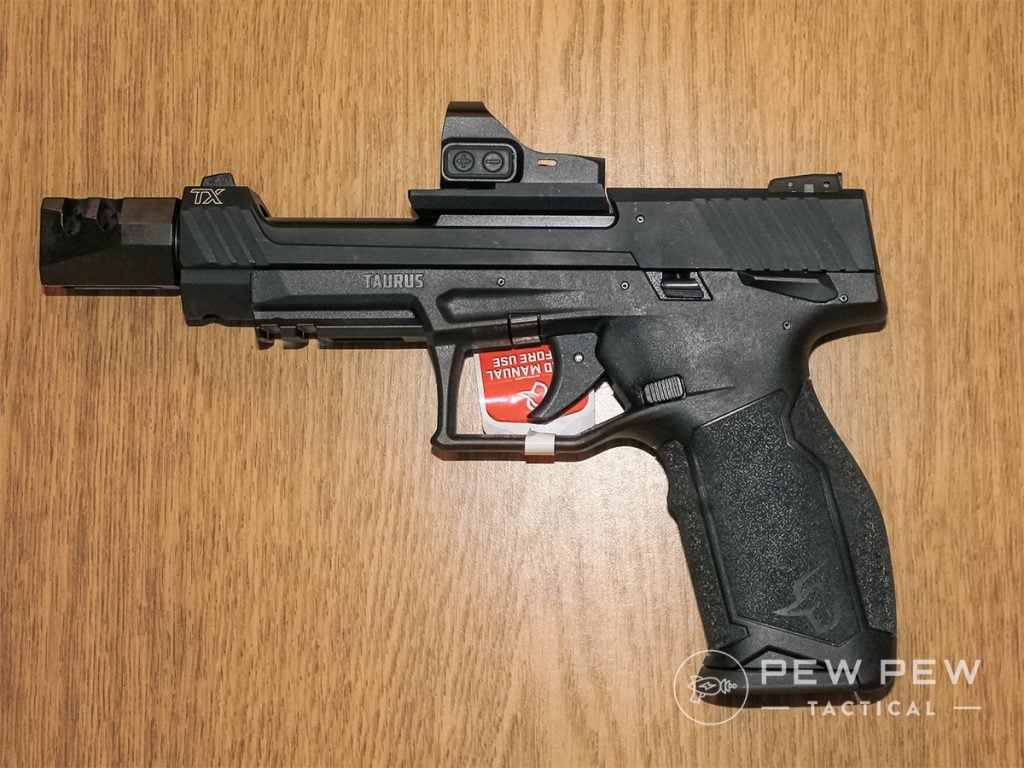 For a street price of around $450, you get three 16-round mags, a red dot-ready slide, a muzzle compensator, and a very nice trigger. Add in the lightened slide, adjustable rear sight, plus locked-in reliability and accuracy, and you have a winner, winner chicken dinner!
439
at Firearms Depot
Prices accurate at time of writing
Prices accurate at time of writing
Available Coupons
25% off all OAKLEY products – OAKLEY25


Copied!
Visit Merchant
Specs & Features
Specs
Width: 1.25"
Length: 8.15"
Barrel Length: 5.25"
Height: 5.44"
Weight: 23.2 oz.
Capacity: 16+1
MSRP: $533
Features
Threaded barrel with standard 1/2×28 threads for a compensator or suppressor
Fully Adjustable Rear Sight
Reversible Magazine Release
Source: Taurus
Background
The .22 handgun field is crowded. From super-expensive tack-driving target guns like the Smith & Wesson 41 to inexpensive plinkers like the Heritage Rough Rider, you can get just about whatever you desire in a rimfire pistol or revolver.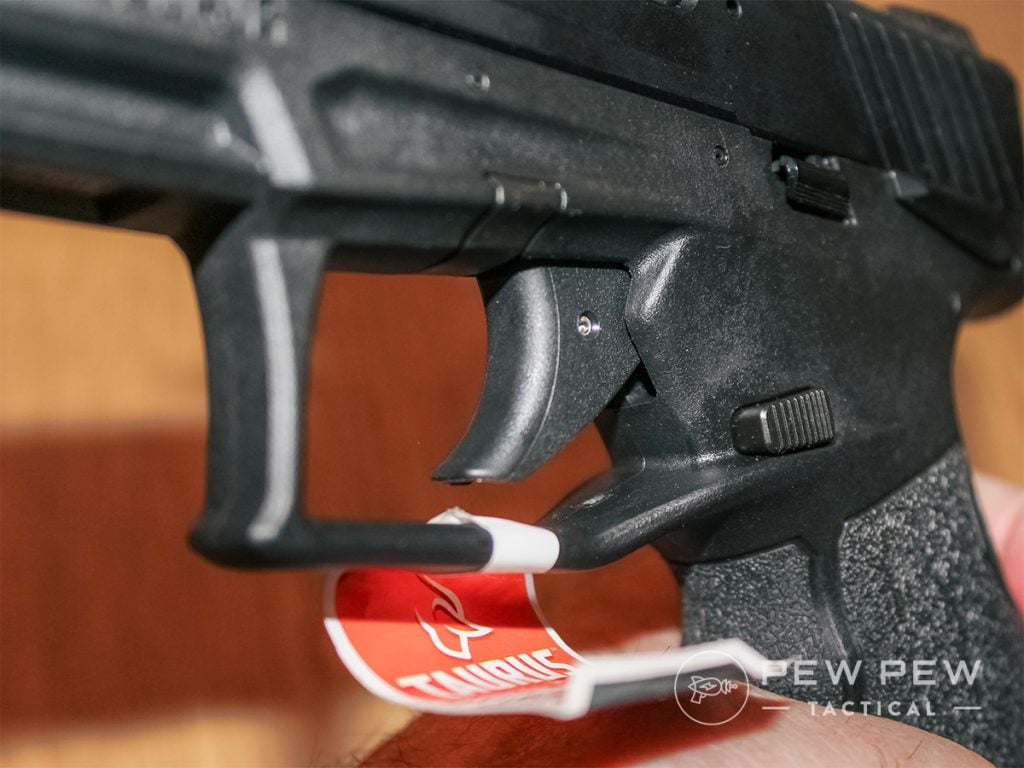 In terms of pistols set up for competition, Taurus is a new player in the game.
The TX22 has been a steady seller for Taurus since its introduction. What sets the gun apart from most of its competition is reliability, accuracy, and capacity.
I mean, what other accurate .22 pistol holds 17 rounds and sells for what this pistol costs? There might be some out there, but Taurus seems to have nailed it with this gun. This is a company with its proverbial ear to the ground, listening to shooters and trying to supply our needs.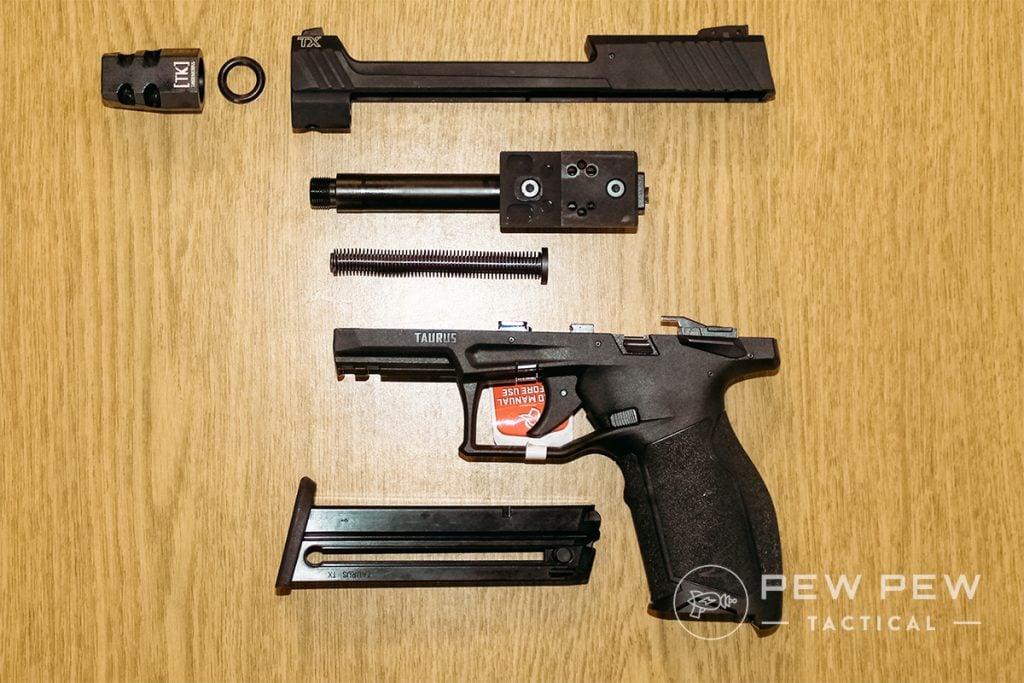 They decided to make a TX22 for competitors, so they modified the stock model and added some excellent features. Taurus's recent releases seem to have been well received, and the TX22 Competition is no exception.
Who Is It For?
This Competition model is geared toward rimfire competitors. I know, duh…but it also is made for the casual shooter who may want to take their rimfire game to the next level.
You can easily customize this pistol.
On the Taurus Store, there are over 40 items you can buy for the TX22. This means that most shooters, from beginners to seasoned veterans, can modify the gun to fit their needs.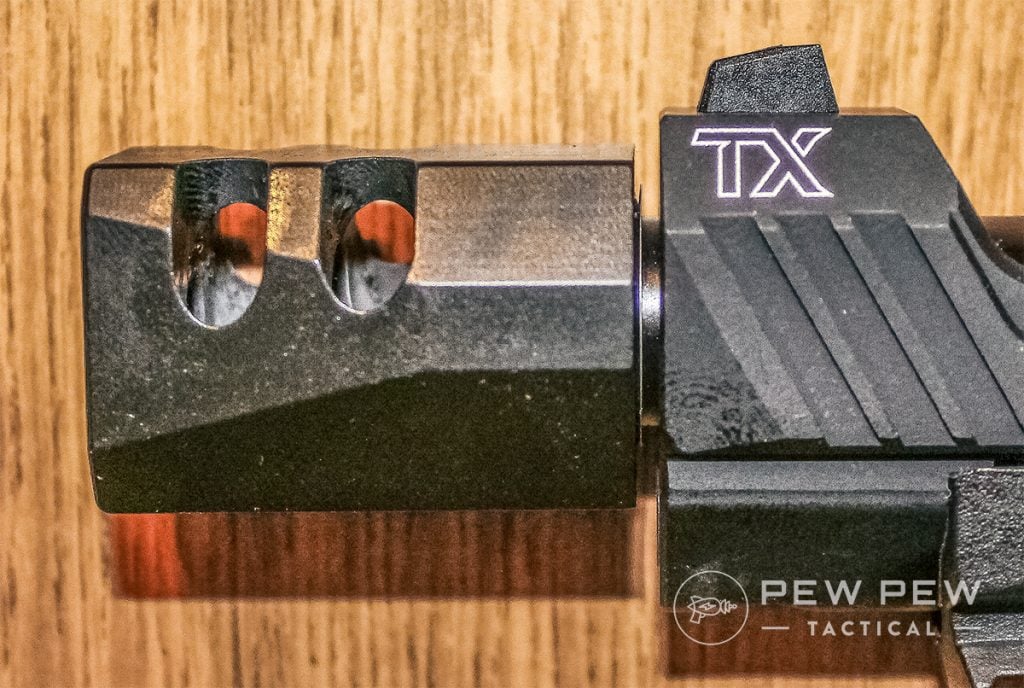 Another segment of the shooting market I should mention is the small-game hunters out there, of which I am one. The TX22, with its adjustable rear sight or a red dot, would make a great squirrel-getter.
Overall, it is an extremely versatile pistol.
What's In The Box?
In addition to the pistol, you have three magazines, two red dot adapter plates, the muzzle compensator with O-ring, a washer and barrel thread protector, a magazine loader, a lock, and a manual. The case is a hinged, hard-plastic type that is better than previous Taurus boxes.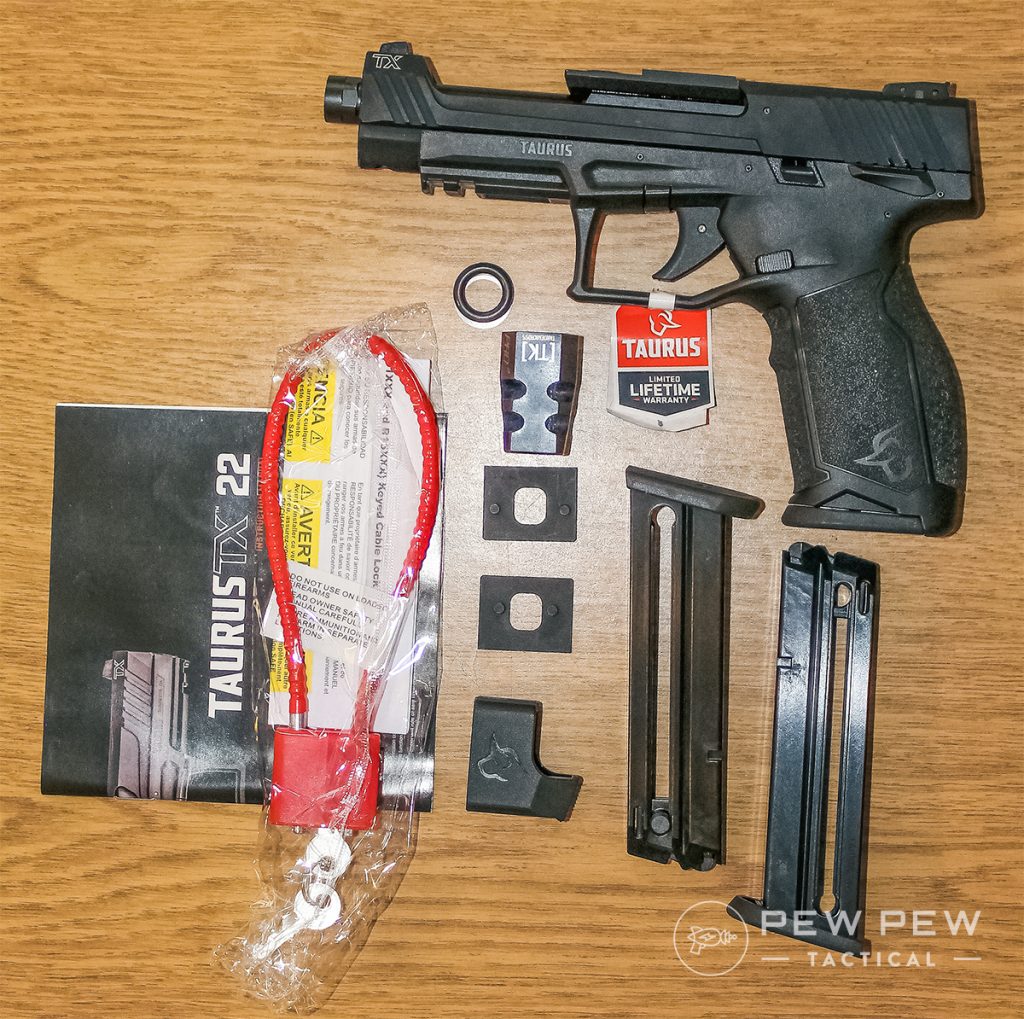 Fit & Feel
The gun felt like a full-size 9mm in my hand, except for the weight. It is pretty light, even with a full magazine and a red dot installed.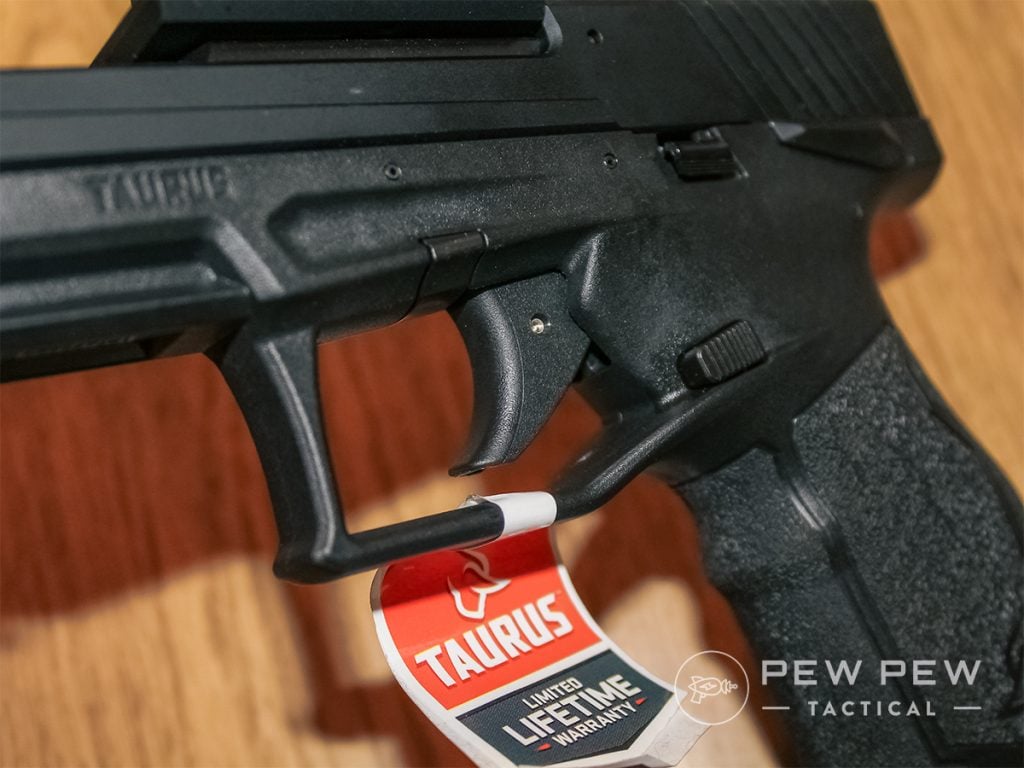 The only issue I had with it concerned the lack of grip texture. Now, I get it – I assume Taurus figures that this gun is "just" a .22 and won't recoil like its brethren with larger holes in their barrels. They probably figure that a less-textured grip surface is OK and won't rub new shooters the wrong way (literally).
If you are like me and prefer a more aggressive grip texture, this gun doesn't have it. The first thing I'd do is plug in my trusty soldering iron and stipple the snot out of it or add some Talon Grips.
As for sights, they don't co-witness, so the plain-ordinary-white-dot-ness isn't much of a factor for red dot shooters. At least the rear sight is adjustable.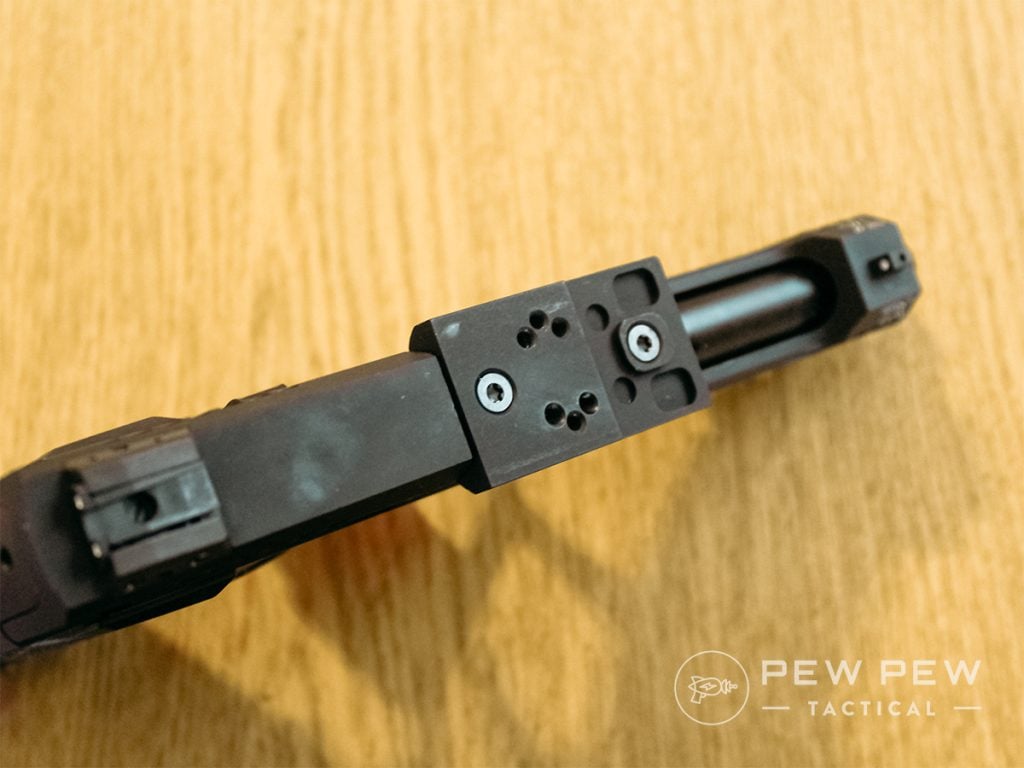 How Does It Shoot?
I took the gun to my backyard range and grabbed three boxes of .22 ammo — Remington Thunderbolt, Winchester Wildcat 40-grain HP, and Aguila 40-grain target.
I installed my TruGlo Tru-Tec micro red dot on the gun for shooting.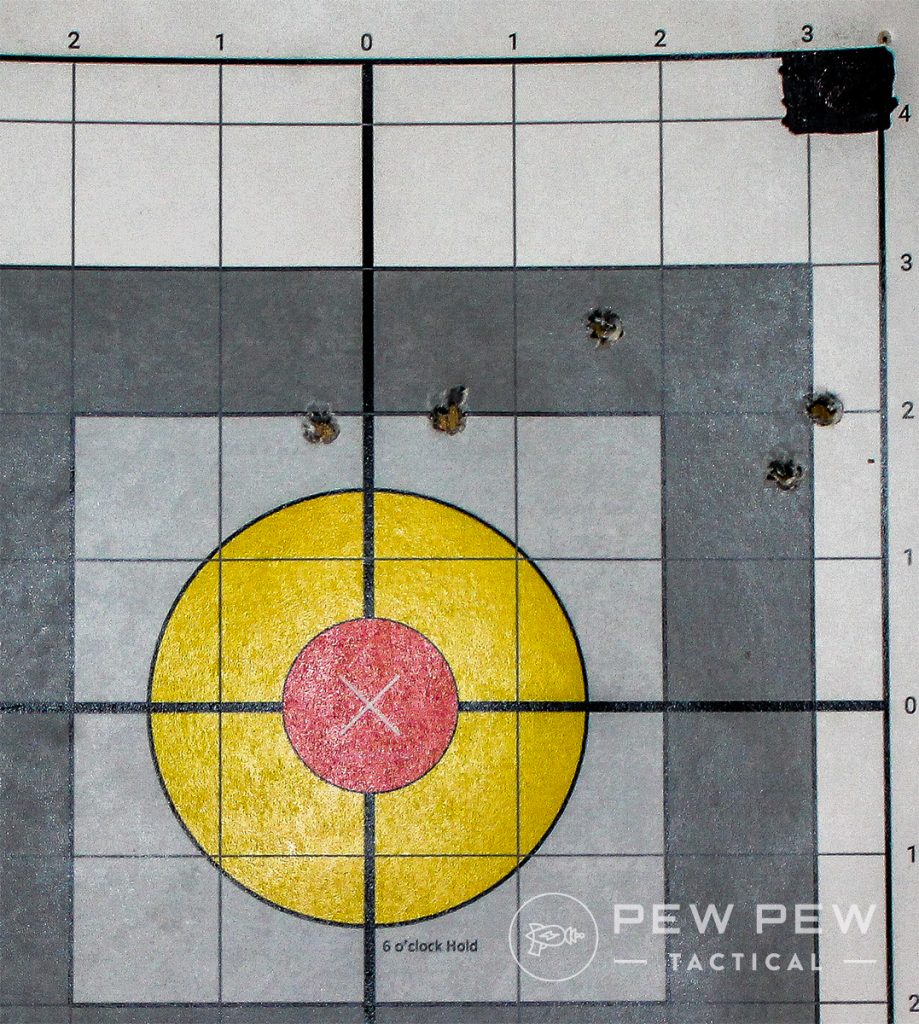 It shot mostly low, so I used a high/right aiming point for the Remington. The other two allowed me to use a center hold on the orange dot and still keep the shots on the paper, about 2 inches low.
The Remington Thunderbolt spread itself a bit. Depending on the gun, this load is either very accurate or not at all.
The TX22 is somewhere in the middle…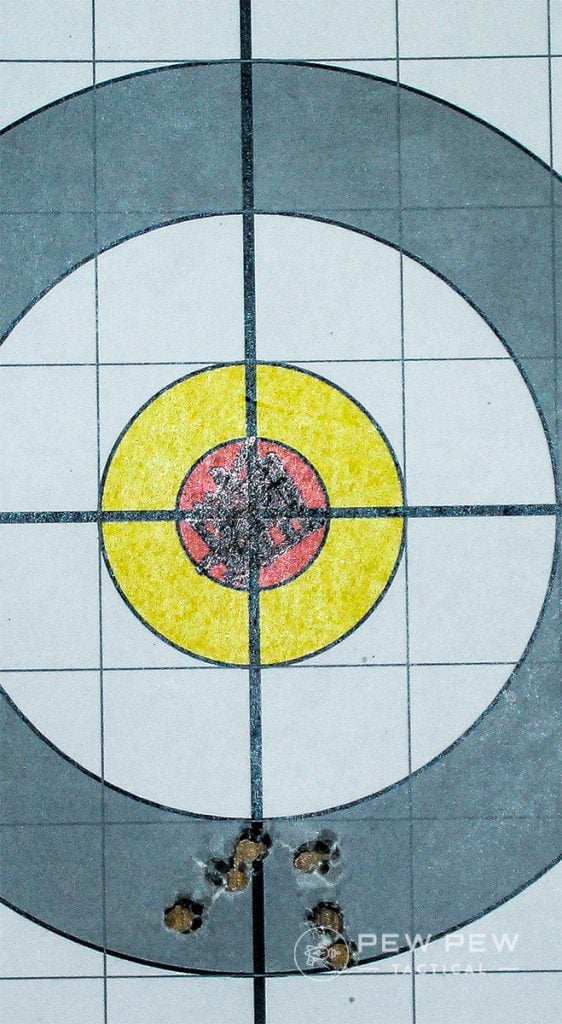 The Winchester and Aguila loads allowed the use of the center orange "dot" as an aiming point. Windage was right on, but the elevation was low.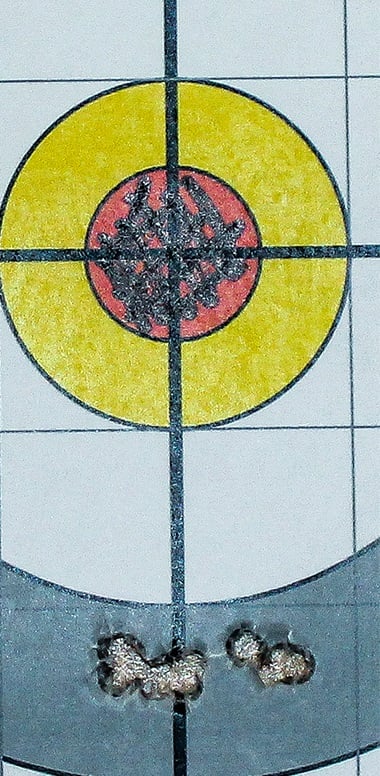 As you can see, the gun would be worth working with to find that perfect load for it.
I only tried three, but it is well known that .22 ammo varies widely in its accuracy potential with different guns. If I had more time with this pistol, I'd try some CCI 40-grain standard and high-velocity loads, but the potential is there.
What Sets it Apart?
Why would you buy this TX22 when there are other capable .22 pistols in the same price range or less?
From my perspective, it feels different in my hand than S&W Victory. The grip offers a more "Glock-like" feel…like a full-size striker 9mm than most other .22s I've handled or shot.
The frame is very close to that used on the TH line of Taurus guns and also is close to the G3 series frames.
You could practice with the TX22, then go to your bigger blaster without much fuss. My Victory or my Diamondback Sidekick can't do that.
By The Numbers
Reliability: 5/5
It shot whatever I put through it.
Ergonomics: 4/5
The slick grip makes it a 4, not a 5.
Accuracy: 5/5
No problems here!
Customization: 5/5
The Taurus Store and many other vendors have you covered here with plenty of accessories to add on.
Value: 4/5
Its street price of ~$450 is a bit steep, but if you want to keep it under $500, it will do.
Overall: 4.5/5
439
at Firearms Depot
Prices accurate at time of writing
Prices accurate at time of writing
Available Coupons
25% off all OAKLEY products – OAKLEY25


Copied!
Visit Merchant
Upgrades for the TX22 Competition
The Taurus Store is a great place to start for accessories, but a quick search will turn up a bunch of other vendors that should scratch your TX22 modification itch.
How about a raised, red competition magazine release? Tandemkross sells one.
If you own a standard TX22, you can buy a Competition model conversion kit for a few more dollars. That gets you the slide, barrel, and recoil spring of the Competition model. It's a simple plug-and-play setup.
143
at Tandemkross
Prices accurate at time of writing
Prices accurate at time of writing
Available Coupons
25% off all OAKLEY products – OAKLEY25


Copied!
Visit Merchant
Final Verdict
To sum up, the .22 pistol market has just happily expanded, and the Taurus TX22 Competition pistol is a great addition to the neighborhood.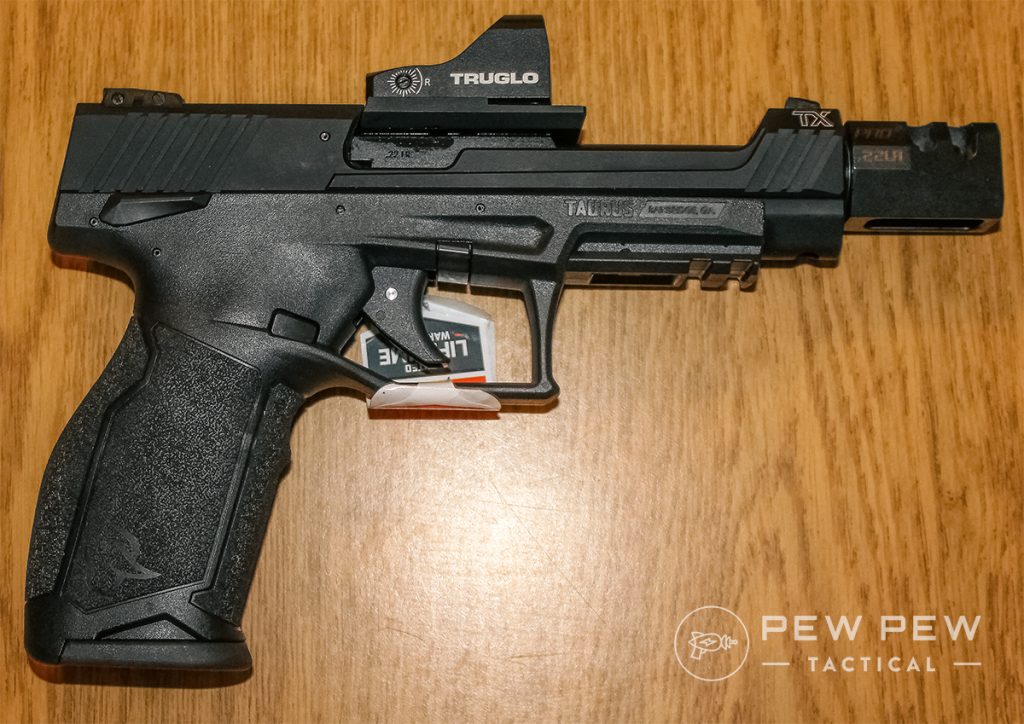 From its threaded muzzle, a great trigger, versatile optics base plate & adapters to its lightened slide and adjustable rear sight, the Comp has a lot going for it.
I wouldn't hesitate for an instant to add this gun to my gun cabinet, and I don't think you should, either.
What do you think of the Taurus TX22 Competition? Let us know below. Interested in the regular TX22 or .22 LR guns in general? Check out our article on the Best .22 LR Training Guns.