NEW from Applied Ballistics comes the long-awaited third volume of Modern Advancements In Long Range Shooting!
Thank you for reading this post, don't forget to follow and signup for notifications!
Bryan Litz and the team at Applied Ballistics have long been the absolute authority on ballistics and the science behind long range shooting. Their data and advancements have changed the way we shoot and have disproven dozens of pieces of fudd lore.
In his latest book, Litz looks at some long argued topics and provides the science behind his claims. 
The book is divided into four parts: Precision Testing, Advanced Handloading, Dopper Radar Testing, and Miscellaneous.
The chapters cover a wide range of topics from barrel tuner testing to powder humidity to barrel break-in to testing the Labradar Chronograph.
Every part of the book is backed up with extensive experimental data proving out what Litz says. 
From AB: "Modern Advancements In Long Range Shooting is a book series by Bryan Litz which documents the ongoing R&D taking place in the Applied Ballistics laboratory."
"The series is heavily based in experimental ballistics, and takes a sort of 'mythbusters' approach to many of the questions and problems faced by modern long range shooters. In today's world of marketing hype and movie magic, Applied Ballistics continues to explore long range shooting using the scientific method, and publishes the results in a non-biased way that's easily understood by the layman."
"All chapters take a close look at the scientific theory as well as live fire test results with the overall goal being to reveal information that's useful to the modern long-range rifle shooter.  Author Bryan Litz explains the complex topics of ballistics in easy-to-understand layman's terms so it's accessible to all readers."
Price is $45 and is now shipping from Applied Ballistics' website. If you're ready to go down the rabbit hole, AB also has a Podcast.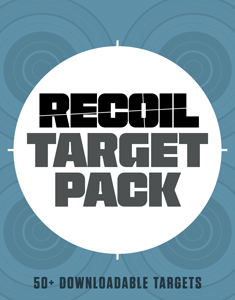 NEXT STEP: Download Your Free Target Pack from RECOIL
For years, RECOIL magazine has treated its readers to a full-size (sometimes full color!) shooting target tucked into each big issue. Now we've compiled over 50 of our most popular targets into this one digital PDF download. From handgun drills to AR-15 practice, these 50+ targets have you covered. Print off as many as you like (ammo not included).
Click here to get IMMEDIATE ACCESS to a digital PDF of this target pack!