Trending: Ammo in Stock, Best AR-15s, & Best Beginner Handguns
One of the most important things when learning about guns is getting your hands on one to practice.
Thank you for reading this post, don't forget to follow and signup for notifications!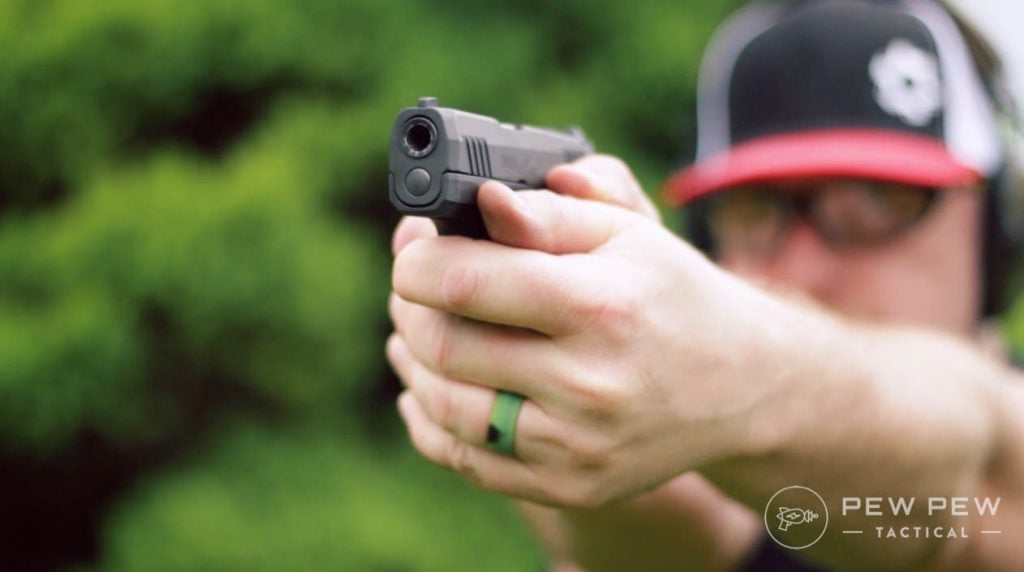 Collecting guns is just like any other hobby; folks can get way too into it.
Sometimes when those people give recommendations, they end up giving you all kinds of specs and models — and it can be a lot to take in.
Getting bogged down by a billion recommendations and technical jargon can make it hard for newer gun owners or people looking to get their first gun to get into collecting and shooting.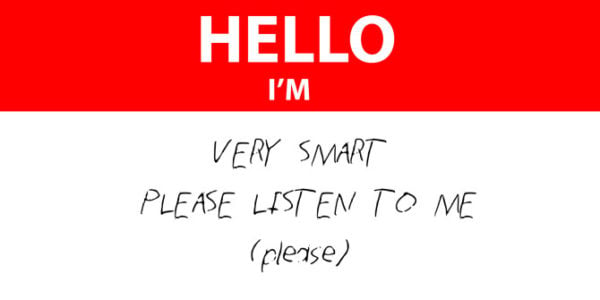 Everyone has to start somewhere.
So let's take a look at some guns out there for anyone looking to get started or just dip their toes into the wide world of firearms without spending a bunch of money in the process.
Whether it's your first gun or your 50th, all of these are excellent choices and will serve you well. So, keep reading!
Summary of Our Top Picks
Best Budget Shotgun

Mossberg Maverick 88 Pump-Action Shotgun

The Maverick 88 is a time-proven platform at a steal of a price.

$250 at Primary Arms
Jump to Details

Best Budget Plinker

Ruger 10/22

The Ruger 10/22 is pretty cheap, and the ammo is too. If you are trying to have fun on a budget, this gun is hard to beat.

$299 at Kygunco
Jump to Details

Best Budget AR-15

Palmetto State Armory Blem PA-15 16" M-LOK Carbine

PSA is one of the best bang for the buck AR-15 rifles on the market today. They produce a ton of guns in a ton of configurations, so there is likely one out there that is just right for you.

$480 at Palmetto State Armory
Jump to Details

Best Overall Beginner Gun

Glock 19, Gen 5

The combination of reliability, availability, aftermarket, and ease of use make the Glock 19 one of the most commonplace and popular pistols worldwide.

$533 at Palmetto State Armory
Jump to Details
Table of Contents
Loading…
Best Budget Shotguns for New Shooters
A good place to start your collection is with a shotgun. When it comes to versatility, shotguns arguably cover the most uses.
You can use it for everything from home defense, to competition, to hunting. A solid 12-gauge shotgun can take out anything from a clay pigeon up to a grizzly bear with the right ammo.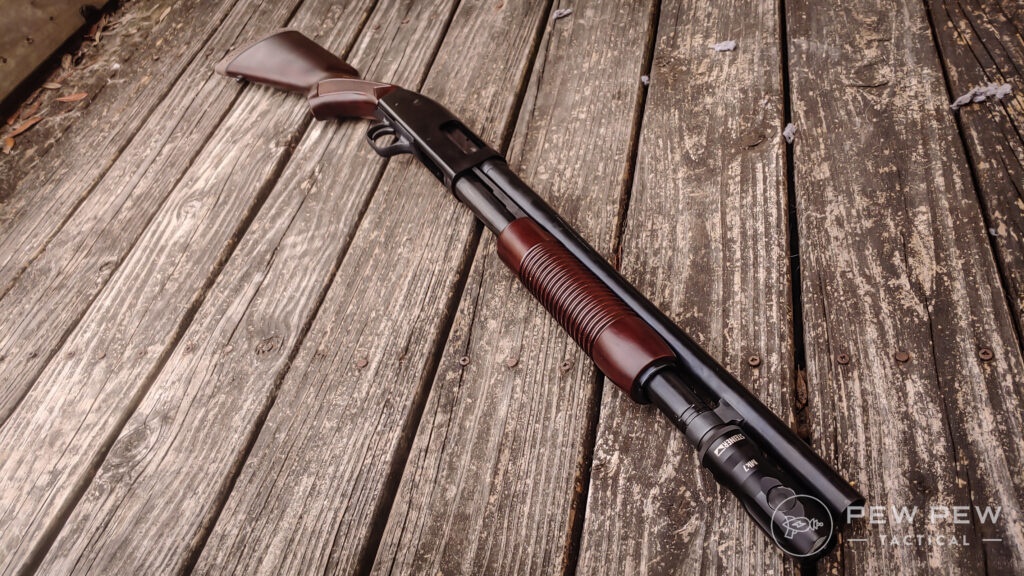 Some common shotguns allow you to swap the barrel with minimal effort, allowing you to use different ammo types more effectively and ensure the gun is suited to your needs.
Many shotguns also have interchangeable choke tubes, which screw into the end of the barrel and change the effective spread of the shotgun at distance.  
1. Mossberg Maverick Model 88
The Mossberg Maverick 88 sets a high bar for budget shotguns. It is a stripped-down version of the legendary Mossberg 500 with some slight ergonomic changes to make the platform a little more affordable.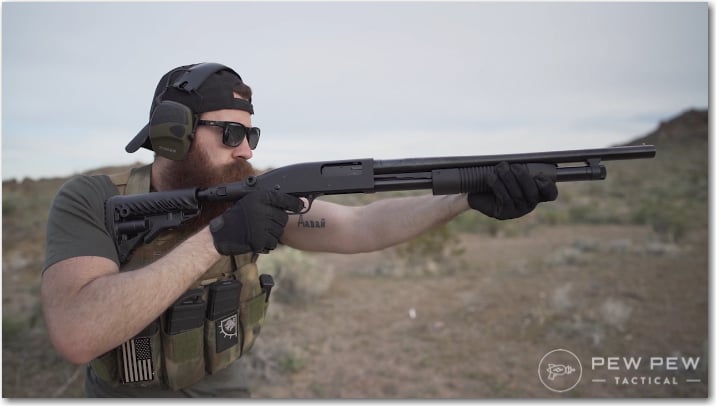 The Maverick is a simple, pump-action shotgun with a stock standard magazine tube design.
There are a few variations, including Security and Field models, designs with longer tubes and barrels, and pistol grip-only models.
When it comes to budget guns, reliability can sometimes be hit or miss. With the Maverick 88, this is not an issue at all, as it utilizes one of the most time-proven designs coupled with the reliability of a manual pump action.
Best Budget Shotgun
250
at Primary Arms
Prices accurate at time of writing
Prices accurate at time of writing
Available Coupons
25% off all OAKLEY products – OAKLEY25


Copied!
Visit Merchant
Just about any big box store in the United States likely carries the Maverick 88 at a price of around $200-250.
Not a bad deal for a crazy reliable platform that packs a major punch. In fact, the Mossberg Maverick 88 is easily the best low-priced home defense weapon out there.
2. Benelli Nova
For those of you that have heard of Benelli, it might be shocking to see one of their guns on a best-of-budget gun list. Don't be fooled, though; Benelli managed to uphold their reputation for quality and reliability in a shotgun that comes in at $400 or less.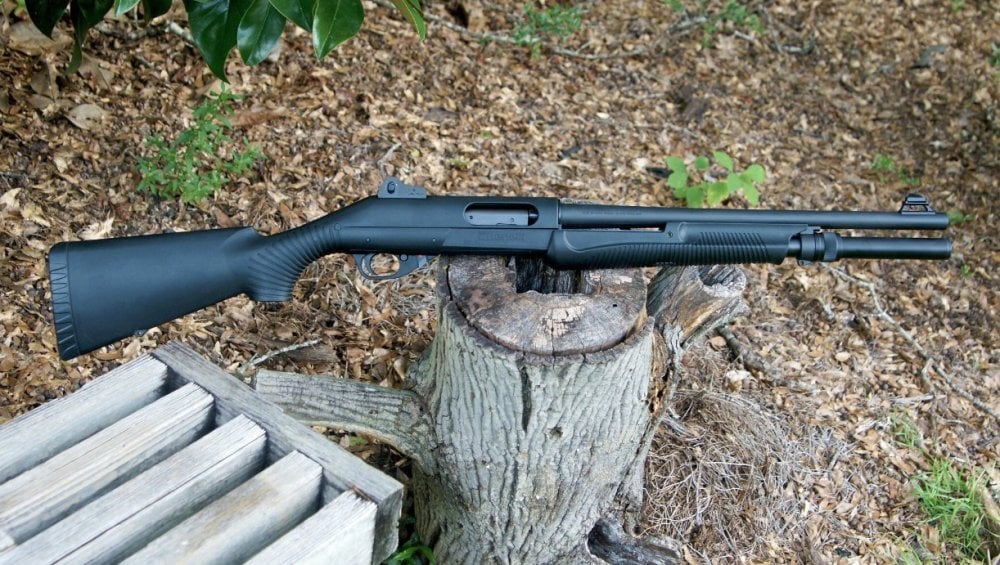 The Benelli Nova is everything you'd expect from a top-notch Italian manufacturer.
Its rotating bolt, coupled with a pump action grip that is set farther back than most of its competitors, makes this pump action slick, fast, and easy to operate.
Like the Maverick, it is available in various barrel lengths and configurations depending on what you want to do with it.
The only real drawbacks to the Nova are the lack of interchangeable stocks and furniture and extra barrels costing more than those of the Maverick 88.
340
at EuroOptic
Prices accurate at time of writing
Prices accurate at time of writing
Available Coupons
25% off all OAKLEY products – OAKLEY25


Copied!
Visit Merchant
Best Budget Rifles for New Shooters
Rifles are a bit different than shotguns and less versatile. You're more limited by the ammunition the gun is chambered in and what you can do with it.
If you have a 22 rifle, you're not going to be hunting deer — If you have a .308 rifle, you're not going to be hunting squirrels.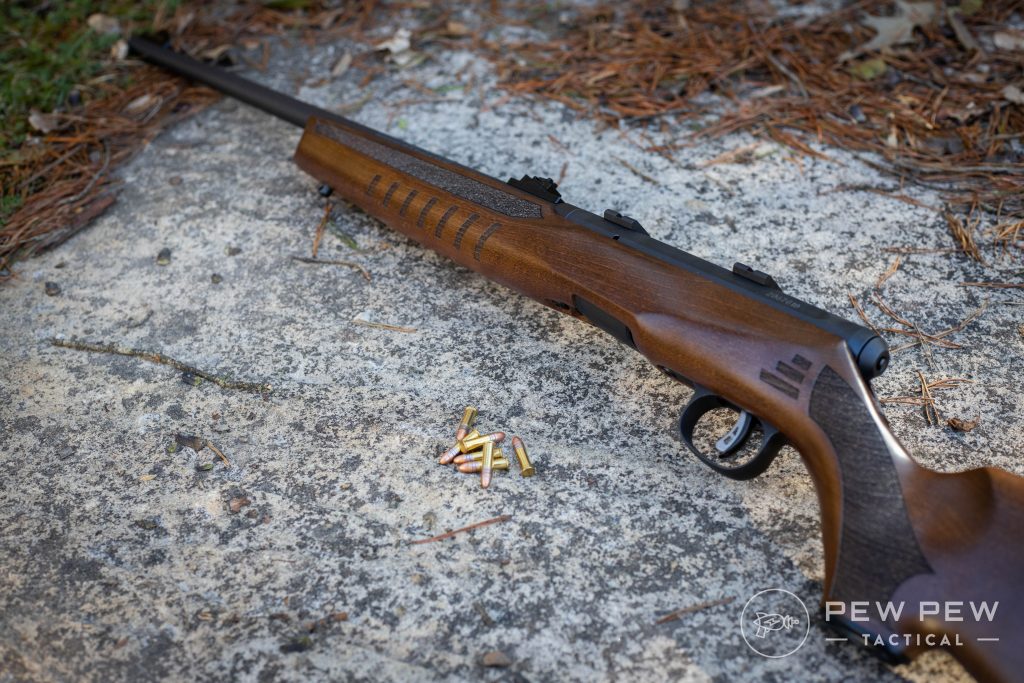 Because of this, many people opt to get multiple rifles in different calibers to cover all their bases. However, if you are just starting, it is best to pick the one you will get the most use out of.
If you aren't sure what you need, check out our rifle caliber guide.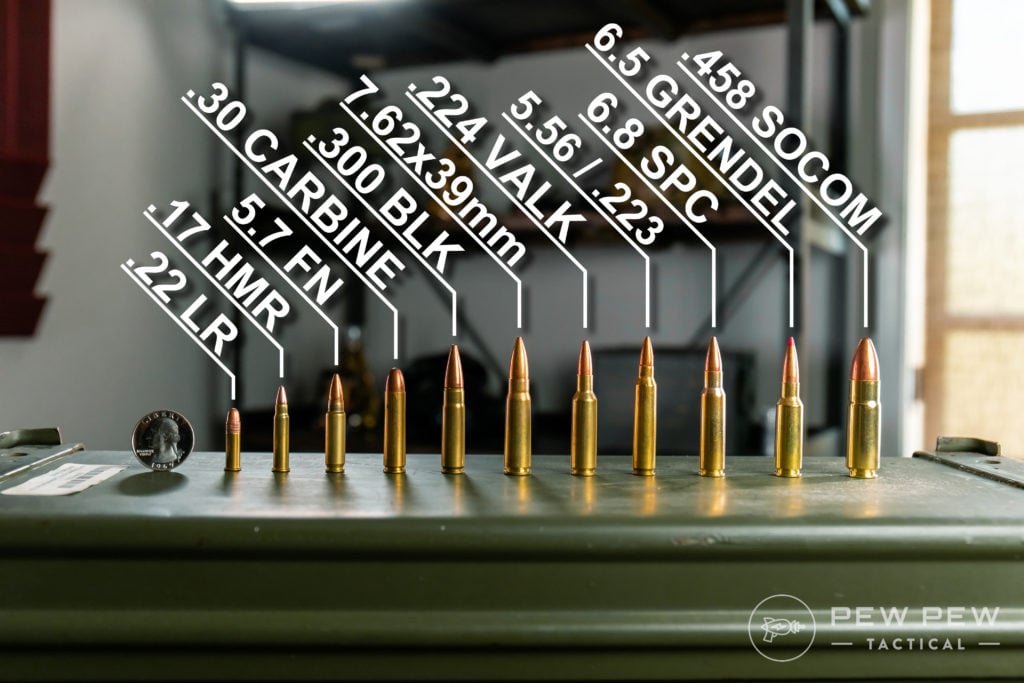 You can also check out our best beginner hunting rifle recommendations if that's what you're looking to get into. And if you're looking for something specifically to take to the range, give our best precision rifles guide a look.
3. Ruger 10/22
The Ruger 10/22 is one of the best all-around .22 LR rifles on the market, so you'll see it everywhere. It is reliable, easy to shoot, and semi-automatic, all of which make shooting this gun a fun time.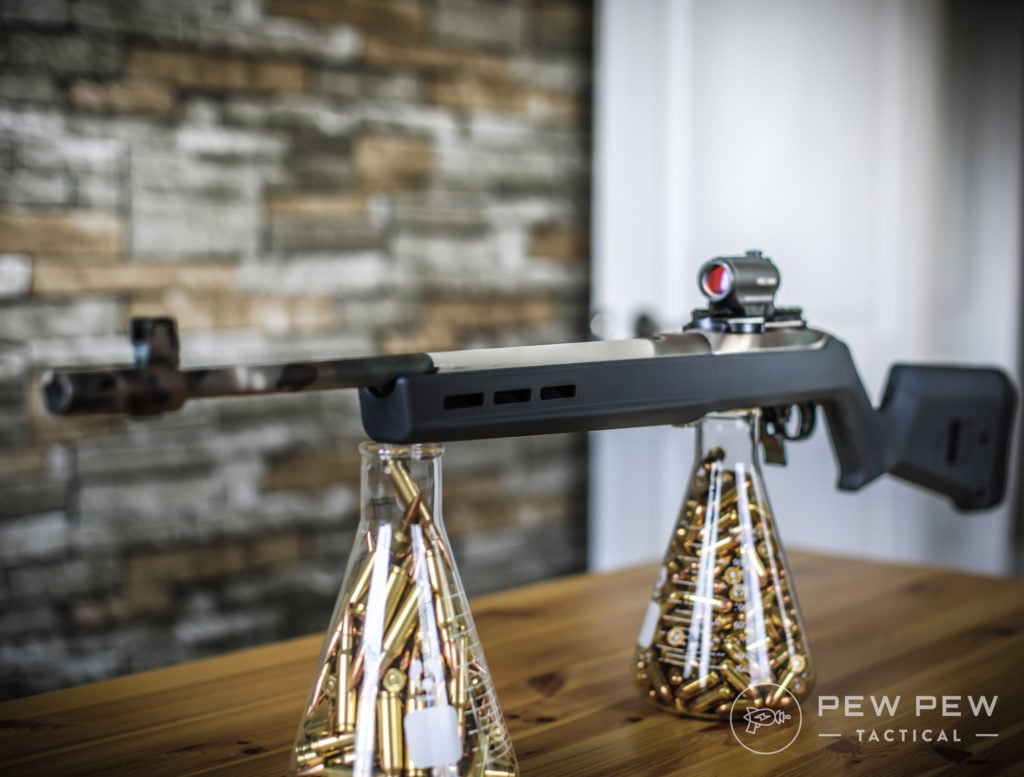 There are numerous versions, so you can find one to fit your specific needs.
For example, they have a competition version with a sweet-looking barrel, a takedown version (this separates into two pieces and fits in a bag for easy carrying), a standard carbine, and more.
Best Budget Plinker
299
at Kygunco
Prices accurate at time of writing
Prices accurate at time of writing
Available Coupons
25% off all OAKLEY products – OAKLEY25


Copied!
Visit Merchant
One of the nicest things about the 10/22 is the number of accessories and awesome mods available for it.
These guns enjoy some of the widest aftermarkets of any firearms ever made, so if you want something for it, they probably make it.
Most of the Ruger 10/22 rifles are in the $250-$400 range; it really just depends on how tacti-cool you want to be.  
4. Savage Axis II
Low price and high performance should be the tagline of the Axis rifles from Savage. The Axis II boasts stellar accuracy while being easy on the wallet.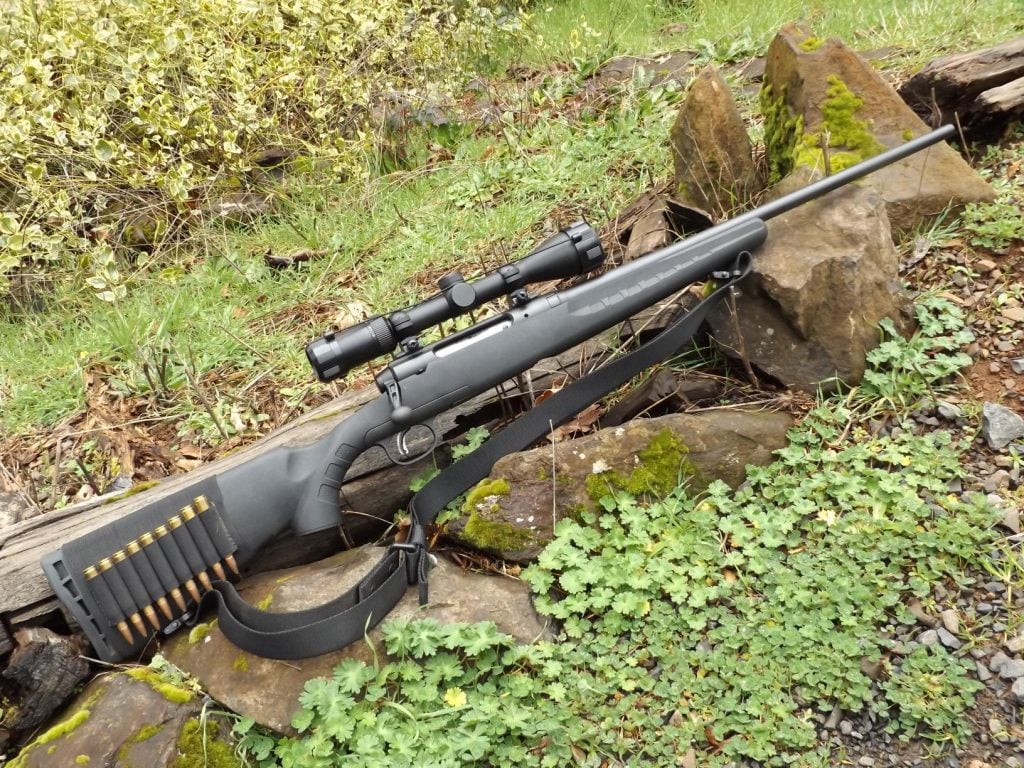 It offers standard rifles, compact sizes, left-handed versions, and slightly more feature-filled variants at slightly higher prices. Savage also chambers the rifle in tons of different calibers.
You can get a little bit of everything with the Axis. With the basic models, you get a simple but reliable and very accurate platform. There isn't much modularity inherently, but companies like Magpul produce stocks and accessories to get you going.
Key features include Savage's excellent Accu-Trigger, button-rifled barrels, and a newer redesigned stock. The trigger alone is worth the price of admission and is sure to help reinforce good shooting fundamentals.
386
at Firearms Depot
Prices accurate at time of writing
Prices accurate at time of writing
Available Coupons
25% off all OAKLEY products – OAKLEY25


Copied!
Visit Merchant
The Axis series rifles are perfect for the new hunter or new rifle owner learning for something affordable, reliable, and easy to shoot.
Sure they aren't long-range precision rifles, but for 99% of shooters, they are more than enough gun.
Best Budget AR-15s for New Shooters
An AR-15 style rifle is another good choice. As you might already know, they are extremely easy to accessorize to your liking. You can build one by buying the parts separately and assembling it yourself, but many choose to buy one that's premade.
With the AR platform, it's really easy to get into the $1,000 to $3,000 range when you're building a gun, but luckily, there are some cost-effective choices for those still looking for a quality rifle.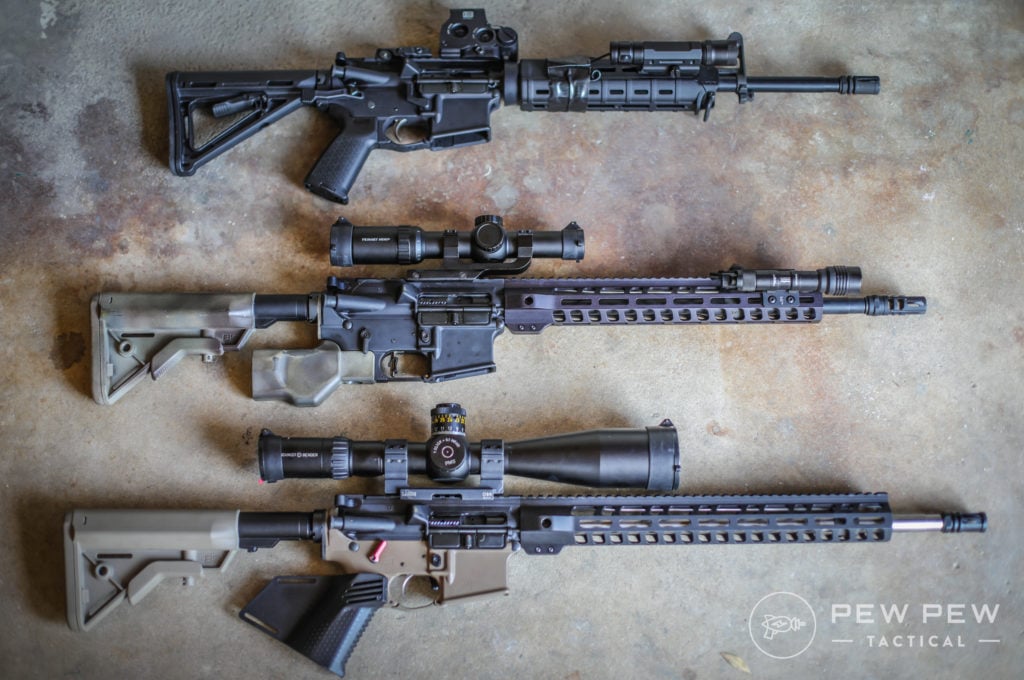 When you are buying a pre-assembled AR, the rifles around the $700 range will have roughly the same features, components, and specs.
Because they are all pretty similar, I'm going to list off a few common, reliable, respectable first choices for an AR platform rifle.
If you want more info, be sure to check out our popular AR-15 Buyers Guide.
5. Sig Sauer M400 Tread
Sig isn't exactly known for its budget-friendly firearms, but the company took aim at new AR owners with the Sig M400 Tread series.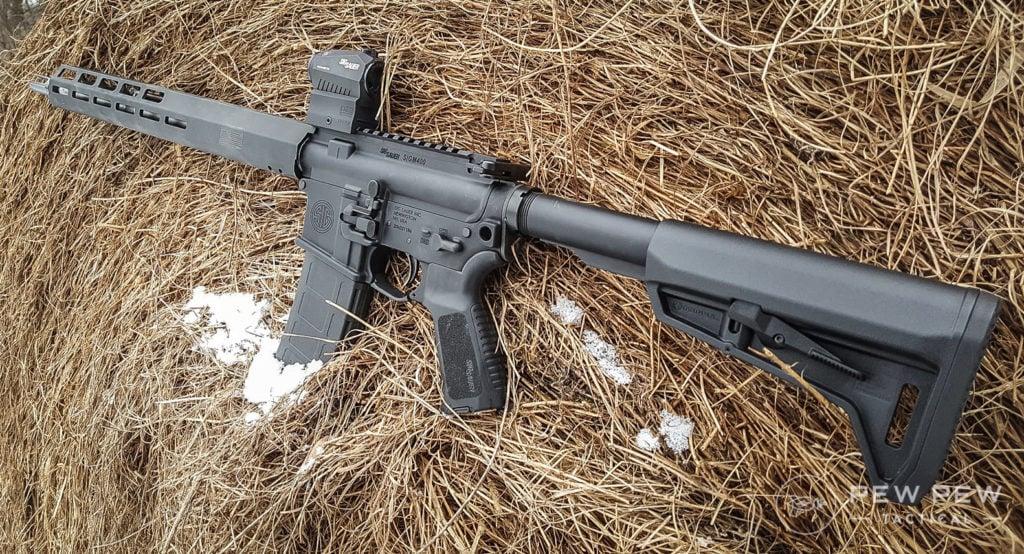 Budget is relative, and the M400 Tread wears a price tag approaching $850, but I consider it budget friendly cause you get more than $850 worth of rifle.
The M400 Tread series is your basic AR-15 carbine outfitted with numerous features you won't find on bare-bones ARs. This includes the free-floating, M-LOK handguard for all the goodies you could ever want to attach.
The barrel is 416R stainless steel, and the rifle uses a mid-length gas system. At the end sits a 3-prong flash hider to keep things comfy.
Jack Of All Trades
850
at Palmetto State Armory
Prices accurate at time of writing
Prices accurate at time of writing
Available Coupons
25% off all OAKLEY products – OAKLEY25


Copied!
Visit Merchant
Shooters get ambidextrous magazine releases, an oversized bolt release, and an ambi safety. On top of that, a built-in quick-detach mount allows for an easy attachment of a sling. Sig tossed on a Magpul SL-K stock, and it is just wonderful.
The company built the M400 Tread series rifles to be out of the box ready for any task — and did so without breaking the bank.
6. Palmetto State Armory PA-15
When it comes to budget AR-15s, Palmetto State Armory is the king of them all. Rarely will you find any new AR-15 priced lower than a PSA, and if you do, they won't always be as reliable.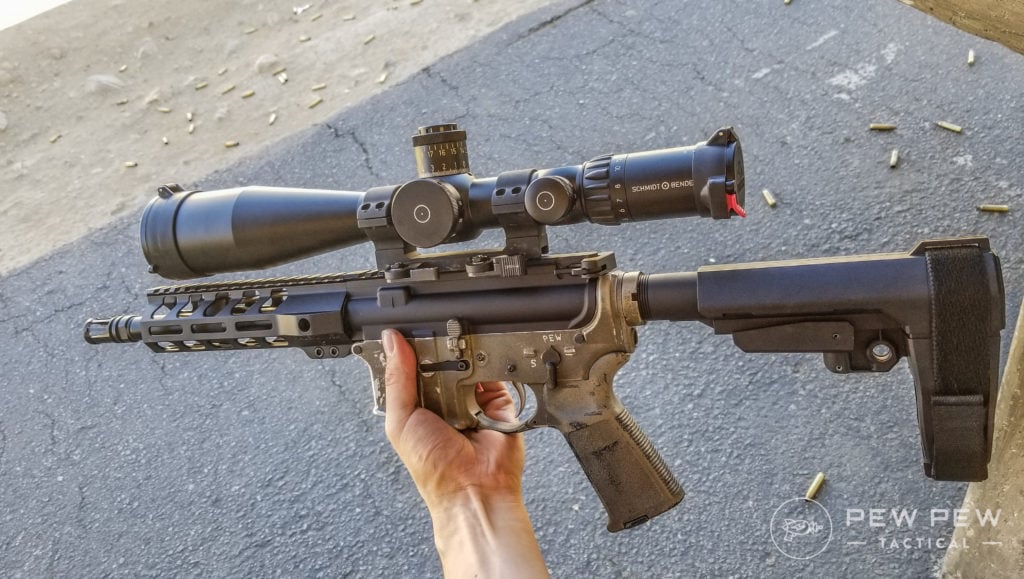 While they may not be the finest velvet-lined guns out there, Palmetto State AR-15s have been reliable in our testing and represents one of the best bangs for your buck.
Best Budget AR-15
480
at Palmetto State Armory
Prices accurate at time of writing
Prices accurate at time of writing
Available Coupons
25% off all OAKLEY products – OAKLEY25


Copied!
Visit Merchant
Not to mention, they have a ton of options to boot.
PSA also makes an extensive line of complete uppers and complete rifles in a range of calibers, including 6.5 Creedmoor, .308 Win, 6.8 SPC, 9mm, and several others.
We've hands-on reviewed 3 of their AR-15s, their AR-10 in .308, their AR-15 upper in .224 Valkyrie, and their 9mm PX9 PCC. All of them have been excellent!
Best Handguns for New Shooters
Picking your first handgun is a challenge, whether you're a new shooter or you've just only owned long guns before. Some guns just feel better in your hand than others, some sights are easier to use, and some may have controls that you can reach better.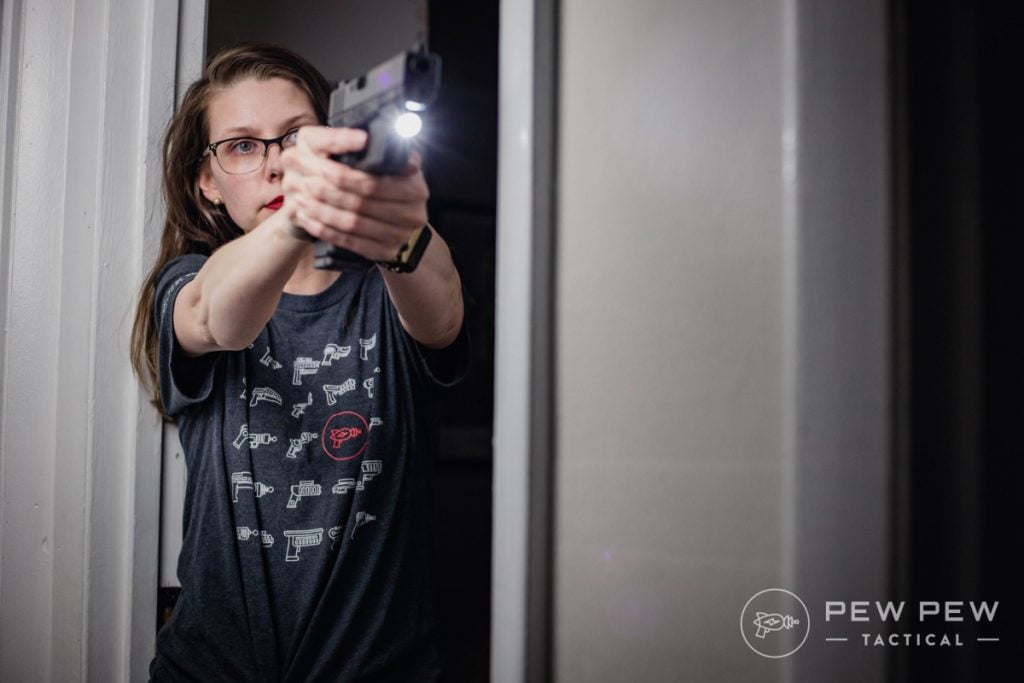 I'd recommend shooting several different brands and sizes before you buy if you can. Many gun ranges rent guns, so you can try a few out before you commit to one.
If you aren't able to shoot them beforehand, going to a gun store and at least handling them and feeling them can still help you make the right decision.
7. Glock 19
The Glock 19 is ubiquitous — it is found everywhere around the globe in the hands of military, police, and civilians alike.
Many would argue that this gun is the gold standard by which all other handguns are judged, and at the end of the day, it is hard to disagree.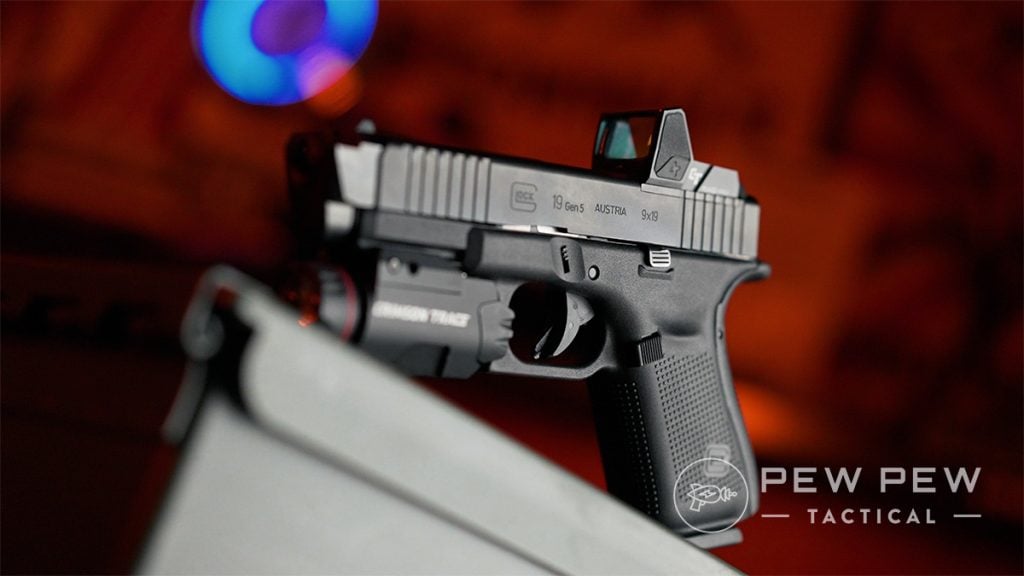 It is a compact design that fits in the average person's hand nicely. It's also small enough to use as a concealed carry weapon but large enough to use as a duty weapon.
It has a capacity of 15-rounds of 9mm and boasts the absolute largest aftermarket of any handgun known to man.
Best Overall Beginner Gun
533
at Palmetto State Armory
Prices accurate at time of writing
Prices accurate at time of writing
Available Coupons
25% off all OAKLEY products – OAKLEY25


Copied!
Visit Merchant
While the Glock will hold more ammo than many CCW guns, they are thicker and heavier than other similarly sized single-stack competitors.
But what you get in return is one of the most reliable handguns ever made that can be used in multiple roles very well.
What's your take on the Glock 19 for new shooters? Rate it below.
8. Taurus GX4
After changing leadership a few years back, Taurus has focused on increasing the quality of its firearms to provide affordable and reliable guns to the average consumer — and the GX4 does just that.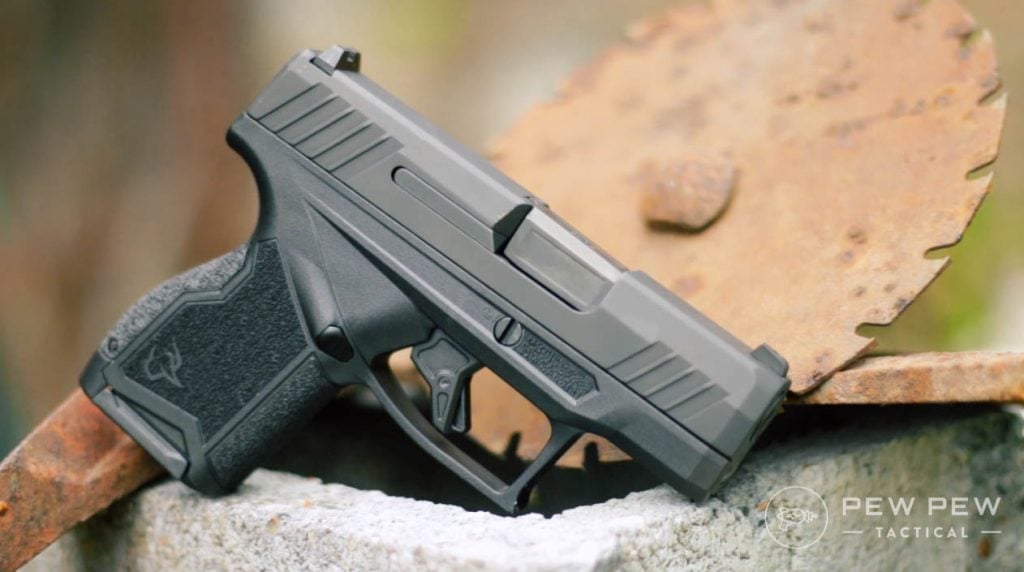 Coming in at typically between $230-$300, the GX4 lowers the bar of entry into the world of micro-compact pistols.
These micro-compact pistols are typically small frame firearms, roughly an inch wide, that hold 10 rounds of 9mm or more. They give you much of the capacity of a larger gun but in a much smaller and easier-to-conceal package.
308
at Kentucky Gun Co.
Prices accurate at time of writing
Prices accurate at time of writing
Available Coupons
25% off all OAKLEY products – OAKLEY25


Copied!
Visit Merchant
So what does this mean? It means if you are looking for something to carry, the GX4 is worth looking at. It has an excellent trigger, superb ergonomics, shoots well, and is easy on the wallet.
Looking for more? Check out our Best Beginner Handguns for Self Defense.
Final Thoughts
Now that you have a few choices to start your gun collection, it's time to figure out which one to get first. Decide what you want to do with the gun, then decide your budget, and do any extra research you need.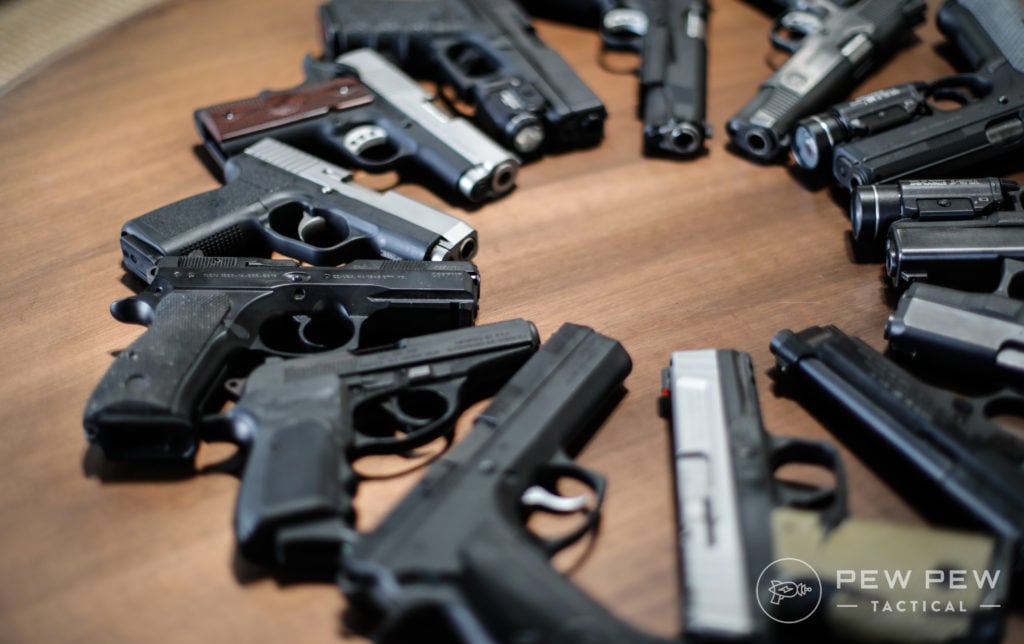 If you're on a budget, we totally understand; but always remember, training is key. Be sure to practice and budget for ammo and range time so that you can make the most out of the guns you buy.
What do you think your first purchase will be? Do you know a good first gun that we left out? Let us know in the comments below! If you are completely new to shooting, you can check out our beginner handgun course, Gun Noob to Gun Slinger.