The Sig Sauer P320 (destined to become the M17) has been around now for almost nine years. At the time of the gun's launch, I was sold on Sig—I'd been training with a P226 and it was rapidly becoming my favorite handgun design. The P320 was a radical departure for the company, something totally new, and I really wanted to see the new direction.
Thank you for reading this post, don't forget to follow and signup for notifications!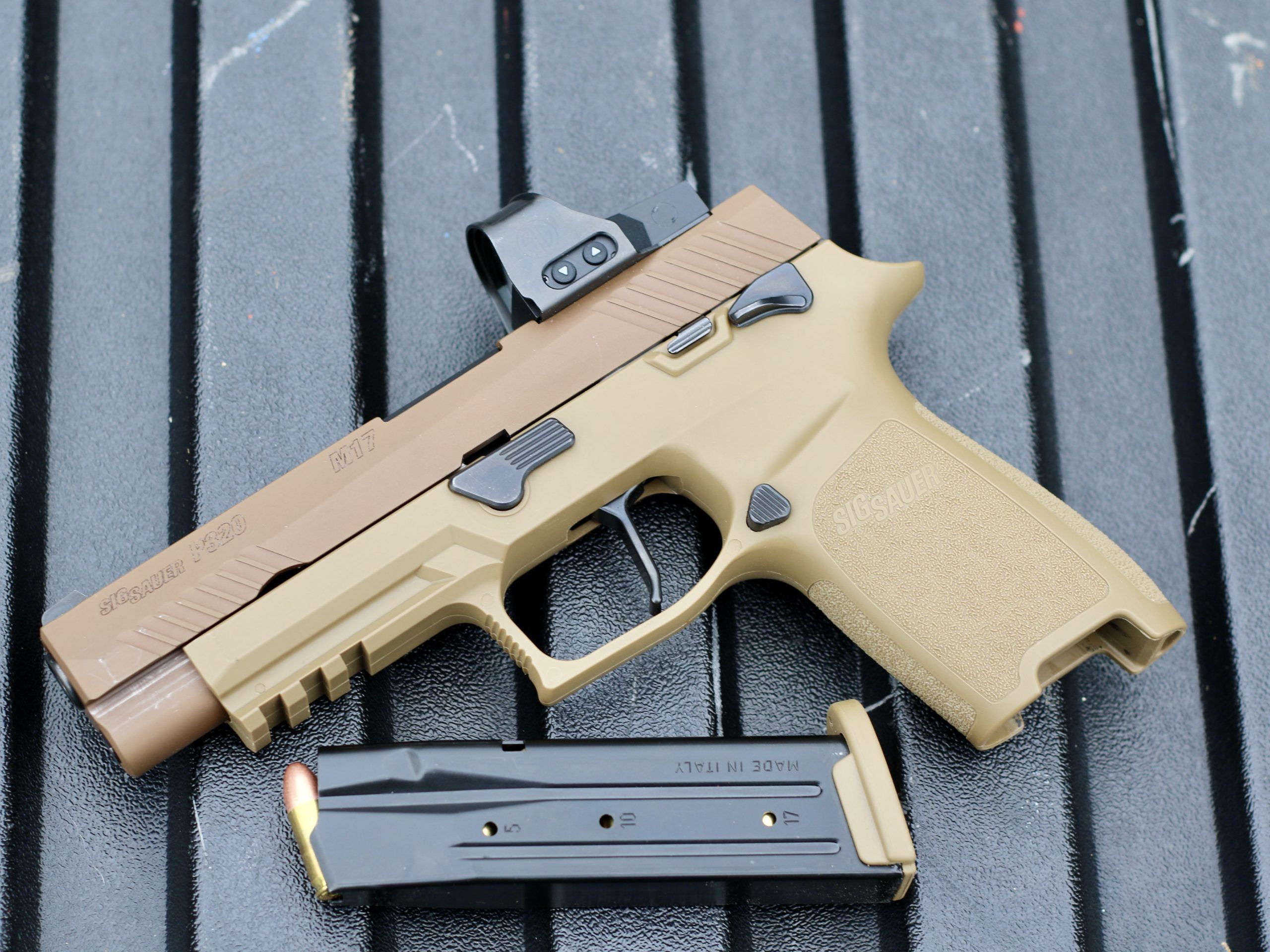 I had a chance to put it through its paces at a press event in 2014. The gun didn't impress me. My P226 provided a perfectly balanced pistol capable of exceptional accuracy at range. The P320, though, felt like somewhat of a compromise—an attempt to catch up to the competition.
A Bit of Perspective
Polymer was well established by 2014. And all of the major handgun makers were wedded to a double-stack design that used identical full-sized, compact, and sub-compact guns in common calibers.

This was the era of the Glock 17, 19, 26 type sizing—an evolution of the Govt., Commander, Officer sizing theme that itself was pioneered by Colt and other 20th-century powerhouse American companies.
But the P320 offered a new idea—the serialized chassis. This concept allowed one removable unit to be the receiver. Barrels, slides, grip modules—all of that was extra and could be changed without the need of an armorer—which is a selling point for large quantity contract proposals.

This was big. If nothing else, it would allow a gun owner to buy one gun and change up just about everything about it, without having to do any additional 4473s.
The Reality, Though
At the media event, I ran multiple mags through a P320, but I didn't like the way it performed. There wasn't anything bad about the gun, but I'd set my expectations high and the P320 didn't exceed those expectations.
The biggest negative for me was the trigger. It felt spongy in a way I had not expected. The trigger on my P226 and most of the triggers on all of the older Sigs I'd tried were excellent.

Skipping Ahead a Bit
My money was on Glock to win the XM17 Modular Handgun System competition in 2017. They didn't.
The modularity of the P320 has a certain appeal. As a sidearm for a diverse group of individuals, having the ability to make guns smaller or larger is an asset. And the optics-ready slide is a win, too.

What would become the M17 beat out the Beretta APX 9mm, CZ P-07 and P-09, FN FNS, GLOCK 17 MHS and G19 MHS, Sphinx SDP, S&W M&P 2.0, and STI's STX.
Could I have been that wrong about the P320? My opinion aside, Sig's win catapulted the P320 into relevance again and I knew I would have to come to terms with the gun.

This M17 showed up at my FFL more than a year ago. The package was too good to pass up. An M17 with a Romeo1Pro, an Apex Tactical Advanced Trigger, and 10 mags—all for a reasonable price. Someone had invested heavily in this gun, only to decide to trade it in for something else.
Shooting the M17
Someone else's loss, right?

Apex makes a Forward Set Trigger Kit that fixes some of the problems I had with the P320's original trigger design, but this one doesn't have that full kit installed—just the trigger shoe. Even so, the trigger in this M17 is markedly better than the one I'd experienced at the range event—a 100% turnaround.
I've swapped the flat-faced trigger and the rounded version in and out and both seem to work well. After extensive tests with both, I'm partial to the flat-faced blade. This isn't enough to instantly change my mind about the design, but it clears up the biggest complaint I had.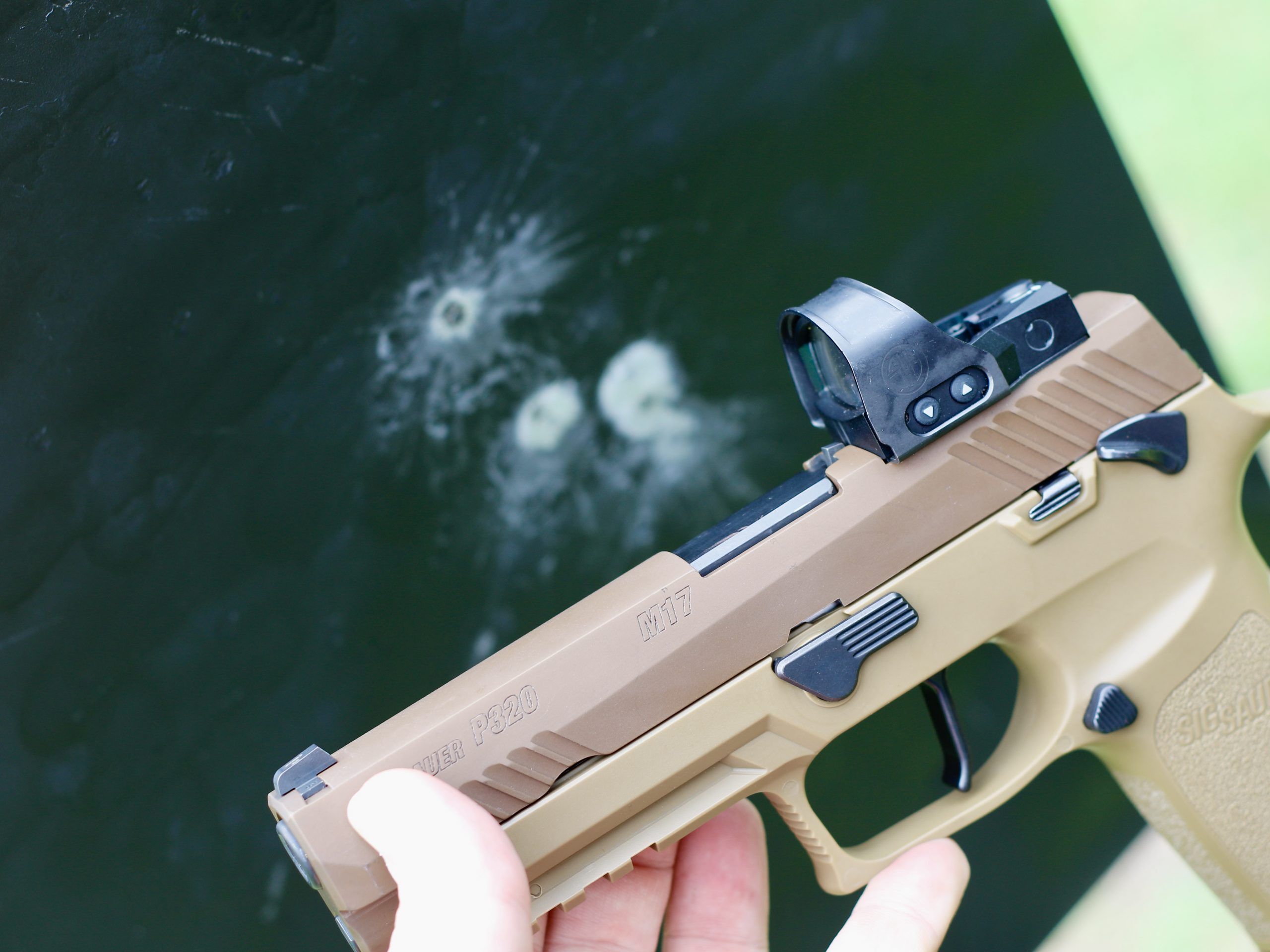 With that, I began working it out. I've got more than 1,000 rounds through this one in the year that I've owned it. I used it in a one training class, and have tried to put aside my early experiences as it looks like it is a gun that's here to stay for a while.
Mismanaging the Recoil
The grip geometry is unique—this is a Carry Polymer Medium. The grip module feels both large and well-rounded. At 8 inches OAL, this isn't a small gun and there's a lot of frame to hold onto.

Even so, as the image above shows, I tend to over-correct. This is why filming yourself shooting can be invaluable. After a number of lackluster range sessions, I decided to go to the tape to find out why I don't shoot this Sig as well as I do other Sigs, even my P365.

The 4.7-inch barrel is not overly long, but there's a hefty amount of steel in the slide. On the light polymer frame, this weight imbalance is noticeable. I'm trying to hold the barrel flat during recoil and I do it too well—the barrel dips low, jacking up my sight picture for a clean follow-up shot.
Wrapping Up My Time With the M17
After hundreds of rounds and a year of practice, I'm barely proficient at skills drills that I can run in my sleep with other guns. The optic kicks ass, the trigger is sound, and the control surfaces are more than sufficient.

Perhaps the conclusion I'm arriving at is that I'm more at fault than the gun.
That I can't shoot the P320 for shit doesn't mean I'm impugning its merits or slagging off Sig. There are some compelling design attributes that make this an ideal sidearm for an army. As Spock says in The Wrath of Khan, "The needs of the many outweigh the needs of the few."