Interested in diversifying your gun collection? The Taylor's & Company TC9 Series, which is part of the manufacturer's Lifestyle Series, might be the perfect fit. The quartet of revolvers are made to the company's precise standards and come chambered in 9x19mm Parabellum. Read on to learn more about these guns.
Thank you for reading this post, don't forget to follow and signup for notifications!

Tammy Loy, Owner/CEO, Taylor's & Company, had a few thoughts about the guns:
We couldn't be more excited to bring this classic firearm reproduction to the modern gun enthusiast. We wanted to offer this versatile caliber to broaden our audience and add a familiar caliber to a six gun. The TC9 is a perfect complement to our very popular Lifestyle Series. This 9mm with a classic revolver look is sure to be very popular with firearm enthusiasts that want the look of a historical pistol with the performance of a modern handgun. The new TC9 has a very classic look and feel.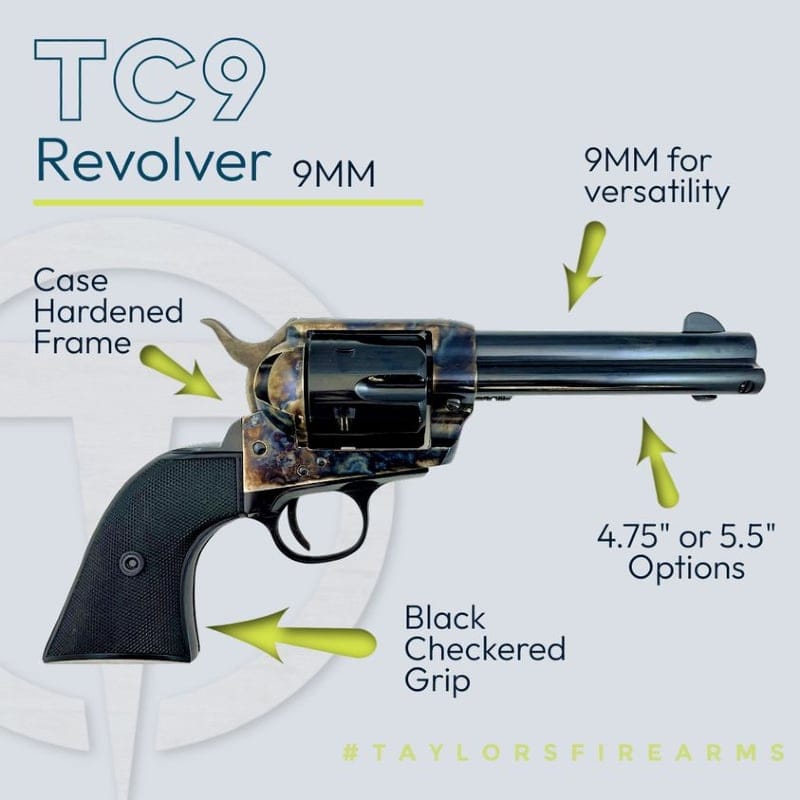 Taylor's & Company provides details of the 9mm revolvers:
The TC9 family includes four reproduction models of the 1873 Cattleman revolver, the most iconic six-gun model ever offered.

The new TC9 9mm pistol is offered in two styles; a large army-size, walnut checkered grip and a black checkered standard size grip. The checkered grip gives increased performance and faster sight acquisition. The new TC9 utilizes a side-loading gate and an ejector rod housed within the loading lever assembly for easy loading, unloading and reloading. The new 9mm revolver clone has a steel frame with a rear frame notch and fixed front blade sight. This iconic 9mm 1873 Cattleman revolver is offered a in a black checkered grip and case-hardened frame and a checkered larger size walnut grip with blued steel finish. Both versions are available in 4.74" and 5.5" barrel lengths.

The TC9 Series includes four guns:
1873 SA Blued Army Checkered Grip 4.75 inch barrel 9mm
1873 SA Blued Army Checkered Grip 5.5 inch barrel 9mm
1873 SA Black Checkered Grip 4.75 inch barrel 9mm
1873 SA Black Checkered Grip 5.5 inch barrel 9mm

The TC9 line is comprised of single-action revolvers with side-loading gates. The 9mm chambering adds a touch of the modern era while the overall design and aesthetics of the guns are fantastic replicas of historical revolvers. Each version has a six-round capacity and round barrel. It's the best of both worlds, past and present, all in one package.
Specifications:
| | |
| --- | --- |
| Barrel Length | 4.75 inch or 5.5 inch round |
| Caliber | 9x19mm Parabellum |
| Capacity | 6 |
| Weight | 4.75″=2.45 lbs, 5.5″=2.50 lbs |
| Grip/Stock | Varies |
| Manufacturer | Pietta |
| Sights | Fixed Front Blade, Rear Frame Notch |
| Overall Length | 4.75 inch barrels = 10.35 inches and 5.5 inch barrels = 11.10 inches |
| Action Version | Taylor Tuning Not Available |
MSRP starts at $546.39.