By Charles Rabin, David Ovalle
Miami Herald
Thank you for reading this post, don't forget to follow and signup for notifications!
MIAMI — With family at his bedside and fellow officers gathered in support outside Jackson Memorial Hospital, Cesar Echaverry — a five-year veteran of the Miami-Dade police department — remained in "extremely critical condition" in the neurological intensive care unit on Tuesday.
But barring a miracle, the young detective, just 29 and with plans to marry, was not expected to recover from a severe head wound, according to multiple law enforcement sources who told the Herald that the injury had left him brain dead and hooked to medical machinery keeping him alive.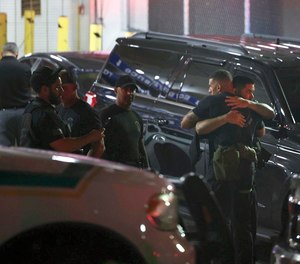 A day after a shootout with an armed robbery suspect Monday night in Liberty City, police officially identified the officer, who is a member of the county's elite Robbery Intervention Detail unit.
With Miami-Dade Mayor Daniella Levine Cava at his side, Miami-Dade Police Director Alfredo "Freddy" Ramirez outlined more details of how the shooting went down and said his officers are "hurting very bad" over the potential loss of a fellow officer.
"We stand together praying for him," said Ramirez. "We will not quit."
During the late afternoon press conference outside the hospital's trauma center, police also identified his suspected shooter as Lithia Springs, Georgia native Jeremy Willie Horton, 32.
Earlier in the day, the depart said the injured officer was in "extremely critical condition," according to a department-wide email sent to officers early Tuesday afternoon. The email was sent so that officers could donate to the Police Officer's Assistance Trust, which will financially help his family.
"Please keep the Echaverry family in your thoughts and prayers," read the email from Annette McCully, the executive assistant to the police director.
Levine Cava also had sent an email to the department, thanking them for "putting your own lives on the line to ensure a safer Miami-Dade for all" and saying that "we pray for the officer, his family, and for our entire public safety community."
Still, police provided few details about the case of the officer and sources said his family, still in shock, wanted to remain private.
For the last two years, Echaverry has been a member of RID, which is assigned to work in some of the county's most crime-ridden neighborhoods, often tracking down fugitives or those wanted for major crimes.
Friends and law enforcement sources described him as a young, rising officer who had planned to be married. If he does not survive, Echaverry would be the fourth Miami-Dade officer to be shot and killed in the line of duty since 2007.
Earlier in his career, Echaverry had survived another brush with death while on the job.
In March 2018, Echaverry was a rookie cop and in the passenger seat of a patrol vehicle being driven by a fellow officer, John Song. The police car rammed into a Nissan Altima driven by a Homestead man who was immediately killed. The police car's computer showed Song was driving at 78 miles per hour one second before the crash. The crash happened in deep South Miami-Dade.
Song and Echaverry were airlifted to Jackson Memorial Hospital, but survived. In May, a jury acquitted Song of charges of vehicular homicide and reckless driving. Echaverry testified at Song's trial, but told jurors he did not remember what led up to the crash.
(C)2022 Miami Herald. Visit miamiherald.com. Distributed by Tribune Content Agency, LLC.