GET MORE STABILITY WITH YOUR LONG RANGE SHOOTING, ADD WEIGHT!
NEW from Luth-AR is the Sidekick balance weight system. Simple carbon steel plates that attach to the side of a Luth-AR MBA-1 or MBA-2 rifle stock these plates add 14.4 ounces of heft to your buttstock.
Thank you for reading this post, don't forget to follow and signup for notifications!
Luth-AR buttstocks are designed for precision shooting from PRS to plinking from hundreds of yards at the range. Adding some weight to your buttstock can help balance the rifle or just add raw poundage to soak recoil and stabilize your shooting stance. 
The Sidekick is attached via 3 bolts to the side of the buttstock.
MSRP is $70.
SIDEKICK FEATURES:
Easy to install.
Weight: 14.5 oz, 0.91 lbs.
Material: Carbon Steel
Finish: Mag Phosphate
Width: 4.85″
Height: 3.19″
Depth: 0.5″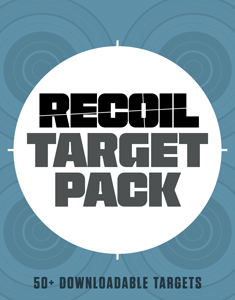 NEXT STEP: Download Your Free Target Pack from RECOIL
For years, RECOIL magazine has treated its readers to a full-size (sometimes full color!) shooting target tucked into each big issue. Now we've compiled over 50 of our most popular targets into this one digital PDF download. From handgun drills to AR-15 practice, these 50+ targets have you covered. Print off as many as you like (ammo not included).
Click here to get IMMEDIATE ACCESS to a digital PDF of this target pack!