FROM .223 REMINGTON TO BIG GAME REAPING 300 WIN MAG, CZ-USA IS SWINGING BIG
CZ-USA announced a while ago they were bringing a new bolt rifle to the market, but freshly added to that line is the 600 Alpha!
Thank you for reading this post, don't forget to follow and signup for notifications!
Designed as a "do-all" bolt action rifle, CZ-USA is offering this in an impressive range of options with some great features – and doing it at a surprisingly low MSRP. 
Guaranteed to be sub-MOA at 100m, every 600 Alpha features a polymer stock with soft-touch inserts, a vertical grip, and a high cheek comb. 
A cold hammer-forged barrel is key to delivering precision, and a nitride finish gives unbeatable corrosion resistance. Plus, it comes threaded for brakes or suppressors as the user chooses.
CZ-USA is going outside of the box with a patented single-stage trigger that is adjustable in 4 increments from 1.3 lb to 3 lb without being removed from the stock. This puts the user in control of their trigger like almost no other factory rifle does and gives the option of a super light trigger pull.
The 600 Alpha doesn't stop there – it has a 60-degree bolt throw, short extractor, controlled round feed, integral Picatinny scope base, silent 2-position safety, and detachable box magazines that can also be topped off through the ejection port!
All of this for an MSRP of only $750.
With the bolt rifle market kind of flooded with options, CZ-USA looks to be putting some real thought into this new line of rifles. Several advanced options normally only found on custom rifles put the 600 Alpha a step above much of the competition – at least on the spec sheet.
We're looking forward to getting our hands on some rifles and getting trigger time!
CZ 600 Alpha Specifications:
Chambering: 223 Rem, 224 Valkyrie, 7.62×39, 308 Win, 6 CM, 6.5 CM, 6.5 PRC, 30-06, 300 Win Mag
Rate of Twist: 1:7, 1:9.5, 1:6.5, 1:7, 1:7, 1:8, 1:10, 1:10
Magazine Type: Detachable
Magazine Capacity: 5, 3 (300 Win Mag, 6.5 PRC)
Stock: Black Polymer, American-Style
Length of Pull: 14-inches
Sights: No Sights, Integrated Picatinny-style Rail
Barrel: Cold Hammer-Forged, Suppressor-Ready
Barrel Length: 18″, 20″, 22″, 24″
Trigger Mech: 4-Point Adjustable
Overall Length: 37.12″, 40.15″, 42.16″,43.05″
Safety: Vertical 2-Position
MSRP: $749.00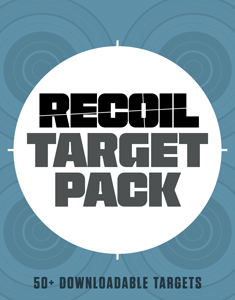 NEXT STEP: Download Your Free Target Pack from RECOIL
For years, RECOIL magazine has treated its readers to a full-size (sometimes full color!) shooting target tucked into each big issue. Now we've compiled over 50 of our most popular targets into this one digital PDF download. From handgun drills to AR-15 practice, these 50+ targets have you covered. Print off as many as you like (ammo not included).
Click here to get IMMEDIATE ACCESS to a digital PDF of this target pack!