The Blazer EV PPV can log at least 290 miles before plugging in, Chevrolet says
Thank you for reading this post, don't forget to follow and signup for notifications!
---
By Police1 Staff
DETROIT– Chevrolet's debut of the new Blazer EV sports utility vehicle in July included a look into the future – the "police-prepped" Blazer EV PPV, which is set for a 2024 release.
The vehicle is the first pursuit-rated, all-electric Chevrolet to come in over 60 years of the company making vehicles for the line of duty.
The electric pursuit vehicle will be based on the Blazer SS EV and will have "the largest Ultium battery in the lineup," CNET reported.
Final specs will be available to the public closer to the launch of the new model, but the Blazer will offer specific police content, such as skid plates, police-rated tires, steel wheels, and even additional emergency equipment support. The vehicle will be able to accommodate light-duty towing for radar trailers and be able to hold bicycle racks with a Class 1 trailer hitch.
"Chevy's commitment to meeting the needs of law enforcement is rooted in decades of cooperation with police agencies across North America," Ed Peper, U.S. vice president of GM Fleet, said in a press release. "This purpose-built electrified Blazer EV PPV will have excellent pursuit performance, the reliability of a Chevrolet, and fast-charging necessary to be a high-performance patrol vehicle."
With a 557 horsepower and 648 pound-feet of torque, the new vehicle can log at least 290 miles before plugging in, Chevrolet said. The same front Brembo brakes that are in the Blazer SS will be used in the Blazer EV PPV as well.
"The Chevrolet Blazer EV PPV is designed to meet or exceed the demands of the nationally recognized Michigan State Police annual vehicle testing," said Peper. "Its performance will be a game-changer."
As any LEO knows, patrol cars spend a lot of time idling, which creates emissions. But Chevrolet is using the largest possible Ultium battery that's available to support the new vehicle's electrical needs of a patrol car.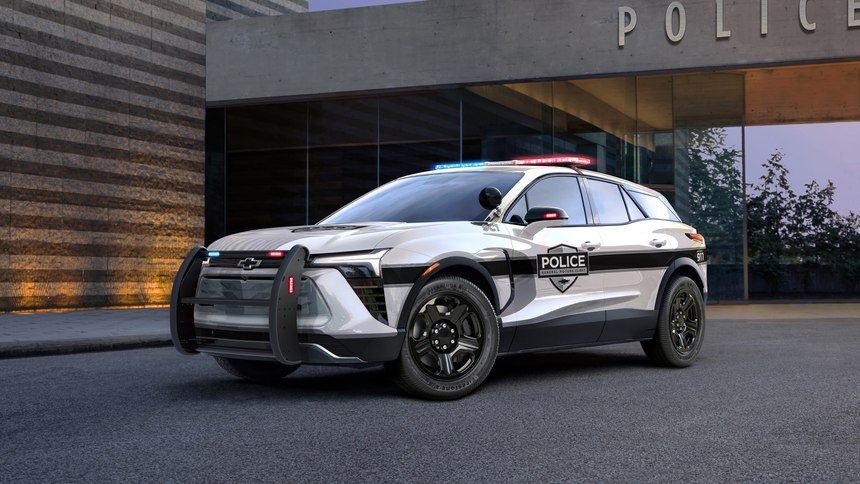 View of the 2024 Blazer EV PPV in Sterling Gray Metallic in front of a police station.
(Chevrolet Pressroom)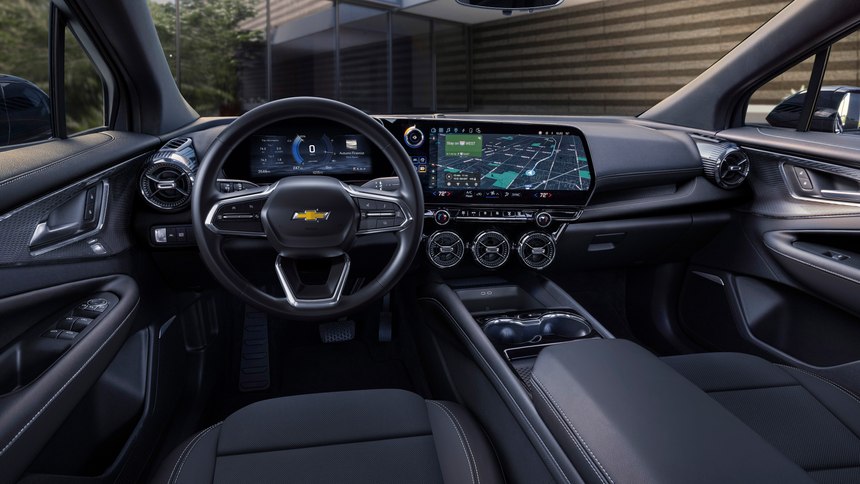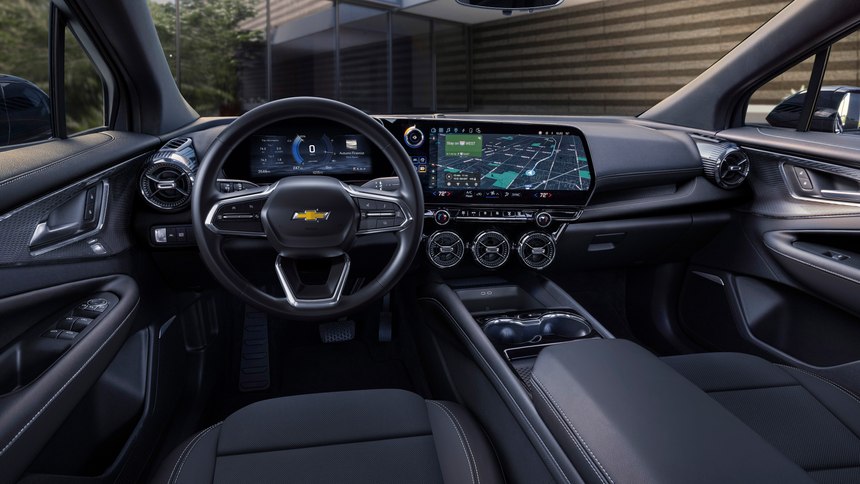 Front-seat view of the 2024 Chevrolet Blazer EV PPV with the Street Appearance Package interior.
(Chevrolet Pressroom)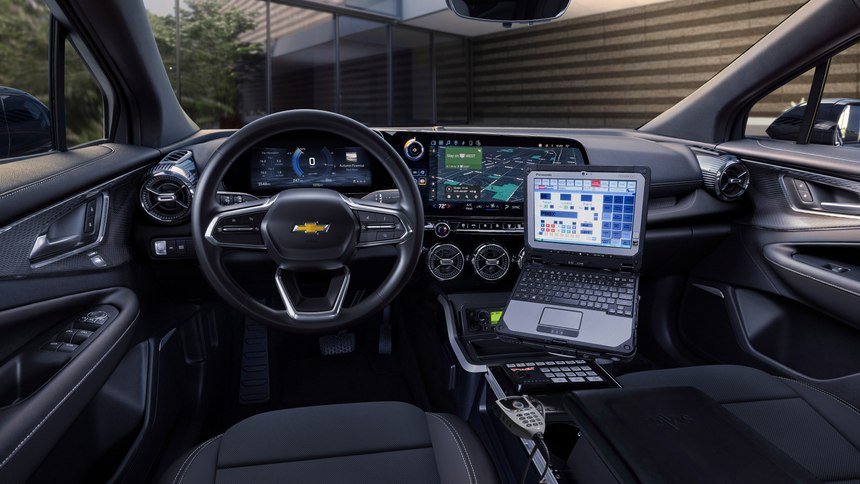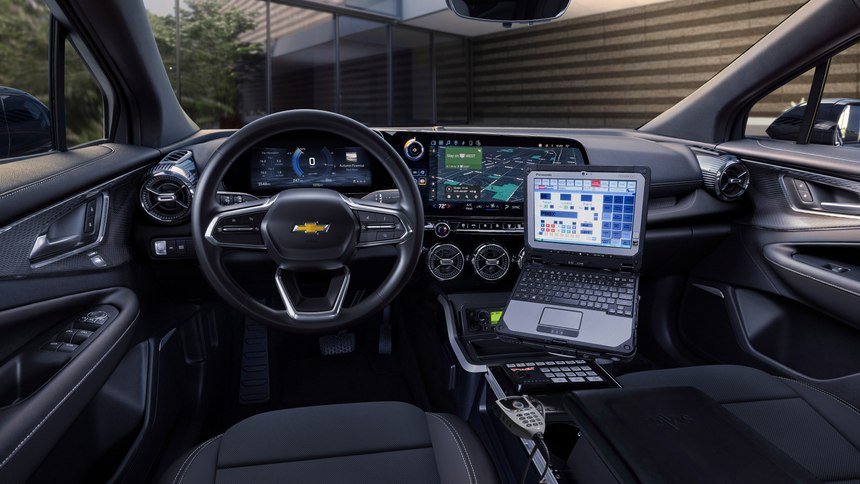 Front-seat view of the 2024 Chevrolet Blazer EV PPV interior in black with the Havis console and a laptop.
(Chevrolet Pressroom)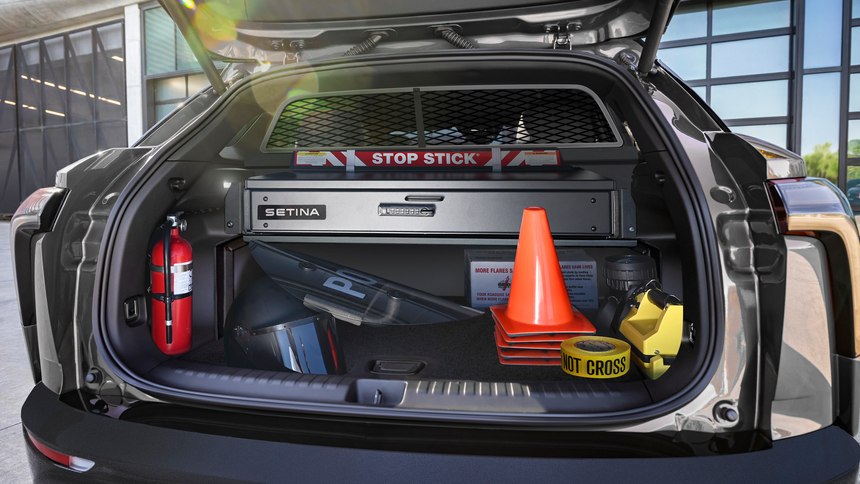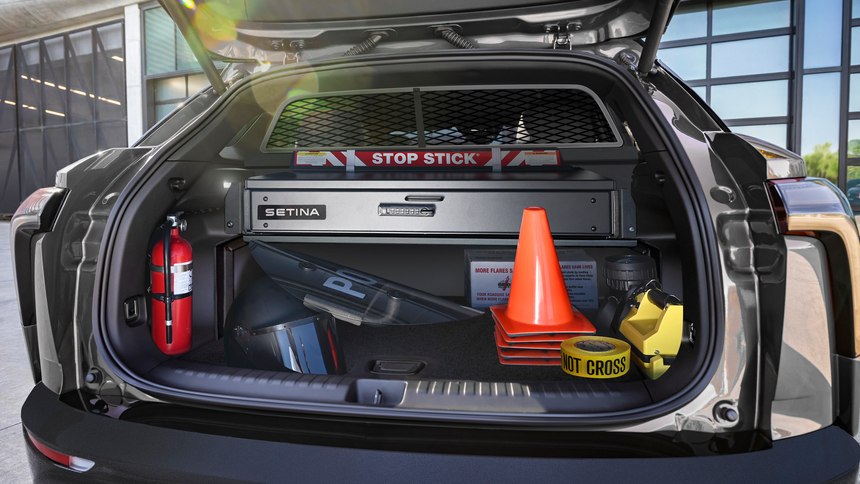 Rear view of the 2024 Chevrolet Blazer EV PPV cargo area holding safety equipment.
(Chevrolet Pressroom)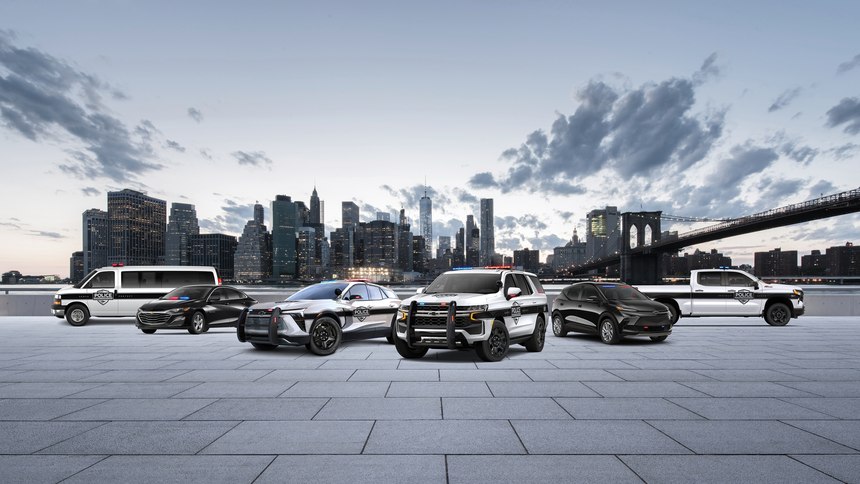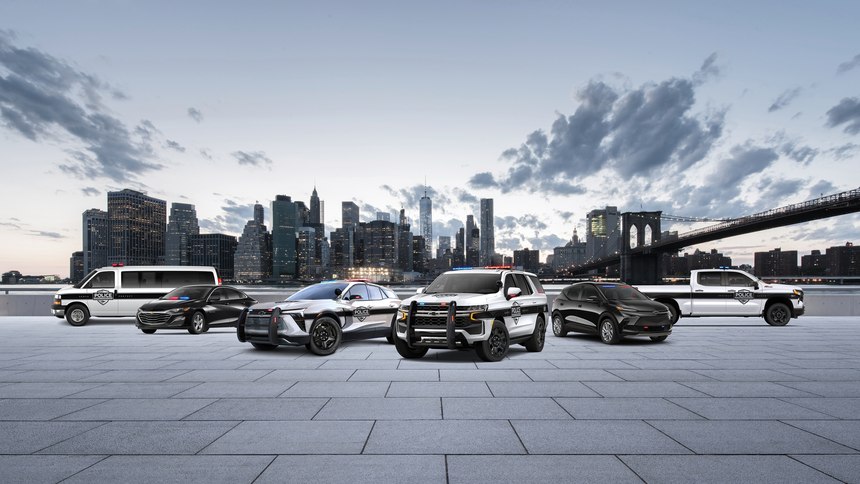 Lineup of Chevrolet Police Pursuit Vehicles in front of the New York City skyline with 2024 Blazer EV PPV in the center.
(Chevrolet Pressroom)
More police-specific specifications have been made with seat belts in the front seats designed to accommodate duty belts and gear. In addition, unprogrammed steering wheel buttons offer upfitters connecting Push to Talk for department radios and the operation of emergency warning equipment with the touch of a finger.
But what about your rear gear? The Blazer EV PPV has the option for a large rear cargo capacity with the civilian model's false floor totally removed to allow for more room for cabinets and organizers. The standard Rear Camera Mirror is included, allowing law enforcement a wider field of view as well.
The Blazer EV PPV 9C1 police package includes vinyl flooring, a police-specific center console, and a vinyl rear seat.
While pricing has yet to be determined on the electric police pursuit model, the non-police Chevy Blazer EV, set to go on sale in Summer 2023, is priced starting around $47,595.
Pricing and order guides are expected to be available in mid-2023. Production will begin in the first quarter of 2024.
"During the Blazer EV's development, we spoke with many law enforcement groups across the U.S. and Canada to learn how an all-electric PPV would serve them best and the Blazer EV PPV delivers," Peper continued. "There is strong interest, and we believe it has the opportunity to improve how police departments and their officers work with their patrol vehicles."
NEXT: Debunking the top 10 electric vehicle myths in law enforcement
Thank You!
Tags
Chevrolet
Detroit
Fleet Management
Michigan
Patrol Cars
Patrol Vehicle
Police Technology
Technology