MICRO RED DOT SIGHTS ARE ALL THE RAGE, AND WE'RE SEPARATING THE BEST FROM THE REST
As technology advances, it normally gets smaller, cheaper, and better. It was only a matter of time before red dots got small enough to fit on our pistols. While it might have started in the '90s, the technology is fully matured now and is absolutely the modern standard. Welcome to the micro red dot sight (MRDS) era.
Thank you for reading this post, don't forget to follow and signup for notifications!
Everything you need to know so you can choose the right optic for your application coming up.
MICRO RED DOT SIGHT (MRDS) VS. RED DOT SIGHT (RDS)
Micro red dots are precisely what you might think they are; they're smaller red dots. 
While full-size red dots might be the standard as primary optics on rifles of all flavors, micro red dots are designed for smaller applications. They can still be used as primary sights on larger guns, but that isn't super common.
What the MRDS shines in is for mounting on pistols!
They are also prevalent as backup sights for rifles when mounted either on top of the main optic, like piggybacked on an ACOG, or used in a 45-degree off-set mount like with many LPVOs.
FOOTPRINTS AND MOUNTING PLATES
Since MRDS are designed for small applications like pistol slides or as secondary optics on top of or next to full-size optics, you need a way of mounting these little buggers to whatever it is you're working with.
1913 railing might be the standard for larger optics, but it's too big for MRDS in most applications.
While there are a few common footprints, there is no proper standard to which all MRDS adhere. And to make it even more annoying, half the time, the MRDS documentation won't even clearly state what footprint it uses since the manufacturer doesn't want to mention its competitor's name the footprint is named after… thanks, guys.
What this leaves you with is some guesswork at times. For this guide, I'll list each footprint, but this only helps if you decide on one of these optics.
The most common footprint by far is the Trijicon RMR. Runners-up also include Leupold's Delta Point Pro and the Shield RMSc footprints.
If your pistol slide or mounting system isn't cut for the footprint of the optic you want, you can normally get mounting plates to convert from one style to the other. This is dependent on your mounting system, so double-check before you buy.
DOT SIZE
Dot size is literally how large your dot is measured in MOA (minute of angle). Many MRDS are offered in multiple dot sizes, so it helps to know the pros and cons of each.
Basically, it comes down to your choice, but I'd recommend going as small as possible.
Large dot sizes (4+ MOA) are great for picking up really fast if you're not used to using an MRDS. However, it means more of your target is going to be hidden by the dot, limiting your precision.
That said, it really isn't as bad as it might seem – at least for pistols. A 2 MOA dot (my personal favorite) covers half an inch of the target at 25 yards. A 6 MOA dot will cover 1.5 inches of the target at the same 25 yards.
If you're planning to use an MRDS on a rifle as a primary or backup sighting system, the dot size is more important. 
A 2 MOA dot will only cover 2 inches of your target at 100 yards, but the 6 MOA dot will cover 6 inches of the target.
At 200 yards, the 2 MOA dot only covers 4 inches of the target while the 6 MOA dot covers a crazy 12 inches of the target.
This quickly becomes a case of your dot actively working against you instead of for you.
Play around with different dot sizes if you can to see what fits you best, but keep this in mind.
BEST MICRO RED DOT SIGHTS (MRDS)
Trijicon RMR
Arguably the MRDS that started it all – the Trijicon RMR is still a gold standard other red dots are held against.
While the Type 1 proved not durable enough for pistol mounting (and it wasn't meant to be), the Type 2 RMR (the current version) has established itself in every environment possible and is widely adopted by LEO and military groups around the world.
If you want the best right out of the box, you won't go wrong with an RMR. It comes in a lot of flavors, but my personal favorite is the RM-06 with a 3.25 MOA red dot, 4-year battery life, automatic brightness adjustment or 8 brightness settings you can choose from.
The sight window is 22 x 16mm.
MSRP isn't cheap at $720, but the street price is really around $450.
The RMR also set the standard for mounting footprints. While not everyone uses an RMR footprint, most of the MRDS market does.
While the RMR is unarguably the most durable MRDS, it does lack a lot of features other red dots have mastered. From shake awake to solar to being able to change the battery without removing the optic, the RMR is behind the curve in most respects.
Still, for a duty-quality red dot – the RMR is a solid pick.
Trijicon RMRcc
The newest MRDS from Trijicon is basically the same thing – but even smaller. Designed for sub-compact and micro-compact applications, the RMRcc is really just the RMR but made smaller. 
The battery lasts four years and is still located under the optic, so you need to remove it to replace the battery. You get 8 brightness settings or can set the RMRcc to auto adjustment. And it's still offered in either 3.25 MOA or 6.5 MOA models.
Sadly, the RMRcc doesn't use the RMR footprint. Instead, it uses an all-new footprint unique to the RMRcc. This makes mounting it kind of annoying since you either need a pistol cut specifically for the RMRcc or you need a mounting plate.
Plates aren't hard to get or use, but it's something to remember. If you want the lowest profile possible, you'll have to get your slide milled.
Since the RMRcc is physically smaller to fit on smaller guns, the window is a kind of tiny 18.7 x 12.8mm.
MSRP is $700, but the street price is about the same as the RMR at $450-ish.
Trijicon SRO
With the RMR being one of the kings of CCW/duty MRDS, Trijicon decided it wanted to shake up the competition world in a big way – enter the SRO.
To be clear, the SRO is not really designed for duty or CCW. You can use it for those applications, but the SRO is significantly less durable than the RMR or many other MRDS options. The SRO really is designed for square range competition.
The SRO features a large window to make acquiring the dot faster. It has a top loading battery that lasts for 3 years, 8 brightness settings, auto adjustment, and is waterproof up to 3 meters.
Best of all (to me), the SRO comes in 3 flavors of dot – 1 MOA, 2.5 MOA, and 5 MOA. Personally, I like the 1 MOA.
The sight window is a luxurious 25 x 22.5mm.
MSRP is $770, but again, the street price is much lower, around $550.
For pistol competitions, like USPSA or 3-Gun, the SRO is pretty awesome. But based on destruction testing I've seen, I wouldn't trust it for CCW or duty carry.
Holosun 507C & 507K
Rolling these into a single recommendation since they are basically the same optic but with different footprints.
For almost as long as I've been alive, China has been a manufacturing powerhouse for… everything. For the past ten years or so, this includes optics.
Holosun is a Chinese company that makes all of its optics in China. Typically, you might expect this to mean the optics are relatively low quality since that's what we've come to expect. Surprisingly, Holosun breaks out of the norm and instead produces some of the most durable MRDS optics on the market.
In my experience, the only optics more durable than Holosun is Trijicon and Aimpoint – although the newer SIG offerings come very close.
The 507c is a massively popular red dot because it's a good price (MSRP $341, street around $300), it uses the RMR footprint, it's insanely durable, and it has groundbreaking features that have since defined the market and forced other optic companies to innovate.
The 507k has the same features and price but uses a modified Shield RMS/SMS footprint. The K series is not directly compatible with all Shield RMS/SMS cuts, some will work, and some won't since the K isn't a true copy of the footprint. The Springfield Hellcat needs to be modified or use a mounting plate; the SIG Sauer P365XL does not require modification. You'll just have to research your firearm and work it out, sorry. 
Speaking of those features, the 507c and 507k have a 50,000-hour battery life using a CR1632 battery, side tray battery replacement, so you don't need to remove the optic, 10 daylight and 2-night vision settings, IP67 water/dustproof rated, shake awake, and are made from 7075 T6 aluminum.
The 507c has a solar panel that takes over powering the optic when in sunlight, but the 507k is too small and doesn't have a solar panel.
Both optics have a 2 MOA dot and 32 MOA circle, and you can choose just the dot, just the circle, or both as your reticle.
If you want value for your money, this is the MRDS I would recommend the most.
Something to know about Holosun is it has more model options than we have page space. Almost all of its optics are available in red or green dot. If you want an even more durable option to the 507c, the 508T has titanium in the shroud. You can also get an enclosed MRDS with titanium with the 509T. 
If you want to save some money, the 407c and 407k are cheaper than the 507 versions but only have a dot for a reticle.
Aimpoint ACRO P-2
Aimpoint has long been known as the maker of the most durable full-size red dots and has been widely adopted by militaries around the world. It's ACRO P-2 might not be as durable as the CompM5, but it's pretty close.
Using a mounting system unique to the ACRO, you'll have to get a mounting plate or cut a slide just for the ACRO to use one – but it's an excellent footprint if you do.
The P-2 is the second generation of the ACRO designed for military and law enforcement; as such, this thing is overbuilt, and the price isn't cheap.
MSRP is $600, and I haven't seen it for less than that ever, so expect to pay full weight.
The good news is the features are pretty nice.
16mm square window is a little on the small side, but the 3.5 MOA dot is super crisp, has a 50,000-hour battery life, 6 daylight, and 4 night-vision brightness settings, a CR2032 battery replaceable without removing the sight, and the whole unit is submersible to 115 feet just in case you want to get your Frogman LARP on.
Besides being very well made, what makes the ACRO so durable is the enclosed housing. No exposed emitter means this MRDS never has a problem with rain or dust covering the LED, and the whole unit is better designed for surviving a drop or hit to the housing and glass.
To top it all off, the ACRO has a sacrificial window in front of the lens the LED reflects on. In other words, you can lose your front window and still have 100% functionality.
It isn't cheap, but if you want one of the best – this is it.
Vortex Viper
I have to admit, I don't really love the Vortex Viper MRDS. It has a place in the world, but I wouldn't recommend it for EDC or CCW. But for a range MRDS or a dot you throw on a squirrel gun or something, I think this is a pretty decent option.
MSRP is $350, but the real price usually is around $250.
Features are pretty limited, and the design is kind of dated, but you get a 6 MOA dot, 24x18mm window, and a battery that lasts between 150 and 30,000 hours… Oh, and the design itself isn't the most robust. Drop testing has shown the Viper to simply be unable to handle a significant fall.
That's it. No shake awake, no IPXX rating, and the battery is bottom mounted so you'll need to remove the optic to replace it.
See what I mean when I say dated design?
The saving grace of the Viper is Vortex makes it and backs it with its forever warranty that covers everything. 
If you need a dot that you want to trust your life to, I wouldn't choose the Viper. But for an MRDS you just need to do more fun/normal shooting activities, the warranty is a nice safety net that means your money will never be wasted. 
One last downside is the footprint. Vortex Viper uses the Docter/Noblex mounting standard that is becoming rarer with each passing year. Mounting plates exist, so you can fit it to something more common like RMR, but that's an extra cost to consider.
Swampfox Liberty & Justice
Another instance of "they're basically the same" the Swampfox Liberty & Justice are its second iteration of MRDS. While its first attempt was… not impressive, these are a vast improvement!
MSRP is only $230, but Swampfox runs some huge discounts fairly often that easily make these some of the most economical MRDS on the market.
Both are available in either green or red dot, both have a 3 MOA dot, and both have about 4,000-hour battery life but also come with "Shake 'N Wake" to conserve battery life.
And yes, they both use the same footprint – Trijicon RMR.
The difference between them is simply their window size. The Liberty has a 22mm window, and the Justice has a 27mm window.
Right out of the box, these are pretty durable and good to go, but Swampfox also offers an optional Ironsides Shield for both sizes adding a second SUS304 blackened stainless steel shroud to the optics, thus increasing the ruggedness of the optic.
If you're pinching pennies, this is an excellent option for home defense or CCW. From the destruction testing I've seen, I would feel pretty good using one of these optics.
Bushnell RXS-250
Most of us think of Bushnell as the premier Walmart deer rifle scope brand, but in the last several years, it has released some outstanding optics to shatter our expectations.
Its new line of MRDS is one such example, especially the RXS-250.
A 4 MOA red dot, 24mm window, IP67 dust/waterproof rating, 50,000-hour battery life that is top loaded, and well-made housing, all at $250 MSRP, make this a solid choice for CCW and range shooting.
This has all of the significant features of a modern MRDS, and it's a decent price. 
What helps set this sight apart from the pack, besides the nice features, is the fact it's actually tested against MIL-STD-810H. If you're unfamiliar, these are the official testing specs the military looks for as a baseline for durability in challenging environmental conditions.
While not the pinnacle of durability tests, it does at least give a solid expectation for the optic.
SIG Sauer Romeo1
While designed for pistols, I run my Romeo1 on a 45degree offset mount on my 6.5 Creedmoor Desert Tec MDRx. Why? Because the window is huge and makes for an outstanding backup sight and an excellent pistol sight.
The Romeo1 was one of SIG's first newer MRDS optics and has proven a solid option at a fairly decent price point.
A 30mm window makes it one of the larger optics on the market, even edging out the Trijicon SRO for pure size.
10 daylight brightness settings (zero night vision settings), IPX7 waterproof rated, 3 MOA or 6 MOA red dot models, and a top loading battery make for some very nice features.
What stands out the most about SIG MRDS the incredible clarity of its glass. While all red dots use a filter of some kind to block out specific wavelengths of light increasing dot clarity and battery life, SIG's filter is clearer and easier to see through than any other option I've tried.
However, for the Romeo1 at least, it does have a much lower battery life than many other optics – only 5,000 hours with a CR1632 battery.
If left on all the time, this red dot will not last an entire year. However, the Romeo1 also has "Motac," SIG's motion-activated technology that turns the red dot on when it senses movement. With this enabled, your battery life is massively increased, but you should still change your battery regularly if this is on an EDC firearm.
One huge downside to this optic is it uses a proprietary footprint no other red dot uses. Plates exist, so you can mount it to any footprint available, but you're basically forced to use a plate unless you're putting this on a SIG pistol designed to accept it.
MSRP is $355, but the street price is about $260, making it a pretty good deal if you don't count having to buy mounting plates.
SIG Sauer Romeo2
Think of this as the Romeo1 but better in every way. Plus, a new shroud system giving you the option to run the Romeo2 as either an open emitter red dot or an enclosed emitter. 
First off, the specs of the Romeo2 are simply better on every level. 25,000-hour battery life with a CR2032, IPX7 waterproofing, 12 daylight, and 3-night vision settings, 30mm window, 3 or 6 MOA red dot reticles, but also an option for a circle dot kind of like Holosun or EOTech reticle.
A painful MSRP of $770 for the 3 and 6 MOA options and a whopping $880 MSRP for the circle dot are turnoffs. Street prices for all three models, however, seem to be about $50-60 off MSRP.
While those specs are pretty solid, none of it has to do with what makes the Romeo2 awesome.
This is a modular MRDS and actually includes multiple shrouds, so you can tailor the sight to your needs.
If you want something lower profile, you can run the sight normally without any extra shrouds in an open emitter format. Or you can add the half shroud and give yourself some added protection.
Still not enough? Throw on the full shroud and the rear glass piece to form a wholly enclosed MRDS that is hugely more durable than usual.
It takes a bit DIY, but the results are pretty cool and give you many options.
The Romeo2 retains the super clear glass SIG has become known for and even adding the extra glass and full shroud doesn't seem to take away from that.
Thankfully, the Romeo2 uses the DeltaPoint Pro footprint, so mounting it is a lot easier.
Oh, also, the Romeo2 is assembled in the USA. 
LOOSE ROUNDS
For every budget and every application, you should be able to find an MRDS that works for you. 
My go-to choice for most applications is the Holosun 407, but the Trijicon RMR is outstanding if you're willing to pay.
When it comes to large window MRDS, I like the Romeo1 as a budget option and the Trijicon SRO for the money choice.
If a closed emitter is your thing, Aimpoint ACRO P-2 is king, but the Holosun 509T will save you a lot of money.
READY FOR MORE?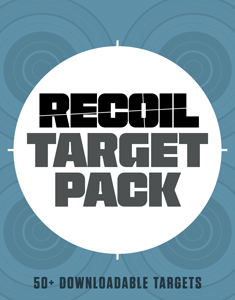 NEXT STEP: Download Your Free Target Pack from RECOIL
For years, RECOIL magazine has treated its readers to a full-size (sometimes full color!) shooting target tucked into each big issue. Now we've compiled over 50 of our most popular targets into this one digital PDF download. From handgun drills to AR-15 practice, these 50+ targets have you covered. Print off as many as you like (ammo not included).
Click here to get IMMEDIATE ACCESS to a digital PDF of this target pack!