Gov. Ron DeSantis' proposal would allow former officers, firefighters and EMTs to fill the gaps in K-12 classrooms
Thank you for reading this post, don't forget to follow and signup for notifications!
---
By Sarah Calams
TALLAHASSEE, Fla. — A new proposal from Florida Gov. Ron DeSantis would allow former police officers, firefighters and EMTs to become teachers in K-12 classrooms. The move is aimed at filling the teacher shortage plaguing the Sunshine State.
The governor's recruitment program is similar to a new law he signed earlier this year, which allows military veterans to earn a teaching certificate before completing a bachelor's degree, Florida Politics reported.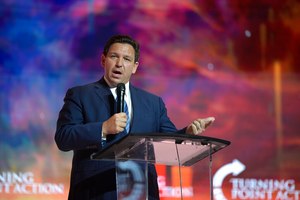 "We will waive the exam fees for the state teachers certification," DeSantis added. The governor is also considering adding a $4,000 bonus for recruits as well as an extra $1,000 for those who fill "acute shortages" in the classroom, including teaching science, ESE and reading classes.
"We believe that the folks that have served our communities have an awful lot to offer," DeSantis told the Orlando Sentinel. "And we've got people that have served 20 years and in law enforcement, they retire and some of them are looking for kind of the next chapter in their life. Well, they're not going to just sit around on their hands, they want to do something. So we want to provide a pathway. We want to incentivize them being able to help."
Pasco County Sheriff Chris Nocco applauded the governor's proposal, saying he would be "happy to know, as a parent, there was a former first responder teaching our kids."
"Who else would you want in your classrooms?" Nocco said. "You talk about firefighters in that room, you talk about overdoses, you talk about law enforcement in that room, you talk about school shooting violence. It'd be great to have these people in the room."
NEXT: Second careers: How police officers can become teachers
Thank You!
Tags
Career Advice
Education
Florida
Retirement