By Ron LaPedis
Thank you for reading this post, don't forget to follow and signup for notifications!
Automated license plate reader (ALPR) technology has always been a great tool for interdiction and investigative use. Originally, LPR use focused on vehicle theft. As the technology gained acceptance and more users adopted the tools, the potential and practical applications for advanced ALPR data have expanded. In addition to combing the data for valuable investigative leads in crimes such as robbery or homicide, ALPR can watch out for Amber and Silver alerts and assist with speed enforcement and disaster evacuation monitoring.
Reading license plates should be simple, right? Just letters and numbers. Unfortunately, unlike other countries – or the entire European Union – each of the 50 United States has a revolving door of license plate colors, designs, and themes. California alone has over 20 designs across multiple sizes depending on the type of vehicle. This dynamic environment and constant permutations mean that unless the reading engines are constantly evolving, the accuracy degrades over time.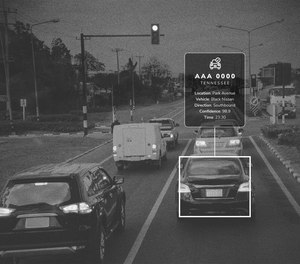 ALPR technology augments limited police department resources by enabling agencies to process more data than they could manually handle, including identifying the number on the plate, the state that issued it, and if it is on a watchlist. If it can identify the vehicle type, make and color as well, that can be compared against the issuing state's database to note whether the plate is on the wrong vehicle.
Addressing a nighttime read reduction
Since ALPR can't stop working when the sun sets, manufacturers use an 850nm infrared (IR) illuminator when it is dark. Anyone who has seen their clothes light up under black light or viewed NASA planetary photos will understand that what is seen in visible light might not be what is seen using other wavelengths. And this is exactly what caused the "Tennessee problem" when the state introduced a new color scheme for its plates in January 2022.
In visible light, the new plate colors are white text on a dark blue background. But as Chris Kadoch, Rekor's Chief Technology Officer, explains, "There is a low relative reflectivity difference between the letters and the background at the standard ALPR IR illuminator bandwidth. This effectively lowered the character-to-background contrast and created a read reduction at night. Since the eye sees from 400nm to 700nm, the low contrast in the IR spectrum was not obvious to those selecting the plate colors."
While a one-off programming fix might have been faster, the hundreds of changes that could be required across the states in the future makes this the wrong answer. Another option would be to move to a different IR illuminator frequency. A frequency shift to 750nm, which some manufacturers offer as an option, also might solve the problem in Tennessee. However, it has its own drawbacks.
Since 750nm is close to the visual band, the illuminator is more visible (and therefore less covert) to the eye, and since most of the other state plates can be read at 850nm, a 750nm solution for the Tennessee market still would leave their new plates effectively "invisible" to most LPR systems outside the state.
Training a new AI algorithm
Rekor, which is known for its advanced suite of advanced license plate and vehicle recognition solutions made the decision to enhance its artificial intelligence (AI) algorithms to be able to handle the Tennessee color change. The advantage of deploying and training a new AI algorithm is that instead of adding more and more one-off solutions, the AI can be retrained as new plates come out across the USA.
Rekor researchers attacked the problem first by understanding the physics of the problem, then by retraining its AI to optimize the camera settings to the available contrast. The initial pass, using an iterative data scraping and model retraining process, kicked the read rate up from approximately less than 10% to more than 63%. This significant jump reinforced the researcher's confidence that this was the right approach, and the process was repeated until they were satisfied that the read performance was again reliable and adequate.
Rekor sees ALPR as a beneficial technology not only for public safety agencies but also for the citizens on our roadways. This technology enables police to identify stolen vehicles and find vehicles involved in crimes, abductions, and/or missing person reports. Now Rekor is situated for whatever color schemes the states throw at them in the future. Anyone open to a purple, green and gold Mardi Gras plate? Rekor will be ready for it. Learn more at Rekor's law enforcement-specific website.
About the authorRon LaPedis is an NRA-certified Range Safety Officer, NRA and California DOJ-certified instructor, works a pawnshop gun counter, is a uniformed first responder, and frequently writes and speaks on law enforcement, business continuity, cybersecurity, physical security and public/private partnerships.