With the proliferation of fentanyl-laced pills masquerading as prescription drugs, just one pill might be one too many
Thank you for reading this post, don't forget to follow and signup for notifications!
---
Sponsored by Thermo Fisher Scientific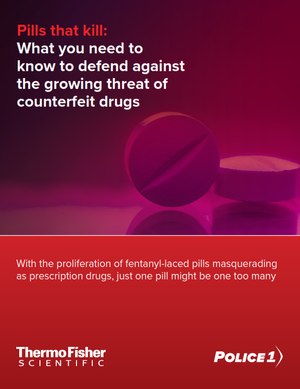 In September 2021, the Drug Enforcement Administration took the uncommon step of issuing a public safety alert, its first in six years. The situation prompting the alert was a sharp uptick in fake prescription pills containing fentanyl and methamphetamines.
The 12-month period ending in November 2021 marked an all-time high for drug overdose deaths in the United States. Over two-thirds of those deaths involved synthetic opioids – some victims unaware that their pills were fake and laced with a fatal dose of fentanyl.
Transnational criminal organizations are trafficking opioids into U.S. neighborhoods and communities, fueling both the drug overdose epidemic and drug-related violence in areas once thought immune from the illicit drug trade.
Download this eBook to learn more about this growing crisis and what your agency can do to fight back.
Tags
BrandFocus Sponsored Content
Drug Interdiction / Narcotics
Fentanyl
Narcotics
Opioids