Trending: Ammo in Stock, Best Beginner Handguns, & Best AR-15s
Thank you for reading this post, don't forget to follow and signup for notifications!
---
Sig Sauer just released the X-Macro Comp, the latest evolution of the P365 series. It's a gun that threatens to redefine an entire category of pistols.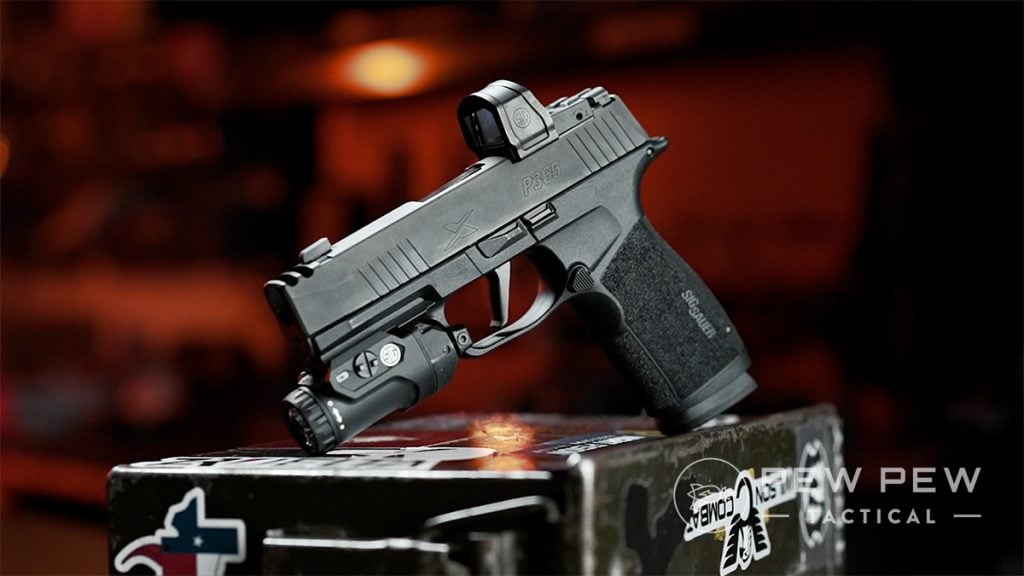 We can agree there are tradeoffs with smaller guns — you typically gain concealability for the features or functionality you lose. But what if you didn't have to sacrifice?
This was the question motivating Sig's newest pistol. We got an early peak and really tested the gun out. So follow along as we look at the specs, features, pros and cons to help you decide if this upgrade is worth it.
Table of Contents
Loading…
Pros & Cons
Pros
Class-leading capacity
Reduced muzzle flip
Easier draw from concealment
Cons
Mag can hang up on big hands
Slightly harder to conceal
The Bottom Line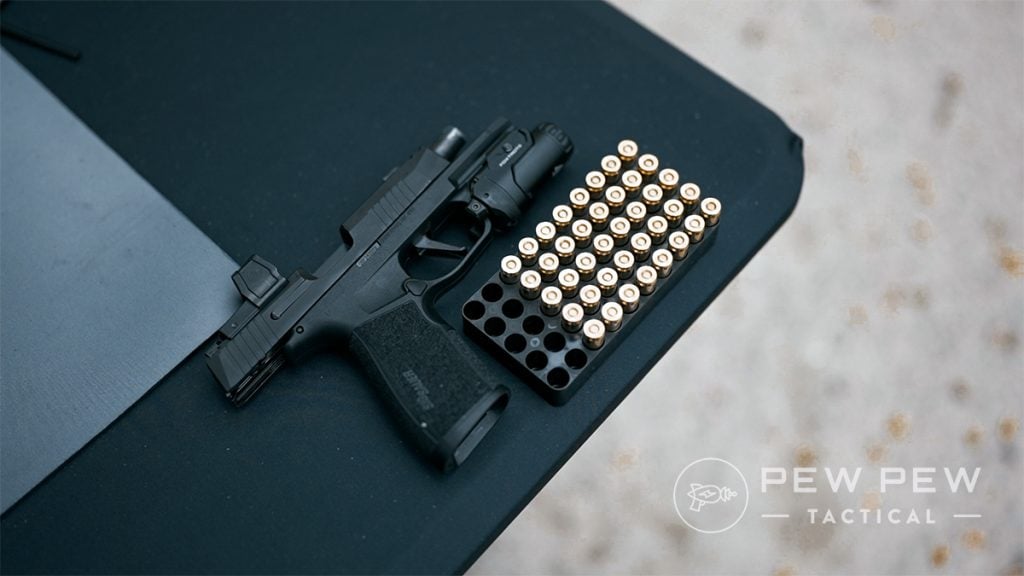 Sig is driven to continually do more, and that statement is plainly demonstrated in the Macro-X Comp. This micro-compact holds an impressive 17+1 rounds, featuring an integrated compensator making it a lot of bang for the buck.
Specs & Features
Specs
Caliber: 9mm
Capacity: 17+1
Width: 1.1"
Length: 6.6"
Barrel Length: 3.1"
Height: 5.2"
Weight: 21.5 oz.
Features
New Macro Compact grip module with 1913 Rail
Integral Compensator
Optics ready
Source: Sig Sauer
Background
When Sig Sauer produced the P365 back in 2018, the gun dominated the concealed carry market for quite a while, racking up awards and selling like hotcakes through 2019. Not wanting to rest on their laurels, Sig evolved the platform.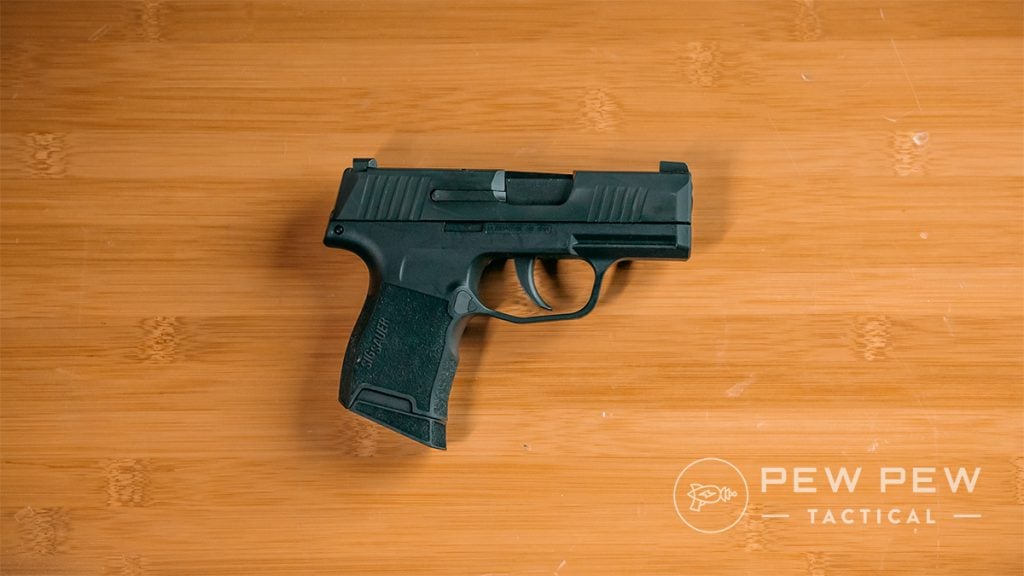 The P365XL soon followed, increasing capacity to 12+1 with a flush-fitting magazine and adding a flat trigger. The SAS and P365X also trailed with even more features and options.
Most recently, a .380 version and the Spectre Comp, an integrally suppressed version of the P365, were released. This created a series of footprints fans and competitors could have used to predict the company's next move.
The X-Macro Comp is a culmination of all the upgrades.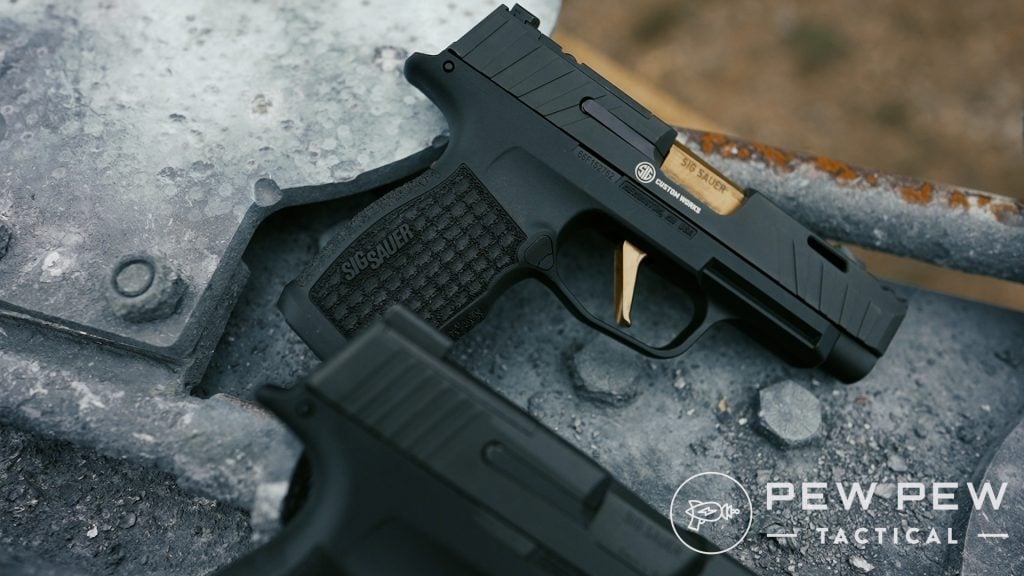 Who Is It For?
This gun is a concealed carry king. While the increased grip makes it a little harder to conceal, the overall size is surprising when compared to its capacity.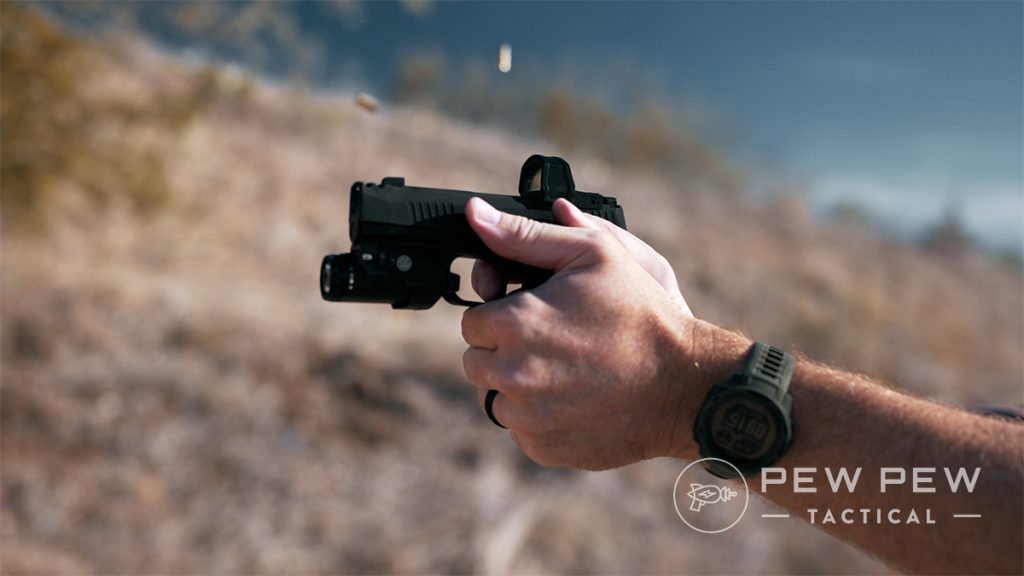 The X-Macro Comp is still well within the category for size, and its design makes it easy to operate despite its small nature.
Anyone wanting an optics-ready, 9mm, concealed carry gun that shoots well, has reduced muzzle flip, and incredible capacity? No need to look further.
Fit & Feel
I very much appreciated the extra grip length on the X-Macro Com. It gave my fingers more than enough room to establish a solid grip, especially from concealment. The grip texture is fairly aggressive.
In addition, the newest P365 uses interchangeable back straps that can be swapped out for better fit on different-sized hands. The gun is still thin at just over an inch wide.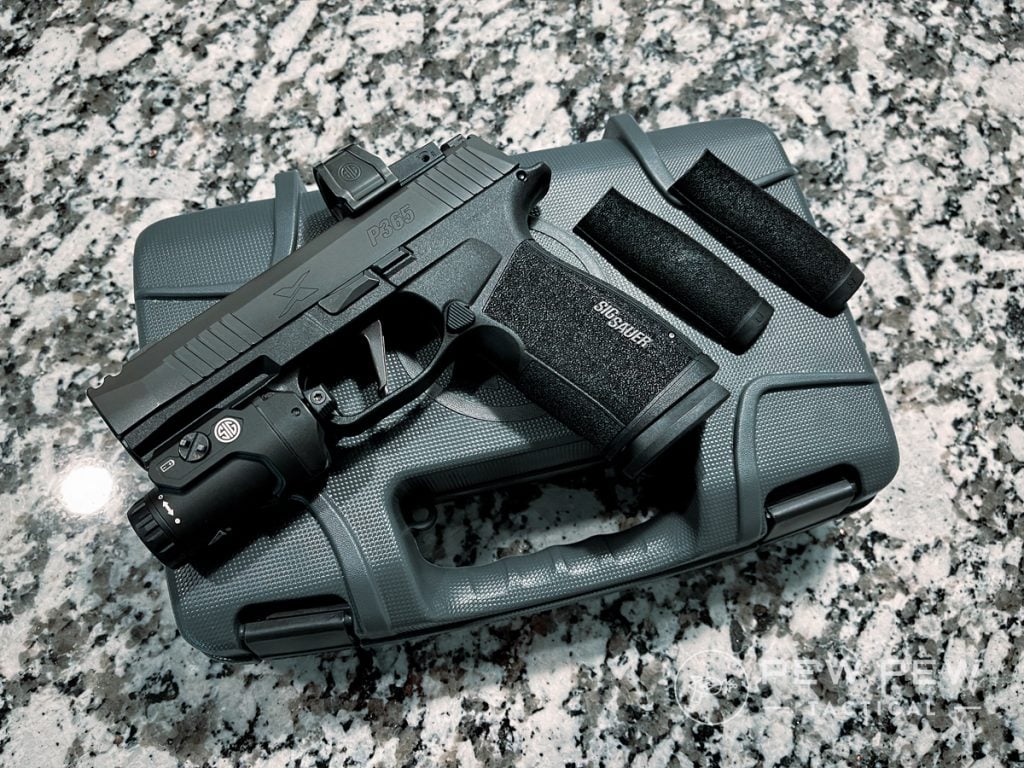 The ergonomics are very accommodating. The beavertail is deep enough to cover my 2X hand nicely, and the forward angle of the flat trigger means I can still get on it with just the tip of my finger.
I loved the forward and rear serrations that have become a staple on this gun, it's made to do work. The updated optics mounting system is also a plus since you don't lose the rear sight when you plug in a red dot.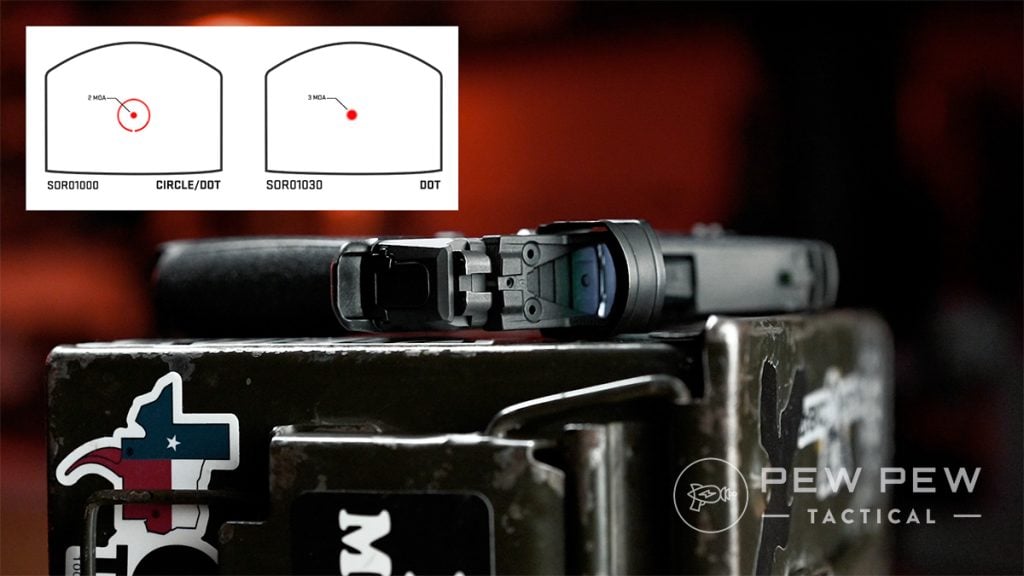 The XRAY 3-night sights were a nice touch though they were somewhat ineffectual with the Romeo Zero Elite installed. With the red dot, the gun pointed naturally and transitioned well between targets.
The Romeo Zero Elite was installed before we competed out at the Sig Sauer Academy. The 2 MOA dot combined with the 32 MOA ring proved outstanding during the courses.
I especially liked it for running the plate rack as the ring perfectly encircled each plate.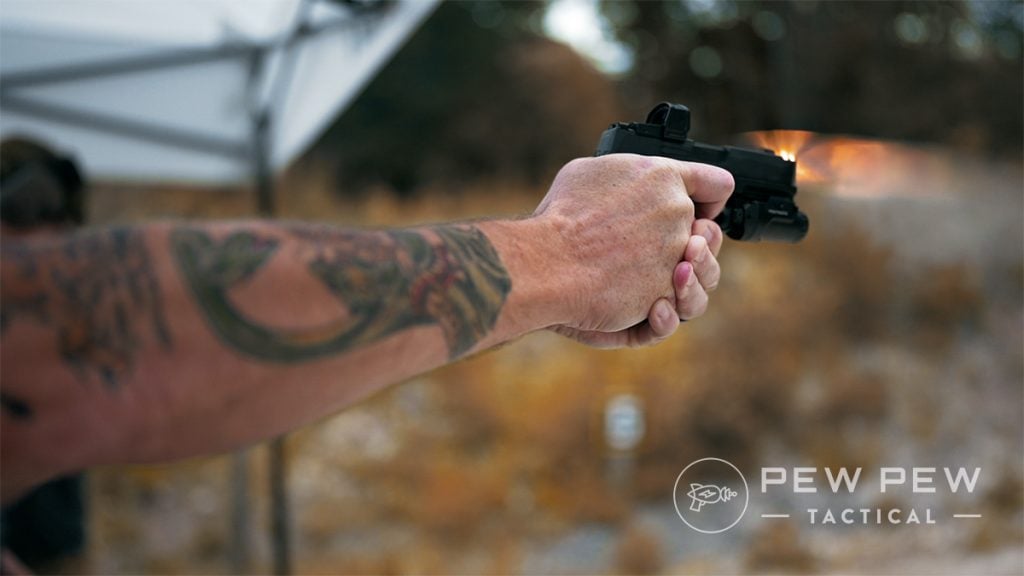 The dot worked great during competition!
At home, it was a slightly different story. Sig's Romeo Zero Elite on the model I received stopped working for an unknown reason before I took it to the range. A battery swap did not resolve the issue.
The magazines are longer than you'd expect and come with a high vis, orange follower. They lock in and drop cleanly. Worth mentioning that occasionally it would hang up on the meaty part of my hand when I would hit the release.
This is a big hand problem and not the gun's fault.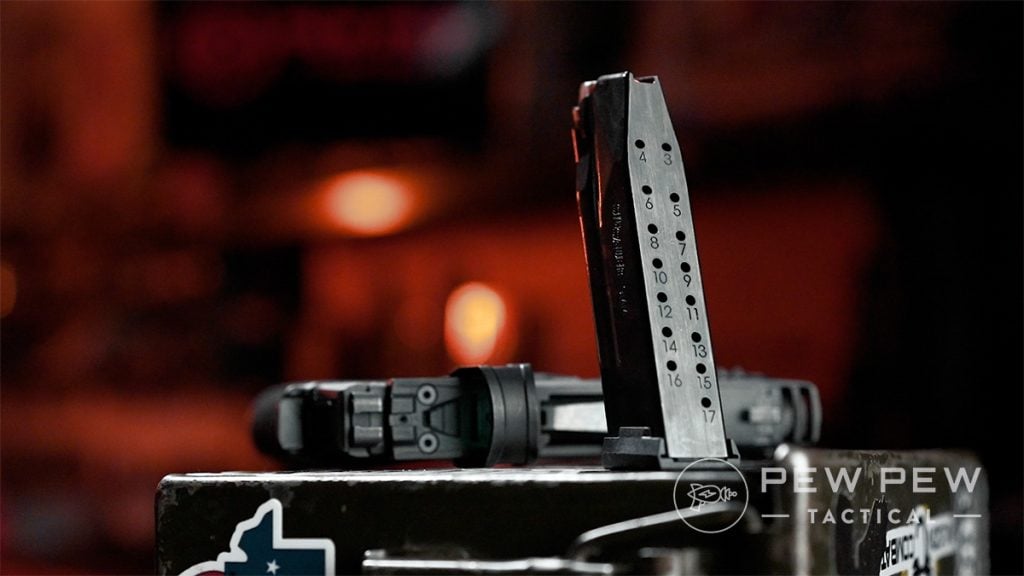 The trigger is similar to previous models in that it has a flat bow with a slight lip at the end for indexing.
Pulling it back, there's a few millimeters of travel before you reach a wall, which then breaks crisply at around 3 pounds. Reset is almost immediate.
How Does It Shoot?
This gun is a great little shooter. It almost feels like a hybrid of sorts, performing not like a pocket gun but more like a full-sized pistol.
In several of the competition courses we ran, targets had a two or three-hit requirement. Shooting for time, everyone moved through as quickly as possible.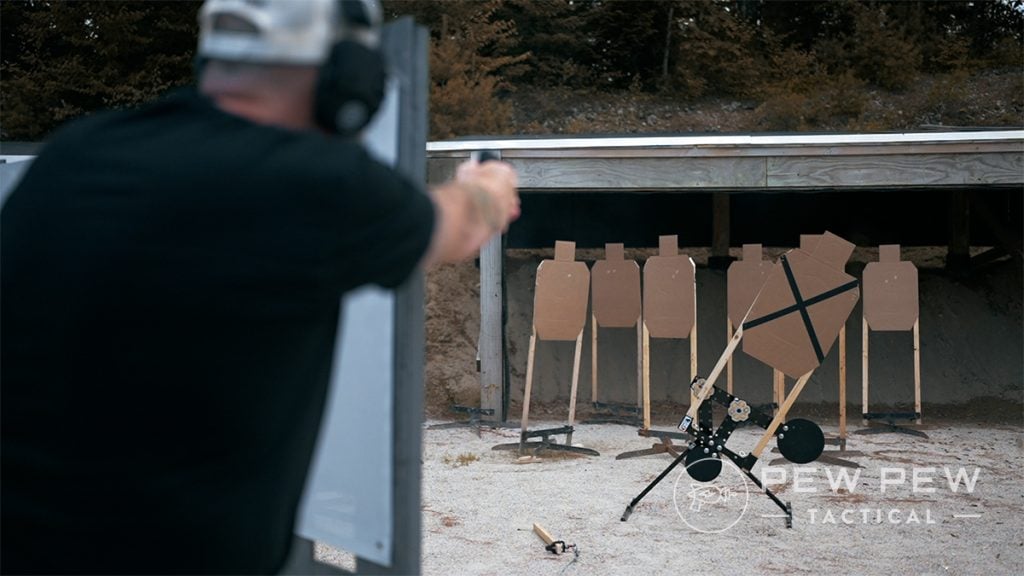 This gave us all ample opportunity to see how the heavyweight P365 ran under pressure. The Romeo Zero Elite got me quickly onto target, and the integral comp helped me get back on quickly after I'd fired my shots.
I had zero malfunctions. After a few reloads, I noticed some nice beveling on the inside of the magwell. Because of the long narrow nature of both magazine and magwell, you need a solid initial alignment before slamming them into seat.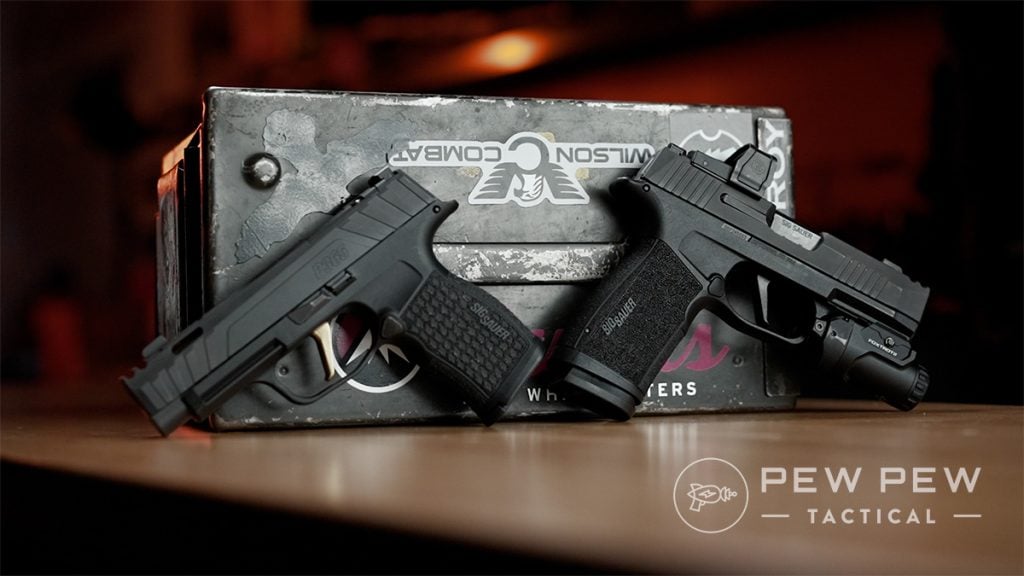 What Sets it Apart?
This is a concealed carry option for people who want a lot more from their guns. Not only do you get a plus-sized micro compact that's optics-ready, but it's compensated and holds 17+1 rounds.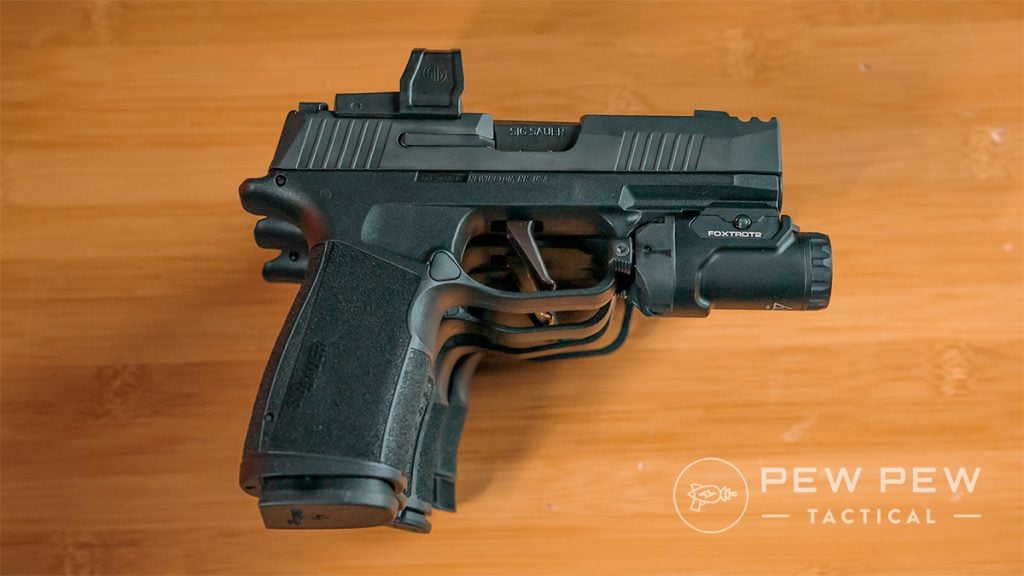 By The Numbers
Reliability: 5/5
Round counts varied for the different guns we shot at the range day and competition but are likely in excess of the 1,000 mark. I had zero malfunctions even with continued testing once I got the X-Macro Comp home.
Ergonomics: 4/5
The addition of adjustable backstraps should help shooters find that sweet spot to fit their hands. Otherwise, the controls were well placed and easy to reach and operate.
Accuracy: 4/5
This is a 3.1-inch barrel, but at the distances I fired from, I hit where I aimed. I believe the assistance of the Romeo Zero helped with this, as did the trigger.
Customization: 5/5
Sig's dropping of proprietary fitments like the accessory rail and rear sight included optics plate greatly increases the number of customization shooters can apply to this gun.
Value: 4/5
Sig indicates the pricing for the X-Macro Comp should be as low as $799. And they've been working hard to create inventory in advance of the release. This isn't a cheap pocket gun but a top-end concealed carrier with a lot of features.
Overall: 4/5
Upgrades for X-Macro Comp
Sig has opened up the ability to customize your own experience with the X-Macro Comp. The optic mount no longer sacrifices the rear sight, while the inclusion of a 1913 accessory rail widens the possibilities.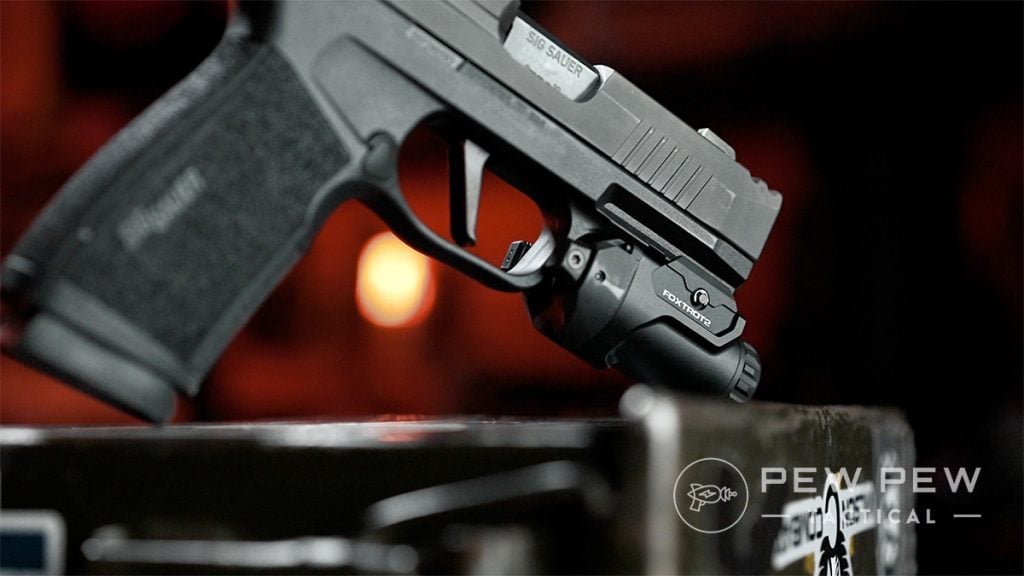 There's pretty significant aftermarket support out there for the P365 series, and many of the parts will fit on the X-Macro. Obviously, magazines will be limited to 17 or greater due to the longer grip.
I was able to test out the Foxtrot2 weapon light and found it to be a perfect companion for this setup.
Running on a CR123 battery, the unit puts out 580 lumens and 13,000 candela, making it a great option for low-light defense.
112
at OpticsPlanet
Prices accurate at time of writing
Prices accurate at time of writing
Available Coupons
25% off all OAKLEY products – OAKLEY25


Copied!
Visit Merchant
For more accessories, check out our P365 Upgrades article!
Final Verdict
Each time Sig comes out with another significant upgrade, I am duly impressed for a long time. With a slight increase in length, they gained several extra rounds in capacity.
The addition of the compensator, a concept proven from the Spectre Comp model, was a cherry on top. The X-Macro Comp is an outstanding pistol, a sum greater than its parts.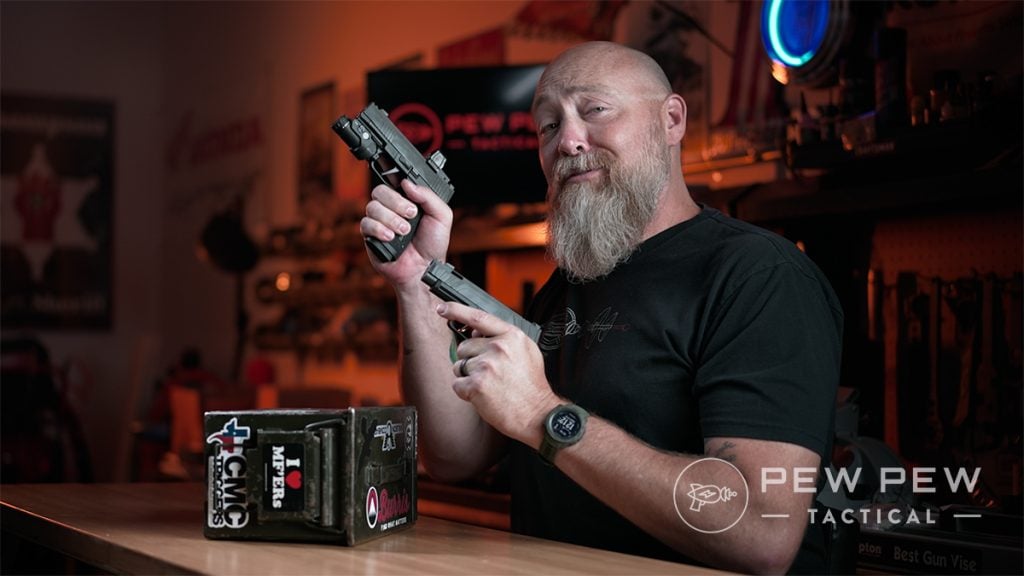 In many ways, Sig Sauer has been leading and innovating the concealed carry market, and they've defiantly dropped another gauntlet with this new gun.
Will you be picking up an X-Macro Comp? Let us know in the comments below. Also, check out 12 Best Concealed Carry Guns for more concealed carry options.