SIG Sauer dashed the relevancy of slim, single-stack polymer 9mm pistols on the market with the release of the P365 in 2018. The introduction of the stagger-stack magazine brought higher capacities into a concealable package, a form that many competitors have copied. 
Thank you for reading this post, don't forget to follow and signup for notifications!
In the intervening years, SIG designed and produced several variations, from the P365 XL with a longer slide to the rounded-off P365 SAS, as well as a model with a slide with an integral compensator, the P365XL Spectre Comp.
The latest is the P365 X-Macro (or XMACRO), further narrowing the gap between the P320/M17 and the P365 by bringing a flush-fit 17+1 9mm model to the market. It also has an actual Picatinny rail up front for better accessory compatibility and interchangeable backstraps to accommodate different hand sizes. 
Essentially the P365 X-Macro has the grip of a P322 with an integral compensator like the P365XL Spectre, all in a package that's slightly slimmer, shorter, and lighter than a Glock 19–but with two more rounds on tap.
Here's what they have to say about it:
NEWINGTON, N.H., (August 11, 2022) – SIG SAUER is pleased to introduce the P365-XMACRO bringing more capacity, more shootability, and more concealability to everyday carry; the P365-XMACRO packs an unprecedented 17+1 round standard capacity into the iconic 1" slim profile of the P365.
"When the P365 was introduced, it reimagined the possibilities of everyday carry, and the P365- XMACRO continues this tradition delivering more on everything that made the P365 the number one selling, and most award-winning gun in America," said Tom Taylor, Chief Marketing Officer and Executive Vice President, Commercial Sales, SIG SAUER, Inc. "The innovative magazine design of the P365-XMACRO delivers on capacity while maintaining the slim design, making it more comfortable and more concealable than any other 17+1-round pistol on the market. The integrated compensator of the P365-XMACRO reduces muzzle flip making follow-up shots faster and easier to stay on target shot after shot for even more accuracy. It is very simple, like the name suggests, with the P365-XMACRO you get more of everything you want in an everyday carry pistol, and you no longer need to compromise your capacity for concealability or shootability."
The P365-XMACRO is a striker-fired, 9mm, polymer frame pistol featuring the all-new Macro-Compact Grip Module with a standard 1913 accessory rail, an integrally compensated P365 XSERIES opticsready slide with XRAY3 day/night sights, and flat trigger. The pistol ships with interchangeable small, medium, and large backstraps and (2) two 17-round steel magazines. The P365-XMACRO is optimized for use with the SIG SAUER Electro-Optics FOXTROT1 rail mounted flashlight and ROMEOZero Elite Micro Red Dot sight.
Further specifications include:
Caliber: 9mm
Overall length: 6.6 inches
Overall height: 5.2 inches
Overall width: 1.1 inches
Barrel length: 3.1 inches
Sight Radius: 5.1 inches
Weight (w/magazine): 21.5 oz.
For more information, hit up sigsauer.com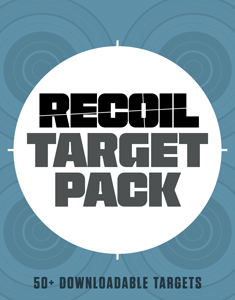 NEXT STEP: Download Your Free Target Pack from RECOIL
For years, RECOIL magazine has treated its readers to a full-size (sometimes full color!) shooting target tucked into each big issue. Now we've compiled over 50 of our most popular targets into this one digital PDF download. From handgun drills to AR-15 practice, these 50+ targets have you covered. Print off as many as you like (ammo not included).
Click here to get IMMEDIATE ACCESS to a digital PDF of this target pack!