Download this week's episode on Apple Podcasts, Amazon Music, Stitcher, Spotify or via RSS feed.
Thank you for reading this post, don't forget to follow and signup for notifications!
Over the past few years, we have heard about the need to reform and/or overhaul the criminal justice system. Unfortunately, some of the unintended consequences of reforms put into action have included rising crime and homicide rates.
In this episode of Policing Matters, host Jim Dudley speaks with Rafael Mangual, a senior fellow and head of research for the Policing and Public Safety Initiative at the Manhattan Institute and a contributing editor at "City Journal," about his recently released book, "Criminal (In) Justice: What the Push for Decarceration and Depolicing Gets Wrong and Who It Hurts Most."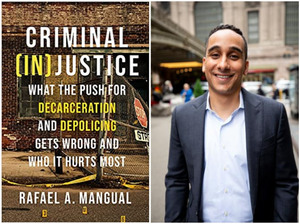 In his book, Rafael offers a more balanced understanding of American criminal justice, and cautions against discarding traditional crime control measures: "After a summer of violent protests in 2020 – sparked by the deaths of George Floyd, Breonna Taylor, and Rayshard Brooks – a dangerously false narrative gained mainstream acceptance: Criminal justice in the United States is overly punitive and racially oppressive. But, the harshest and loudest condemnations of incarceration, policing, and prosecution are often shallow and at odds with the available data. And the significant harms caused by this false narrative are borne by those who can least afford them: black and brown people who are disproportionally the victims of serious crimes."
Click here for more information on "Criminal (In) Justice" and follow Rafael Mangual on Twitter.
This episode of the Policing Matters Podcast is sponsored by Polco. Polco's National Law Enforcement Survey provides a comprehensive, accurate and representative picture of resident opinions related to police services. Compare your results with other agencies around the nation. Align your priorities with community sentiment, build trust, and improve safety services. Visit info.polco.us to learn more.
RATE AND REVIEW THE POLICING MATTERS PODCAST
Enjoying the show? Please take a moment to rate and review us on Apple Podcasts. Contact the Policing Matters team at policingmatters@police1.com to share ideas, suggestions and feedback.