Trending: Ammo in Stock, Best Beginner Handguns, & Best AR-15s
What's the most useful tool in the world?
Thank you for reading this post, don't forget to follow and signup for notifications!
If you answered "A fully charged smartphone with service," you're probably right.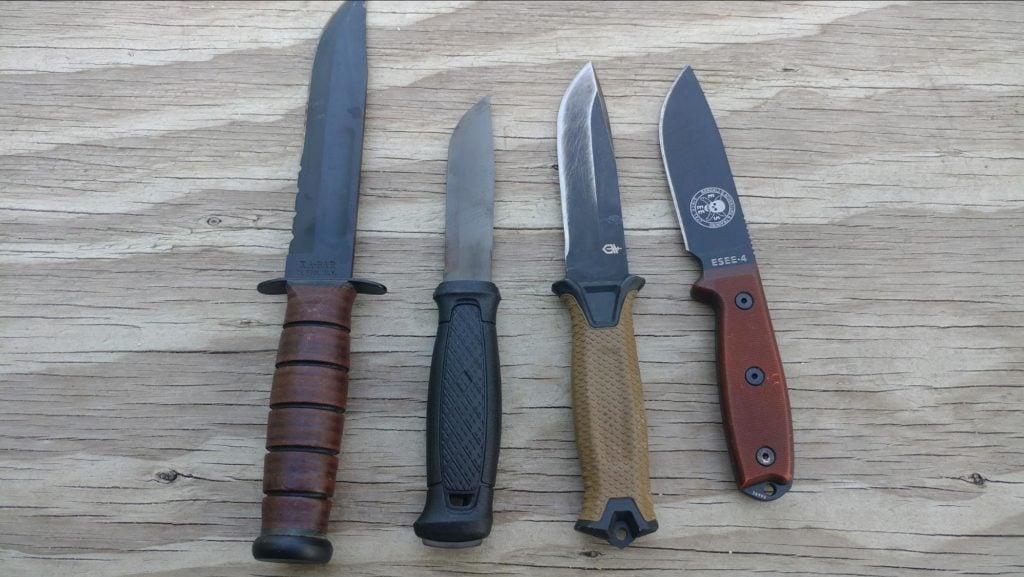 And if the question is, "What is the best tool for surviving in the wilderness?" The answer is still a fully charged smartphone with service…
But a solid knife is a close second!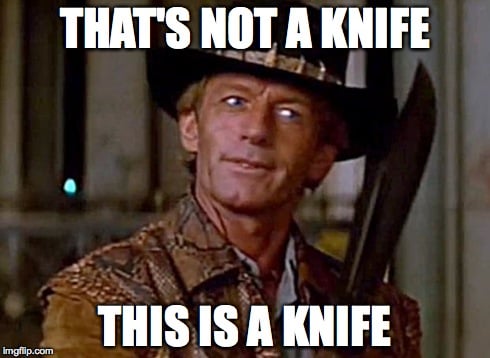 So, what makes a survival knife? What's a survival knife for? What's the best survival knife?
Let's take a look, and hopefully, you will find the right knife for you and your budget.
Summary of Our Top Picks
Best Overall Pick

Gerber StrongArm

The StrongArm combines great features, options, and durability all at an affordable price.

$79 at Amazon
Jump to Details

Most Affordable

Morakniv Garberg

If you choose a more basic sheath option, you can pick these up around $50-60.

$82 at Amazon
Jump to Details

Editor's Pick

ESEE-4

This rugged knife is hard to beat for the money.

$99 at Amazon
Jump to Details

Best Classic-Style

KA-BAR Becker Kephart

The Becker Kephart is modern implentation of a true classic.

$134 at Amazon
Jump to Details

Best High-End Option

Benchmade Anonimus

The Anonimus is a true high-end knife with high-end steel. This blade will take anything you can throw at it.

$261 at Blade HQ
Jump to Details
Table of Contents
Loading…
Survival Knife Tasks
A survival knife is expected to be able to handle a lot more jobs than your average knife. If it can't handle these, it has no business calling itself a "survival knife."
Here are a few everyday tasks your survival knife may see.
Cutting and Chopping
There will likely be some necessary cutting and chopping tasks your knife will be called upon to do — from trimming limbs off trees to clearing a place to sleep.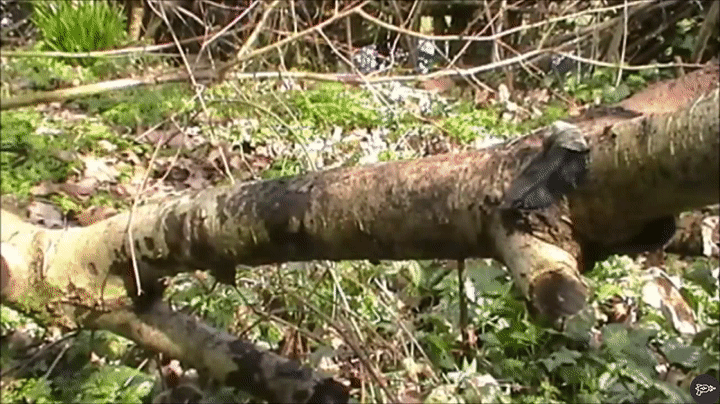 These essential tasks are the most common and simplest out there.
Cleaning Game
You're out in the wild, alone, but you're hungry. If you got the skills or the luck, perhaps you catch a fish, snare a rabbit, or down a deer. What now?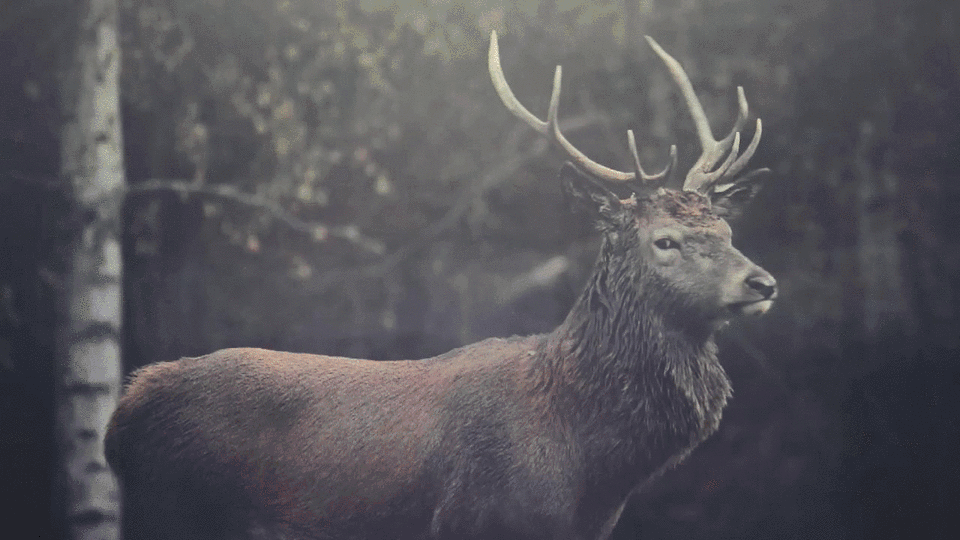 You have to skin that bad boy. A survival knife needs to be able to skin and dress an animal. You need a sharp knife with a good belly to make those precise cuts.
Batoning Wood
Batoning wood is when you use a knife and a hammer substitute to split wood. The hammer substitute is often another piece of wood used to drive the blade through the limbs.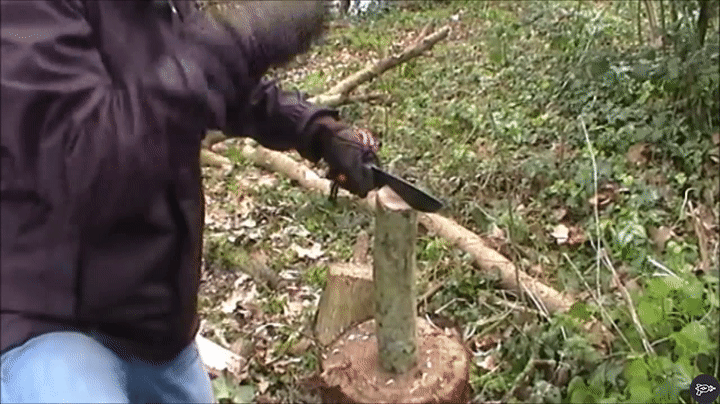 This means you need a rugged and sturdy knife that drives its way through a nice thick piece of wood.
Starting Fires
You can't cut your way into a fire, but you can use a knife to strike ferrous rods to help start fires. These rods need a nice sharp spine to create the friction required to create sparks.
With these tasks in mind, how do you find a knife to satisfy each one?
Folding or Fixed?
The debate between folding and fixed blades can rage all day, but when it comes to survival knives, fixed blades are the way to go.
Modern folding blades from companies like Emerson are robust and durable, but they still aren't the best for survival.
Survival knives can't sacrifice strength, not even an inch, for the sake of convenient carry.
With that said, I also carry a pocket knife everywhere.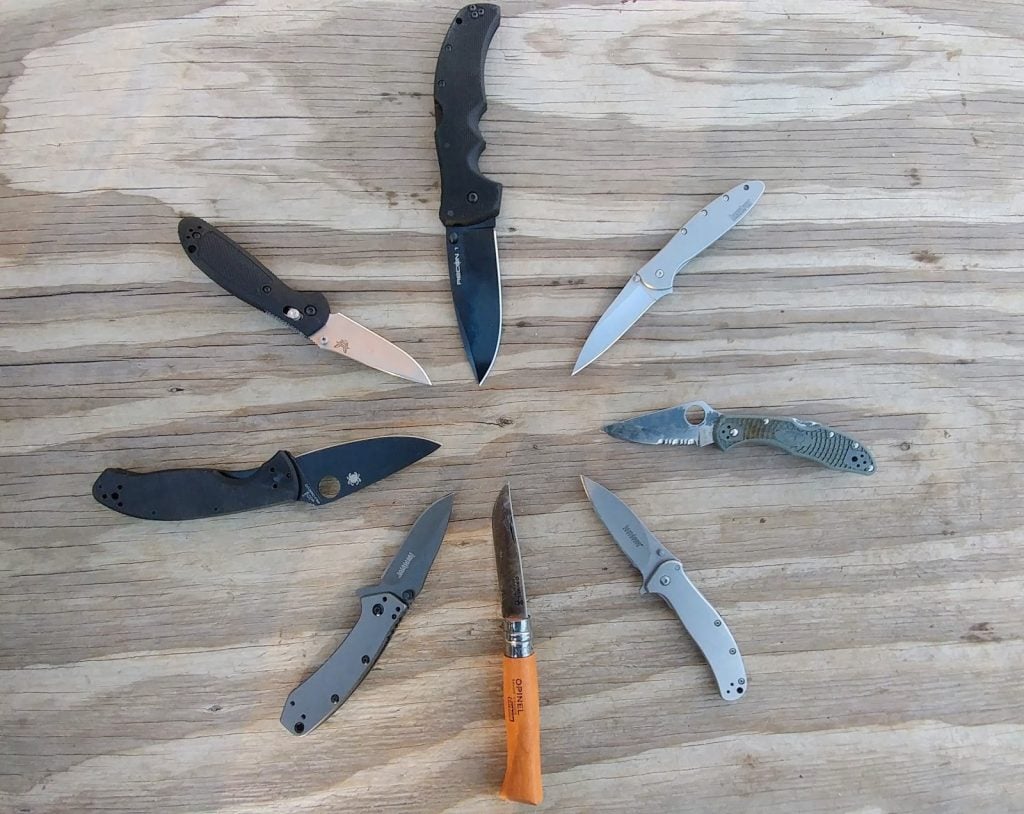 In a survival situation, I'll have two knives…hopefully.  
Tang
This is a straightforward one, full tang or bust. Those cute little knives with hollow handles to store fishing gear, flints, and other items are useless. They'll break in half in about two minutes of heavy use.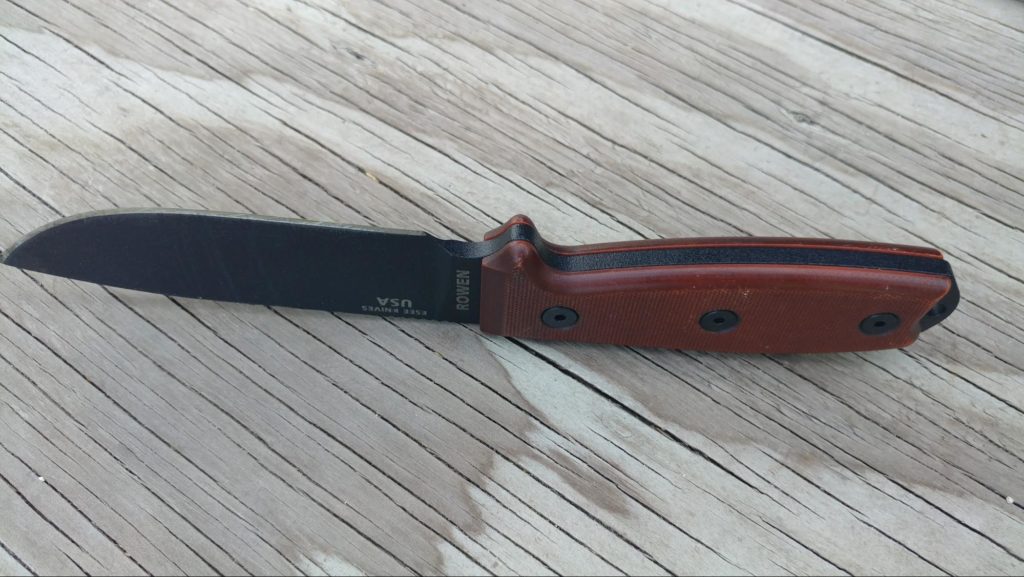 A full tang means the blade extends all the way into the handle, giving the blade greater integrity and reducing the likelihood that the blade will snap at its base. This is the second must-have on our survival knives checklist.
Grips
Knives have tons of different grip materials and styles. There isn't a significant requirement I'd give as a checklist for one type of grip or grip material. This is more guidance on choosing a good grip on a survival knife.
You should look for an excellent full grip that fills your hand. This will help with comfort and reduce fatigue when working for extended periods.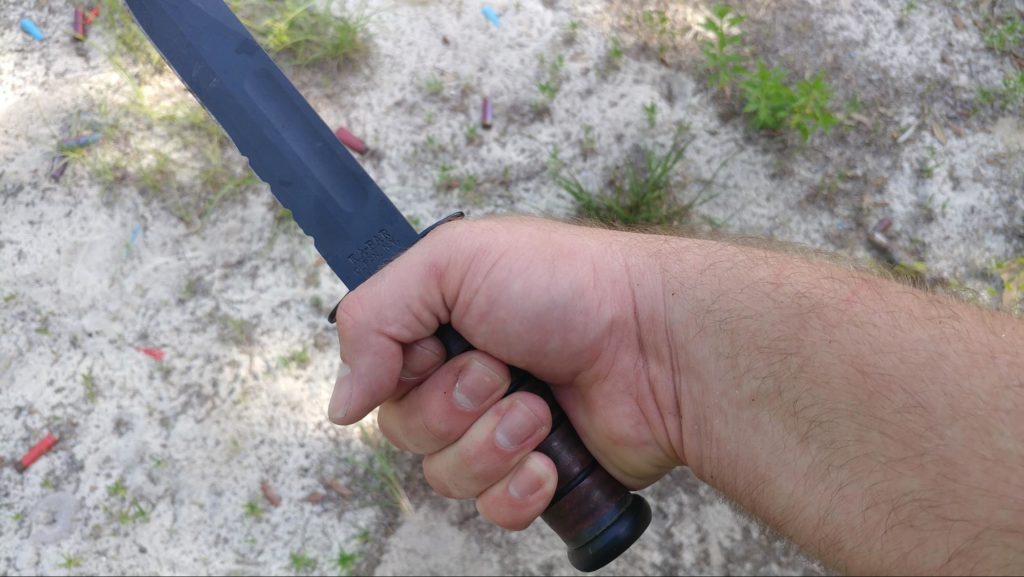 Material wise can be nearly anything. You'll see leather, G10, different polymers, and rubbers. You generally want it to be textured to ensure the knife doesn't slip.
You want to be able to hold the knife with a good grip with wet and sweaty hands or when wearing gloves. Anything too aggressively textured may give you hot spots while you are working.
For example, I like my Emerson PUK. It's a great knife, but the grip isn't the best for a survival knife. The grip is thin and very aggressively textured, and it starts to grind into the hand after a while.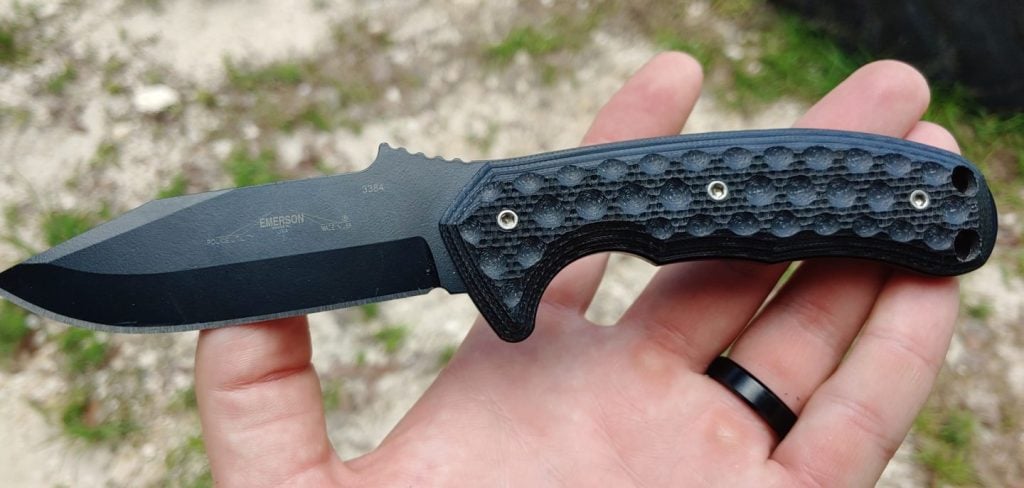 Blade Features
Defining what your blade should be is another thing that's never going to be set in stone. With so many different knives out there, it's hard to say that one is better than the other. Let's talk about the pros and cons of various features.
For a survival knife, I recommend between 3.5 and 7 inches for the blade. Anything shorter is a little rough for heavy work, and anything over 7 inches can become unwieldy.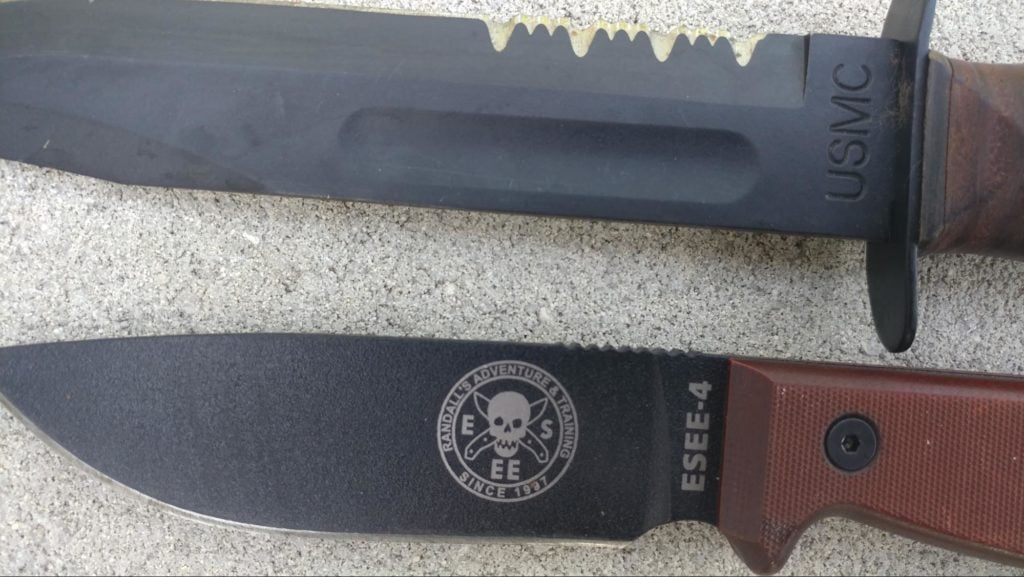 Blade style can differ greatly. I prefer a clip or drop point, as they are a bit more versatile. Tanto blades and spear points are okay but better suited for tactical knives than survival knives.
Should your blade be serrated or straight?
Straight edges are easier to sharpen and offer the maximum blade length for making slices and cutting deeply.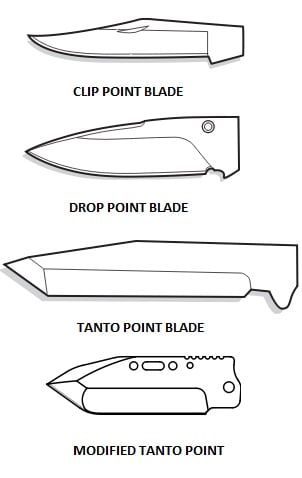 Serrated blades can make chewing through thicker brush much more manageable. However, the edges are a little more challenging to sharpen, and you lose straight blade cutting space.
The spine is the back of the blade and can be crucial for survival tasks. For a survival blade, I like a nice square spine. A square spine makes it easy to strike ferrous rods and sends sparks flying outward.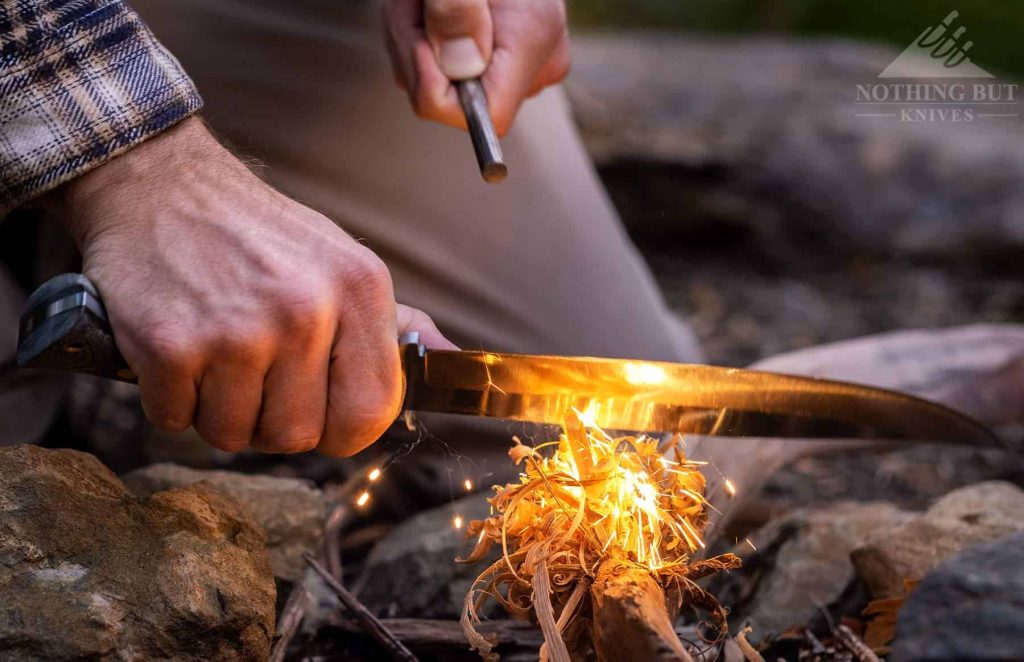 A square spine is also great for batoning wood since the flat top gives you a better surface for hammering down on.
Steel (Does it Matter?)
Does the blade steel matter? Of course, it does. However, there are so many metals used for making knives that it's hard to say use one over another.
Blade steel is critical, and you should always research what that steel is and its strengths and weaknesses.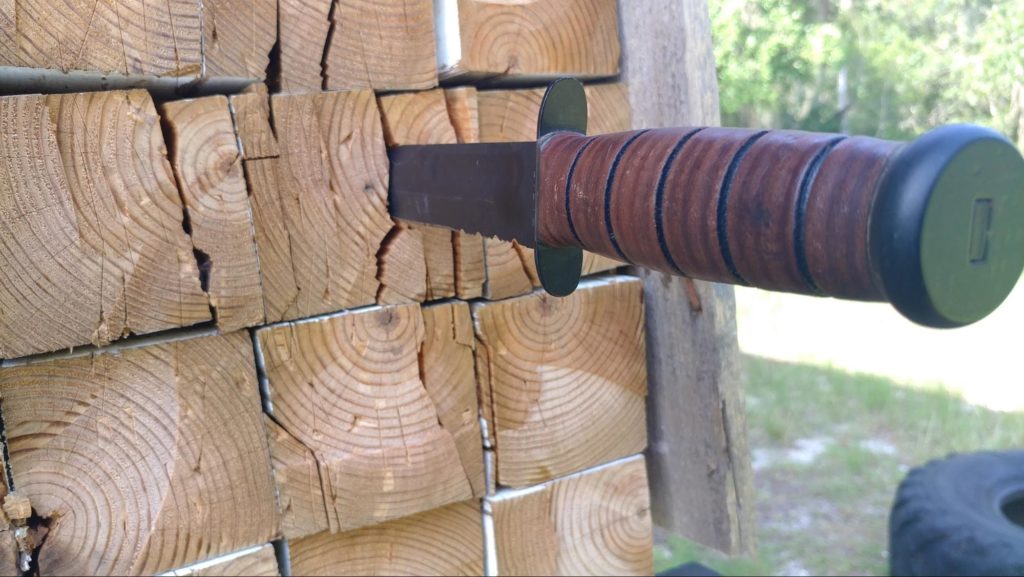 However, just because you see some random letters and numbers – doesn't mean that is good steel. If you're unsure what steel you're looking at, Google it!
Here are a few types of common, well-made steel that you can trust.
AUS-8
420HC
154CM
S30V
1095
440C
Stainless vs. Carbon
Both stainless steel and carbon steel have their merits. I like both, but let's talk a little about each.
Stainless Steel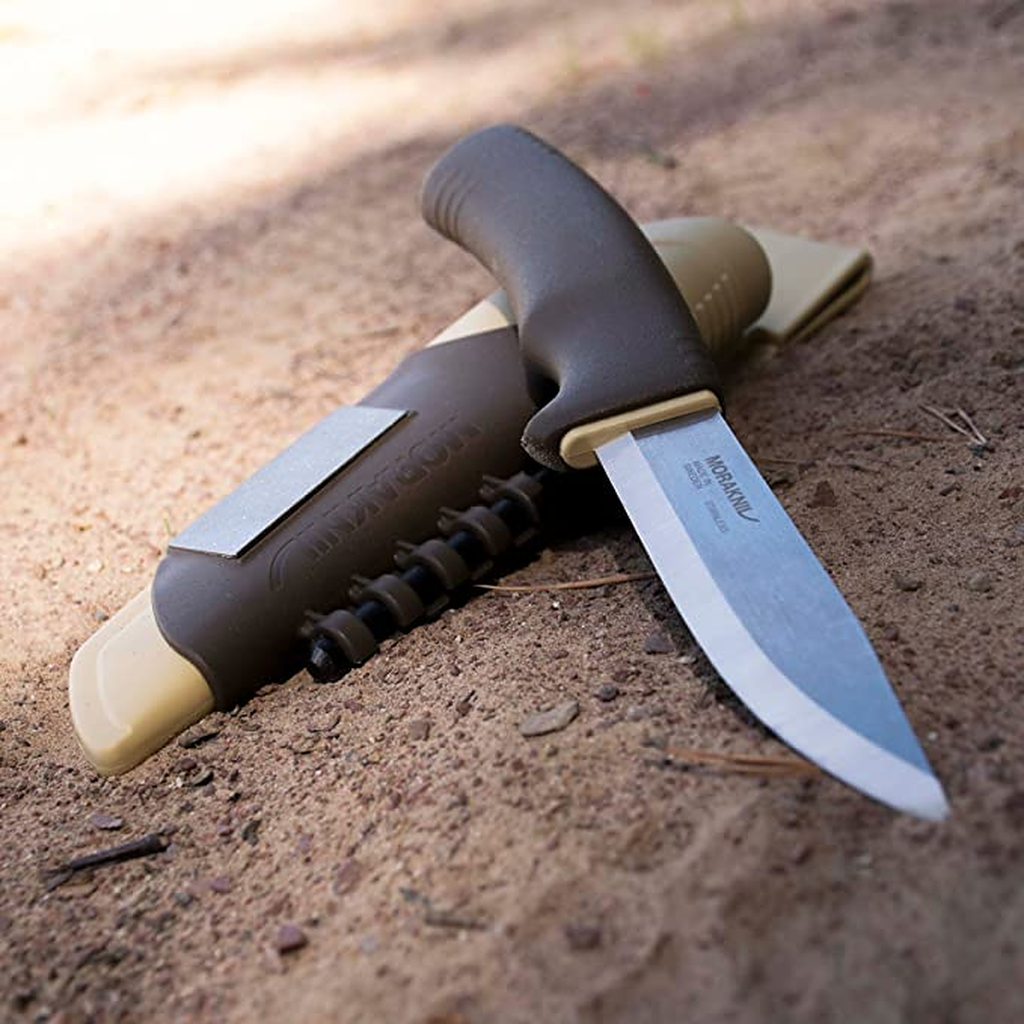 Stainless steel knives rock when it comes to overall strength and corrosion resistance. They won't rust, chip, or bend very easily. Stainless steel also looks a little sexier.
The downside is that while it's easier to sharpen, it won't hold an edge as long as high carbon steel.
High Carbon Steel
High carbon steel can be extremely sharp — nearly surgical. It is usually a little tougher to hone but holds a great edge over long and hard work and is perfect for precise cutting.
The downside is that they will rust faster than stainless steel.
Best Survival Knives
1. Gerber StrongArm
The Gerber StrongArm and I go way back. I've nearly worn the finish off of one of them, so I gladly grabbed another. This is a full tang knife offered with either partial serrations or a straight blade, and sports a blade made from 420HC stainless steel.
The blade is coated with a Cerakote finish that is pretty resistant to wear. However, after years of heavy use, I've worn mine down significantly.
Best Overall Pick
79
at Amazon
Prices accurate at time of writing
Prices accurate at time of writing
Available Coupons
25% off all OAKLEY products – OAKLEY25


Copied!
Visit Merchant
One of the reasons I love this knife is the handle; it is glass-filled nylon with a rubberized grip. The grip is textured with a series of small diamonds and is soft and comfortable.
The pommel features a glass breaker and lanyard loop. Its spine has a nice square edge for striking ferrous rods, and the blade is a drop point design.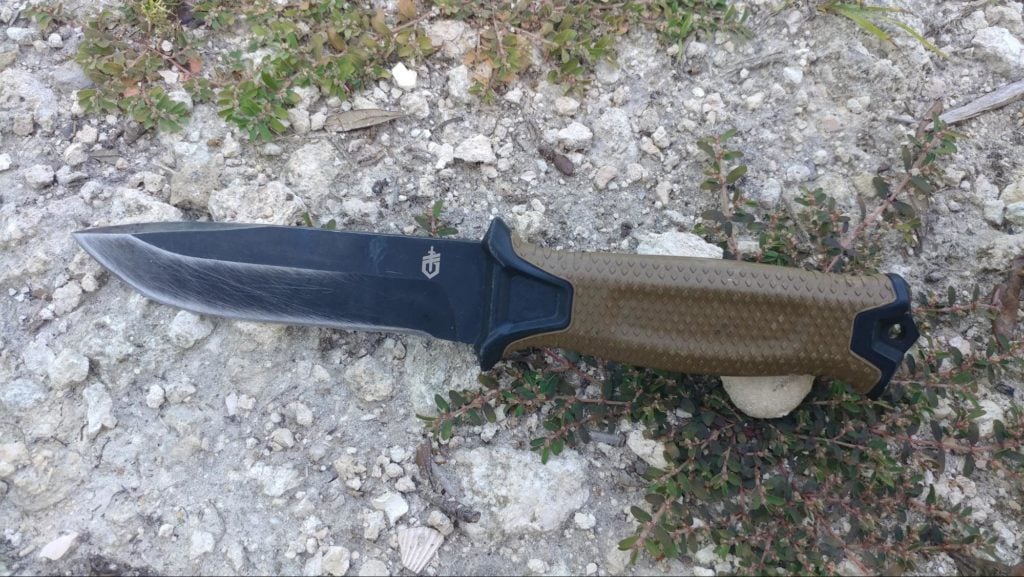 Over time I've found it to be a rugged knife that's very comfortable for extended use.
The Gerber StrongArm also has an outstanding sheath system that provides multiple options for carrying. There is the traditional vertical belt option. You also can carry the knife horizontally or on a MOLLE platform.
Overall the StrongArm is an affordable and modern platform for all your survival knife needs.
2. The Original KA-BAR
I have a substantial degree of bias when it comes to the Ka-Bar. Why? Well, it is the legendary Marine-issue combat knife, and I am a Marine.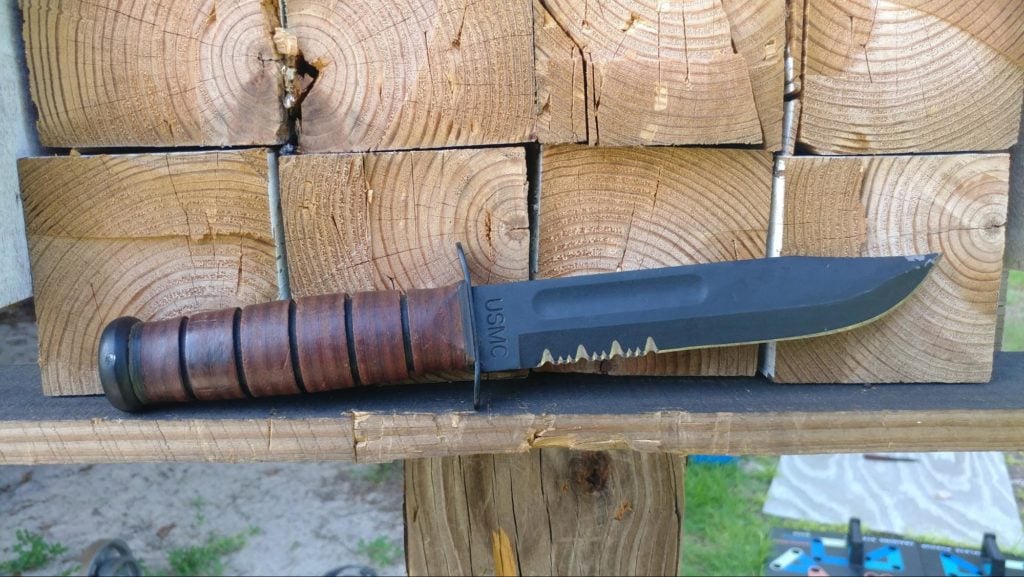 When I was in, we had Ka-Bar bayonets issued over the standard Ka-Bar, but as a machine gunner, I didn't carry a bayonet very much. However, I did bring my favorite Ka-Bar, and this knife has been everywhere I have.
The Ka-Bar is on the larger end for survival knives with a 7-inch blade and an 11.75-inch overall length. It is constructed from 1095 Cro-Van steel, which can achieve a wicked edge that stays sharp for a long time. It also comes in either partially serrated or straight edge.
The Ka-Bar has a pretty defined clip point that gives the knife a nice belly for deep slashes or skinning game.
Official Knife of the USMC
91
at Amazon
Prices accurate at time of writing
Prices accurate at time of writing
Available Coupons
25% off all OAKLEY products – OAKLEY25


Copied!
Visit Merchant
It also uses a rat tail tang, meaning the steel in the handle is thinner than the blade. However, 1095 is hardened steel and seems to resist breakage well.
Scabbards for the Ka-Bar come in plain leather that's a bit old-school but effective. Luckily, the Ka-Bar has been around so long you can find a variety of modern aftermarket options for it.
The Ka-Bar is a rugged and sturdy knife that will give you years of service. If this model is a little big for you, they make a variety of different-sized models that are a little more carry-friendly.
3. Morakniv Garberg
The Garberg is Morakniv's first full tang knife. This isn't a tactical knife and doesn't try to be; it's just a simple knife designed to work hard and work outdoors.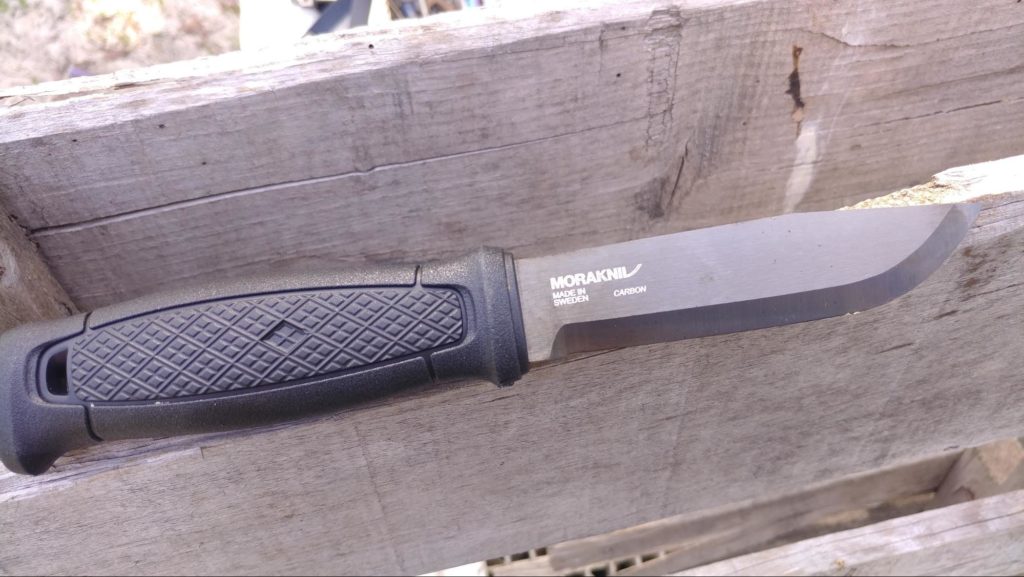 The steel is a 14C28N Sandvik stainless steel, which has proven to be robust and reliable throughout my use. It holds an edge pretty well for stainless and gets very sharp but takes a little effort to get it there.
The square-edged spine has a very sharp edge and has been the best knife I've ever used for striking ferrous rods. It has a well-rounded grip that feels very comfortable in hand. My only complaint is I wish it were textured a little more. However, it has never slipped, so maybe they are on to something.
When it comes to cutting, this thing drives through whatever material you put in front of it. The blade chews through wood and has no issues batoning, chopping, or carving.
Most Affordable
82
at Amazon
Prices accurate at time of writing
Prices accurate at time of writing
Available Coupons
25% off all OAKLEY products – OAKLEY25


Copied!
Visit Merchant
The multi-mount sheath allows you to carry this knife in any way you see fit and is perfect for those looking for versatility. My only complaint about the sheath is how far down the knife sits in it, which can make it harder to establish a good grip from the sheath.
4. ESEE-4
The ESEE-4 is the knife I'd take if you told me I was going into a survival situation. Even more than my beloved Ka-Bar (blasphemy, I know).
This is a simple, robust knife, designed by those who adventure for a living.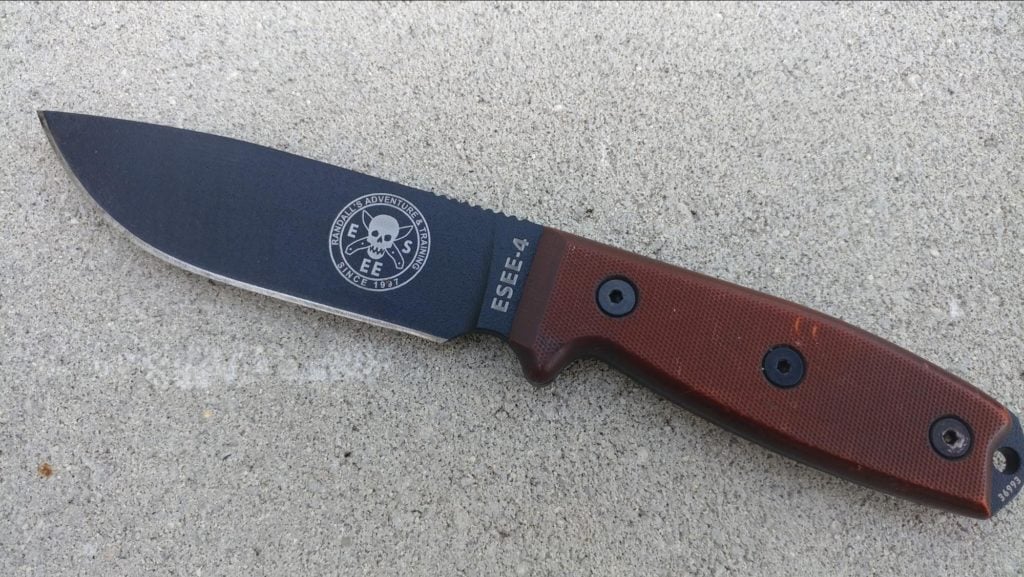 Designed by the same crew who run Randall's Adventure and Training, a survival school that teaches a wide variety of different classes in land navigation, dirt medicine, bushcraft skills, field survival, and much more.
Rocking a full tang 4-inch blade made from 1095 high carbon steel, which is renowned for its strength, the ESEE-4 is a durable knife. It can break through the ice, dig holes, cut through vines, wood, and more with absolute ease.
Author's Choice
99
at Amazon
Prices accurate at time of writing
Prices accurate at time of writing
Available Coupons
25% off all OAKLEY products – OAKLEY25


Copied!
Visit Merchant
The handles are thick but made of lightweight Micarta, with the whole package only weighing 8 ounces.
ESEE has made this blade solid and thick, with a square spine and a ridged thumb rest portion to extend your control over the knife for fine cuts.
It has a solid belly for deep slices and a rock-solid point for deep stabs. The ESEE-4 also has many aftermarket sheaths available.
5. KA-BAR Becker Kephart
Horace Kephart is a forefather of American bushcraft and designed the original Kephart knife decades ago. KA-BAR has since dedicated itself to making a faithful replica of the blade that doubles as a darn fine survival knife. The Kephart is a fixed blade knife that's far from tactical but highly efficient.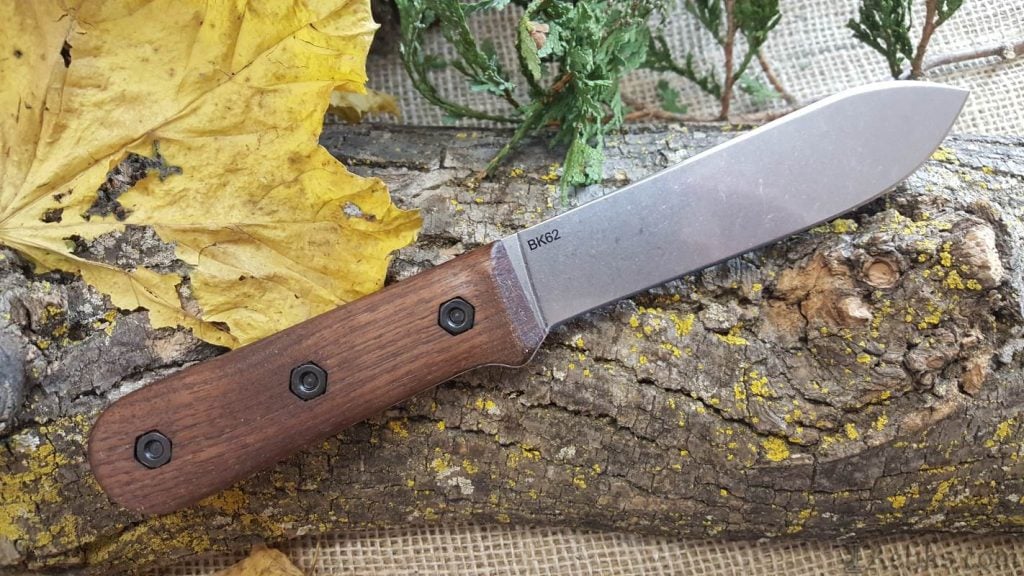 The Kephart uses a 5.125-inch blade made from 1095 CRO-Van stainless steel and a walnut handle. KA-BAR's knife predictably uses a full tang design and incorporates a 1.1875-inch wide blade that's flat but nimble, durable, and easy to use.
It has a spear point blade at the tip that lends good versatility to the knife. The point is excellent for piercing and raw stabbing potential and allows for fine, controlled tip work for precision crafting and even drilling. This also allows the knife to be lashed to a stick to form an effective spear.
The blade sports a full flat grind that is quite versatile and makes the knife a solid slicer and slasher when needed. The spine swedge makes it easy to cut through thick items without the blade catching. It absolutely glides through tomatoes but will also glide through anything in the wild.
Best Classic-Style
134
at Amazon
Prices accurate at time of writing
Prices accurate at time of writing
Available Coupons
25% off all OAKLEY products – OAKLEY25


Copied!
Visit Merchant
A Becker Kephart in good hands can be used for almost anything, including skinning game, cutting, woodwork, making feather sticks, and more. It's a classic that's always worked and always will.
What do you think of the Ka-Bar? Rate it below!
6. Benchmade Anonimus
Let's move into a more modern space with the Benchmade Anonimus — a fixed blade, ultra-modern slicer perfect for survival tasks. Benchmade gives us a 5-inch blade, with an overall length of 9.83 inches, but it only weighs a feathery 5.94 ounces.
Benchmade embraces the new school with the G10 grip scales and the Boltaron sheath, which is one of those fancy modern polymers. G10 is an excellent material because not only is it tough, but it's super grippy and easy to hold onto.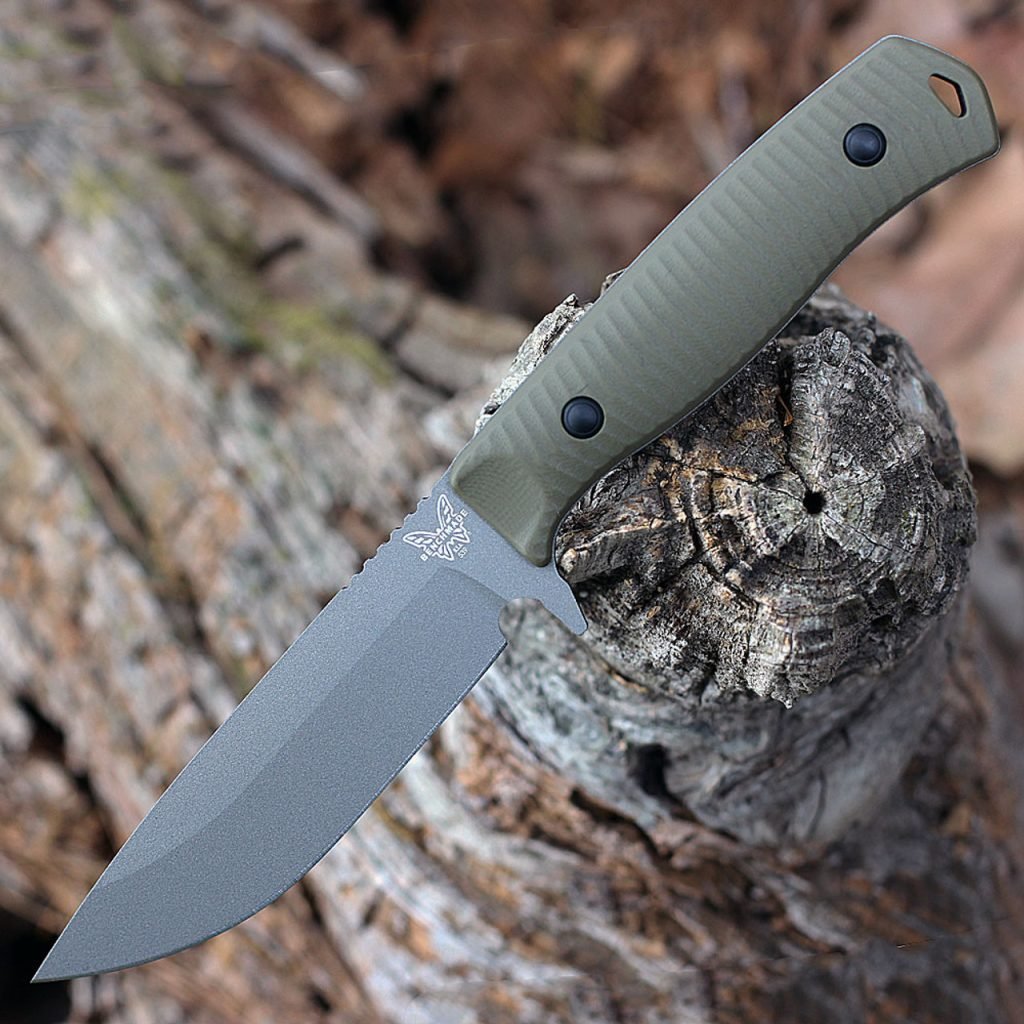 CPM-CruWear is new to me, but since it's an upgrade to D2, I can't help but love it. It's like D2 but stronger, harder, and more resistant to wear, all of which help this knife keep an edge for a long time.
A downside to CPM-CruWear would be the weak corrosion resistance. However, Benchmade took precautions and cerakoted the blade to help prevent that.
The Anominus has a relief cut at the bottom of the blade near the handle called a choil. A choil allows you to strike ferro rods more easily than using the blade's spine.
Best High-End Option
261
at Blade HQ
Prices accurate at time of writing
Prices accurate at time of writing
Available Coupons
25% off all OAKLEY products – OAKLEY25


Copied!
Visit Merchant
If the Anonimus' blade guard feels familiar, it's because a Geissele trigger inspired Benchmade. It's big, mean, and ensures your hand won't open itself up on the razor-sharp blade. The first rule of survival is "keep the blood in your body."
Ultimately the biggest turn-off to the Anonimus is its price. You aren't getting a budget-friendly option by any means. However, your money still gets you a rock-solid knife that will be perfect for survival situations.
7. TOPS Knives Brakimo
TOPS is well known for making end-of-the-world-ready knives, and the Brakimo is no exception. The Brakimo comes from the mind of Josh Flowers at Bushcraft global, and it's made for on-the-ground bushcraft work that translates easily into surviving in the wild.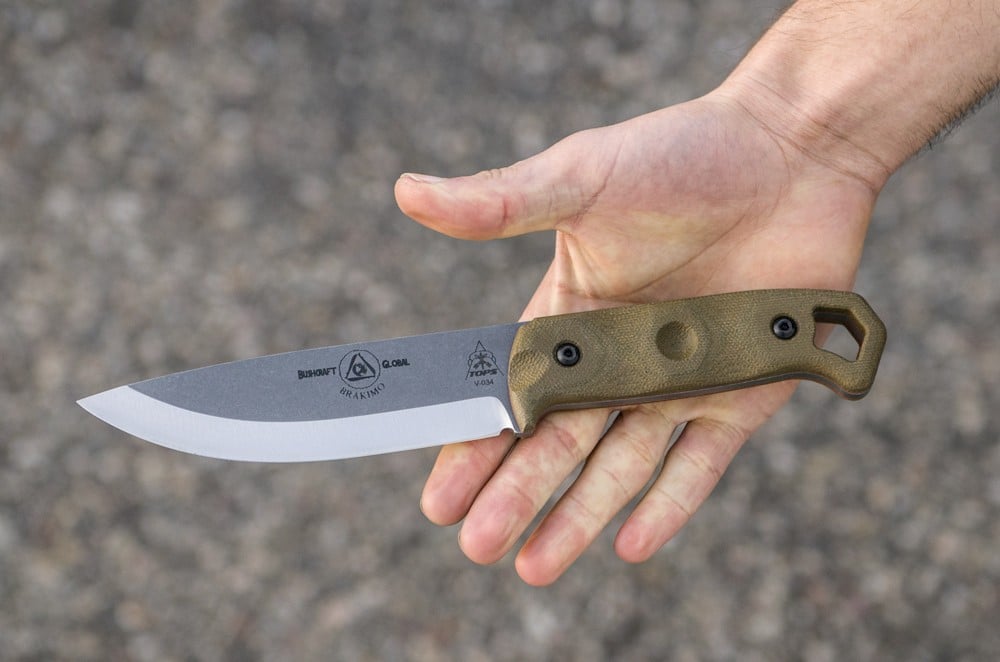 This fixed blade brute comes with a 5.25-inch blade with an overall length of 10 inches and a weight of 9.4 ounces. Not terrible by any means, and it's certainly weight-efficient. TOPS went with 1095 carbon steel.
To prevent rust, TOPS applied a rugged cerakote finish in an attractive stonewash style finish. Looks aren't a huge concern, but I can appreciate a good-looking knife.
The Scandi-style grind promises a straight cutting edge that strips branches and turns them into feather sticks and batons through wood like an animal. It's a big knife that does big knife things with style.
152
at Blade HQ
Prices accurate at time of writing
Prices accurate at time of writing
Available Coupons
25% off all OAKLEY products – OAKLEY25


Copied!
Visit Merchant
A full tang grants that additional strength we all want from our survival knives. Imagine your knife snapping in the woods, and you hear the Curb Your Enthusiasm music in your head. At the end sits a massive lanyard loop, so get your retention on boys and girls.
To complement the rugged blade, we get rugged grips. TOPS went with Micarta panels that bolt onto the knife that can be easily removed for maintenance purposes. The sheath is a modern polymer design that fits well with modern gear and allows you to mount various modern belt clips.
Final Thoughts
Before we depart, let's go ahead and talk a minute about what to avoid. There is a lot to consider, but mostly you want to avoid fantasy knives or cheap steel that put looks over function.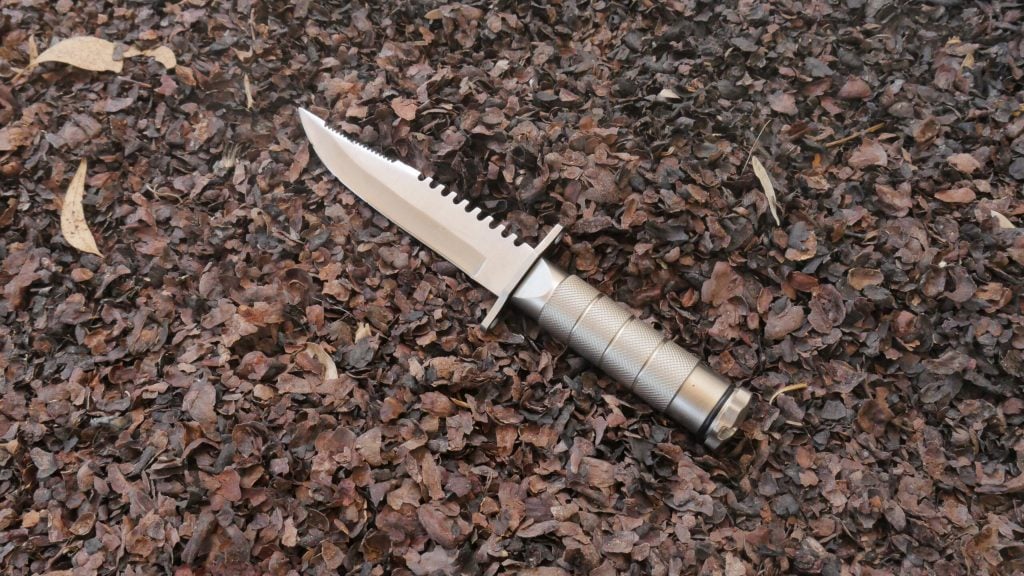 Don't get me wrong…these kinds of knives are pretty cool, but they are not for survival. Focus on reasonable quality, decent steel, a full tang, and a proper blade profile.
I want to turn it over to you…what's your survival knife of choice? Let us know in the comments! More knives are always better, so be sure to check out our Best Picks for EDC Knives Under $50 and $100.