It is a dog-eat-dog world in the AR-15 market. In the eighteen years since the sunset of the Clinton Assault Weapons Ban, the popularity of the AR-15 has exploded, and manufacturers have come and gone. It is an especially tough sell to put out a complete out-of-box rifle when one can build up their ideal setup at home.
Thank you for reading this post, don't forget to follow and signup for notifications!
Smith & Wesson has managed the challenge by putting out a utilitarian M4 style rifle at a reasonable cost in their M&P 15 Sport, which debuted back in 2006. That rifle was stripped down by using a sixteen-inch pencil barrel and omitting the dustcover and forward assist from the receiver. For the casual shooter, there is nothing wrong with that. But Smith answered calls for a more fully-featured AR with their M&P 15 Sport II in 2016 and it has gone on to become one of the best-selling rifles in the nation.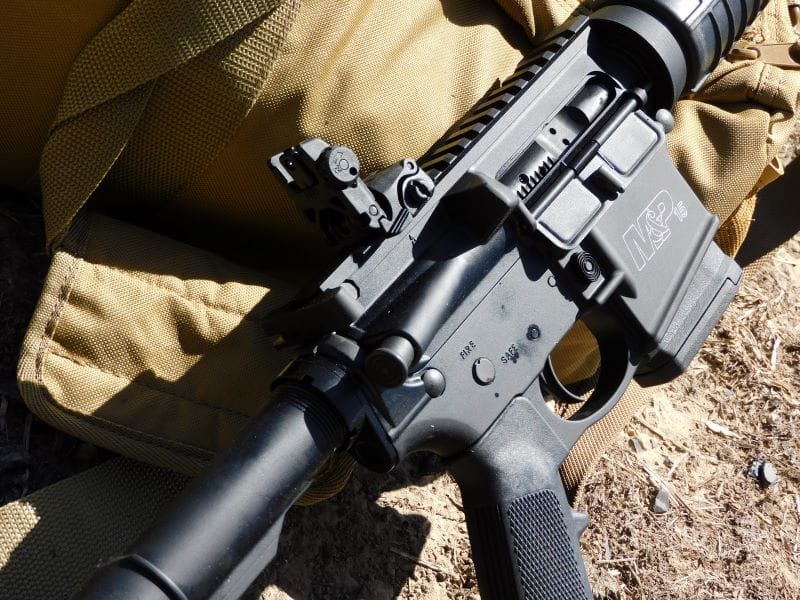 While the Sport II probably will not satisfy those accustomed to shooting higher-end and customized rifles, it is worth a fresh look given how popular the model is. It is probably a first rifle for many new shooters. Even I, a lover of revolvers and lever action rifles, own one. In fact, it is the first AR-style rifle that I kept for any length of time. I am definitely a novice but after two years and two-thousand rounds downrange, there is something to be said about the S&W M&P 15 Sport II and its role as an entry-level rifle from the perspective of a novice.
S&W M&P 15 Sport II Features
The M&P 15 Sport II comes in two different configurations: an iron-sighted model and one that omits them in favor of a standalone Crimson Trace red-dot optic. In terms of features, both are otherwise identical, but I ultimately went with the iron sighted model that wears an A2 adjustable front post and a Magpul backup aperture rear sight.

Overall Specifications
Overall Length: 32 5/8 inch with stock fully collapsed
Barrel: 16 in/18 1/8 with muzzle brake; .640/.740 inch OD 4140 steel
Bolt Carrier: 158 Carpenter Steel
Upper Receiver: 7075 Aluminum
Lower Receiver: 7075 Aluminum
Loaded Weight: 7 lbs.
The Sport follows the same general lines of a classic M4 platform with an adjustable buttstock and slick non-railed polymer handguard. Although the phosphate-treated barrel assembly retains the A2 front sight post and bayonet lug of a typical M4, it has a thicker government profile which than the M4 and original M&P. The barrel is slimmer under the handguard but thickens in front of the gas port to give the rifle a muzzle-heavy steadiness in hand and dissipate heat that might otherwise affect accuracy downrange without being too onerous in weight to carry.
The bore is not chrome lined and uses a 1:9 rifling twist. Many premium AR-15s have a chrome-lined bore and use a faster 1:7 or 1:8 twist. The former protects the bore from rust and resists wear; the latter stabilizes heavier-grain ammunition, particularly 62 grain and up. With guns like the M&P, you might notice a difference in accuracy after thousands of rounds down the pipe but for the average Joe, it's hard to shoot out a barrel in mild calibers like 5.56 NATO. (Don't tell that to .220 Swift guys!)
The one turn in nine inches is more important. The Sport II will happily shoot 62, 69, and 77 grain pills, but standard M193 55 grain ball and lighter will theoretically give better groups. With my rifle, it is absolutely the case.

The aluminum receiver has the same phosphate treatment as the barrel and the controls are right where you would expect on an AR platform:  bolt release and safety on the left side, forward assist and magazine release on the right, 1913 Picatinny rail, and a run-of-the-mill charging handle over the top.

The Sport II sports the usual M4 style of polymer pistol grip and uses a "GI" trigger that has about as much creep and overtravel as crushing a wet towel in the hand—but it breaks at a reasonable five-and-a-half pounds. What is not so typical is the inclusion of a winter trigger guard for gloved hands.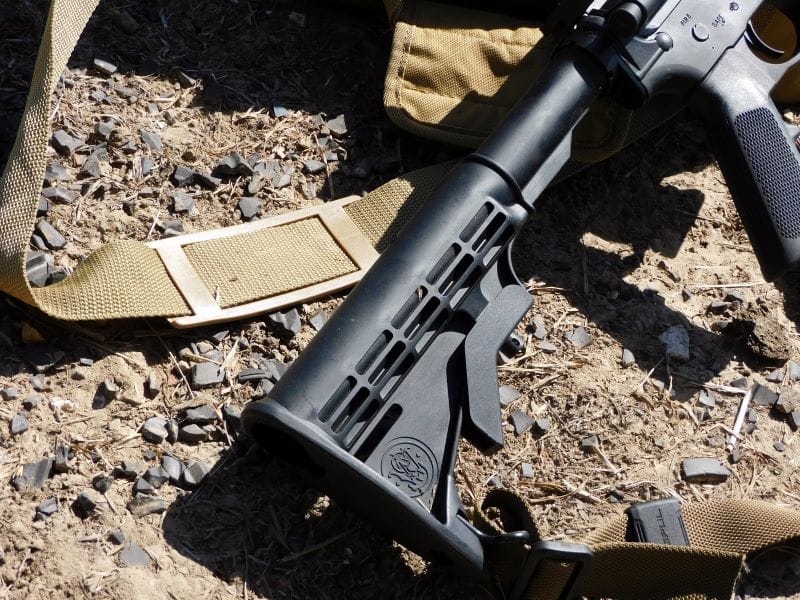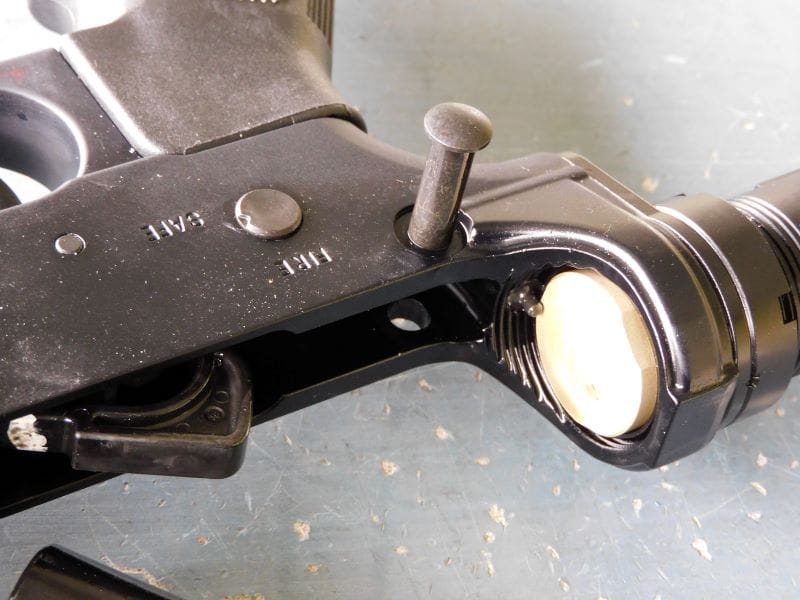 All around, the M&P is the same direct gas impingement design that Eugene Stoner came up with decades ago for the original AR-15, albeit carbine length.
After a shot is fired, gas escapes from a hole in the gas block under the front sight and travels down a tube to push back the bolt carrier and cycle the rifle. Simple, boring, and on the dirty side. That gas throws up right into the receiver. A piston-driven AR, which throws its gas further toward the muzzle and uses a piston to cycle the action instead of straight gas, will run cleaner for longer. But for the average Joe who isn't out burning cases of ammo between cleanings, the old design works fine.

S&W M&P 15 Sport II On The Range
I shot the M&P 15 over two dry summers and one particularly swampy winter. I usually ran a few thirty-round PMAGs at the end of my day either off the bench or shooting prone in the dirt with cursory cleanings here and there. The Sport II digested about one thousand rounds and eight different types of ammunition without malfunction or misfire.
Although overall accuracy can be helped with the addition of a high-profile optic or red dot, I stuck with the stock iron sights and shot out as far as 200 yards from time to time. The sights are easy enough to adjust. The A2 post requires a punch or a bullet tip to depress a plunger and twist the post higher or lower. The MBUS rear sight folds out of the way and can pop up as needed. It has a small aperture that can be folded over the large ring for greater precision and it is left-right adjustable via a set screw.
This setup won't make you cool at parties, and they are somewhat hard to pick up in low light without a flashlight, but they still show up well on small targets even out to 150-200 yards—if you can see the targets at all. Getting some useable iron sights or a small optic in the box is a plus at this price point given that some manufacturers give you nothing to work with.
In terms of accuracy, results vary but I found 55 grain to be about the sweet spot for this 1:9 twist barrel. There are plenty of match-grade ammunition options, but I found inexpensive PMC Bronze .223 Remington 55 grain FMJ loads to be the most accurate. I could reliably put five rounds inside of three inches at 100 yards.
| | |
| --- | --- |
| Brand | 100 Yard Group |
| Hornady .223 50 grain V-Max  | 3.2 |
| PMC Bronze 55 grain FMJ  | 2.8 |
| TulAmmo .223 55 grain FMJ  | 4.5 |
| Frontier 5.56 55 grain FMJ | 3.2 |
| Aguila 5.56 62 grain FMJ | 3.9 |
| Winchester Powerpoint .223 64 grain soft-point | 4.4 |
| Hornady Black .223 75 grain HP  | 4.5 |
| PMC .223 77 grain OMT | 4.1 |
From a shooting standpoint, the S&W M&P 15 Sport II handles well off-hand and at the bench and all the controls are effortless to manipulate. The greatest obstacle I found while shooting was the awkward contours of the grip and the play in the trigger. After a few rounds, my hand wants to hug the grip lower while I play through the creep to hit the wall before the trigger breaks. There is some concentration and anticipation involved—that can be good or it can be bad. After a while, that creep gave me a chance to make last-minute corrections and perfectly stage my shots. The Sport II won't win a sharp-shooting contest, but you would have to work to accidentally fire the rifle.

Parting Shots
When I picked up my Sport II I had one Idea in mind: put a sling on it, regulate the sights, and then—if satisfied—put it away and buy another just like it. I ended up putting about one thousand rounds downrange. I never bought another one and probably never will. In fact, as I finished my last clean-up, I got to fantasizing about the next AR I would buy and what I might chamber it in. With that said, you might be surprised to learn I give the Sport II my unqualified approval.
The S&W M&P 15 Sport II is nothing fancy. It can use an upgraded trigger and a more useful handguard to hang stuff off. That can always be added later and you would still come out ahead. With every little subtraction, there is a little addition and what you are left with is a basic rifle without all the fancy colors, chamberings, and shrunken frames that, like any good entree, is satisfying and covers all the bases but you wonder what's next?