MADE IN THE USA, A GLOCK 26 CHALLENGER IS COMING SOON
Long an importer of Turkish shotguns, GForce is entering the handgun world with their new GF9 pistol!
Thank you for reading this post, don't forget to follow and signup for notifications!
Made in the USA, the GF9 is in many ways a Glock 26 clone with some added features. 
Front and rear slide serrations, fiber optic sights, flat-faced trigger shoe, Trijicon RMR footprint optic plate, 3.25" barrel, aggressive stippling on the fame, user-adjustable left/right magazine release, and four backstraps all come standard in the box.
Most of the parts are touted as being compatible with Glock G26 Gen 3 aftermarket parts; this includes the trigger, slide, barrel, and sights. Interestingly, it does not take Glock mags.
The GF9 comes with two 12-round magazines that are proprietary to GForce. That's a couple of rounds more than a normal Glock 26, but so far, it's not clear if the GF9 frame is the same size as the Glock 26. 
About the only modern feature the GF9 is missing is a rail of some kind for weapon-mounted lights, although I suspect this was omitted so that the GF9 would be compatible with most Glock 26 holsters.
It's always good to see more domestic firearm manufacturing, but the question of quality will have to wait and be seen. 
The added features of the GF9 over a Glock 26 are compelling and could make for an excellent firearm. Still, in the end, reliability is paramount, especially for pistols designed to be CCW size. 
If nothing else, maybe this will help prove to Glock that the public does want a G26 with updated modern features.
No MSRP for the GF9 has been announced.
GF9 SPECS:
Capacity: 12-Round Magazine
Manufacturer: GForce Arms, U.S.A.
Chamber: 9MM
Barrel Length: 3.25"
Front Sight: Red Fiber-Optic
Rear Sight: Green Fiber-Optic
Material: Glass-Filled Polymer and Steel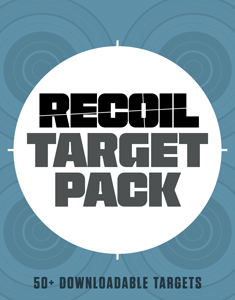 NEXT STEP: Download Your Free Target Pack from RECOIL
For years, RECOIL magazine has treated its readers to a full-size (sometimes full color!) shooting target tucked into each big issue. Now we've compiled over 50 of our most popular targets into this one digital PDF download. From handgun drills to AR-15 practice, these 50+ targets have you covered. Print off as many as you like (ammo not included).
Click here to get IMMEDIATE ACCESS to a digital PDF of this target pack!