By Courtney Levin, Police1 BrandFocus Staff
Thank you for reading this post, don't forget to follow and signup for notifications!
If you've recently attempted to purchase a new vehicle, your experience may have been less than ideal. Increased prices coupled with fewer cars to choose from have left many disappointed when it comes to their transportation.
While you may have several alternative options, like riding public transportation or using a bicycle, law enforcement officers aren't in the same position. Cops' safety and effectiveness is strongly linked to their vehicles, and the frustration departments are feeling is significant.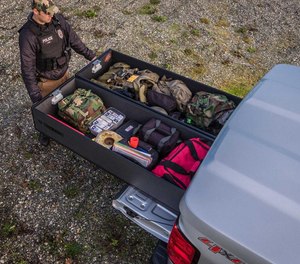 FEWER CARS AND LESS MONEY
Agencies have had to get creative in the last few years when it comes to their fleet. Instead of relying on typical vehicles like the Ford Explorer or the Chevy Tahoe, departments are often using whatever cars they can get their hands on.
Some circumstances are out of a department's control, as local dealerships plagued by the effects of chip shortages may not have enough vehicles in stock to sell. While selling one car at a time can be easier to manage, purchase orders for 20 police vehicles at once can pose a challenge.
Even when there is enough inventory available, agencies don't always have the resources to replace their fleet vehicles as needed. Budget cuts are affecting nearly every department in the nation, with major cities feeling the sting of having millions less to work with.
ADAPTING TO A NEW REALITY
Operating when vehicle shortages and smaller budgets have become the new normal means that officers end up using high-mileage vehicles that require more frequent repairs. Vehicle reliability suffers, as some cops are reluctant to even bring their patrol car in for routine maintenance for fear that there won't be a car for them to use in the meantime.
Departments that are severely short on fleet vehicles may have officers riding three or four per car, leaving no room to transport a suspect after an arrest. Others are simply dropped off at intersections and left to direct traffic during large events without a vehicle, making their job more difficult and significantly more dangerous.
To ease the pain caused by these challenges, agencies are relying on atypical or repurposed vehicles. Cars once thought to be unsuitable for police work are now being snatched up in a heartbeat. And instead of purchasing vehicles for their fleet, some departments are resorting to negotiating leases with rental agencies to provide officers with much-needed cars.
MORE THAN JUST TAHOES AND EXPLORERS
Not all officers are patrolling in non-traditional vehicles, however, as some departments have been fortunate enough to add electric vehicles to their fleet. A growing trend that agencies are increasingly willing to try, electric vehicles offer many of the same benefits as more traditional cop cars without the exorbitant gas budget.
In fact, the NYPD recently announced the acquisition of almost 200 Mustang Mach E vehicles which are scheduled to be brought into rotation this summer. Based on the GT model, each vehicle is outfitted for police use with ballistic panels on the doors and windows.
The future of police vehicles certainly has some bright spots thanks to EVs, but many officers are still left wondering how they're supposed to store their gear in a vehicle that may not have been originally intended for patrolling.
While it's great to have any set of wheels to help cops do their job more effectively, secure storage is an absolute must – even if trunk space is limited or unusually shaped.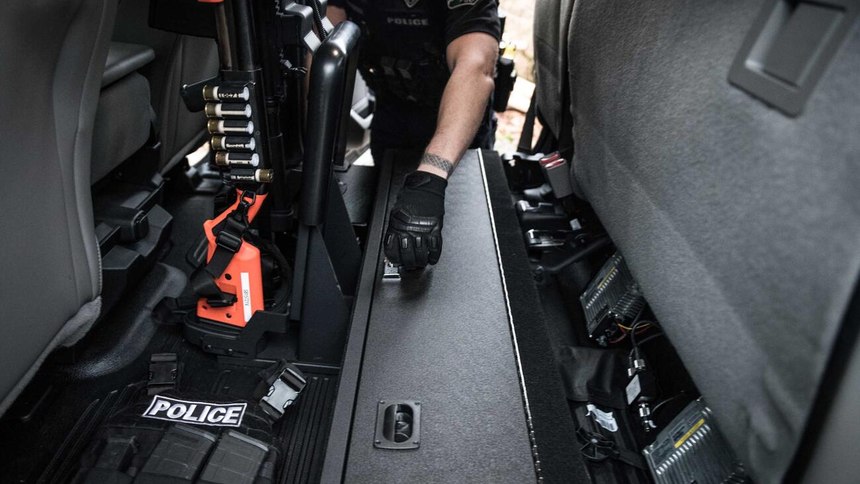 Using atypical vehicles doesn't mean you have to sacrifice secure storage.
(TruckVault)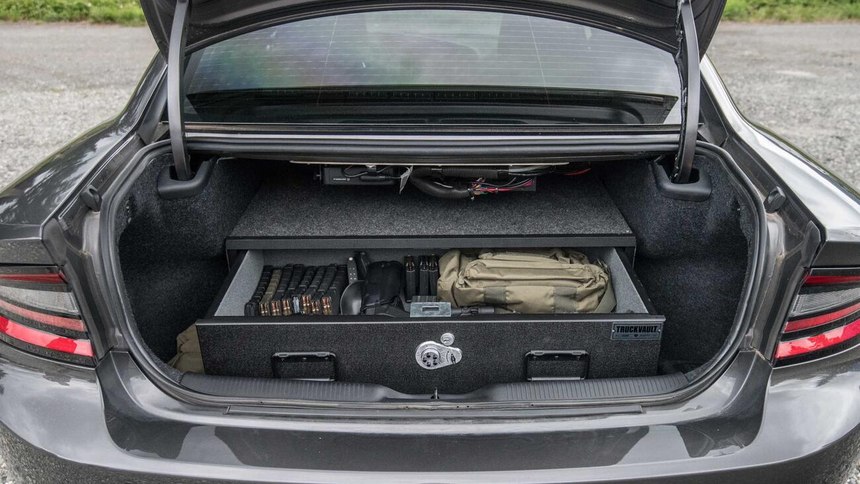 More common vehicles can take advantage of TruckVault's standard storage configurations.
(TruckVault)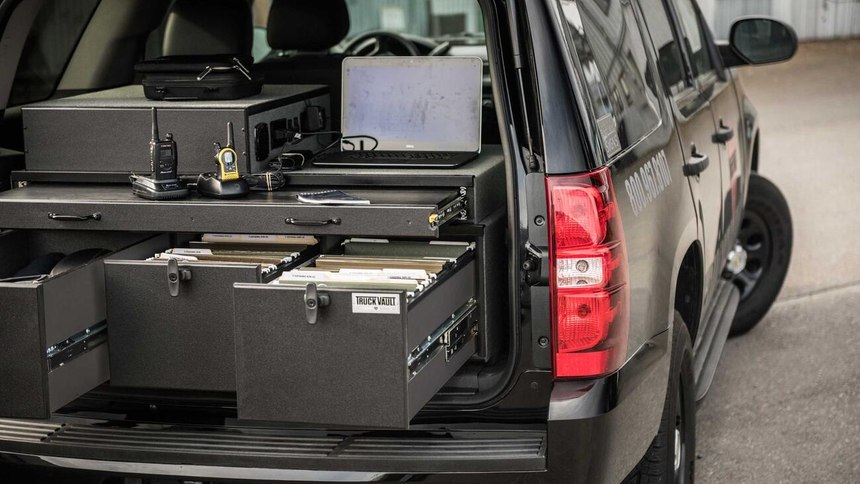 The Commander line offers a variety of secure options.
(TruckVault)
OUTFITTING ALTERNATIVE OPTIONS
Just as officers have had to get creative when it comes to the vehicles they use, storage solutions have required some out-of-the-box thinking. It's impractical to expect cops to carry less gear while on patrol or to bring items with them every time they leave their vehicles, leading many to seek out more long-term solutions.
Whether your department relies on sedans, trucks, SUVs or something else altogether, TruckVault offers an array of storage options that can be customized to your vehicle's interior and specific officer's needs.
More common vehicles, like the Jeep Cherokee or the Chevy Silverado, can utilize one of TruckVault's standard configurations, which include locking drawers for storage, weapons or radio equipment. Those who rely on atypical vehicles, though, may find that a custom creation can be a better choice for their situation.
Nearly any fleet vehicle can be outfitted with TruckVault's storage options, even electric vehicles like the Mustang Mach E or the newest Tesla. TruckVault's custom process can be refined to accommodate even the slightest change in interior design, making solutions for vehicles like Tesla's Model Y feasible.
"Tesla doesn't release their models like every other vehicle manufacturer," said Ross Roberts, creative marketing director at TruckVault. "It's a very subtle release but it's enough to where it affects how accessories such as ours can be applied. That's one of our benefits – we can adapt quickly to changing markets. As long as we have the measurements, we can make a design."
RAPIDLY DEPLOY DRONES, GEAR AND MORE
Securely storing your gear is essential to safe policing, but if you can't access items easily, your storage solution may need some rethinking. TruckVault's standard and custom options keep deployment at top of mind, allowing officers to stay organized and find what they need quickly.
Firearms, radio equipment and other gear that's used daily can be tucked away in one of many TruckVault configurations. Customized options within the Commander line house tools needed for specific operations that may not otherwise need to be stored in a patrol vehicle.
Departments that rely on drones can store their equipment in one of TruckVault's drone line options and build their own solution to include power sources, television screens and more. Through TruckVault's partnership with Adorama Business Solutions, agencies can invest in TruckVault storage solutions with financing options that complement even the smallest of budgets.
It's enough of a challenge to have to overcome hurdles relating to your fleet vehicles, let alone ensure that your gear is stored in each car effectively. No matter what vehicle you're operating, TruckVault can provide officers with confidence that drones, firearms and more will be safe, secure and easily accessible.
Ready to outfit your fleet vehicles with secure storage solutions? Build yours at TruckVault.com
Read next: Implementing a drone program can bring benefits to your department