HUXWRX Safety Co. (formerly OSS Suppressors) has upped its suppressor game with its 3D-printed FLOW 556k suppressor. While this suppressor utilizes HUXWRX's patented Flow-Through and Torque Lock technology, it also features the enhanced benefits of 3D printing which makes it a lighter, shorter, and quieter suppressor.
Thank you for reading this post, don't forget to follow and signup for notifications!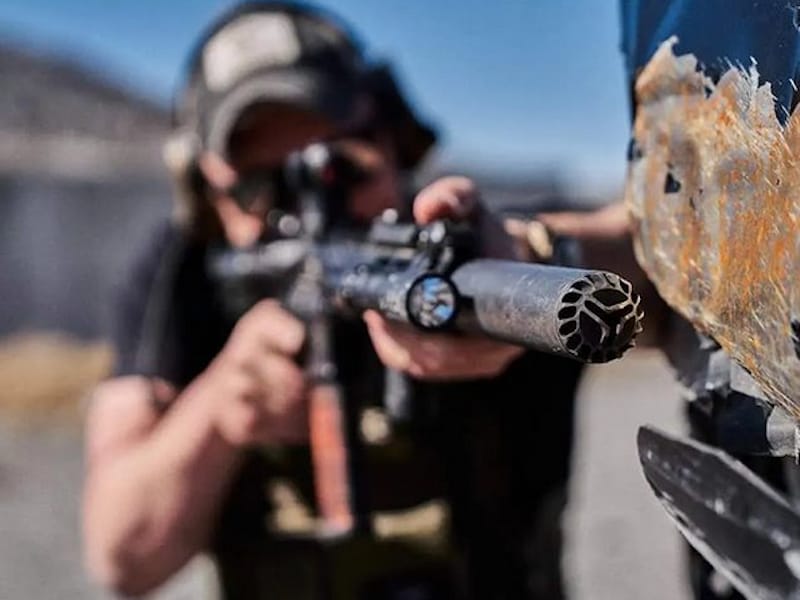 In addition to the stringent assessment and development undergone by HUXWRX, the FLOW 556k also participated in rigorous FBI Ballistic Research Facility testing. The results of which reportedly revealed the FLOW 556k as an unparalleled product when it came to weight, unsuppressed and suppressed flash, accuracy, sound suppression, reliability, and blowback mitigation.
HUXWRX Safety Co. is honored to have developed systems utilizing the advanced manufacturing techniques of 3D printing. This rapidly evolving technology allows for more efficient quality control, improved logistics, elimination of tolerance challenges, and improvements in the design and development cycle.

Specs
Weight: 9-12.9 oz
Length: 5 in
Diameter: 6 in
Ultimately, we have created a product that enables development and production efficiencies unavailable with traditional CNC manufacturing. The 3D-printed FLOW 556k is only the beginning for the next generation of technologically advanced suppressor systems to come from HUXWRX.
The Flow-Through and Torque Lock technology of the suppressor is designed to reduce signature without negatively impacting cycling or service life. It reportedly delivers superior toxic fume exposure mitigation, flash reduction, sound reduction, recoil reduction, and repeatability. HUXWRX encourages suppressor maintenance to be performed to increase the service life of the FLOW 556K suppressor.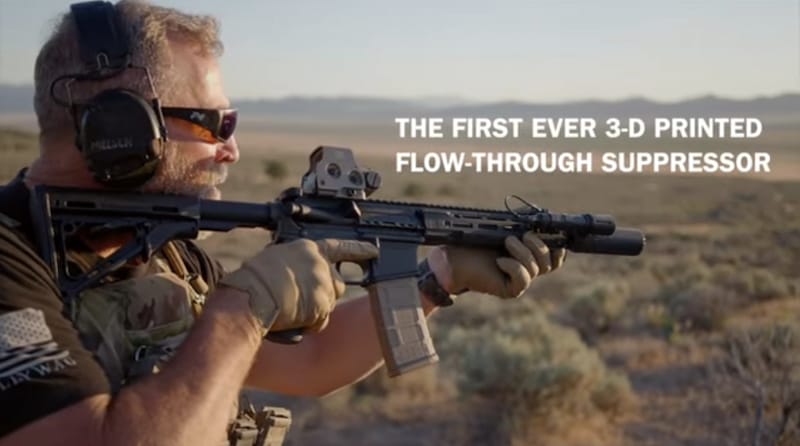 The HUXWRX Torque lock is a patented, tool-less locking system that ensures the suppressor will stay securely mounted onto the muzzle device, even in full auto. The FLOW 556K is engineered so that the mounting interface is precise and consistent, resulting in a repeatable and minimal POI shift.
The design of the FLOW 556K suppressor also does not require any modifications to the bolt, gas tube, buffer, or recoil springs. Or modifications to any other items within the host weapon. The suppressor mounts on the QD flash hider, but is compatible with both the Muzzle Brake-QD 556 and the Flash Hider-QD 556.

The FLOW 556K is full-auto rated and is compatible with 5.56, 17HMR, and 5.7 platforms. The suppressor ships with a flash hider QD 556 threaded 1/2×28. The FLOW 556K has an MSRP of $1245.