Thank you for reading this post, don't forget to follow and signup for notifications!
If I had to point out an obvious "gap" in the Hellcat line, I would immediately ask for a stainless version of the gun. I have a black model and another in flat dark earth. I own an OSP model that directly mounts a red dot, as well as a Hellcat Pro that gives me a bit more barrel length and a 15-round magazine. But the one thing I've been missing is a two-tone model with a stainless slide.
Or at least I was. As of August 1, Springfield Armory has now released a stainless steel version of the Hellcat OSP, offering it exclusively through Sports South.
"These new Sports South-exclusive Hellcats in stainless steel take everything that made the original Hellcat great and add an eye-catching two-tone look," says Phil Rawlings, Vice President of Sales and LE for Springfield Armory. "These new Hellcat and Hellcat OSP pistols from Sports South make a great option for CCW and self-defense."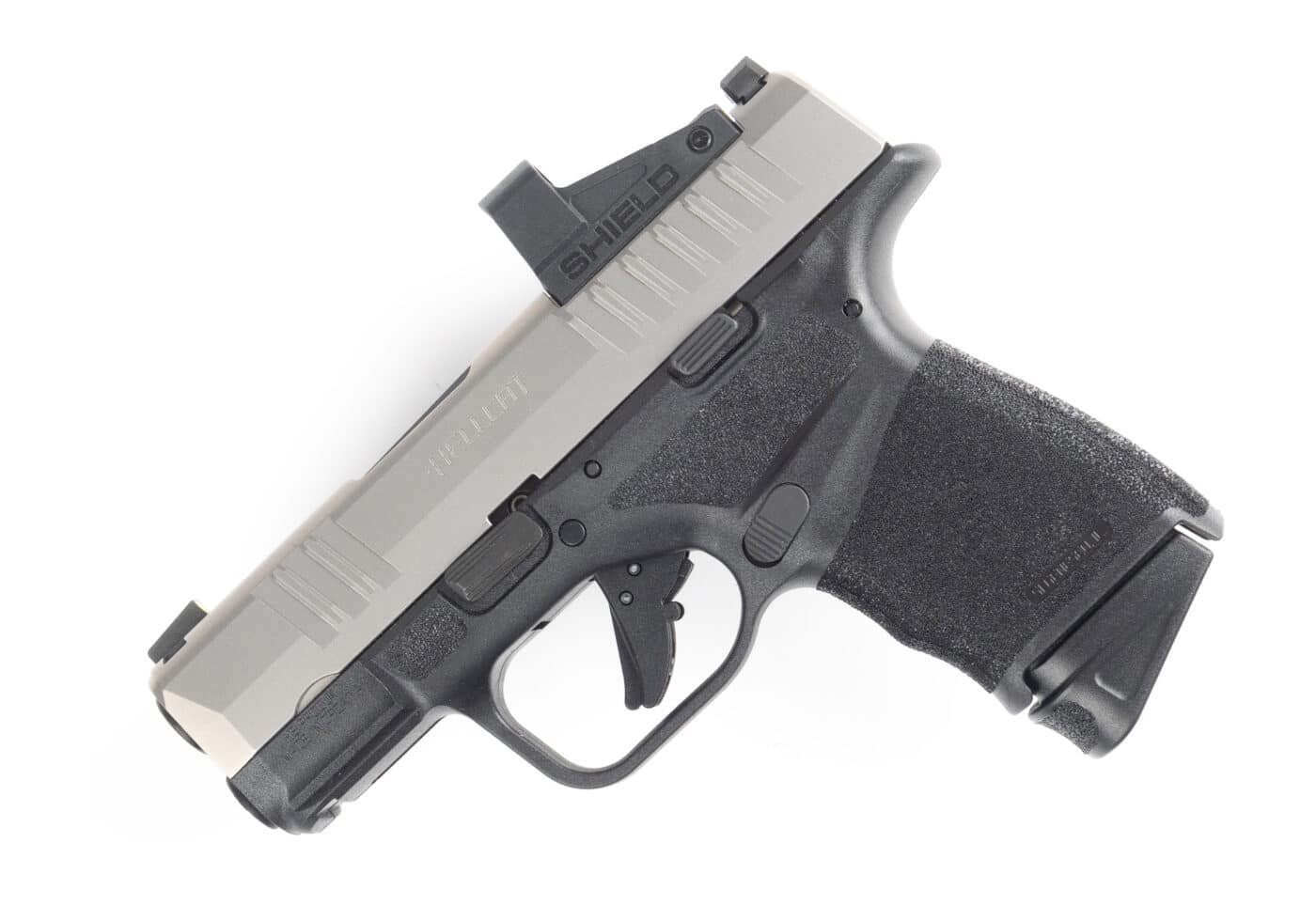 If you're not familiar with the company, let me catch you up. Sports South is a firearms distributor that works with dealers all over the country. There's a good chance your favorite gun shop already orders its inventory from Sports South, which means you can order one of these without any problem.
Let's talk about the new pistol.
Stainless Hellcat
Functionally, the new two-tone Hellcat is like the existing versions in other finishes. With this new offering, you have a choice of two variants: the standard stainless Hellcat and the OSP model. The OSP, or Optical Sight Pistol, has a slide cut to accept the direct mounting of any Springfield Micro footprint optic such as the Shield RMSc, Swampfox Sentinel, HEX Wasp and more.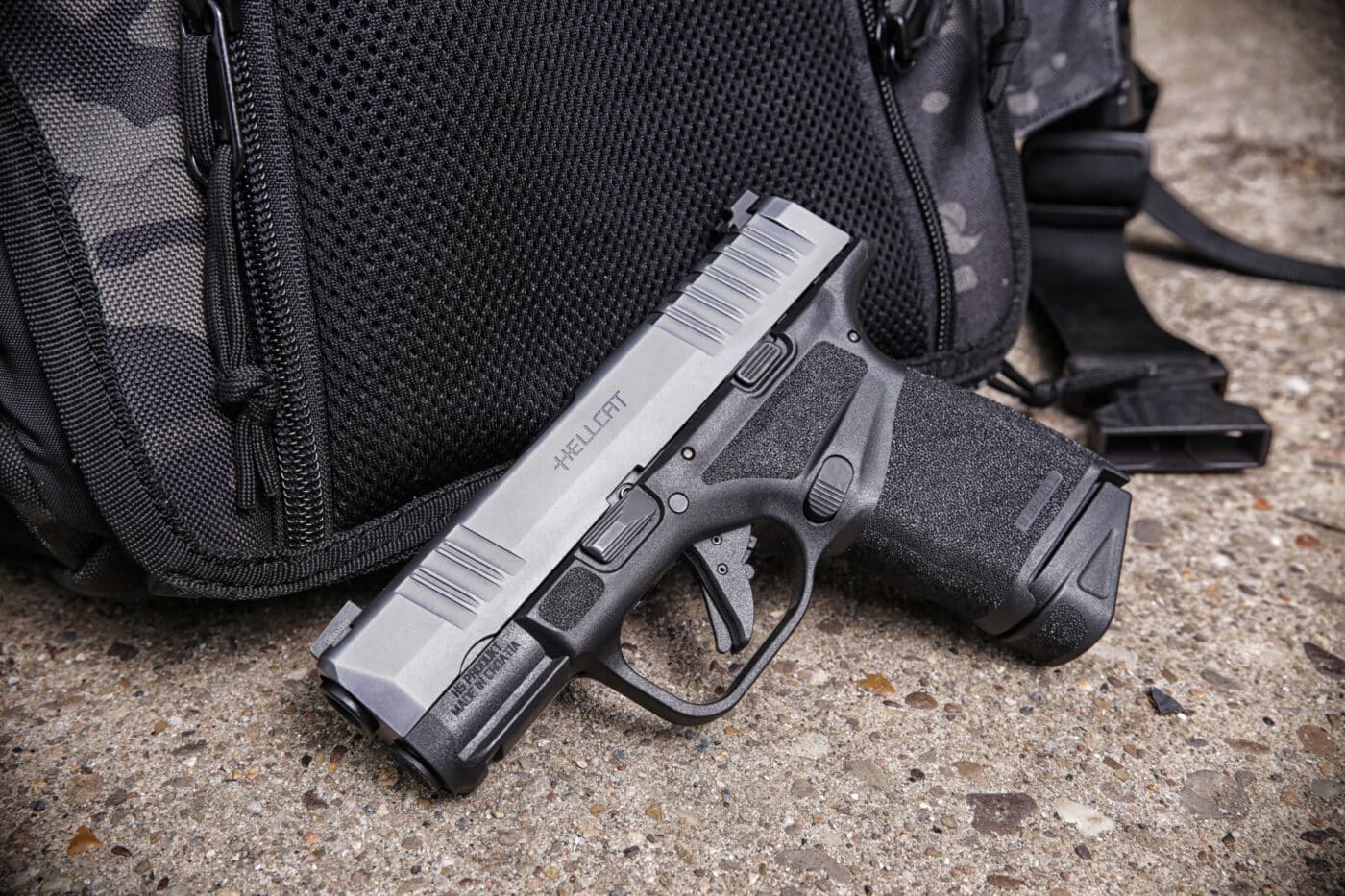 Both versions of the gun have black polymer frames with an understated stainless steel slide, giving the gun its distinctive two-tone look. And, wow, that stainless-over-black look is incredible. I've always liked the look on Springfield pistols. Probably one of my favorite examples of this look was the original XD-S 4.0 with a stainless slide on a black frame. I loved the coloration of that XD-S, so I was eager to add this new Hellcat with a similar look to my collection.
Fundamentally, the stainless Hellcat is a micro-compact 9mm pistol. It's as thin as many handguns that feed from a single-stack magazine, yet it packs 11 rounds into a standard flush-fit magazine. Springfield also includes an extended 13-round magazine with each gun, which gives your hand a bit more with which to control the gun. You can also purchase Springfield Armory 15-round magazines for these Hellcat pistols.
On the Hellcat, Springfield uses U-Dot sights. In my opinion, these are the best factory defensive handgun sights in the industry. Up front is a post with both a tritium insert and a photoluminescent ring. The tritium glows in the dark, while the ring is very visible in bright lighting conditions. As a bonus, the ring absorbs ambient light, which it emits in low-light settings. The result is a front sight that is bright and easily seen in all kinds of environments.
The rear sight is a U-Notch sight. It uses a generous U-shaped notch that makes finding the front sight fast in stressful conditions. Additionally, the rear sight is designed with a hard forward edge to allow for use in one-handed slide manipulation. I recommend reading more about the Hellcat sights here.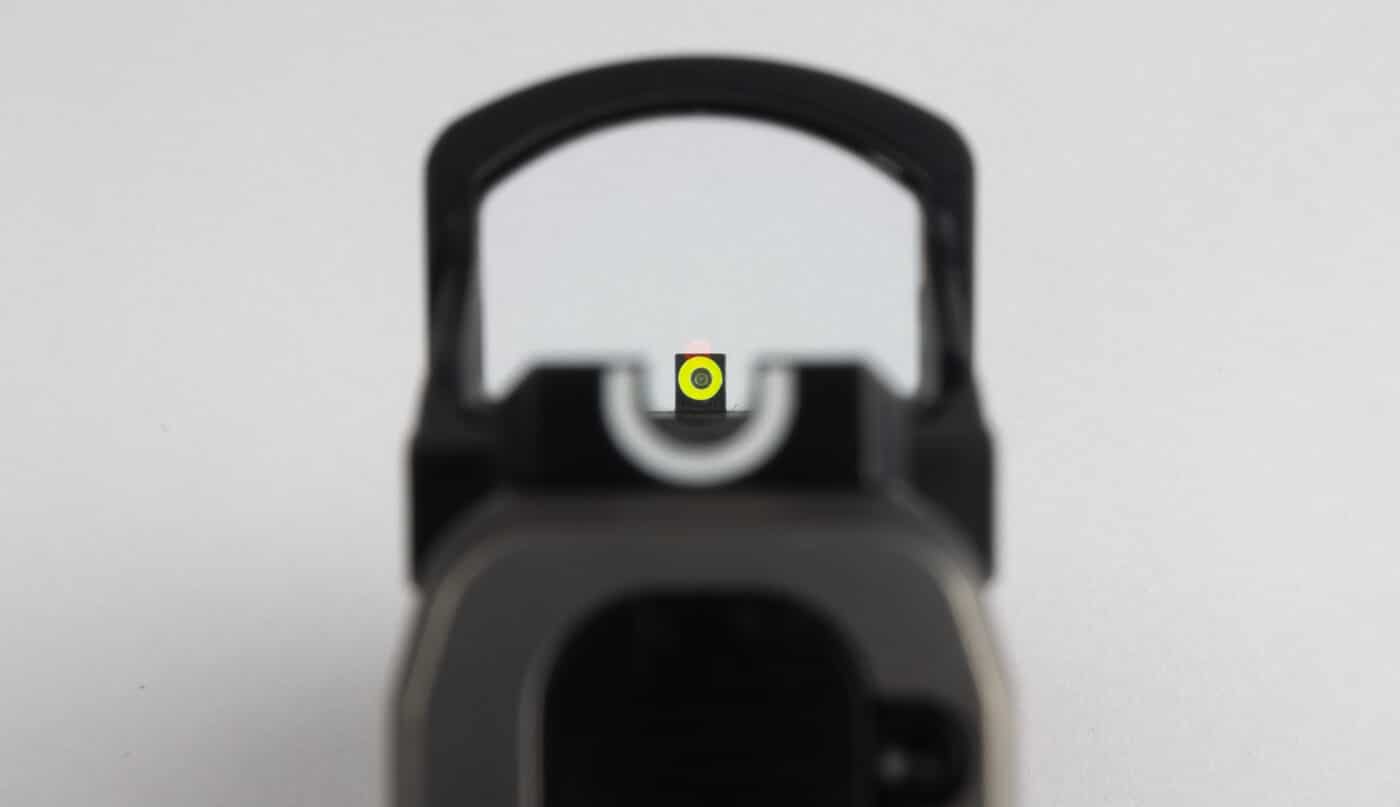 The stainless Hellcat pistols use a 3" hammer forged barrel. Although subcompact pistols can sometimes be harder to shoot than full-size handguns, I've found all of the Hellcat pistols to shoot extremely accurately. Springfield would never call the Hellcat a "match" gun, and I won't do that either. Nevertheless, I get great accuracy and precision when shooting mine. I suspect I get great performance due, in part, to the high-quality barrels.
Since the Hellcat is a defensive pistol, you may wish to add a light to it. Anticipating that need, Springfield Armory designed the handgun with a non-proprietary accessory rail. This allows you to add a variety of lights such as the Surefire XSC without worrying about "will it fit?"
Stainless Hellcat OSP Specifications
| | |
| --- | --- |
| Caliber | 9mm |
| Capacity | 11+1 and 13+1 magazines included, 15-round magazines are also available from Springfield Armory |
| Barrel Length | 3" |
| Overall Length | 6" |
| Weight | 18.3 oz (with unloaded magazine) |
| Frame | Black polymer with Adaptive Grip Texture |
| Slide Finish | Stainless steel |
| Sights | Tritium/photoluminescent front, U-Notch rear |
| MSRP | $649 (OSP), $614 |
On the Range
For my initial range trip, I shot the new stainless steel Hellcat at an outdoor range on a hot, humid afternoon. While the weather was stifling, shooting the gun was a cool breeze.
I've come to expect reliability from the Hellcat line, and the stainless Hellcat was every bit as dependable as its brothers. With inexpensive FMJ to premium hollowpoints, the gun functioned perfectly from trigger press to ejection. I've been able to get 400-ish rounds through the gun so far. I look forward to putting a lot more through it in the coming weeks.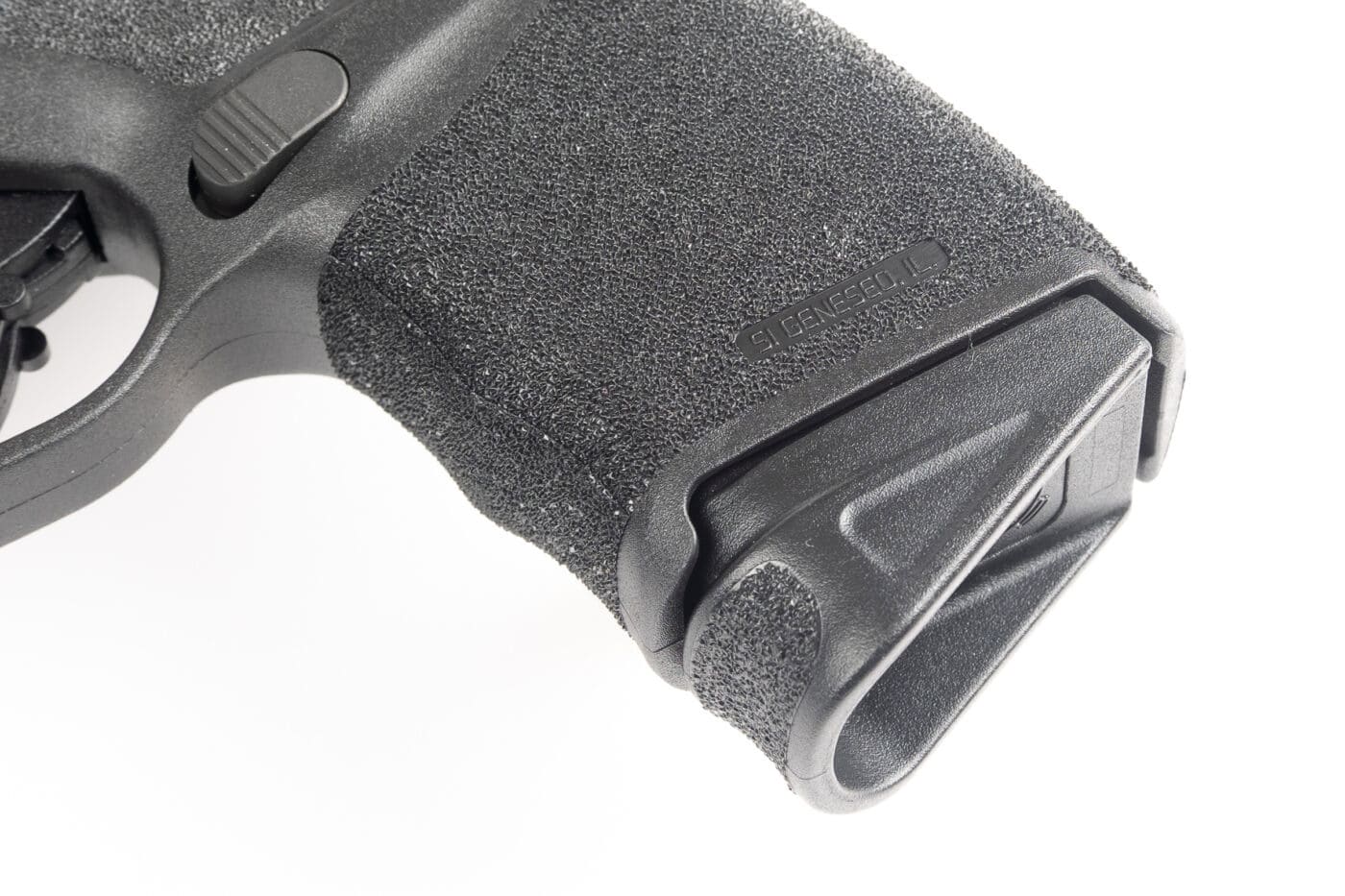 As with my FDE version of the Hellcat, this model is an easy shooter relative to its size. Yes, 9mm in a micro package like the Hellcat can be a touch stout when shooting self-defense ammo. Nevertheless, the recoil is manageable and not what I would describe as abusive.
With the aggressive texture on the frame, the stainless Hellcat stays firmly in my hand during recoil. Called Adaptive Grip Texture, this is the same surface treatment that is on the other Hellcat models. The texture is akin to somewhat softer skateboard tape; it really locks in the hand without being painful or damaging to clothes. When shooting in the summer heat of Central Florida, I genuinely appreciate the texture's ability to "stick" in my hand.
Final Thoughts
The new stainless slide Hellcat is a welcome addition to the Springfield Armory line. The guns are not functionally different from the existing Hellcat micro-compacts — but that's a good thing. Existing Hellcat pistols are tough as nails and extremely reliable in my experience. For me, that's what I want in a defensive firearm: utter reliability. To this rock-solid foundation, Springfield Armory adds in impressive capacity, industry-leading defensive sights and the ability to add a red dot and weapon light.
What we have, then, is another great option from Springfield for concealed carry. The stainless steel finished slide on a black frame looks refined, giving it a sophisticated appearance that matches its workman's ethic. With a suggested retail price of only $614 for the standard to $649 for the OSP variant, that's a match that I can afford on my blue-collar budget.
Editor's Note: Be sure to check out The Armory Life Forum, where you can comment about our daily articles, as well as just talk guns and gear. Click the "Go To Forum Thread" link below to jump in!