Updated 7/14/2022
Precision rifles can cost you an arm and a leg, but there are top-notch and highly accurate options that will still leave you with money for ammunition.
What are some affordable precision rifles that won't put you in the poorhouse?
Savage AXIS II Precision
Winchester Renegade Long Range
Tikka T3x Ultimate Precision Rifle (UPR)
Browning X-Bolt Max Long Range
Performance Center T/C LRR
Ruger Hawkeye Long-Range Target
Savage 10/110 FCP HS Precision
Howa Oryx
Savage Model 10 GRS
Tikka T3x Tactical Compact Rifle
Howa HCR
Mossberg MVP Precision
Bergara B-14 HMR
Remington Model 700 SPS Tactical AAC-SD
Savage Model 10 BA Stealth
Truth be told, with a little time, effort and modest investment, a shooter can transform most appropriately chambered modern rifles into precision rifles. But not everyone has an overabundance of those factors.
Thank you for reading this post, don't forget to follow and signup for notifications!
Luckily, the surging interest in placing a projectile dead on target a country mile away has washed the market with a host of precision rifles. Of course, a gander at some of these fine-tuned instruments can give some shooters second thoughts about their desires for going long. Given the high tolerances the guns require and special material typically called into action, these precision rifles can cost a small fortune.
But take heart; there are precision rifle options for the shooter willing to search that won't break the bank. And that's what we're looking at with the 16 affordable precision rifles listed below, at least when it comes to bolt-actions.
Read Also: Savage Arms' Accuracy-Enhancing AccuFit System
Of course, this talk of affordability is relative. These rifles are about $1,600 or less, which is expensive when compared to the average entry-level model. But when measured against the overall precision rifle market, they're downright steals in some cases. For the marksman dying to really reach out while still putting dinner on the table, these rifles more than fit the bill.
Affordable Precision Rifle Updates
Savage AXIS II Precision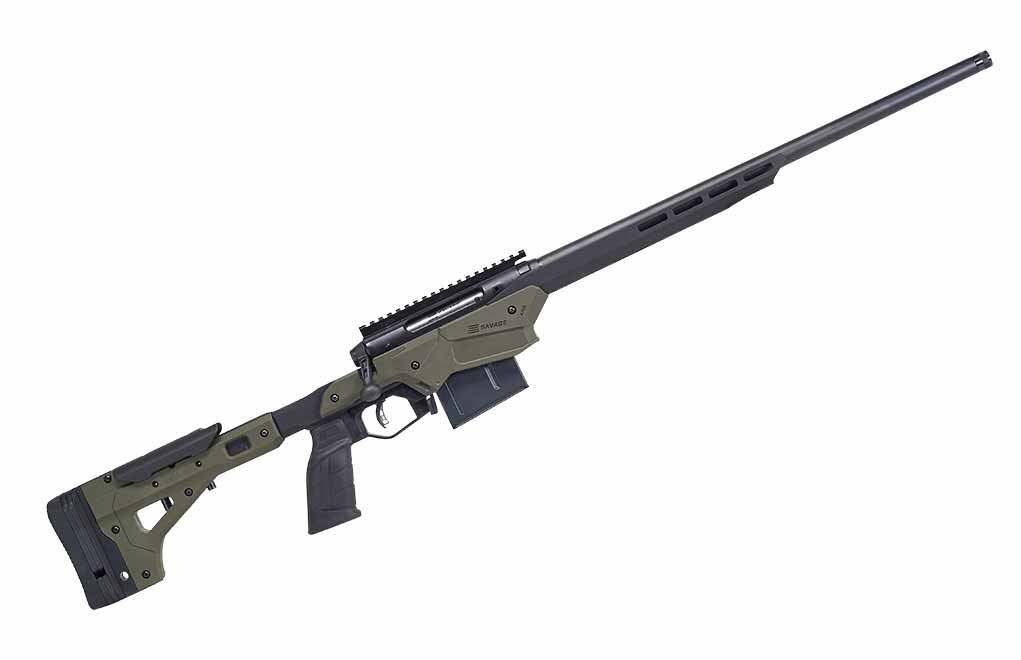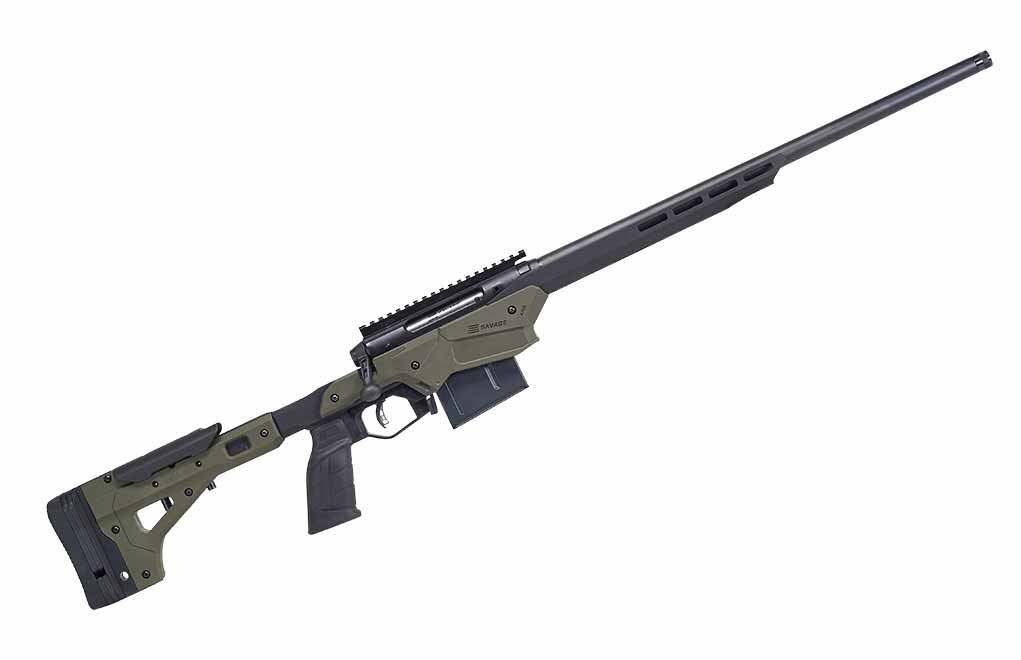 MSRP: $999
Envisioned as a starting-point for burgeoning hunters, the AXIS II now shoots for the same in the long-range game. Savage's tried-and-true entry-level rifle has finally been decked out in a precision rifle configuration, none too soon for many shooters. For years now, budget marksmen have turned to the barreled action as the foundation of D.I.Y entry-level long-range builds.
Surprising no one, Savage turned to Modular Driven Technologies (MDT) for Axis II Precision's chassis. The Canadian company's catalog runs the full gamut, but in recent years has cooked up several budget stocks for partnership with gunmakers. In the case of the AXIS II, MDT customized the chassis specifically for the action, ensuring excellent metal-to-metal bedding for a rock-solid mate-up. Willowy at the fore-end, the chassis proper is beefy thanks to a polymer skin. Additionally, the buttstock is fully adjustable—length of pull (LOP) and cheek rise—the former, however, not on the fly. Spacers are the name of the game for LOP, so you'll have to tailor that at home.
Customization in-house is also off the table. To keep the AXIS II Precision's price down Savage kept barrel length a uniform 22-inches no matter the caliber. For the most part, this shouldn't prove an issue, given available chamberings—.243 Winchester, .223 Remington, .270 Winchester, .30-06 Springfield, .308 Winchester and 6.5 Creedmoor—all perform respectfully out of this length bore. Other notables on the rifle include adjustable AccuTrigger, M-Lok compatibility, ACIS magazine compatibility, threaded muzzle and 20 MOA rail. For shooters cutting their teeth on precision shooting, Savage has made a deal difficult to refuse.
Winchester Renegade Long Range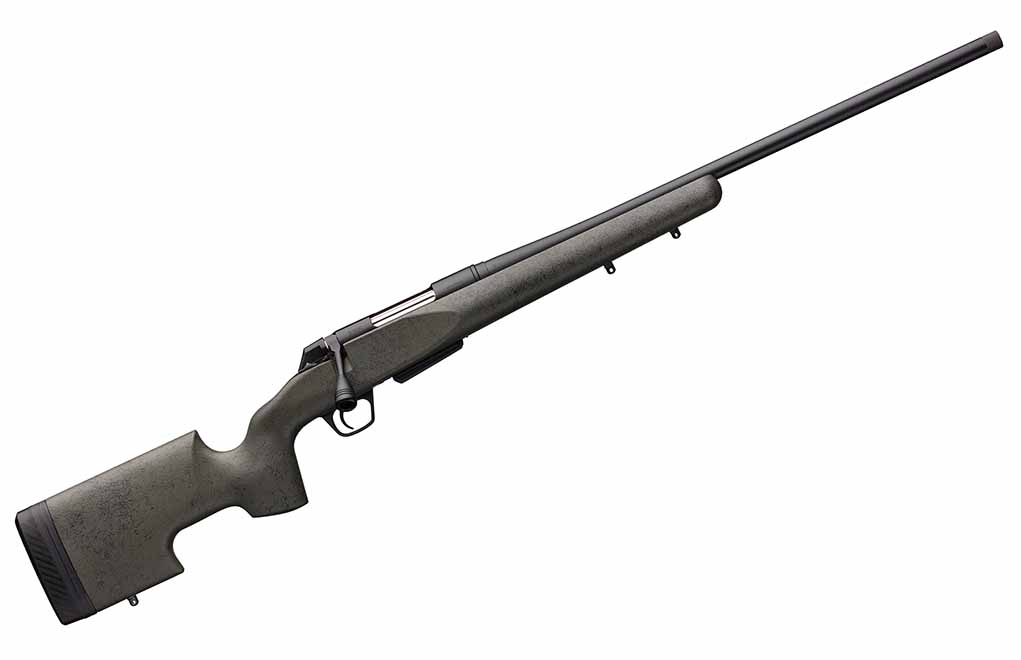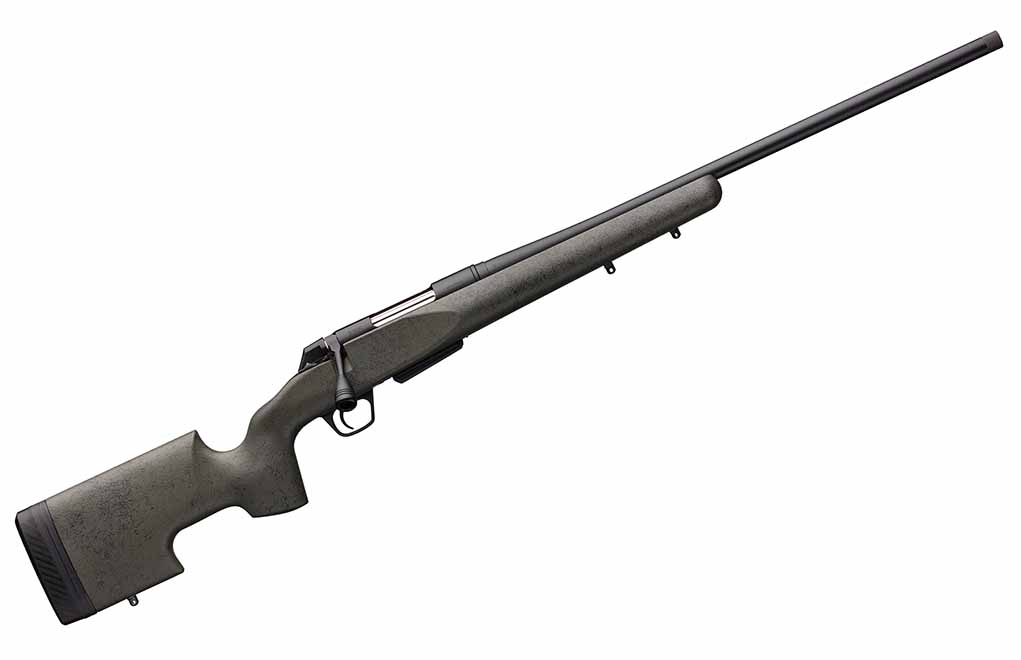 MSRP: $1,199.99
Focused unshakingly set on hunting rifles, you'd be forgiven to believe Winchester was happy to let the precision rifle crazy sweep past. This proved an ill-founded assumption, it seemed the historic gunmaker was only waiting on the right partnership. And this has come with one of the big names in the stock game—Greyboe.
Spawned from the iconic McMillan family of stock, Greyboe is a mid-tier brand with top-shelf performance. The particular model mated with Winchester's XPR barreled action is the Renegade and closely mirrors one of its parent company's most legendary models—the A5. In addition to lightweight fiberglass construction, the Renegade also boasts a wide beavertail forearm, a svelte pistol grip and a generous butthook. About the only thing missing is a fully-adjustable buttstock.Spacers give some play in length of pull, but the comb is set.
As to the barreled action, Winchester has more than done their part. Button rifled barrel attached to the action via a barrel nut, the XPR has built a reputation as an accurate field gun. The only knock on the precision build is the gunmaker has kept a sporter profile, which potentially means more barrel whip, especially in long strings. However, it does make it a bit more wieldy, if you're in the market for a precision hunting rifle. Additionally, the company has included its MOA adjustable trigger and has threaded the muzzle, a bonus if you shoot suppressed. A nice feature, Winchester is offering eight chamberings in the rifle, including .243 Winchester, 6.5 Creedmoor, 7mm-08 Remington, .308 Winchester, .270 WSM, .300 WSM and 6.5 PRC.
Tikka T3x Ultimate Precision Rifle (UPR)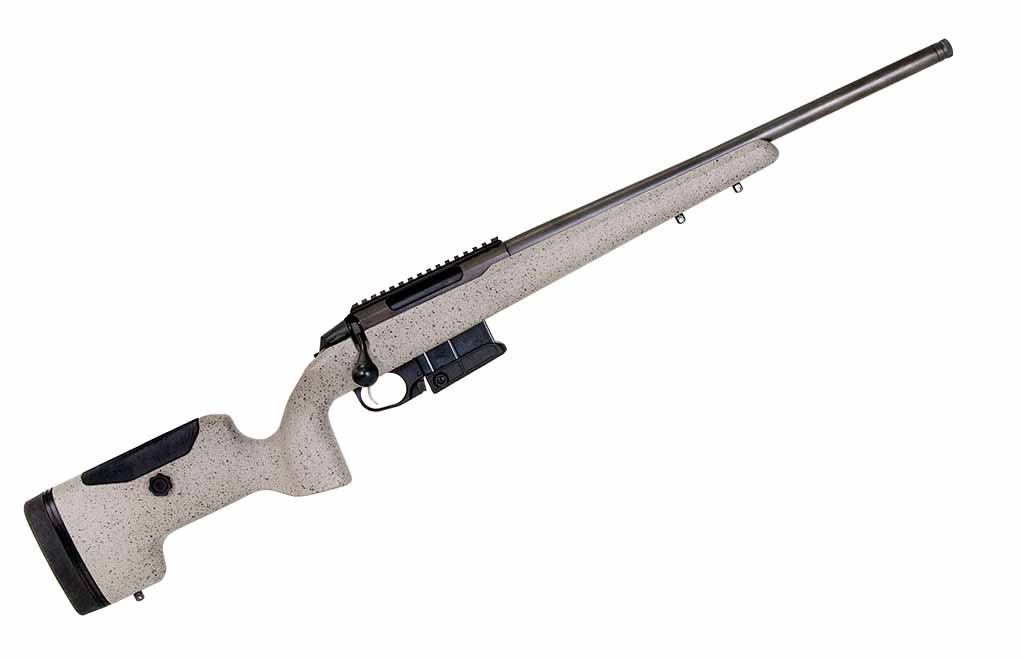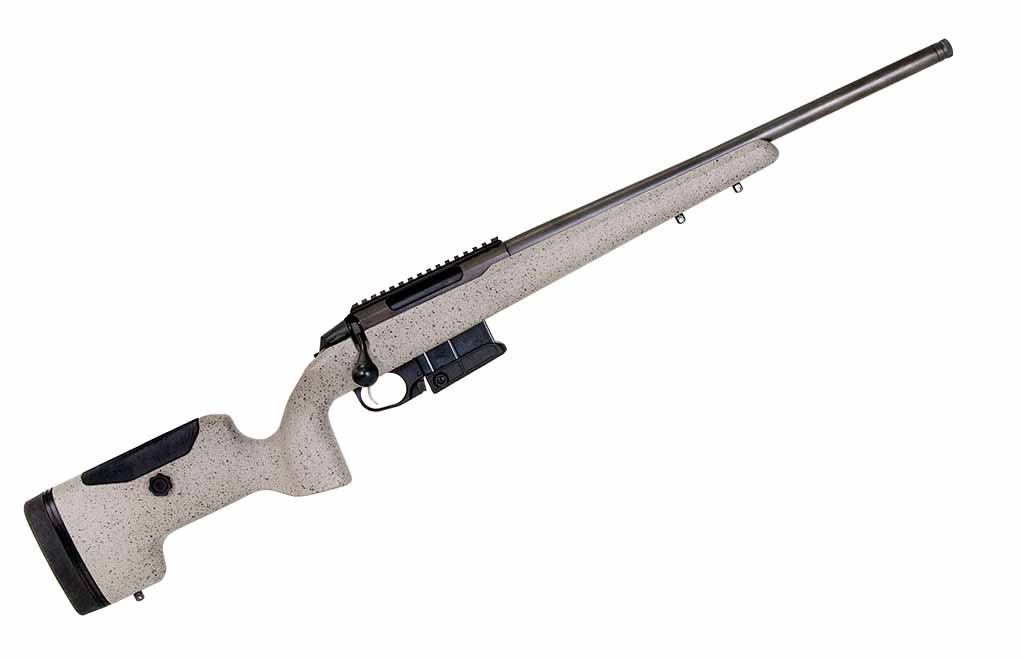 MSRP: $1,500
Tikka has the uncanny ability to knock it out of the park each time it steps up to the plate. So again is the case, as the talented Finnish company deals out another home run with the T3x Ultimate Precision Rifle (UPR).
Rethinking the lightweight precision stock, Tikka improved the bedding to create a seamless mate up, thus a platform solid as concrete footings. In particular, there is an extra layer of carbon fiber-fiberglass composite, improving the rigidity of this key interface, thus improving the rifle's accuracy potential. In short, the action isn't moving a tittle. The stock is also long several other desirable features, including a rough and grippy finish, fully-adjustable buttstock and an excellently designed pistol grip. It's the perfect platform for the T3x action and Tikka's top-notch barrels, which in and of themselves always seem to over-deliver.
Some of the UPR's finer points include a threaded muzzle (5/8×24 thread), choice between a single-stage and set trigger, removable box magazine-fed, 20 MOA or 0 MOA rail option and QD sling attachment points. Caliber choice includes long-range favorites .260 Remington, 6.5 Creedmoor and .308 Winchester and you have the alternative between 20- and 24-inch barrels for each chambering. The T3x UPR runs on the spendier side of affordable precision rifles, but there's no arguing it's worth every penny.
Browning X-Bolt Max Long Range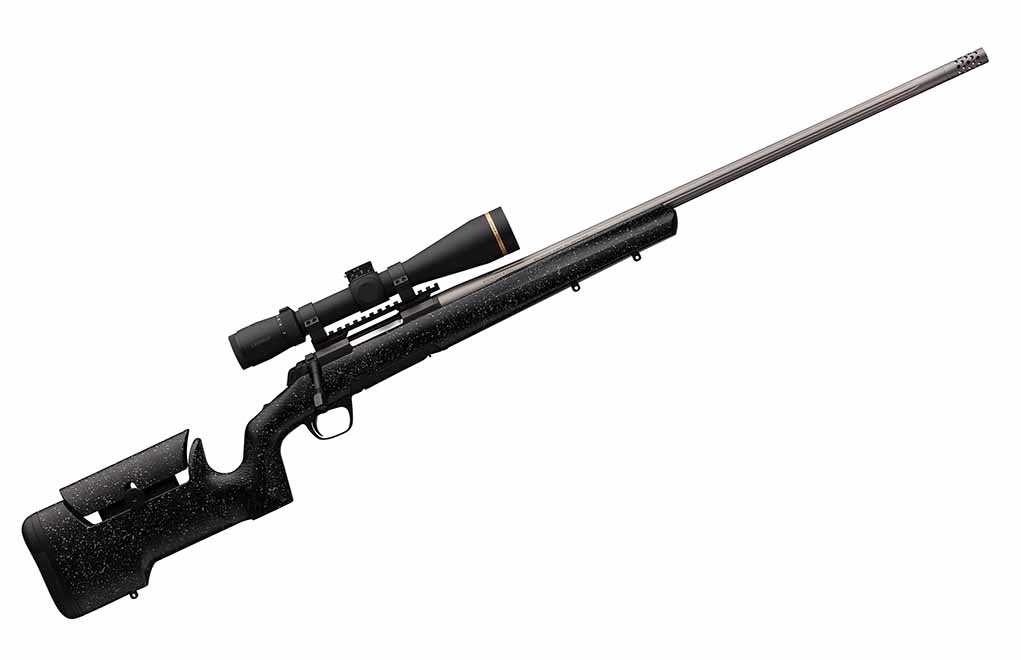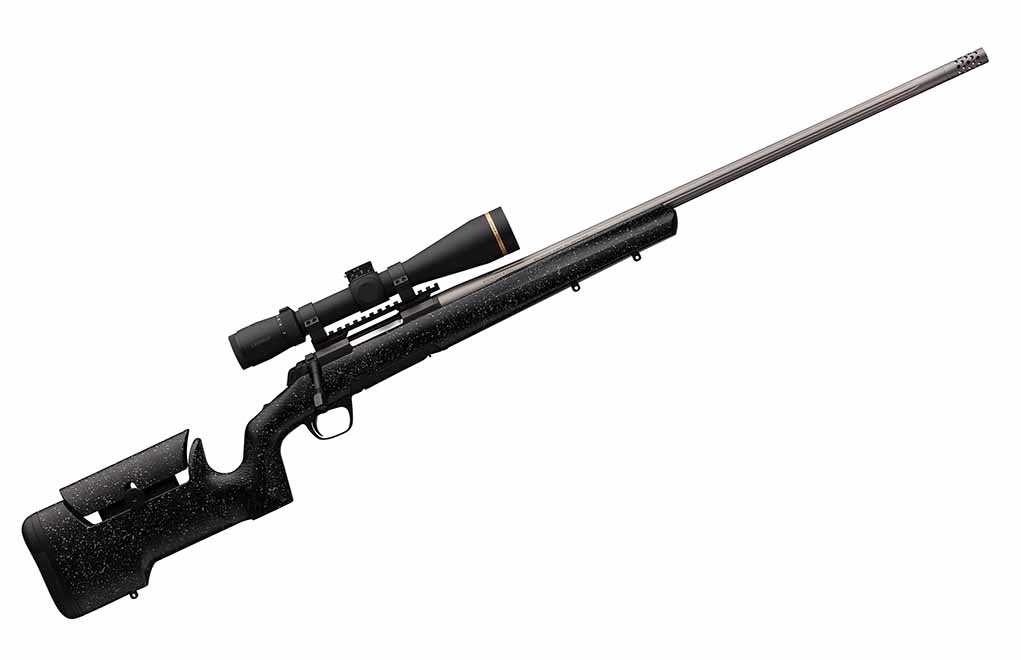 MSRP: Starting at $1,429.99
Technically, we're behind the curve on Browning's tact driver. The X-Bolt Max Long Range (MLR) hit the scene in 2019, the gunmaker's attempt at a truly dedicated precision rifle. Wildly succeeding, Browning went the whole hog in 2020, pumping up the line with every conceivable caliber you might wish to pitch a country mile.
In all, the MLR comes in 11 calibers, including long-range stalwarts 6mm Creedmoor, 6.5 Creedmoor and .308 Winchester. As well as a host of belted and short magnums. In either case, Browning delivers a proven platform to launch them from.
The solid action with three-lug fat bolt is mated—in all calibers—with a 26-inch fluted heavy sporter barrel topped with proprietary muzzle brake. This is then bedded in Winchester Composite Max stock that, while light, provides the stiffness required for repeatable accuracy. Fully adjustable for length of pull (through spacers) and cheek rise, the rifle is also customizable to individual shooter's frames.
The chops to go the distance, it feels like Browning's aim was a precision hunting rifle with the MLR. At a hair over 8 pounds, the rifle is less burdensome in the field and might be perfect for long shots during big-country hunts. At the same tick, lacking a bull barrel and some of the recoil-eating heft of a dedicated long-range rifle, it might not be the first choice when it comes to a match gun.
Performance Center T/C LRR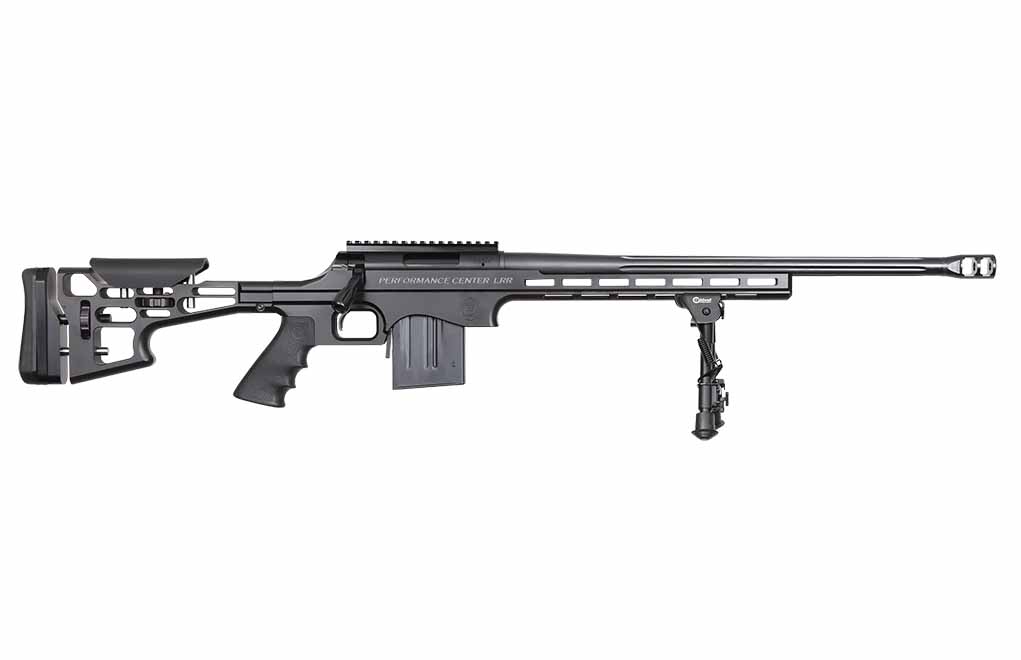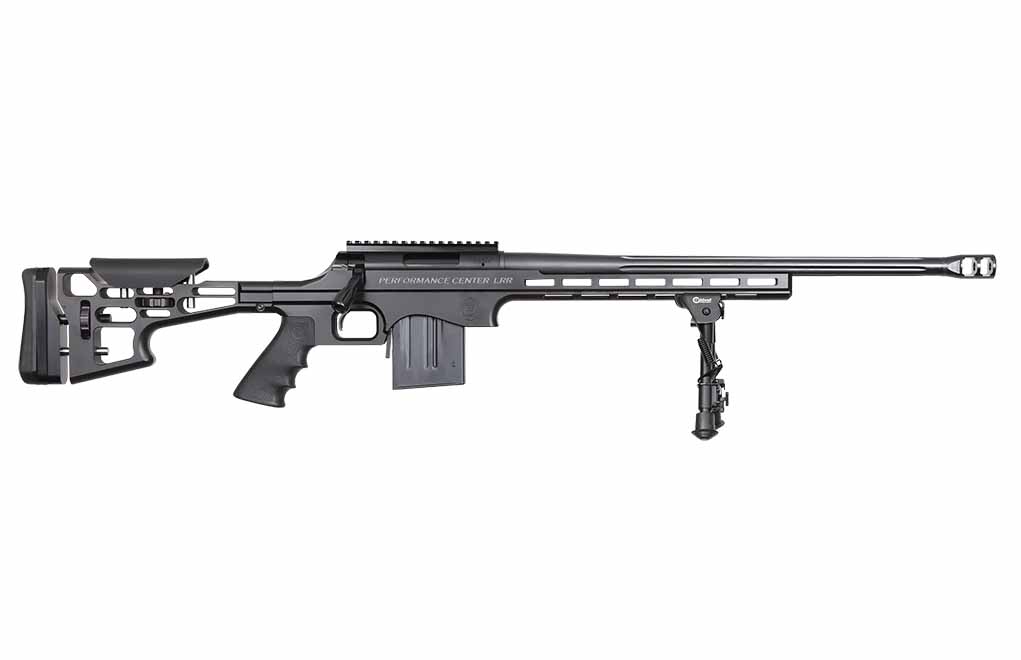 MSRP: $1,211
Tack drivers … Thompson/Center is more than familiar with them. Some of the dandiest and deadliest single-shot rifles proudly boast the T/C roll mark and prove more than a match for weary elk, deer and caribou.
In recent years, the gunmaker has expanded its prowess to bolt actions and with a little help from its parent company — Smith & Wesson — has whipped up a precision rifle paragon — the Performance Center T/C LRR. The renowned Performance Center produces the aluminum chassis, which is — truthfully — a bit spartan, but has it where it counts. It's stout as oak and has the adjustments you need to tailor it to your frame.
Zero In On Long-Range Rifles And Shooting
To that end, both the cheek rise and length of pull dial in via thumbwheels and each feature dual guide rods for added stability. In addition to this, S&W contributes a tuned up trigger — adjustable from 2.5 to 3.5 pounds — a single-stage outfit that's clean and consistent. Admittedly, the blade safety seems a bit out of place on a rifle … but not enough to turn your nose up at it.
Action wise, the LRR's is nearly identical to what you find on the T/C Compass — a three-lug fat bolt. Easy to manufacture, this is where the gunmaker keeps production costs down. But you aren't settling by any stretch of the imagination. The design is strong and quick, with an extremely terse bolt throw. The Performance Center LRR comes in .243 Win., .308 Win. and 6.5 Creedmoor.
Ruger Hawkeye Long-Range Target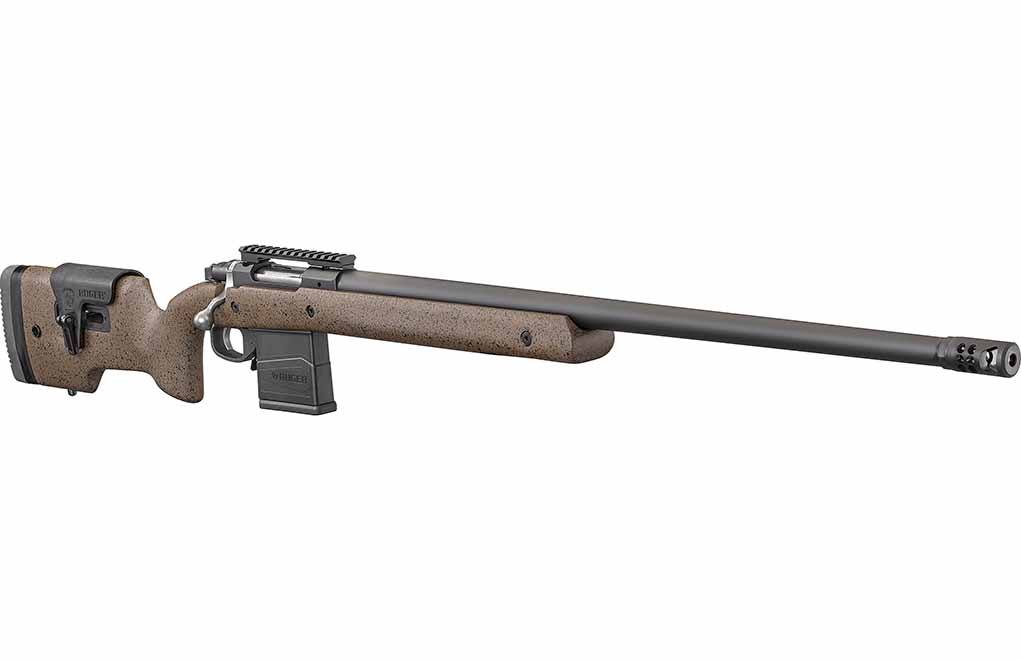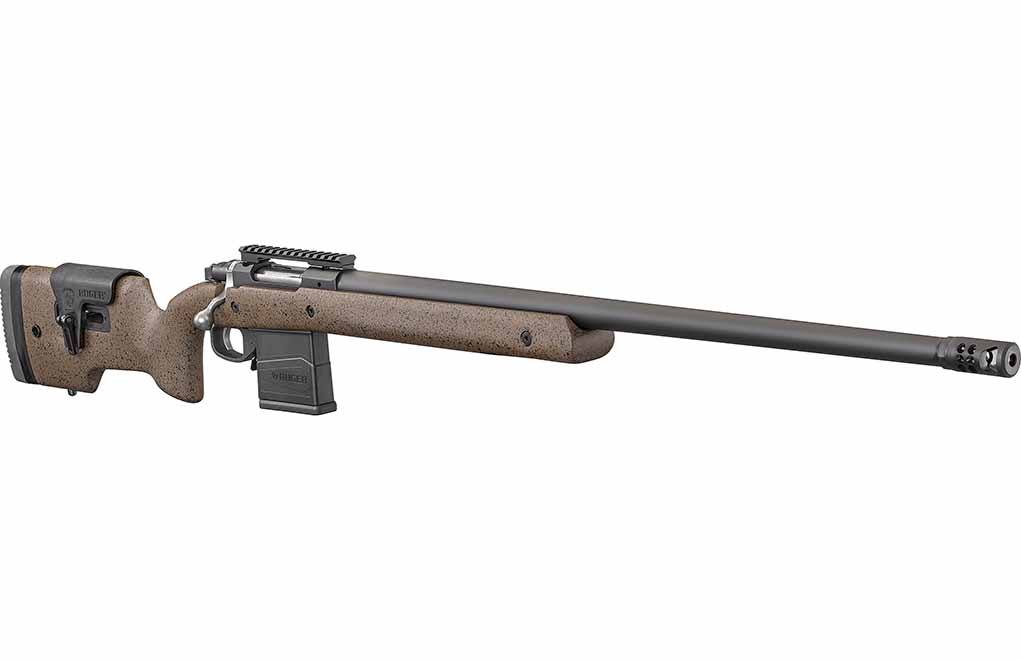 MSRP: $1,569
Granted, it has Mack Truck looks and heft, the Hawkeye Long-Range Target nevertheless is a hair-splitter. Of course, all that weight – 11-pounds of it line – is there for a reason.
Originally chambered in .300 Win. Mag (now also available in 6.5 Creedmoor and 6.5 PRC), the rifle was designed to soak up the brute cartridge's ample recoil. That, and it provides a shooting foundation second only to a concrete anchor lock.
The core of the system is a highly functional competition-style stock, which adds weight and control to the rifle. In addition to comb-height and length-of-pull adjustments, the laminate component also provides the rigidity required to produce tight groups consistently. It's also decked out with a flush-fit M-LOK lower rail and QD points, so adding your choice of bi-pod and sling system is easy as pie.
As to the action, it's Ruger's tried-and-true Mauser-style controlled feed, reducing the worry of double feeding when you're glued to your scope. Ruger then mates this with a 26-inch heavy contour barrel, providing superior harmonics and heat dispersion. Topping it off, the company's Hybrid Muzzle Brake. A bonus, Ruger outfits the precision rifle with a 20 MOA Picatinny rail, with increased elevation capabilities over the integral mounts machined directly into the receiver.
Savage 10/110 FCP HS Precision
MSRP: $1,339
Admittedly, Savage doesn't allot the customization many look for in a precision rifle with this long-range specialist. Regardless, the FCP HS Precision still has the chops to go the distance, be it in competition, tactical or casual shooting situations.
To this end, one of the rifle's most notable attributes is one of its most imperceptible – its bedding. Utilizing a V-block system, Savage's 10/110 actions firmly mate to HS Precision's rigid fiberglass stock, eliminating any concerns about creep — even if you choose a brute caliber. And the gunmaker gives some stout choices — .300 Win. Mag and .338 Lapua, in addition to the traditional .308 Win. (Technically, the Lapua option falls outside the perimeters this post lays out for "affordable" with a price tag of $1,759.)
Savage mounts a heavy contour barrel – fluted – on the 10-pound rifle and outfits the bolt with an oversized tactical handle. Of course, the FCP boasts Savage's excellent adjustable AccuTrigger. Furthermore, it tops off the whole kit and caboodle with a muzzle brake to manage some of the recoil. Unfortunately, it doesn't come with comb or LOP adjustments. Outside of that, it has everything you need to shoot a country mile.
Howa Oryx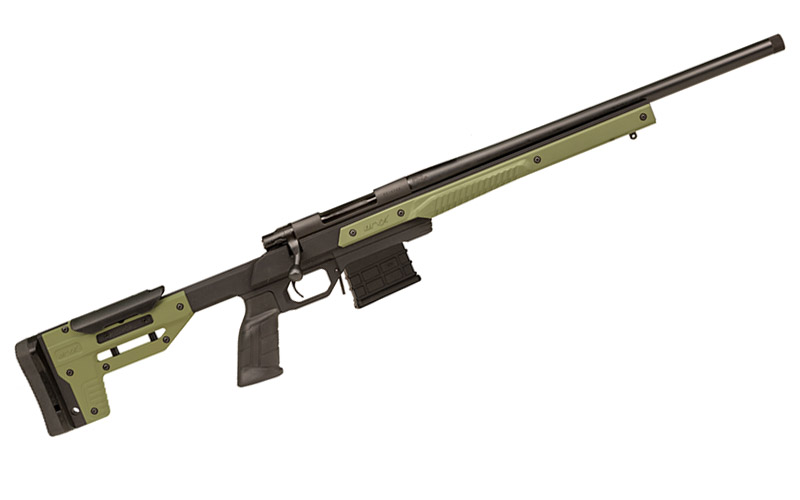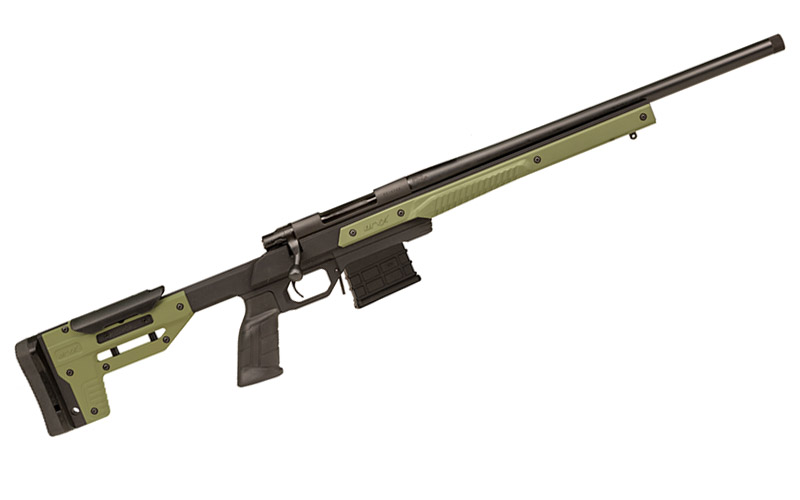 MSRP: $1,099
Never one to pass up providing more affordable accuracy, Howa has partnered with MDT for one of the most economical chassis rifle presently available.
The Oryx takes its name from the Canadian chassis maker's contribution to the rig, a somewhat plain-Jane yet effective affair. The chassis provides the stiffness a long-range system requires and maintains the customizability shooters have come to expect — LOP and comb height adjustment.
Furthermore, it has the extras — wide fore-end and barricade stop — to make it a versatile shooter. It keeps costs down by omitting some of the common features found on many chassis options, such as accessory mounting points (outside flush-fit M-Lok slots under the fore-end) and convenient adjustment controls. But for the money, you get a rifle that performs.
Howa makes sure of this with what has become one of the more renowned barreled actions out there — the 1500. And the gunmaker offers it in several precision shooting favorites, 6mm Creedmoor, 6.5 Creedmoor, .308 Win., .223 Rem and 6.5 Grendel. Additionally, they offer the rifle in some calibers not generally consider long-range, including .300 Blk and 7.62x39mm.
Savage Model 10 GRS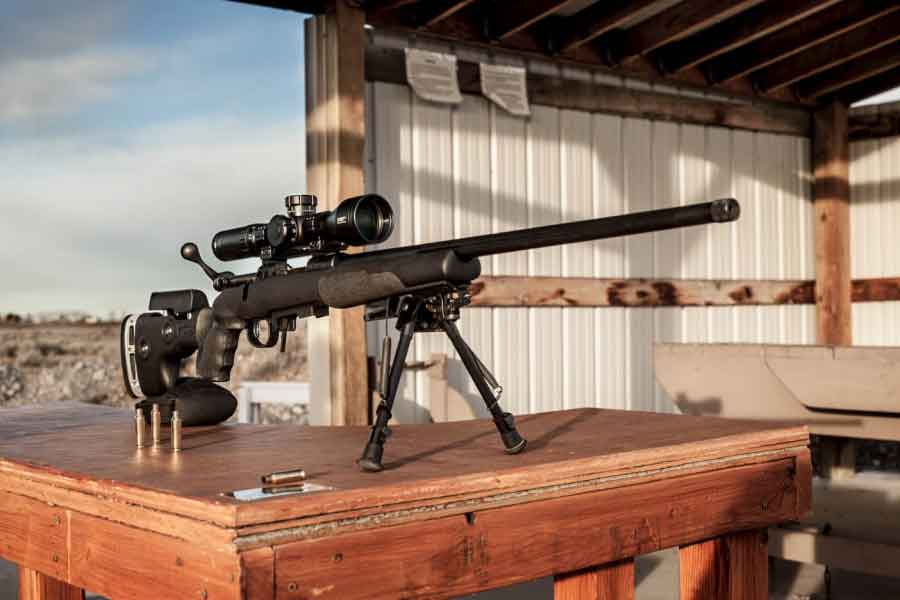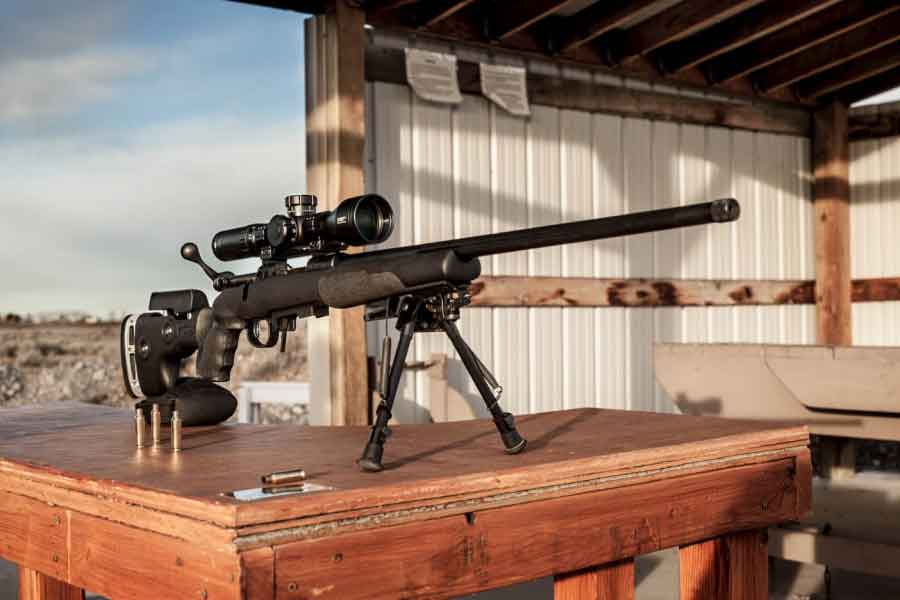 MSRP: $1,639
Savage rifles have built a reputation for being tack drivers and affordable at the same time. But the company has gone above and beyond with its newest creation — the 10 GRS. Marrying Savage's proven Model 10 short action with the Norwegian GRS stock has created a precision rifle ready to tackle the greatest distances.
Read More: The Savage Model 10 GRS Full Review
As solid as the company's actions and button-rifled barrels are, the stock is the bell of this ball. The fiberglass-reinforced nylon GRS stock provides the rigidity required for precision work and is intuitive to handle. Additionally, the stock's pillar-bedding blocks, constructed of 65-percent fiberglass, ensures there's no play in the Model 10's free-floating barrel. On top of this, the stock features a fully adjustable cheek riser and length of pull, operated by simple push-button controls. 
The rifle is available in calibers perfect for nearly any long-range application, short of hard-target interdiction — .308 Win., 6.5 Creedmoor and 6mm Creedmoor. And the 20-, 24- or 26-inch heavy-fluted barrels on the 10 GRS — depending on caliber — provide superior heat dispersion and plenty of stiffness.
Other top features include 5/8-24 threading for attaching muzzle devices and flush cup sling loops and sling mount for bipod use. While the MSRP is a hair over the $1,600 ceiling, it can be found for a much lower street price.
Tikka T3x Tactical Compact Rifle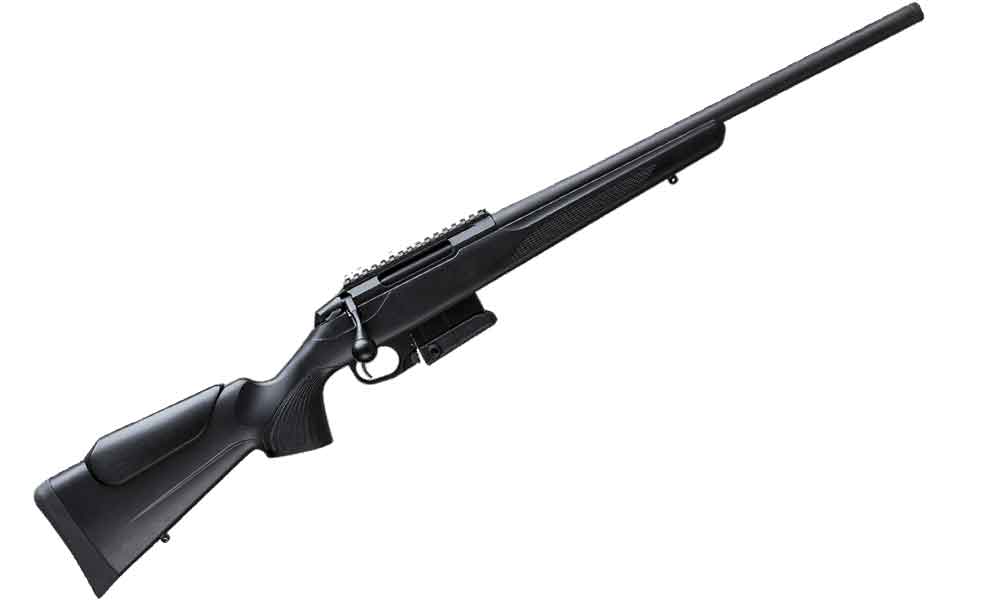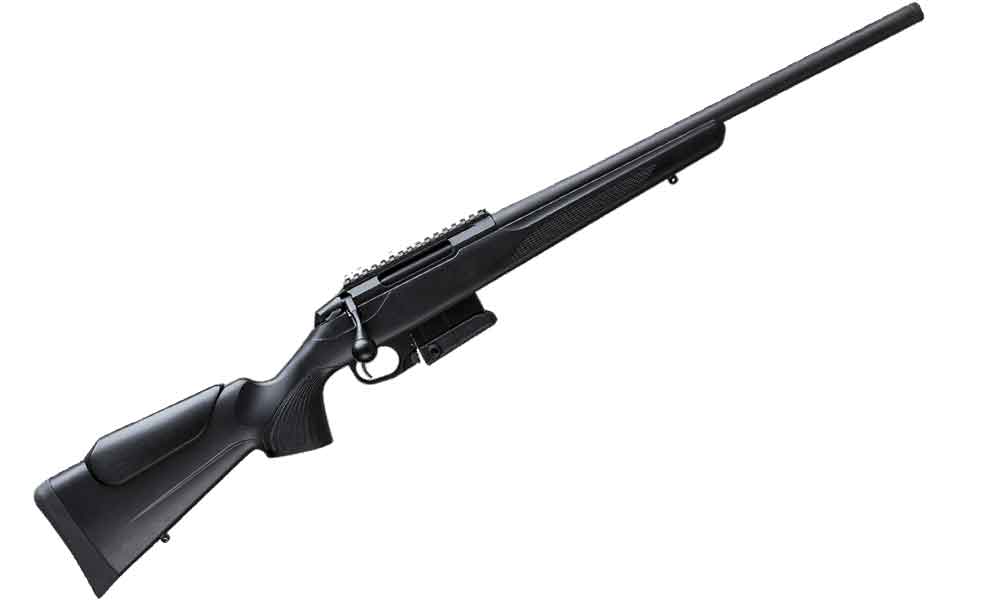 MSRP: $1,150
Featuring Tikka's rock-solid, single-piece T3 action, this little Finnish gem is accurate and adaptable.
Broached, instead of drilled from bar stock, the action is silky smooth, particularly with the aid of its oversized bolt handle. And it's stiff as overstretched sheets, thanks to the enclosed action design. Conveniently, Tikka has widened the ejection port on the T3 action, now making it possible to feed one round at a time — a difficulty on older models.
See Also: Tikka T3X Tactical A1 Review
A hammer-forged semi-heavy contour 20-inch barrel provides superior harmonics for its three chamberings — .260 Rem., .308 Win., and 6.5 Creedmoor. And it's hefty enough to shake off the heat from long shot strings.
Tikka's TCR has a more traditional stock pattern and doesn't boast the adjustments found on many precision rifles. But it does have some unique features. Chief among them is the fiberglass-reinforced synthetic stock's interchangeable grips that make it possible to modify the angle. And it comes with a foam insert that lowers stock-generated noise, keeping shooters stealthy as ever.
The precision rifle has a single-stage adjustable trigger, tunable between 2 and 4 pounds. And to top it all off, the T3x Tactical Compact rifle has an improved rail attachment system with extra screw placements on top of the receiver for a Picatinny rail.
Howa HCR
MSRP: $1,299.99
A chassis rifle moving on the street for around $1,000, balderdash you say? Actually, no. Howa has pulled off this feat in exquisite fashion with its Howa Chassis Rifle. The Japanese barreled-action manufacturer has teamed up with a couple of other heavy hitters to turn out this affordable precision rifle that dang near anyone can work into the budget.
Read More: Howa HCR Full Review
Accurate-Mag provides the monolithic 6061-T6 aluminum chassis, delivering a sturdy platform to build the rifle. The chassis free-floats the barrel — as it should be — and comes with ample M-LOK real estate on the forend, so adding a shooting aid such as a bipod is a snap. Furthermore, it accepts all AR-style furniture for further customization.
At the rear, LUTH-AR has tacked on its MBA-3 buttstock, designed to conform to any shooter behind the trigger. The fully adjustable stock gives shooters six positions of adjustment in length of pull. On top of that, there's an ambidextrous adjustable comb for the perfect cheek weld — a nice touch, given there are left-handed options in the HCR.
The heart of the chassis rifle, however, is Howa's tried-and-true 1500 action. The two-lug push-feed has earned its share of accolades for its performance, precision and reliability — not to mention affordability — over the years.
Howa gives the choice of 20-, 24- and 26-inch barrels in standard and heavy contours, and offers four calibers in its sniper rifle — .223 Rem., .243 Win., 6.5 Creedmoor and .308 Win.
Mossberg MVP Precision
MSRP: $1,555
Mossberg had tinkered with chassis rigs previously, but it wasn't until the MVP Precision the gunmaker seemed to get it correct. Fairly unique in design, on-target at the range and priced just right, the slim precision rifle is an excellent gateway to long-range shooting. One many shooters might find can fill the role permanently without shopping up later on.
As its name implies, the heart of the rifle is Mossberg's MVP action, a tested design that performs admirably in a number of the company's other rifles. It's well suited for its role in the chassis, fully enclosed and rigid enough to promote repeatable accuracy with a sturdy twin-lug bolt. The safety is the only sticky point, fairly inaccessible when your hand is in its shooting grip. To this, Mossberg marries a bull barrel complete with a threaded muzzle for the addition of a brake or suppressor, if so desired. As to length, the .308 Winchester sports a 20-inch barrel and the 6.5 Creedmoor a 24-inch. These are then bedded in a slim, yet sturdy chassis that has some nice features, including a removable stock system and compatibility with commonly found PMAGs, DPMS/SR25 and M14 magazine. This keeps costs down in the long-run.
Helping to tie the system together is Mossberg's somewhat underrated LBA Trigger that trips right around the 3-pound mark. At the rear, Mossberg provides a Luth-AR MBA-3 stock, whose knob adjustment (LOP, comb height and butt cast and height) makes fitting the rifle quick and doable on the fly. The fore also is worth mention. Slim with ample M-Lock real estate, it proves very versatile and with ample opportunities for mounting accessories.
Bergara B-14 HMR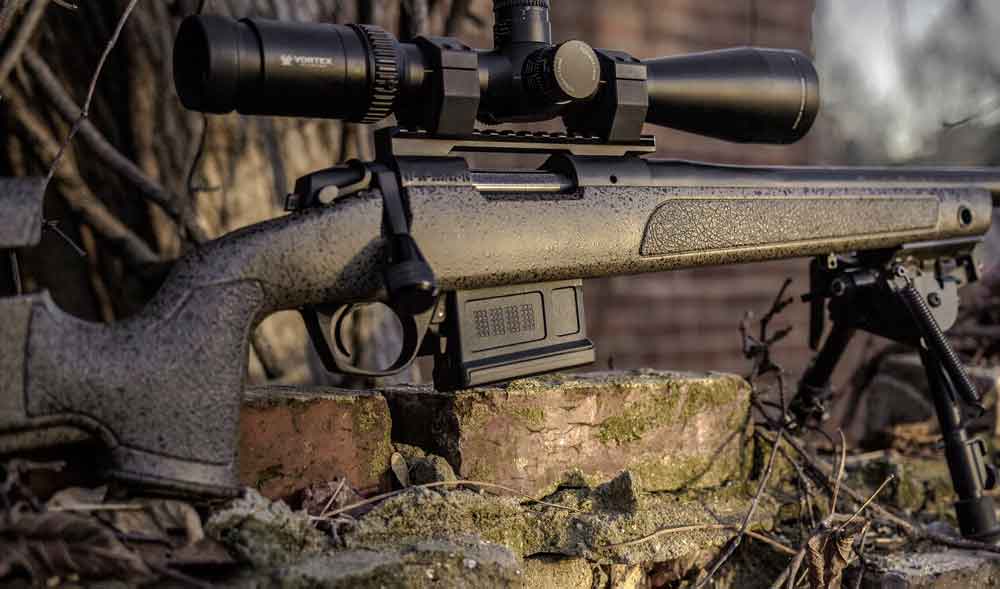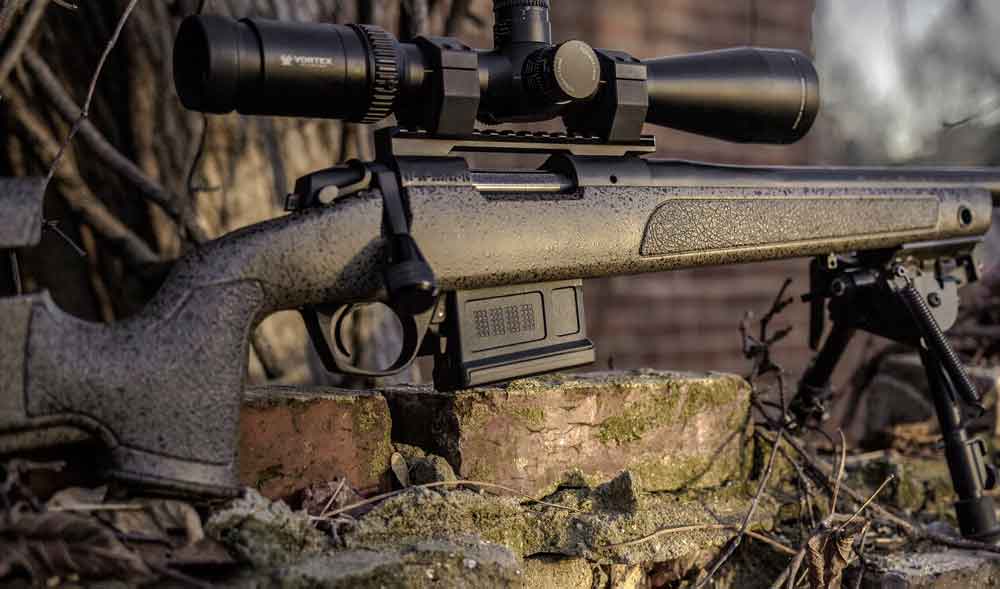 MSRP: $1,199
Precision rifles can get pretty specialized pretty quickly, pigeonholing their application. For those shooting for a something that can equally knock the stuffing out of the 10-ring and a whitetail, look no further than Bergara. The Spanish company's B-14 HMR (Hunting & Match Rifle) is about as tightly built a precision rifle as one could expect, without going custom.
See Also: Bergara B-14 BMP Chassis Rifle Review
While Bergara's actions and barrels are well-respected, it's the rifle's stock that steals the show. At first blush, it appears to be just another synthetic job, with a modified benchrest buttstock, vertical grip and the usual length of pull and comb adjustments. But strip away the polymers, and there's something unique going on underneath this Bergara B-14 HMR. Molded into the stock is an aluminum skeleton running from the grip all the way to the forend. In addition to free-floating the barrel, what Bergara calls its mini-chassis gives the B-14 the stiffness for precision.
The company has embraced the concept of crossover appeal with the rifle, making it sturdy enough to shoot a match, but practical enough to carry into the woods. It sports a No. 5 contour barrel — 22 inches on 6.5 Creedmoor, 20 inches on .308 Winchester — giving it enough material to avoid walking when it heats up, but making it less of a bear on a trudge to a deer stand.
The B-14 action is quick and smooth to work, especially with its oversized bolt handle, and feeds cleanly off an AICS detachable magazine. Some other nice features include Bergara's trigger that breaks at 3 pounds, threaded muzzle and integrated QD flush cup mounts.
Remington Model 700 SPS Tactical AAC-SD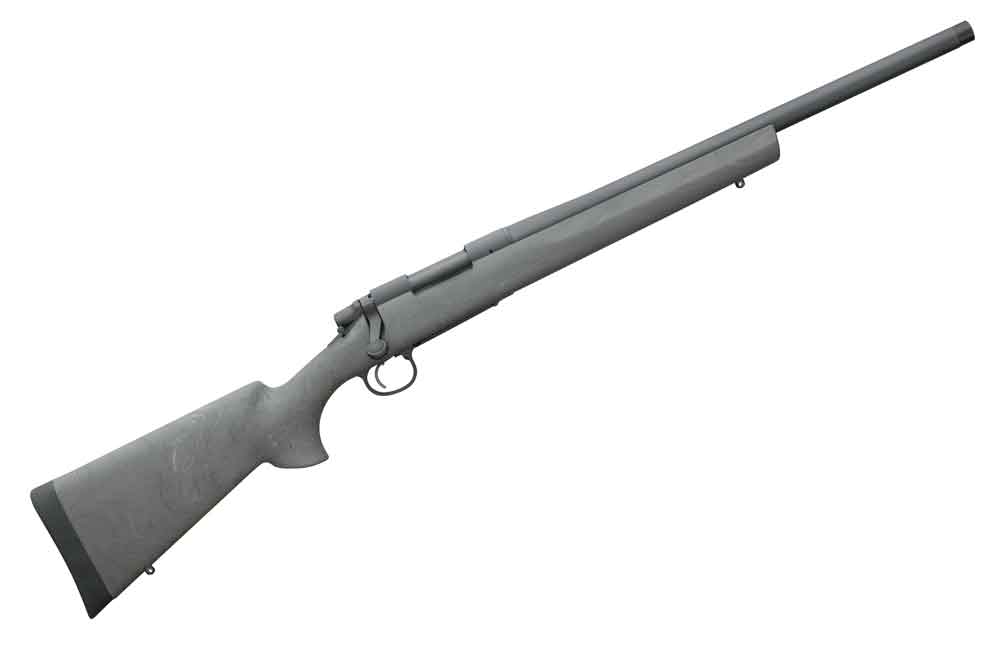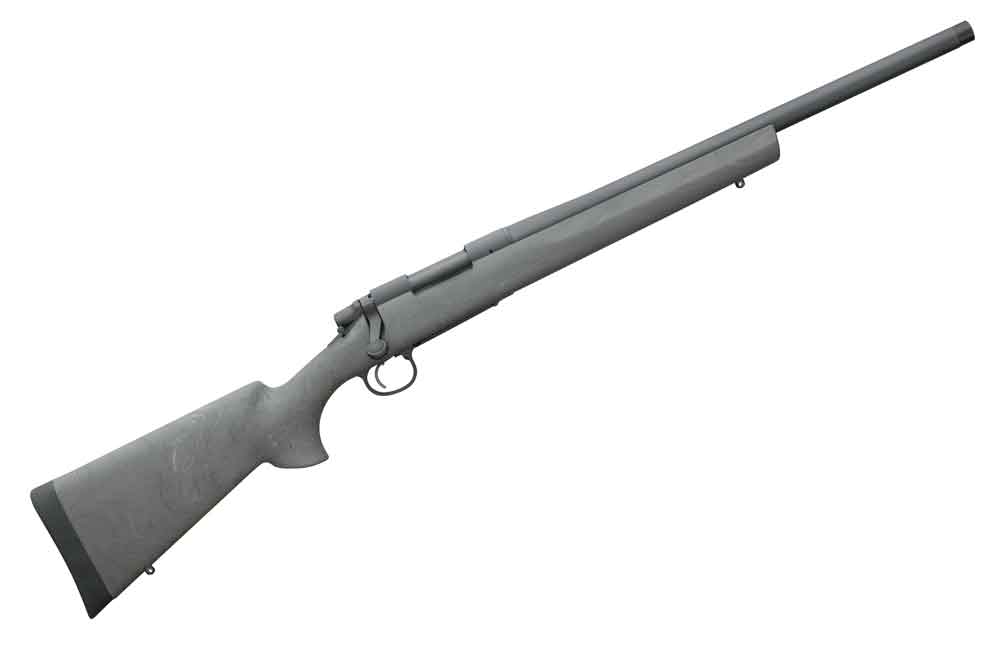 MSRP: $842
The Model 700 has been a top choice of professional Remington Model 700 SPS Tactical AAC-SD Full Review
The renowned 700 action — what you'll find on a lot of custom builds — is bedded in Hogue's Overmolded Ghillie Green stock. The fiberglass-reinforced polymer gives the platform overall rigidity, while a pillar bedding system free-floats the barrel, ensuring it does not interfere with harmonics.
The AAC-SD is outfitted with a 20- or 22-inch heavy barrel (depending on caliber), injecting another element of stiffness into the platform and preventing barrel whip when it heats up. An interesting point is the twist rate of the .308 Win. — it's 1:10. This is faster than most, in turn more compatible with heavier bullets.
Remington has topped the rifle off with a threaded muzzle able to accept AAC and other 5/8-24 pattern muzzle devices.
The rifle features Remington's X-Mark Pro trigger, an adjustable outfit tunable between 2.5 and 3.5 pounds. Other notable aspects of the AAC-SD include sling mounts on the forend and buttstock and a very manageable weight at around 7 pounds. The AAC-SD is not long on capacity, however, with a four-round internal magazine.
Savage Model 10 BA Stealth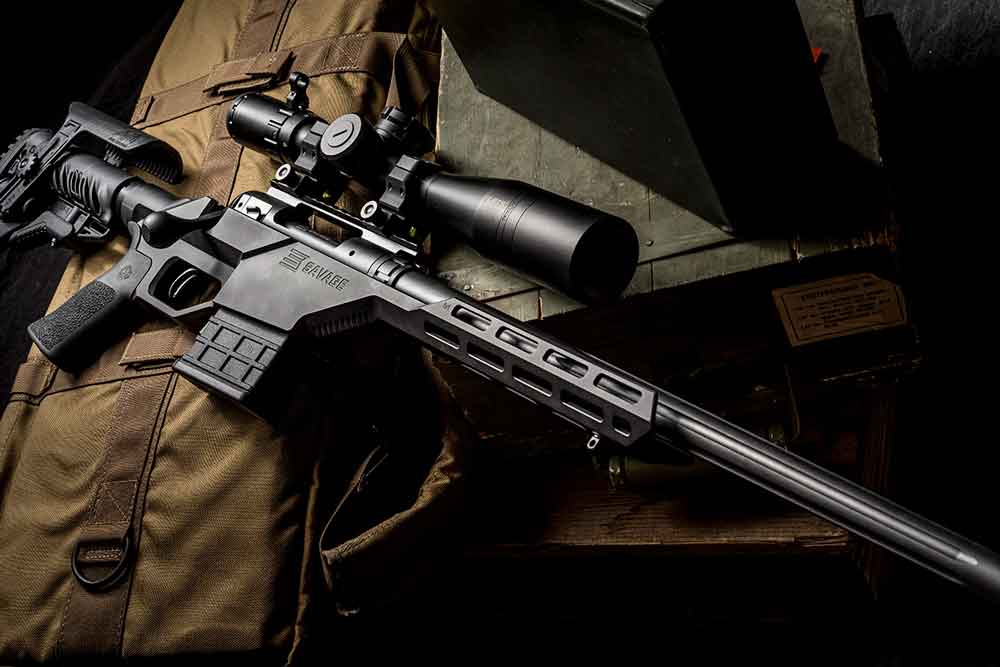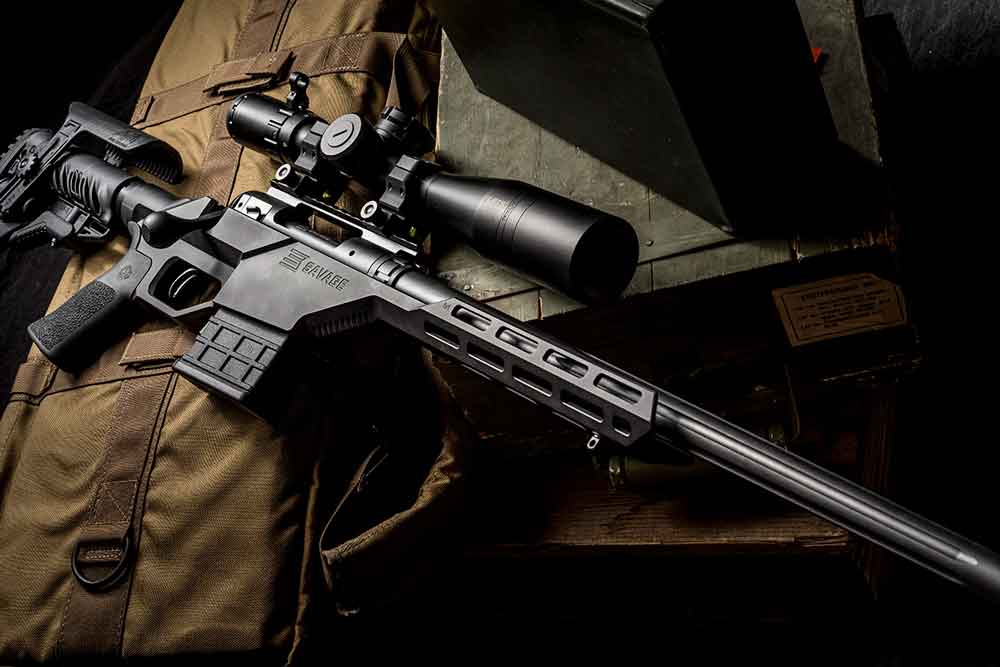 MSRP: $1,207
It wasn't all that long ago that a chassis rifle setup would have run a shooter well over $2,000. And that's talking entry level. Those days are quickly vanishing as the Savage 10 BA Stealth proves. The on-target rifle comes with all the accoutrements one would expect on similar precision rifles, except the price tag.
Built around Savage's short Model 10 action, the precision rifle comes chambered for .223 Rem., .308 Win., and 6.5 Creedmoor. If a shooter is willing to get closer to or break the $1,500 mark (and not by much), they can gun up to a long-action Model 110 BA Stealth and pitch .300 Win. Mag., or .338 Lapua Mag.
Drake Associates supplies the chassis for the rifle — its Hunter/Stalker model — which is machined from a single piece of aluminum. The chassis is much slimmer than most and exposes an ample amount of the rifle's 16-, 20- and 24-inch (depending on caliber) fluted barrel. This is good in terms of heat dispersion, giving air the chance to do its job. But given the barrel's heavy contour, shots won't walk much when it gets hot.
FAB Defense supplies the buttstock, its GL-Shock model that comes with a fully adjustable cheek riser and adjusts for length of pull. Like all Savages, the rifle features the company's outstanding AccuTrigger, adjustable from 1.5 to 6 pounds. A nice touch, the BA Stealth also is outfitted with a muzzle break, which is typically an aftermarket option on most rifles.
More Precision Shooting
NEXT STEP: Download Your Free Storm Tactical Printable Target Pack
62 Printable MOA Targets with DOT Drills – Rifle Range in YARDSThis impressive target pack from our friends at Storm Tactical contains62 printable targetsfor rifle and handgun range use. Target grids and bullseye sizes are in MOA. Ideal for long-range shooting!Get Free Targets