THE UNDISPUTED LEADER IN CUSTOM BERETTA 92 PISTOLS IS EXPANDING TO INCLUDE H&K P30 AND P2000 PISTOLS!
Long known for making some amazing Beretta 92 triggers, the best 92 series red dot mounting slides, and an incredible Beretta 1301 shotgun – Langdon Tactical is no stranger to mass-producing custom parts to give you the edge.
Thank you for reading this post, don't forget to follow and signup for notifications!
Now partnering with H&K, Langdon Tactical will apply its skills to the P30 and P2000 series of H&K firearms. In all DA/SA and LEM options, and even including California-compliant P2000 models.
Low-profile red dot optics, night sights, LTT trigger jobs, and more will also be available separately if you want to make the changes yourself.
"We are incredibly excited to bring this project to market" says Aimee
Langdon, Vice President "a ton of time, R&D, and hard work went into making
this happen, and we are pleased to finally debut these extraordinary pistols!"
Over 200 options will be available, opening up some exciting evolutions to the platform.
We're excited to see what all LTT and H&K come up with and will keep an eye out for more information!
MSRP starts at about $1,000 and climbs up from there depending on the platform and options. Multiple trigger weights and hammer weights are available, as are different flavors of sights.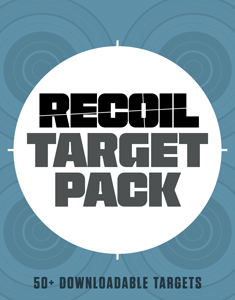 NEXT STEP: Download Your Free Target Pack from RECOIL
For years, RECOIL magazine has treated its readers to a full-size (sometimes full color!) shooting target tucked into each big issue. Now we've compiled over 50 of our most popular targets into this one digital PDF download. From handgun drills to AR-15 practice, these 50+ targets have you covered. Print off as many as you like (ammo not included).
Click here to get IMMEDIATE ACCESS to a digital PDF of this target pack!