Joe Biden is once again attacking our right to keep and bear arms, and this time he is also attacking America's hunting traditions.
Thank you for reading this post, don't forget to follow and signup for notifications!
That is why Gun Owners of America is jumping into the fight, and we need you with us.
The U.S. Fish and Wildlife Service (USFWS), run by radical gun-grabbing Interior Secretary Deb Haaland, is proposing to ban lead ammunition and fishing tackle on certain federal lands by 2026.
We have seen anti-gun and anti-hunting radicals do this at the state level in places like California where urban elites want to ban hunting and fishing.
They claim their bans protect wildlife, but the science on these matters is inconclusive at best, and studies have not proven that lead shot or fishing tackle present a widespread threat to people or wildlife.
California and some European countries banned lead ammunition years ago, and there has been no improvement in lead exposure among wildlife. It is clear that lead in the environment is coming from sources OTHER THAN LEAD AMMUNITION.
In fact, the "science" mentioned in the Federal Register is so weak the proposed ban wording claims lead shot and tackle "may" cause harm. By using the word "may," the government is admitting they want to ban something they can't prove is harmful.
Lead shot and bullets have been used by Americans for generations, and there is no clear evidence this ammunition causes widespread harm to humans or wildlife populations.
Every year, new science emerges that suggests a connection between lead poisoning in wildlife and alternative sources of lead in the ecosystem. In short, we just don't have strong evidence to prove that lead ammunition is harming wildlife because there are so many lead sources in nature. 
You and I know what this is really all about.
Gun Owners of America expects this is the start of a national ban on lead ammunition which will increase costs and decrease participation in America's Centuries-Old Hunting Tradition. 
We need you, and your friends, to click the links in this alert and make a formal comment on the Federal Register telling the Biden Administration you oppose any restrictions on lead ammunition.
Please use one or both of the methods below to contact the U.S. Department of the Interior. Tell them you are writing to oppose the National Lead Ammunition Ban proposed by the U.S. Fish and Wildlife Service.
Please Contact the U.S. Department of the Interior and Oppose the Lead Ammunition Ban!
You can also Click Here to Submit a Formal Comment on the Federal Register Telling the Biden Administration You Oppose a Lead Ban.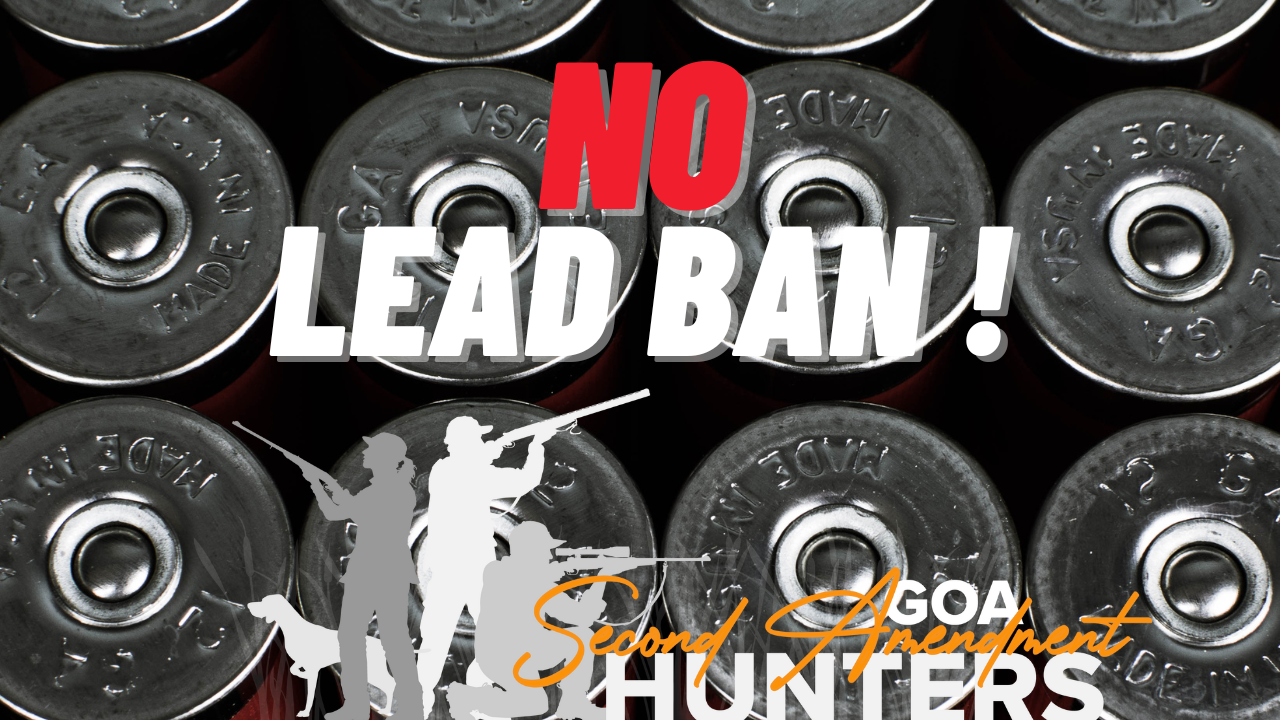 P.S. Read a full, fact-based analysis of Biden's lead ammunition ban here.