BELLY BAND HOLSTERS, DISCREETLY CARRY WITH ANY OUTFIT — CAN IT WORK FOR YOU?
If you're like me, you have a drawer full of barely-worn discarded holsters. That's because finding a concealed carry holster that fits well, feels comfortable, and provides easy access to your EDC weapon isn't nearly as easy as you might think.
Thank you for reading this post, don't forget to follow and signup for notifications!
Holsters are expensive, and we want to help keep you from tossing any more subpar holsters in that junk drawer. We're going to walk you through the pros and cons of belly band holsters and who will benefit most from using one. We also share a list of what we consider the best belly bands on the market today. 
WHAT IS A BELLY BAND?
The name kind of says it all – a belly band is a stretchy band that fits around your belly. However, these belly bands are nothing like your grandma's Spanx. They do more than help suck in a poochy gut (although they kind of help with that, too). They also provide a discreet way to carry an EDC firearm.
There are a bunch of different styles to choose from, ranging from super basic to somewhat complex. Prices also run the gamut from super cheap to much more costly. 
BENEFITS OF BELLY BAND HOLSTERS
THEY GO WITH EVERYTHING
Built for easy, covert wear under lightweight clothing, belly band holsters are perfect for those times you need to carry, but can't wear a belt. In fact, with a belly band holster, you don't really need to wear pants at all (although that may be frowned upon in certain social settings). 
You can wear a belly band holster under your PJs, gym clothes, or even your bathrobe. The world is your oyster. 
PERFECT FOR ACTIVE LIFESTYLES
Belly band holsters are popular options for joggers. The news media is chock full of stories detailing assaults on innocent joggers by everything from crazy ex-boyfriends to hungry cougars (the animal kind, not older hot, single women). Toting a sidearm on a morning run is obviously a smart idea. 
However, tac belts and IWB holsters don't pair well with running shorts, sweats, or yoga pants. A quality belly band holster solves the problem. 
THE SWISS ARMY KNIFE OF HOLSTERS
Like the iconic Swiss Army knife, belly band holsters are kings of versatility. 
Most of them can securely hold a variety of handguns. Because they aren't model-specific you can easily swap out your Glock 19 for your 1911 if you're feeling spicy that day. 
When it comes to carry position, belly bands are ridiculously customizable. Because these holsters are not confined by belts or belt loops, you can position your firearm anywhere on your torso. 
If you like appendix carry, no problem. 
Prefer the traditional 3:00? Go for it. 
Want to test out a 6:00 carry, a belly band will let you do it. 
You can literally rock your sidearm all the way around the clock.
Carry height is also customizable. You can tuck your belly band right in the waistline of your pants for an over-your-hips low carry. You can just as easily strap it on high if you feel like rocking a crop top. 
NOT JUST FOR FASHION MODELS
While a good portion of the models sporting concealed carry belly bands on company websites look like they just stepped out of a gym, you don't need an athletic build to wear one of these holsters. Belly bands work just as well on dad bods and beer aficionados. Because these holsters are so customizable, you can simply shift and adjust the holster and your weapon until you find a comfortable spot somewhere near your waistline. 
Chubbier carriers will need to order a larger band size, but plenty of big guys use belly bands. Some even prefer them over traditional IWB or OWB holsters. 
GETTING TO YOUR GUN
The biggest disadvantage to belly band holsters is accessing your weapon. It can take a few extra steps (like untucking a shirt) to reach a sidearm in deep concealment, and getting a combat-ready grip from a belly band isn't always straightforward. 
If you carry with a belly band, you should practice accessing and drawing your weapon from its place of concealment. It could prevent awkward fumbling in a situation where seconds are precious and could mean the difference between walking away or being carried. 
BEST BELLY BANDS FOR CONCEALED CARRY
Comfortac Ultimate Belly Band Holster
Whether I'm jogging, walking the dog in my pajamas (don't judge), or trying to pair my Glock with flowy feminine clothing, the ComfrTac Ultimate is my go-to belly band. It straps on quickly, is extra comfortable, and the stretchy design works with the contours of my body for easy concealment under almost everything in my wardrobe. 
I also love that it has a pocket for an extra mag. 
Made from breathable Neoprene, I can work up a sweat in this holster and not feel like I'm wearing a soppy sponge by the time I'm finished. 
The stretchy material does a fine job of holding my sidearm securely in place, but the holster also includes a snap retention strap for a little extra security. You never know when you might need to do some random cartwheels. 
When you order, you'll need to indicate whether you are a right-or left-handed shooter to ensure you get a pocket that cants properly for your draw stroke. 
While drawing is super easy, re-holstering is an absolute pain in the rear. You'll have to fiddle with the elastic band to get your sidearm back in the pocket, so make sure any threat is eliminated before you attempt to holster your weapon. 
Bravobelt Belly Band Holster
Perfect for carriers with an active lifestyle, the BravoBelt Belly Band features a soft, breathable CoolVent Neoprene base. It feels soft against the skin and doesn't build up any body odor funk. Even if it does, the holster is completely machine washable. 
This belly band is completely ambidextrous, which provides some additional carry flexibility. Like the ComforTac, the BravoBelt lacks a rigid opening, so expect holstering to be a two-handed affair. 
While the band's stretchy fabric does a decent job of holding your firearm in place, this one isn't winning any awards for weapon retention. You'll want to avoid ninja rolls at all costs. 
Crossbreed Modular Belly Band
If you like a little more pistol protection than a thin strip of neoprene can provide, Crossbreed's got you covered. In addition to the signature heavy-duty elastic band, Crossbreed throws in a modular Kydex shell.
This molded thermoplastic is gun-specific and attaches to the band with hook-and-loop Velcro. The end of the band wraps back over the Kydex shell to hold your sidearm snuggly against your body. 
This one provides the best of both worlds. You get the convenience of an elastic belly band with the security and trigger protection of a traditional Kydex holster. The design is a little clunkier than a band alone. However, I've only had minimal issues with printing. 
Tactica Defense Fashion Belly Band
Like Crossbreed's belly band, Tactica Defense's model incorporates a custom-molded polymer shell. Built to withstand rough, frequent use, this belly band also provides plenty of protection for your favorite firearm. 
The shell on this belly band is canted to provide an easier, more natural grip when drawing from concealment. 
The fabric is comfy and breathable. It also has a unique steel spring core that adds both stability and durability.
Fullmosa Concealed Carry Holster
If you like cargo pants, you're going to love this belly band holster. The Fullmosa Concealed Carry Holster is chock full of pockets. 
Built for you batman types, the Fullmosa holster has a spot for almost anything. You can easily carry up to three gats, four extra mags, an EDC flashlight, your cell phone, and a few snacks, just in case. Luck favors the prepared, after all. 
We aren't living in the Harry Potter universe, so don't expect all that stuff to disappear like magic under a t-shirt. However, if you can't bear the thought of heading to the beach without your EDC loadout, this is the holster for you, although you may want to skip swimming with all that gear. 
LOOSE ROUNDS
When it comes to deep concealment, few holsters beat a quality belly band. Belly band holsters may not be ideal in every situation. However, they may be the only option for occasions where deep concealment is necessary or donning a tactical belt is a no-go. 
READY FOR MORE?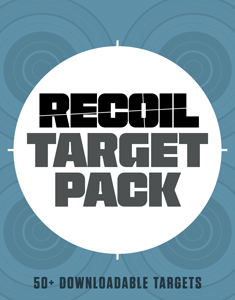 NEXT STEP: Download Your Free Target Pack from RECOIL
For years, RECOIL magazine has treated its readers to a full-size (sometimes full color!) shooting target tucked into each big issue. Now we've compiled over 50 of our most popular targets into this one digital PDF download. From handgun drills to AR-15 practice, these 50+ targets have you covered. Print off as many as you like (ammo not included).
Click here to get IMMEDIATE ACCESS to a digital PDF of this target pack!