Thank you for reading this post, don't forget to follow and signup for notifications!
Every 2011 is a widebody/double-stack 1911, but not every widebody/double-stack 1911 is a 2011. While the term gets used colloquially to refer to any double-stack 1911, they just aren't.
The 2011 frame was invented by the founders of STI, the company now called Staccato…but it isn't the only widebody 1911 frame that uses a double-stack magazine.
So, let's talk about what a 2011 actually is. We'll go over what's so great about them as well as some pitfalls to be aware of. While it's an amazing handgun, it's not necessarily for everyone.
The Genesis Of The Double-Stack 1911
The 2011/double-stack 1911 was designed to keep the positive attributes of the 1911 (the trigger, ergonomics, etc.) while enhancing capacity, with the first examples emerging in the early 1990s.
The idea mostly came from IPSC and USPSA shooters who wanted a higher-capacity pistol that wasn't a DA/SA gun and – at the time – Glocks weren't considered the most competitive option.
The creation of the double-stack guns also helped usher in the Open and Limited divisions in those sports, which to this day are dominated by widebody/2011 pistols.
While today's shooter generally prefers 9mm, the early widebody guns were far more common in .38 Super (and sometimes .40 S&W) to make Major Power Factor, giving them a big edge in capacity over shooters with guns in .45 ACP.
A lot of today's Open class shooters run a .38 Super widebody with a comp for this same reason.
So, that was what got people started.
The First Double-Stack 1911s And The "2011"
The first double-stack 1911s and what we now call a 2011 emerged in the late 1980s and early 1990s. Ultimately, all pistols of this type boil down to two fundamental designs that both do the same thing.
The trick is to design a magazine that tapers from double-stack width at the bottom to single-stack width at the top, and make a frame that can use it. The top end of the gun (the slide, the barrel, the firing components) is the same, but the lower is a little different.
The first to emerge, according to The American Rifleman, was the 14.45 frame design by Para Ordnance, which was in production by the end of 1989.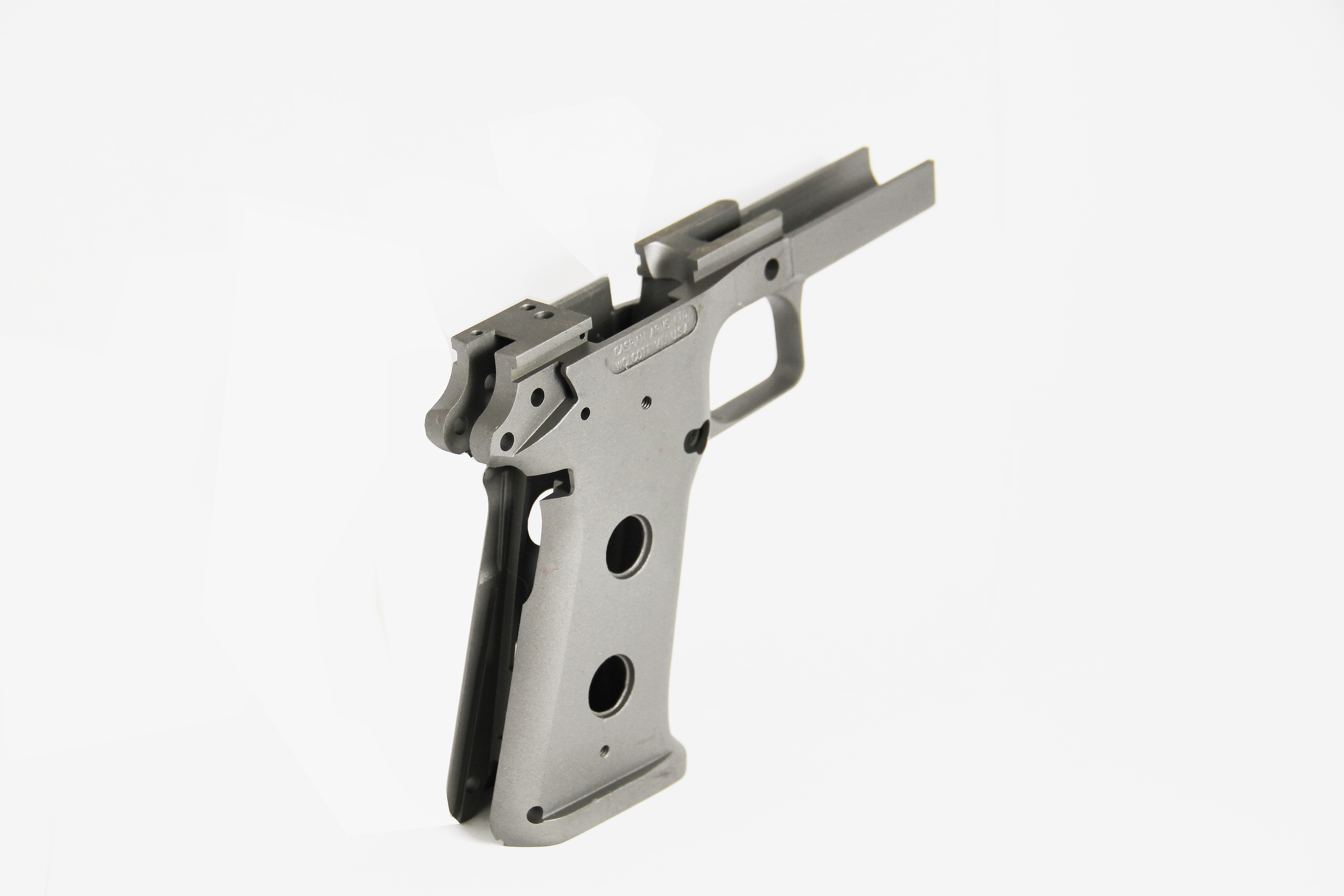 Credit: CaspianArms.com
The Para design is a solid frame, with a wider grip housing to accommodate the magazine. A carbon copy was devised shortly thereafter by Caspian. Para Ordnance, later ParaUSA, is long since out of business, but Caspian still makes the double-stack frames.
What we now call a 2011 was the brainchild of pistolsmith Virgil Tripp (ever hear about Tripp Research 1911 magazines? Same guy.) and Sandy Strayer. Along with some help from Chip McCormick (also a big name in 1911 magazines and a world champion shooter) they developed a different frame system.
Initially it was sold through McCormick's company (CMC Products) but Tripp and Strayer would soon thereafter form Strayer Tripp International – STI – to make the frames and custom guns built on them.
The Tripp/Strayer design essentially chops the grip and trigger guard off the frame.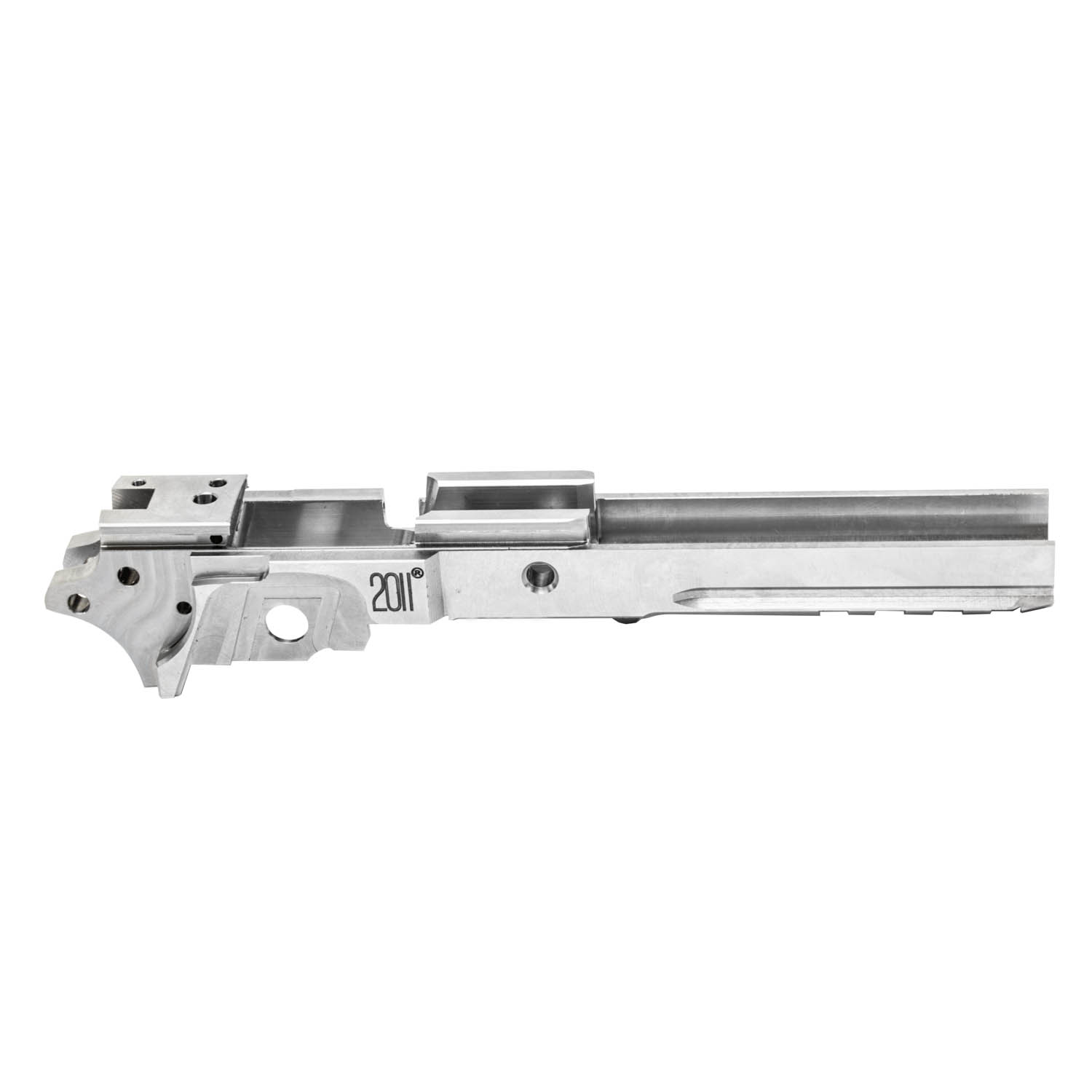 Credit: MidwestGunWorks.com
The polymer grip and trigger guard module (molded from polymer to save weight) and is set into (and bolted) into the frame rail, and the slide goes on top.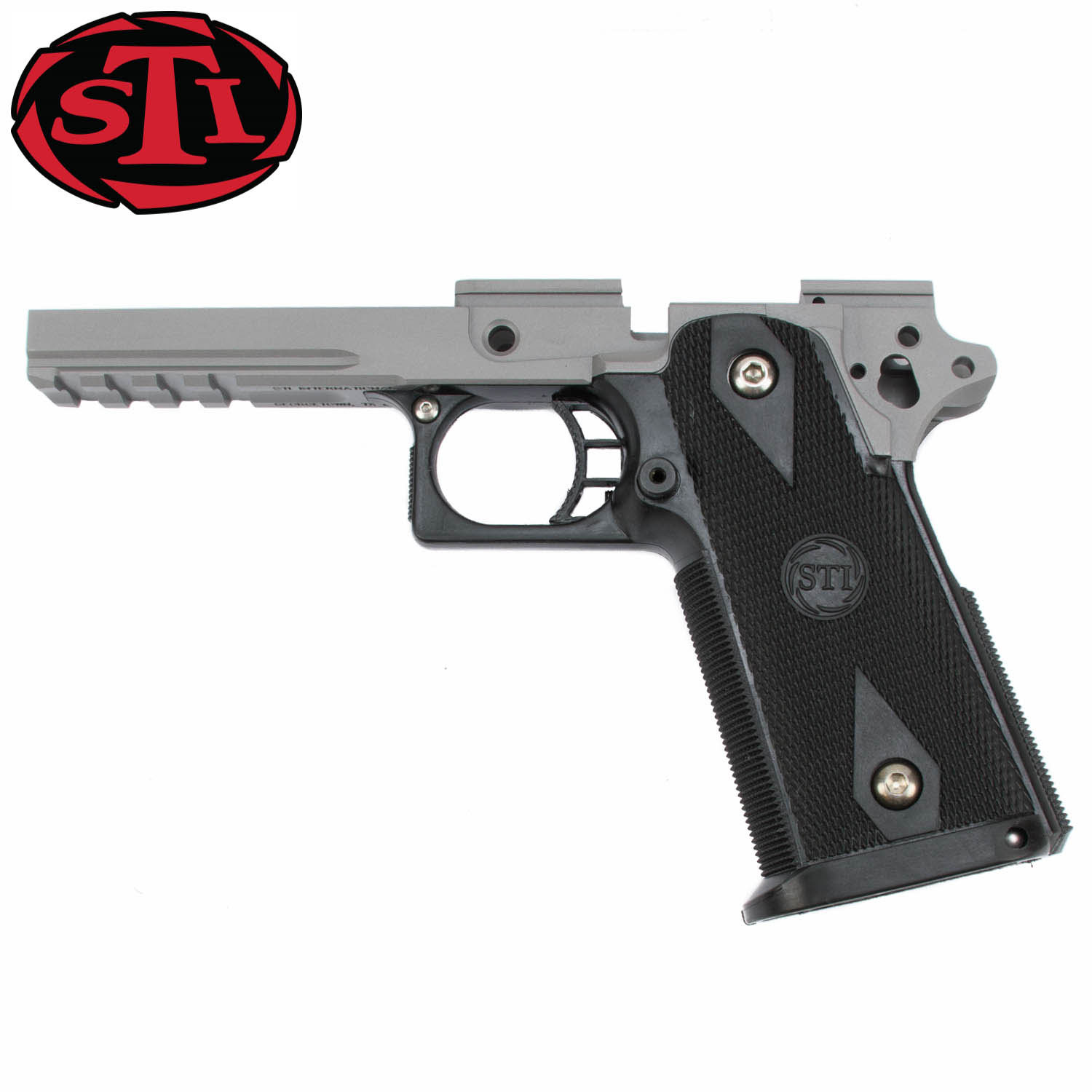 Credit: MidwestGunWorks.com
The Para, Caspian and CMC (later STI) frame systems were all available commercially by 1993. Initially, they were custom-shop options; you had a gun made as a widebody rather than just going to the gunstore to buy one and typically they had a price tag to match.
Not All Double-Stacks Are A 2011, But Every 2011 Is A Double-Stack
A "2011" uses the frame system developed by Tripp and Strayer, with a modular polymer grip module and using the STI magazine design.
The 2011 wasn't initially sold or marketed as a "2011" until it already been in production for awhile; STI rebranded the gun as the "2011" and the name (which is catchy) stuck. Much of the shooting community has come to colloquially call any double-stack 1911 a "2011."
STI has since been re-branded Staccato and their firearms changed to broaden their appeal beyond just competition shooters.
The patent has since lapsed, allowing others to copy and reproduce it, as double-stack guns from Nighthawk, BUL Armory and others use the 2011 frame system.
Differences Between A Staccato 2011 And Similar Pistols
When STI – later Staccato – was created along with the 2011 frame system, the frame was made for custom builds whose customers needed a custom-shop gun.
In fact, you used to have to have your magazines tuned for your gun by the factory so they'd function reliably. If you bought any new ones, you'd have to have those tuned as well.
How Staccato makes pistols to this day reflects that lineage.
2011 pistols are what you'd call "semi-custom" in that some hand-fitting is required to build the gun, but they're made in standard configurations of barrel length, parts and so on.
Like other semi-custom 1911s like Wilson Combat, Les Baer or Ed Brown pistols, all small parts will be made from forgings instead of MIM or castings, which is the case with most mass-market 1911s. Clearances and tolerances are going to be tighter as well.
Some other double-stack 1911s are also semi-custom or full custom builds, and some are mass-market guns like those you'd get from Springfield Armory, Colt, Remington and more.
Mass-market pistols are known for not standing up to duty or other hard use due to parts breakages and other issues. Staccato pistols are made with competition and duty use as their primary purpose.
The frame design (and therefore the carrying capacity) and manufacturing methods are what set the Staccato apart. Features like ambi safeties, a rail and cocking serrations do differ from other pistols but are basically cosmetic.
The 2011 is essentially the Porsche Turbo of the gun world. It's made to a higher standard, with performance and reliability as it's primary purpose instead of meeting a price point and hopefully enabling some performance. However, like any race car…it will require a bit more care than the typical car, and premium gas (run quality ammo) and premium tires (the magazines are expensive!) will get you better results.
Is it worth the premium? Well, that depends on what you want to get out of it. Regardless, a Staccato is one of the most capable and certainly one of the best pistols you can currently buy.