Few in the mainstream media are interested in journalism. It's bad for the bottom line. Instead, they'd much rather sit back and regurgitate propaganda, feeding you clickbait bullshit designed to either incite outrage or reinforce your worldview.
Thank you for reading this post, don't forget to follow and signup for notifications!
Makes no difference whether you're on the left or right of the political spectrum, the business model is the same.
With the Russo-Ukraine war entering its third phase, and with it having so much influence on the direction of warfare and domestic policy, we decided to get some perspective from the guys on the ground, so packed our bags and hit the road.
In order to do good, we enlisted the help of a tiny charity, or rather, they enlisted us. People Helping People Across Borders are a 501(3)c run by Steve and Viktorya Croskey, a husband and wife team of lawyers out of Florida.
They've been moving humanitarian supplies in, and refugees out of the conflict zone since the first few days of the war using the high-tech logistics chain known as picking up and carrying shit. You might think that with the massive aid packages announced by the US government, there's simply no need for private individuals to do anything apart from being good tax units, but that's not the case.
'Because we've got a strong network of friends and family in Ukraine, we're able to get supplies directly into the hands of people who can use them,' explained Croskey.
No multi-node transport where goods can get siphoned off, no palms to grease, no getting lost in a labyrinthine bureaucracy. Just schlepping multiple 50-pound bags through airports and into cars. 
We arranged to meet at JFK, where we rendezvoused with both the gear and my partner for the trip. JJ is a private military contractor who looks like Jean Claude van Damme from back in the day and who has an extensive background in getting things to where they need to be. Read into that what you will. Hopping a flight for London, we started our journey.
At Heathrow, we landed at 10:40 pm, then after border formalities dragged our kit across the airport to the next terminal, just in time for everything to shut down and leave us stranded at the check-in counters. Feeling the effects of jetlag and lack of sleep, we grabbed coffee at the only open store and laid down on a corner of the concrete floor as cleaners did their work around us. 
By 0400 a large crowd had gathered around the entrance to security, and tired travelers passed the time by exchanging niceties with their new neighbors. When the floodgates finally opened, a few thousand people surged forward into the floodlit glare of security theater and went through the usual performance.
Crammed into a Polish Airbus, napping was all but impossible, and at the baggage claim area in Warsaw, we nervously awaited the arrival of our gaily colored luggage as fellow passengers grabbed theirs from the belt. Before long, everyone else had departed, and we were left staring as the belt stopped. Fuck…
Finally reunited with the supplies some four hours later, a young female baggage clerk escorted us back to the reclaim belt. 'I see what those guys behind the counter are doing,' said JJ.
'They send the cute girl out to deal with us rather than face being poked in the chest by irate Americans.' Loading bags onto the cart, we head for the green customs lane, when she takes my arm and steers away from the 'Nothing to Declare' line and straight to a customs officer who asks us if we had anything we wanted to tell him about.
JJ and I glanced at each other nervously, and both replied in the negative while the agent motioned for us to load our bags onto a belt for the X-ray machine. We both had visions of spending the night in jail, accused of ITAR violations, but instead, he cheerfully asked, 'You guys heading to Ukraine? Good luck.'
Our ride showed up two beers and a pack of cigarettes later, with a Kia hatchback already stuffed with the kind of brightly colored shopping bags you get at high-end boutiques.
Emka, our driver, an attractive brunette, had just returned from a business trip to Turkey, and when she showed me pics on her phone of her visit, I recognized the board room of a huge armaments conglomerate in Istanbul I'd visited years earlier. Evidently, she was a valued customer. 
It turned out her shopping bags were also crammed with tourniquets and first aid supplies, and every available cubic inch of interior space was crammed full of materiel and a couple of Americans.
Our arrival at the Ukrainian border was preceded by about 25km of semi-trucks parked nuts to butts on the shoulder, their drivers standing around smoking as they waited for daylight to cross. Anything moving at night was considered fair game by Russian pilots, and I wondered about how much ordnance was hidden inside the nondescript line of civilian trailers. 
The border stood out as an island in a glare of security lighting, floating in a sea of blackness. Cutting around the line of waiting cars, Emka pulled up to a border guard, and we passed our passports out of the window. 'You guys soldiers?'  asked the guard's supervisor. 'We used to be,' I replied. 'Wait here.'
At the next concrete bunker, we waited in a small herd of civilians while Emka pushed through to the front and stuffed passports through another hatch to a young blonde guard in camo.
She grinned and laughed with her compatriot. 'I told her the Americans think she looks like Cate Blanchette.'  Anything to grease the skids. Checkpoints, used tires, Czech hedgehogs, and caltrops lined the blacked-out highway as we pulled into Lviv, way past curfew. 
In most war zones, there's at least one bar that serves as a hub for the flotsam and jetsam of conflict and finding it unlocks a treasure trove of information. Soldiers, spies, NGO workers, journalists, and charity cases are drawn to it like moths to a street lamp, and your entry is greeted with a nod or stare, depending on which category you fall into.
JJ has a soft spot for dogs, so when we strolled past a bar named after Patron, the EOD canine immortalized in Ukrainian propaganda, we did a double take and walked right in, passing on the way a T-shirted white guy with tattooed sleeves. "You American?" he asked, and so started a long conversation about conditions in the east. 
The Ukranian government has won the propaganda war, and you've no doubt seen videos online of various AFV kills from Javelins, NLAWS and Stugna-Ps. For some in the International Legion deployed to the eastern part of the country, life is very different from the sanitized COD-esque picture portrayed online.
Showing obvious signs of severe PTSD, 'Linus' broke down as he described the horrors of being shelled almost constantly for two months. 'We're hit six or seven times a day, and I haven't even fired my weapon.' he recounted. 'We're on a forward slope, covering a river crossing, and if the Russians knew how few we were and how badly we're equipped, they'd roll straight over, and we wouldn't even be a speed bump. My best friend was decapitated by shrapnel when the safe house was hit with 155's, and our female medic bled out before we could get to her. So things are pretty bleak right now.'
According to him, the drone threat is very real, and there are few effective countermeasures. "The low flying ones we take care of with shotguns, but our intelligence reports indicate that we're being overflown 10-20 times a day, so there's plenty out there we don't even see, and they're being used to direct arty onto our positions. When we first got to our location, we were facing DNPR troops, now it's Russian marines and they're much more accurate."
Asked how they were being treated by their chain of command, he replied, 'Foreigners aren't allowed to hold rank higher than Lieutenant or First Sergeant, so we don't get much say in mission planning. We're an hour and a half hike in from the nearest road, and we fucking hate it when our command checks in on us as they drive right up to the position, which of course results in an instant fire mission from the Russians.'
In the case of Ukrainian SOF troops, things seem to be a little better. We spoke extensively with a medic who had fought in the battle of Siverodonetsk, holding out at the Azot chemical plant for weeks before exfilling across the river to Lysychansk.
A former Azov Battalion member, he and a doctor ran combat medical support for the 400 SF personnel involved in defense of the plant. 'We saved 7 or 8 of our boys who had bad trauma, but there was one who was too far gone. It was important work because all our troops knew there was one place where if they got there, we could save them. Unlike the Azovstal plant [in Mariupol] there was only three bunkers where we could set up so when they were gone, we had to set up under the stairs. If the government hadn't committed the special forces, the Russians would have overrun the plant in 2-3 days, because the regular troops couldn't hold it.' 
When asked how they managed to withdraw to Lysychansk after Russian troops had destroyed all of the bridges across the Siverski Dontets River, he replied. 'For us, this was not such a big problem, because the river is not wide but it is quick. There was a big battle between our tanks and their artillery, and one of the tankers reported that the last bridge was down and they were almost out of ammunition. So the decision was made that the next day at dawn we would evacuate and disperse. I was given the coordinates of a location that might have had boats, but we didn't know if the enemy had occupied it. Six of us went there and loaded an aluminum fishing boat onto the roof of a car and took it to a crossing point where we used it get our wounded across.'
When waiting at a bus station to leave Ukraine, I noticed a Multicam-clad guy in his thirties, carrying a plate carrier and smoking a cigarette.
He wound up boarding the same bus, all of us cramming our frames into seats that seemed designed for kindergartners, and at the border, all three of us were pulled aside, and our packs searched. While waiting for the Ukrainian border guards to finish dicking around with our passports and kit, we struck up a conversation. 
'Steve's' story was that he was a combat medic in the 1st Bn of the International Legion, comprised of a polyglot mixture of Europeans and Americans, some with military experience, some without, along with a small contingent of Georgians and a few Brazilians thrown into the pot for good measure. It's a soldier's privilege, right, greatest joy and number one pastime to gripe, and anyone who's ever held rank will be familiar with the experience and knows to take it with a melon-sized grain of salt.
But according to him, the conditions they were serving under were austere, to say the least. 'We launched a counter-attack near Kharkiv, and of the 256 members of the battalion we started with, 18 came back. We told the CO they were waiting for us and had placed flags on the open ground [marking preregistered targets], and they sent us anyway.'  Combat service support seemed scant. 'You know what we were giving people with shrapnel and gunshot wounds? Tylenol. Fucking Tylenol. And if you ever come visit, I hope you like sausage, 'cause that's what's on the menu for breakfast, lunch and dinner.'
There are quite clear problems with Ukranian leadership, which is to be expected from a force that's been hastily cobbled together from across society and lacks depth in its officer and NCO corps.
That they've been able to hold out so long is a testament to Russian hubris, corruption, incompetence and the kind of centralized command which stifles initiative and it remains to be seen whether they can turn the tide before winter.
It's also clear that, for the most part, the American media are happy to take the line of least resistance when it comes to reporting on the Ukrainian conflict, content to regurgitate statements from central government.
Check out CNN or Fox and note how many paragraphs include the phrase 'according to officials' or variants thereof, and you'll get an idea of how few primary sources are used. This is the epitome of lazy journalism and results in an incomplete and slanted picture at best. We should expect accountability for the billions of taxpayer dollars our government has committed, and right now the fourth estate is failing miserably.
While the establishment and media continue to fellate each other, we're going to continue to help the good folks at People Helping People.
Because RECOIL has access to some of the very best instructors in the world, we're in the process of putting together a training team to pass on the skills we've accumulated and hopefully, reduce the number of IFAK's we need to replace.
Unlike the government, we're accountable for our actions, so will be documenting the process, and if you'd like to help out financially, you'll be able to see where your donations end up.
People Helping People Across Borders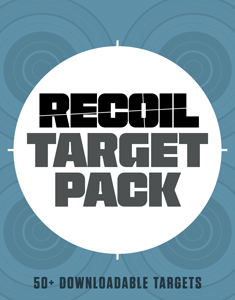 NEXT STEP: Download Your Free Target Pack from RECOIL
For years, RECOIL magazine has treated its readers to a full-size (sometimes full color!) shooting target tucked into each big issue. Now we've compiled over 50 of our most popular targets into this one digital PDF download. From handgun drills to AR-15 practice, these 50+ targets have you covered. Print off as many as you like (ammo not included).
Click here to get IMMEDIATE ACCESS to a digital PDF of this target pack!