Thank you for reading this post, don't forget to follow and signup for notifications!
The increased use of reflex optics revolutionized the effectiveness of long arms during the past two decades. While few people argue that iron sights are ineffective, almost no one suggests that a red dot optic on a rifle can't improve effectiveness on target.
Although the circumstances are different, a similar upheaval is currently underway with those who employ handguns for self-defense. Ten years ago, it was hard to find a factory pistol with a red dot option. Today, nearly every pistol manufacturer offers at least one option. Springfield Armory offers many red dot-ready pistols from its micro compact Hellcat OSP (optical sight pistol) to its cutting-edge XD-M Elite series. All these pistols feature slides cut from the factory to accept red dot optics.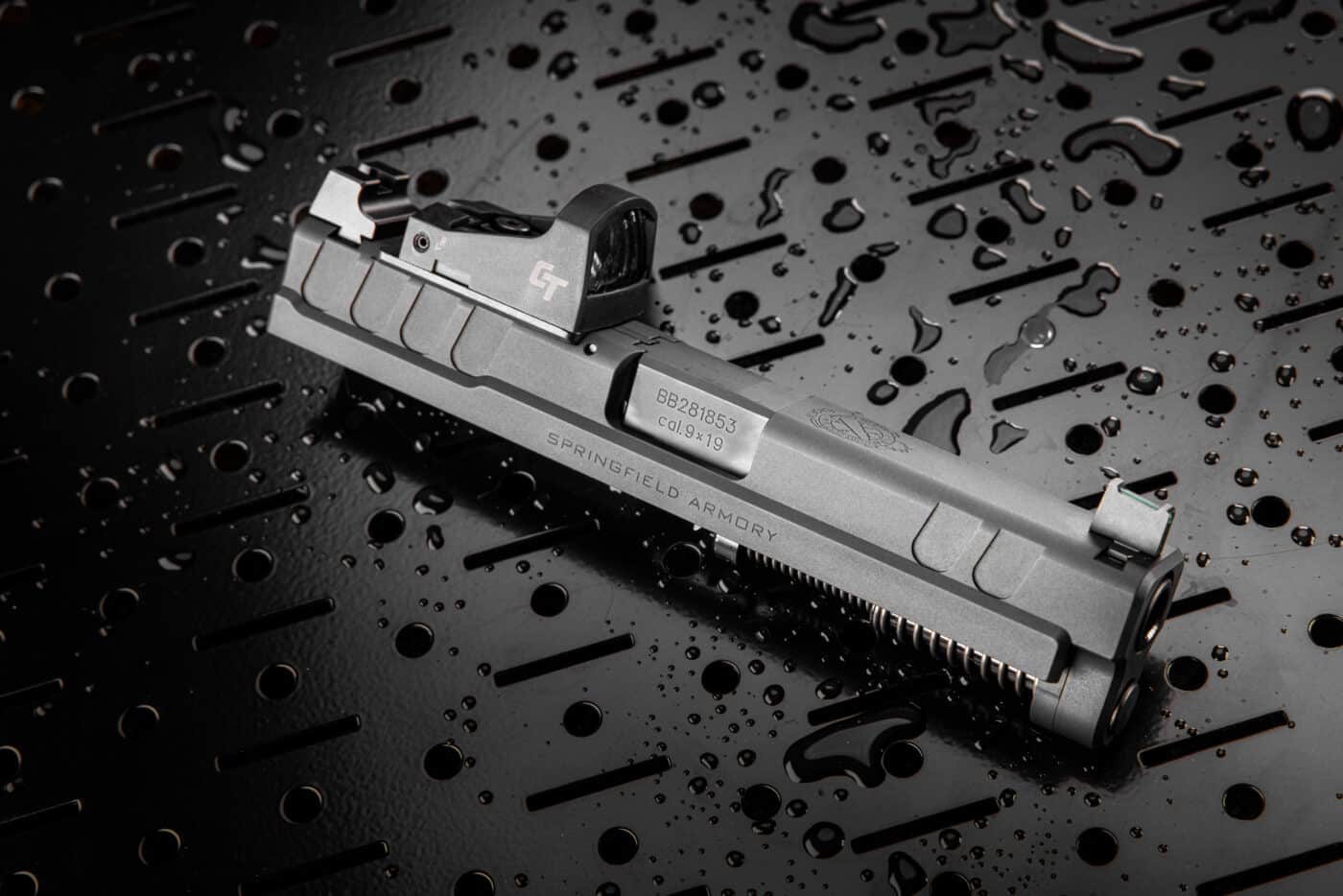 Today, Springfield Armory offers another option for existing customers: a retrofit OSP slide kit and slide assemblies for the full-size XD pistols. With these options, XD owners have access to a whole new level of performance and adaptability for their pistols. In addition to assemblies that allow users to convert their 4" 9mm XD to an optics-ready OSP configuration, there is a kit that allows you to convert several XD variants to a full-size 4″ 9mm configuration featuring OSP capabilities.
XD OSP Options
Springfield Armory is offering three slide conversion options for the XD full-size pistols. All three versions come with taller sights to allow for co-witnessing options. The rear sight has a U-notch, and the front is a high-visibility fiber optic unit. Also, I noted that the slide serrations, both fore and aft, appear to be larger and deeper than on the original XD.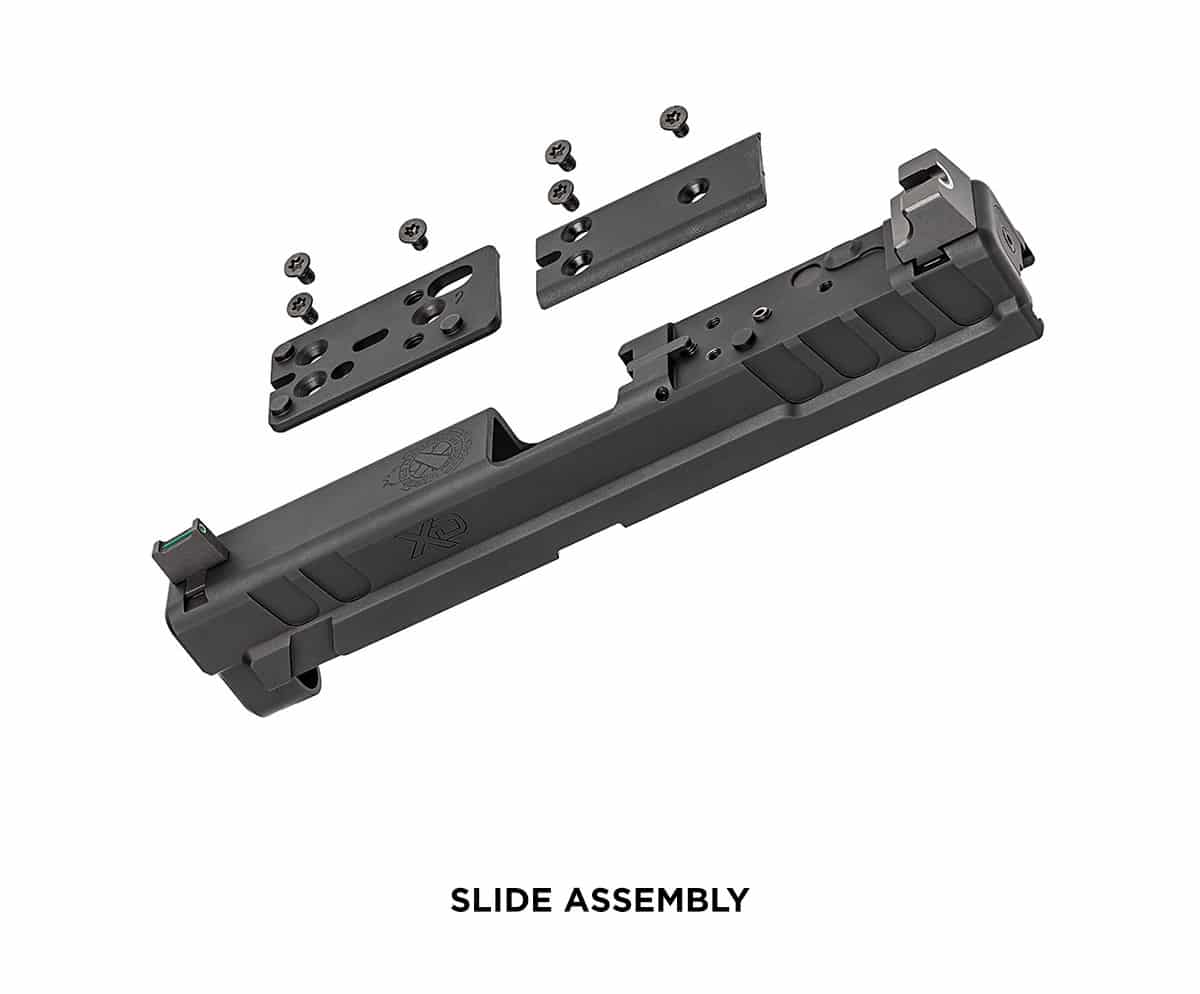 The first two slide assemblies allow you to upgrade your 4" XD 9mm pistol with a factory slide that is ready for a red dot optic. The slide kit option is also quite interesting, and I'll cover that separately below.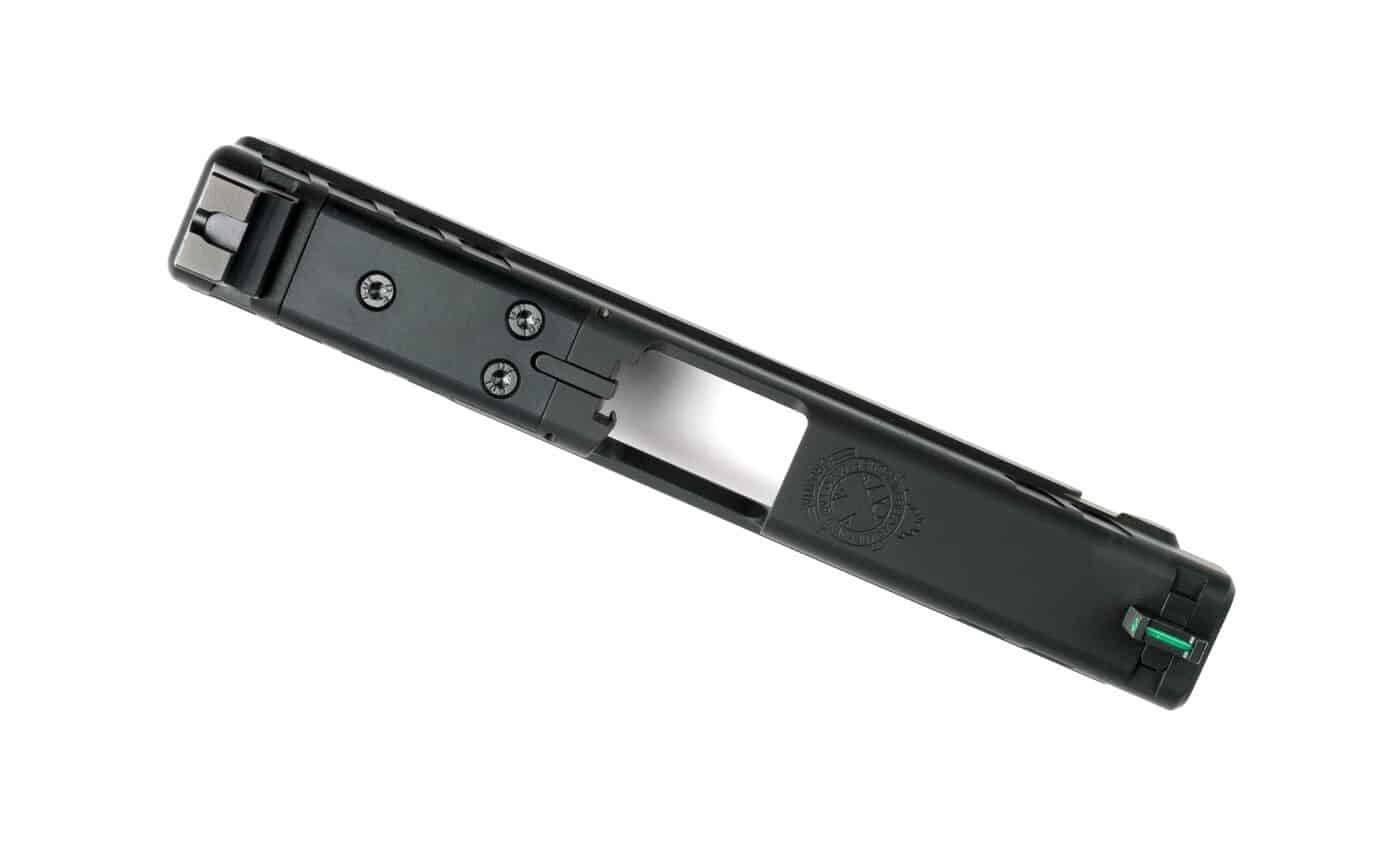 Using the original barrel and recoil spring assembly from your base gun, the two Slide Assembly options provide you with an optics-cut slide for your 4" XD handgun. You simply take down your pistol, pull the slide and recoil spring assembly, and install in the new OSP-cut slide. Reinstall your slide, and you have an XD OSP.
In addition to the slide, Springfield Armory includes an XD-M OSP mounting plate for the user installation of a Springfield Micro footprint optic. Completely compatible with SMSc-type optics, you can install a HEX Wasp, Crimson Trace CTS-1500, Swampfox Sentinel and many other micro red dot sights.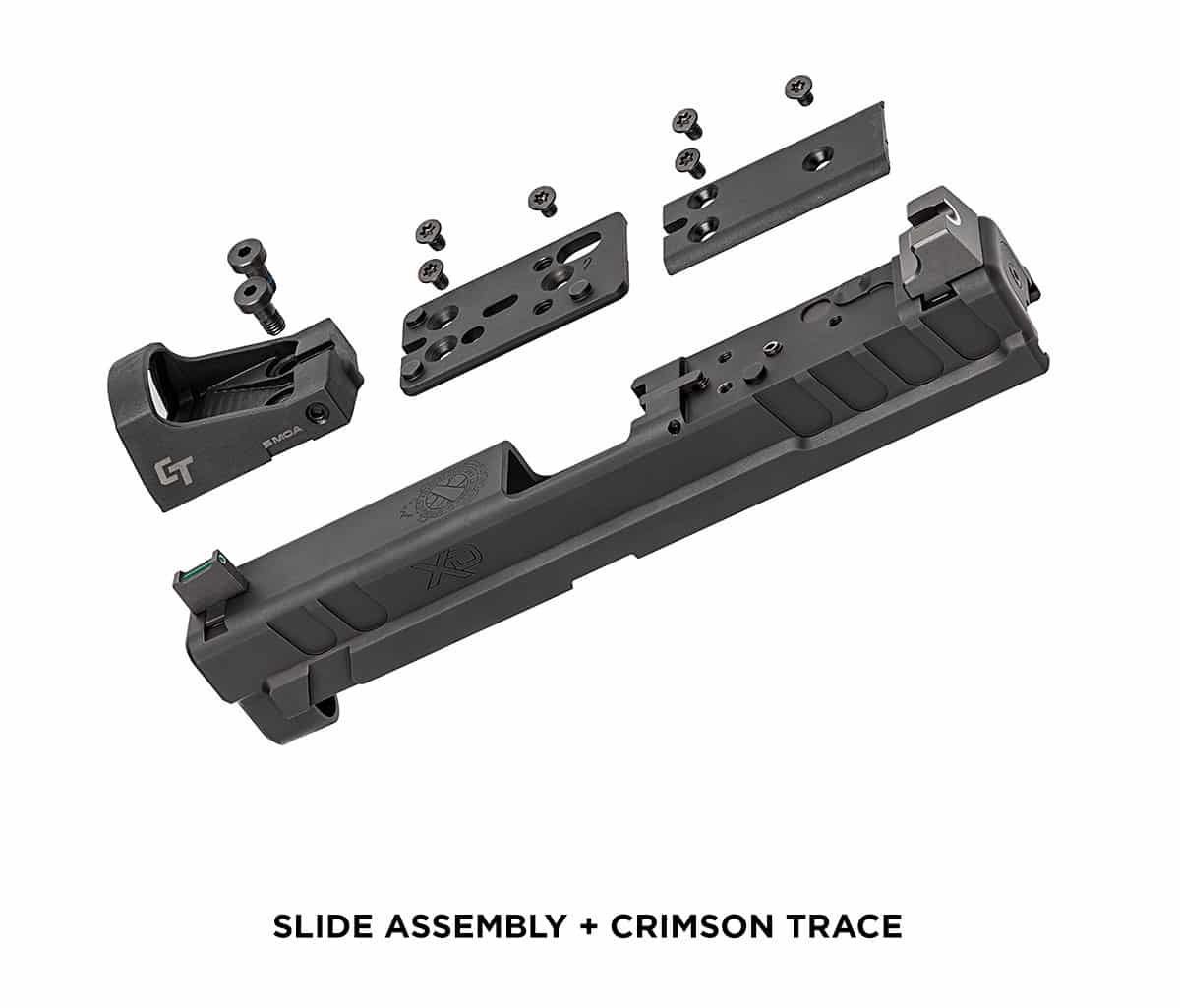 The base assembly comes with only the slide and a mounting plate to keep it very affordable. For a little extra money, Springfield Armory offers a second option that includes a Crimson Trace CTS-1500. The standard kit has a suggested retail price of $270, while the kit with the Crimson Trace optic is $369. Both are incredible bargains compared to what it would cost to have a pistol slide custom fitted for a red dot sight.
A Multitude of Conversions
As I mentioned above, Springfield Armory is offering an OSP Slide Kit option as well. In my opinion, this one is the true gem of the bunch as it allows for a multitude of conversion options.
To start with, this kit comes with the same slide and mounting plate included in the two slide assembly options. Springfield Armory then adds in a new 9mm barrel and recoil assembly. In other words, the kit offers a completely new top end for your XD pistol. The kit converts the following XD variants:
XD 5″ 9mm to XD 4″ OSP 9mm
XD 4″ .40 to XD 4″ OSP 9mm (with purchase of 9mm magazine)
XD 5″ .40 to XD 4″ OSP 9mm (with purchase of 9mm magazine)
A fresh barrel may be of interest to those owners who have put exceptionally high round counts through their XD pistols. However, as noted above, the kit also allows you to convert an XD 40 pistol to 9mm with the purchase of a 9mm magazine. While the .40 caliber cartridge is still a viable defensive round, the 9mm has a real price advantage. This kit allows you to shoot any factory 9mm through the XD. But there is an additional benefit as well.
If you have a 5" Tactical model in either 9mm or .40, this Springfield Armory Slide Kit will convert the pistol to a 4" Service model in 9mm. No modification is needed — simply pull the original slide assembly from the frame and mount the new slide kit (and purchasing a 9mm magazine if you are converting from .40). You now have a fully functioning 4" 9mm XD pistol.
Sights
While the ability to add a red dot optic to your XD is the main feature of these kits, I would be remiss if I did not point out the iron sights included on this slide kit I noted earlier. The new XD slides uses taller sights, with a U-notch rear and fiber optic front.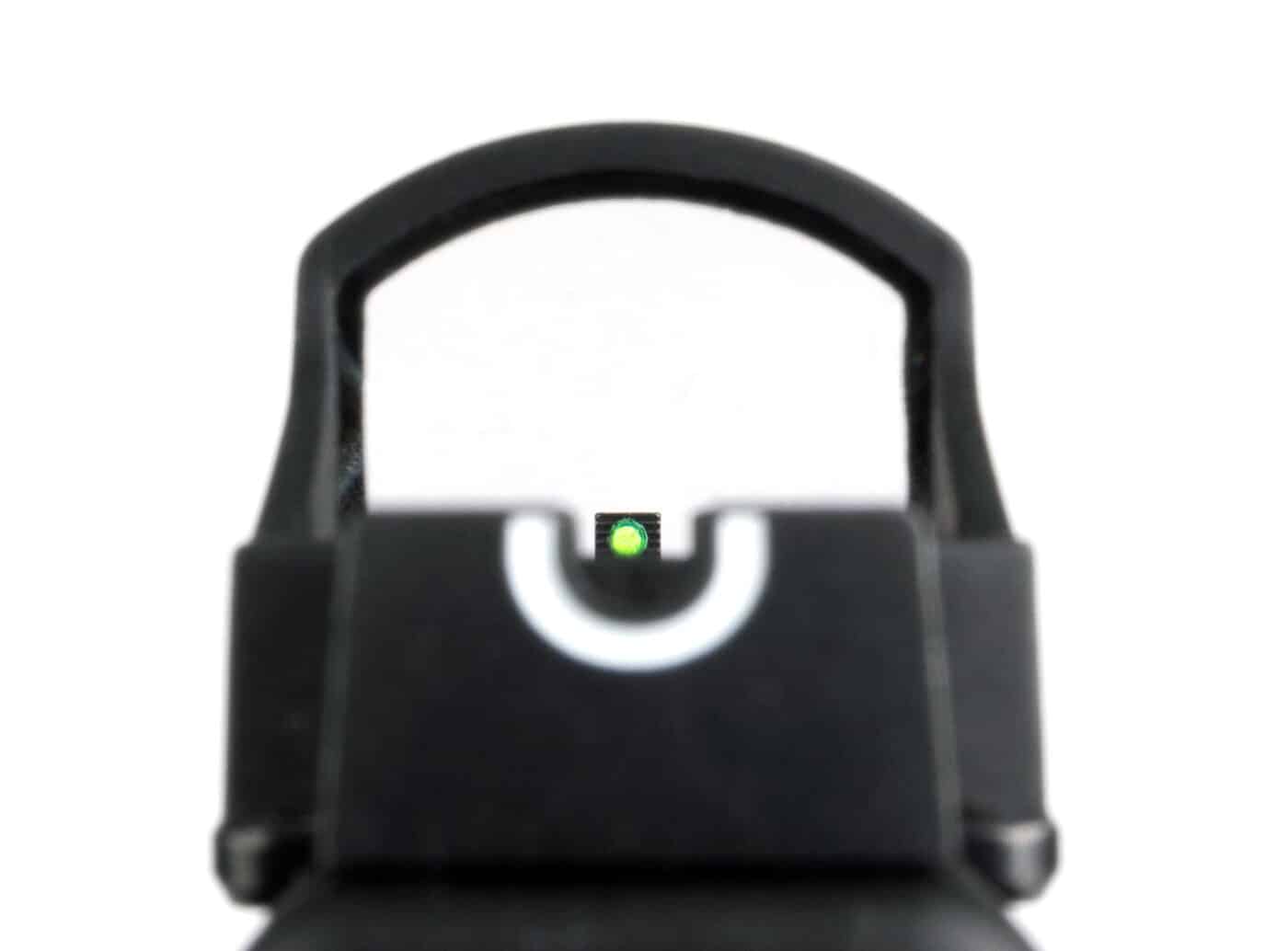 For my testing model, I mounted the Crimson Trace CTS-1500 optic. Normal height sights would likely be unusable in this configuration. However, the relatively low-profile nature of the CTS-1500 optic combined with the taller sights allowed me to co-witness through the optic window. Also, I found the green fiber optic front sight to be bright and easy to see throughout a range of lighting conditions.
Range Time
Logically, I know that the new slide kits should work without any problems. Nevertheless, I'm a firm believer in testing everything. As a defensive-style pistol, they have no margin of error for reliability issues. And this is one of the reasons why I like them — the XD pistols just work. Nevertheless, introducing a new slide assembly — especially if you are converting from one chambering to another — has the potential of introducing unintended consequences.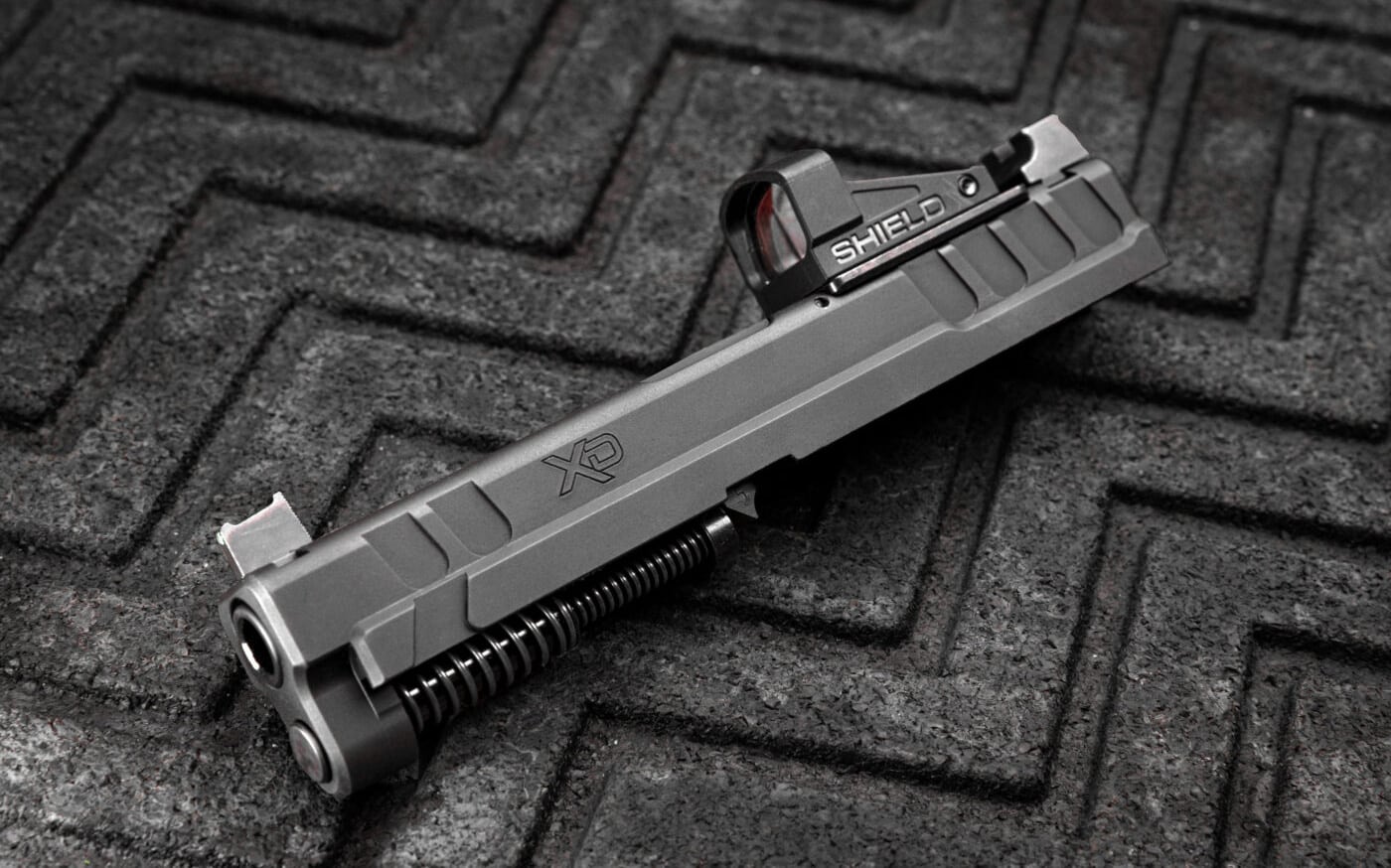 I have all four XD pistols for which this kit is designed: the XD-9 4" Service Model, XD-40 4" Service Model, XD-9 Tactical Model and the XD-40 Tactical Model. I hit the range with all four guns, the new slide and a whole crate of ammunition. I intended to check the OSP slide kit on each of the guns to ensure functionality across models.
As I hoped, the factory slide kits ran perfectly on all of the different XD frames. I encountered no hiccups with any ammunition I tried, including standard and +P pressure loads. Furthermore, I could tell no difference in accuracy between my stock XD-9 Service Model and any of the converted pistols. The Springfield Armory slide kits seem to be completely interchangeable with the stock assemblies.
Final Thoughts
Like a lot of people, I have a fondness for the original line of XD pistols. Mine run reliably, shoot well and feel good in my hands. The fact that these pistols are still popular today is a testament to the inherent value of the line.
While newer guns like the XD-M Elite offer red dot optic options, the first XD pistols had no such option. So, the new slide kits are a very welcome addition to the market. For a guy like me who wants to upgrade his original XD9, the standard kit makes a lot of sense. Having the ability to swap from .40 to 9mm will also appeal to many shooters. For our friends trapped in California and other locations where the original XD is legal to own but newer pistols are not, these kits mean that shooters will be able to enhance their defensive abilities and stay within the confines of local law.
Editor's Note: Please be sure to check out The Armory Life Forum, where you can comment about our daily articles, as well as just talk guns and gear. Click the "Go To Forum Thread" link below to jump in and discuss this article and much more!