Pictures by Nick Slatten
When the Sept. 11 attacks shook our nation to its core, 17-year-old Nick Slatten was one of thousands who answered the call to stand and fight. 
Thank you for reading this post, don't forget to follow and signup for notifications!
Soon after graduating from high school in his hometown of Sparta, Tennessee, Slatten was on his way to basic training. Months later, he was a paratrooper in the storied 82nd Airborne Division. 
He deployed to Iraq twice as an infantryman, fire team leader, and sniper and later protected American diplomats there as a security contractor. 
After spending six years in prison for a murder that he didn't commit, Slatten has a new mission: to advocate for the soldiers, sailors, airmen, and Marines currently accused or convicted of alleged war crimes under potentially questionable circumstances as these individuals were serving overseas in conflict zones.
RAVEN 23
Before September 16, 2007, Slatten was just another one of the nameless and faceless "one percenters," serving, living, and dying in some of the most dangerous spots on Earth. 
"2007 was the deadliest year of the war," Slatten told me, "I saw far more combat that year with Blackwater than I ever did in the military. You got shot at every time you went out. There was an average of 180 firefights every day that year. It was turned all the way up." 
That January, Blackwater lost five contractors when a helicopter responding to a team in contact was shot down. Slatten and his teammates responded to that crash. "We fought for three-and-a-half hours to get those bodies back. If the army hadn't shown up, we would have all died." 
Several more mass casualty events occurred during that deployment, including a sister team being wiped out by an explosive formed penetrator (EFP) in early September.     
Everything changed when Slatten's four-vehicle Blackwater Tactical Support Team, callsign Raven 23, responded to a car bomb attack on a diplomatic security detail in Baghdad. "There was a huge explosion at lunchtime; we dropped our food and ran for the trucks." 
They took small arms fire from multiple positions around the traffic circle at Nisour Square and responded in kind. "It was a bad situation; the Iraqi police were shooting at us, and vehicles became involved. There were civilians intermixed with the people shooting at us. My brothers did the best that they could do in an impossible situation." 
Slatten fired two rounds at a pair of armed individuals maneuvering against the team's position — killing one of them. 
While Slatten's account of his actions signifies an appropriate application of force with restraint, there are conflicting reports that other members of the team did not. 
The M240 gunner in Slatten's BearCat armored vehicle fired dozens of rounds at a white Kia that matched the description of a suspected vehicle-borne improvised explosive device (VBIED). 
The vehicle, which was occupied by innocent civilians, had failed to stop despite the team's repeated warnings. He continued firing, resulting in numerous casualties. "Some guys on the team had a problem with what the machine gunners were doing. They thought they shot too much in a crowded circle." Slatten, however, doesn't share that view: "I think they didn't shoot enough. If you're getting shot at, you're supposed to shoot back. They used discretion." 
According to the U.S. Department of Justice, 14 civilians were killed during the firefight and another 17 were wounded. Those specific numbers have been contested by some, but it was, by any measure, a tragic incident. 
GUILT BEFORE INVESTIGATION
After the fight, Slatten and his teammates figured this was just another day on the job in an active war zone. They were wrong. Not long after they pulled into their Green Zone compound, their vehicles peppered with bullet impacts, an investigation into the Nisour Square event began to unfold. 
Slatten, like many who have served overseas out of uniform, believes that the blistering publicity around their incident combined with political agendas and a polarized public perception of security contractors in general tainted the investigation from its inception. "Thirty minutes after the engagement, it was on CNN. There was already this narrative from the Left." 
The U.S. government's use of contractors, while hardly new, was expanded rapidly to accommodate the fast pace and asymmetric nature of the Global War on Terror. At the time Slatten was assigned to Raven 23, the number of private contractors in Iraq outpaced that of active-duty U.S. service members. This led to a spotlight, then a magnifying glass, being placed on their roles in Iraq and Afghanistan.
"It became very controversial, very quickly, which surprised us because it had not been a significant engagement." In the days following the event, it looked as though the team would be cleared of any allegations of wrongdoing. 
"We reported to the investigators where the fire was coming from, and they found expended AK-47 shell casings in those locations," Slatten remembers. "The State Department said it was a 'good shoot' and cleared us. Then, the FBI picked it up, and it got all sideways." 
But the case was thrown out by Judge Ricardo Urbina, who said the case was a nonstarter, rife with prosecutorial misconduct, and a total lack of evidence. He dismissed the case on New Year's Eve 2009, saying: "The court declines to excuse the government's reckless violation of the defendants' constitutional rights as harmless error." 
But that was hardly the end of the case. The fledgling Iraqi government sought to assert itself as the Coalition Provisional Authority, a U.S.-led transitional government, was seeking stabilized self-governance for Iraq and an exit strategy for the multinational foreign forces embroiled in the conflict. 
"AMERICAN JUSTICE"
Then-prime minister candidate Nouri al Malaki demanded "American justice" for his people — namely, a public trial for those involved in the Nisour Square incident. 
Then-Vice President Joe Biden flew to Iraq, publicly apologized on behalf of the United States and vowed to appeal Judge Urbina's decision, while then- Secretary of State Hillary Clinton, in an email from her private server asked "… what can we do about Judge Urbina's ruling example, what is the likelihood of success on appeal? Can the U.S. file a civil action against the company? Pay compensation to the victims? What other options do we have?" It was clear the executive branch was interfering in the role of the judiciary. 
The Obama administration resurrected the case, but prosecutors first dismissed Slatten from the case for lack of evidence against him before changing tack and filing murder charges against him. 
According to investigative journalist Gina Keating, Dustin Heard, Evan Liberty, and Paul Slough were charged with multiple counts of manslaughter — some counts for deaths that didn't occur in Nisour Square, or even on the same day as the incident. 
Slatten was charged with a single count of murder, for killing the Kia driver — a shot that Slough said in multiple sworn statements that he had taken. The Kia driver's father repeatedly refused to testify against Slatten, saying that the FBI had always told him that Slough killed his son.
The lead investigator was an Iraqi police colonel with definite ties to Iranian-backed insurgent groups. There were no autopsies conducted, and no forensic evidence utilized by the prosecution to build their case. 
Other potentially exculpatory evidence, including drone footage of the event, was suppressed. But the prosecution had a witness — one of the team's machine gunners who was involved in the shoot-out. Slatten said, "They got in his head and convinced him that he did something wrong." 
The prosecution of the four men continued, eventually resulting in manslaughter convictions for Heard, Liberty, and Slough and a first-degree murder rap for Slatten. That conviction was hard-fought and highly contested, the result of multiple jury trials over the course of 11 years with the prosecution being admonished for misconduct more than once. 
Attorney Joseph Lowe expressed strong feelings on the result, saying: "The Federal Government will use its criminal courts to achieve its political agenda when it needs to do so. The crap you've been told growing up — that we live in a free country — is a fantasy."
PRESIDENTIAL PARDON 
In the end, largely due to an intense lobbying effort led by Fox News' Pete Hegseth, himself a veteran, President Trump pardoned the four members of Raven 23 in December 2020. "By the time the president pardoned us, we had been in prison more than six years. All for doing the best we could in an impossible situation. Doing exactly what we were supposed to do. I was a prisoner of war in my own country." 
Now that Slatten and his teammates are free men, he has a new mission: to advocate for men and women still behind bars under similarly questionable circumstances. "God put it on my heart that I was suffering for a reason. Then, I found out that there were a lot of other soldiers, airmen and Marines that had gone through the same thing but through the military justice system." 
One case that stood out to Slatten involved Staff Sergeant Calvin Gibbs, who was convicted for his involvement in the alleged murder of three Afghan civilians that took place back in 2010. 
Slatten questions the government's narrative, especially as it relates to two of the Afghan deaths. "He wasn't even there; he was plumb on the other side of the village when they were killed." Gibbs maintains that he only killed one individual, and that man was actively engaging him with an AK. 
One of his teammates corroborated Gibbs' story until the prosecution prevented him from testifying on his behalf, a familiar tactic to Slatten after his own ordeal. Gibbs plead not guilty. 
Gibbs was held for 547 days in pretrial confinement before being convicted by a military jury in 2011. That jury never heard from his corroborating witness. Though Gibbs was an infantryman assigned to an infantry division, not a single combat veteran served on his jury. 
He's currently serving a life sentence in Leavenworth, Kansas, and is appealing his conviction. "That dude should not be in prison," Slatten maintains. "If our warriors have to choose between a casket and a prison cell, what are they even doing over there? We have released 5,000 members of the Taliban from prison. Why are our guys still locked up? If the war's over, let them out."
Slatten is working with groups including United American Patriots (UAP) to advocate on behalf of Gibbs and others in his situation. A pardon for Gibbs made its way to President Trump's desk but was never executed. 
The Louisiana Republican State Central Committee approved a resolution urging the president to pardon Gibbs and other convicted combat veterans. Slatten is hoping that other states will follow their example. "We are asking people to reach out to their representatives with a copy of the Louisiana resolution and ask them to do the same. We want other states to do what Louisiana did. If enough states want it, hopefully the feds will listen." 
For more background on Slatten's team and the Nisour Square incident, check out the podcast Raven 23: Presumption of Guilt. To support UAP, visit their site.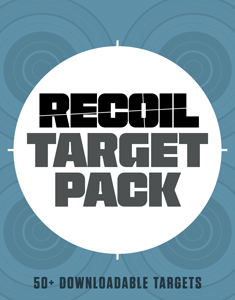 NEXT STEP: Download Your Free Target Pack from RECOIL
For years, RECOIL magazine has treated its readers to a full-size (sometimes full color!) shooting target tucked into each big issue. Now we've compiled over 50 of our most popular targets into this one digital PDF download. From handgun drills to AR-15 practice, these 50+ targets have you covered. Print off as many as you like (ammo not included).
Click here to get IMMEDIATE ACCESS to a digital PDF of this target pack!