Thank you for reading this post, don't forget to follow and signup for notifications!
The Springfield Waypoint 2020 is one of my all-time favorite bolt-action rifles. I tell all my buddies if they want an out of the box option that will be a ragged hole puncher, they need to check out the Model 2020 Waypoint. Especially for hunters who are looking for a lightweight and incredibly accurate rifle, the Waypoint does not disappoint.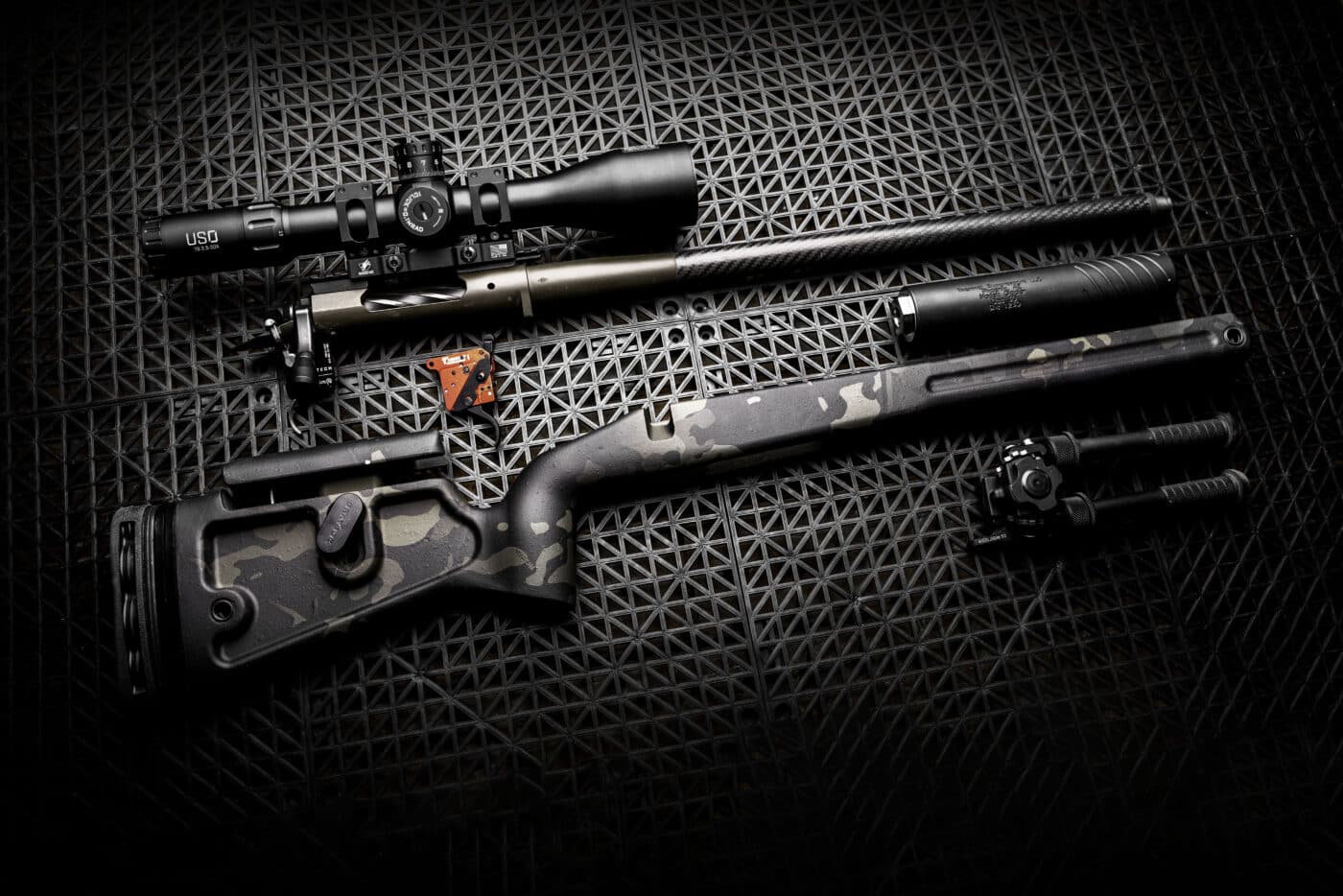 I am notorious for being a backyard armorer and trying new parts and pieces on all my firearms to see what I like best, and to be a better-educated shooter. My most recent build on my Waypoint utilized parts from Grayboe, Timney, Thermal Suppressors, and U.S. Optics.
The Foundation
I've run the Waypoint with the Springfield factory stock and with an MDT chassis, and now I wanted to test out a different set-up that had more of my style. I contacted my friends over at Grayboe, who are always making some of the finest stocks on the market. Funny enough, they are only about five minutes from my office in North Phoenix.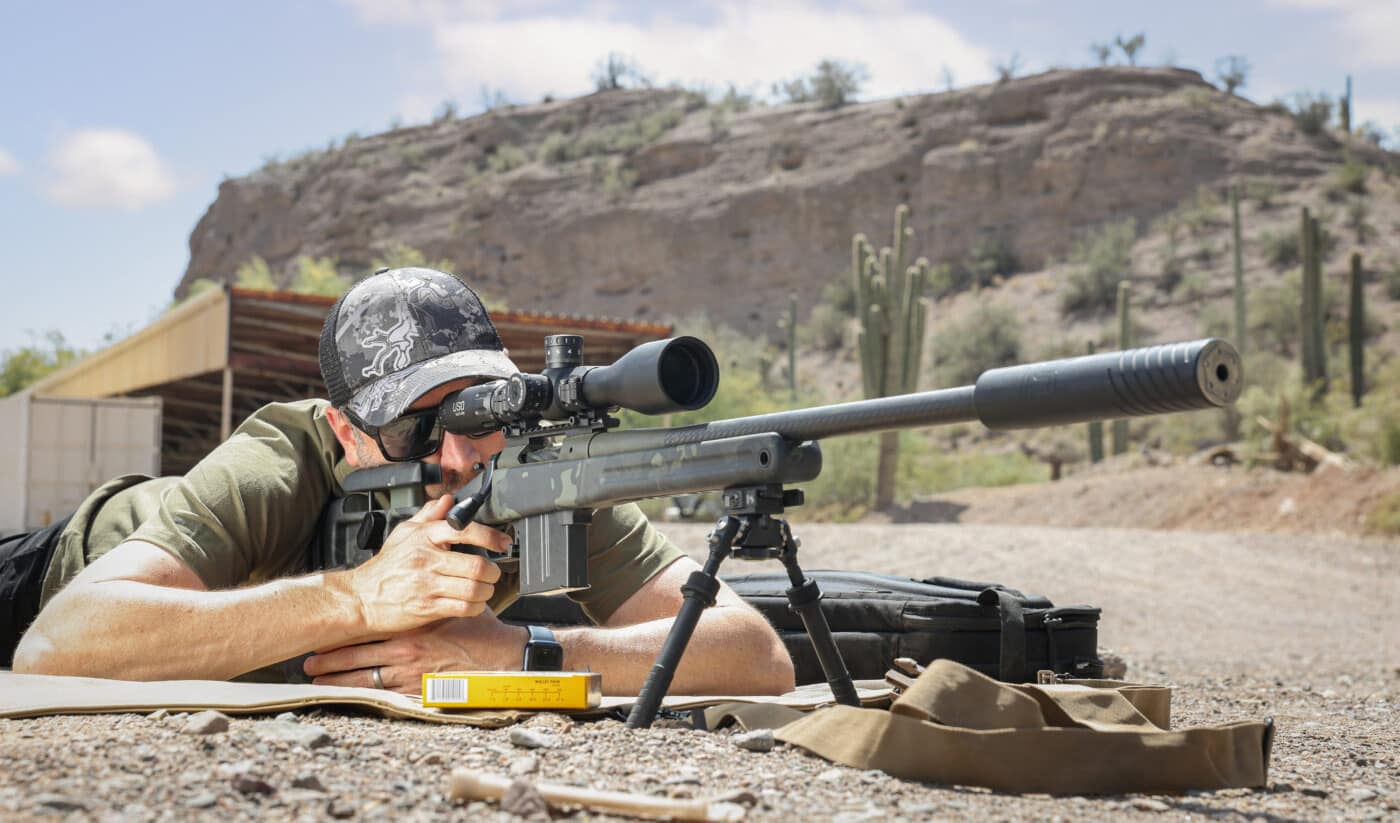 I was looking for a lightweight adjustable stock that I could use for precision shooting or hunting. They suggested their Phoenix stock, which checked all the boxes for me. And as a bonus, I got to pick the pattern for the rifle. I, of course, went with Multicam Black for the cool factor.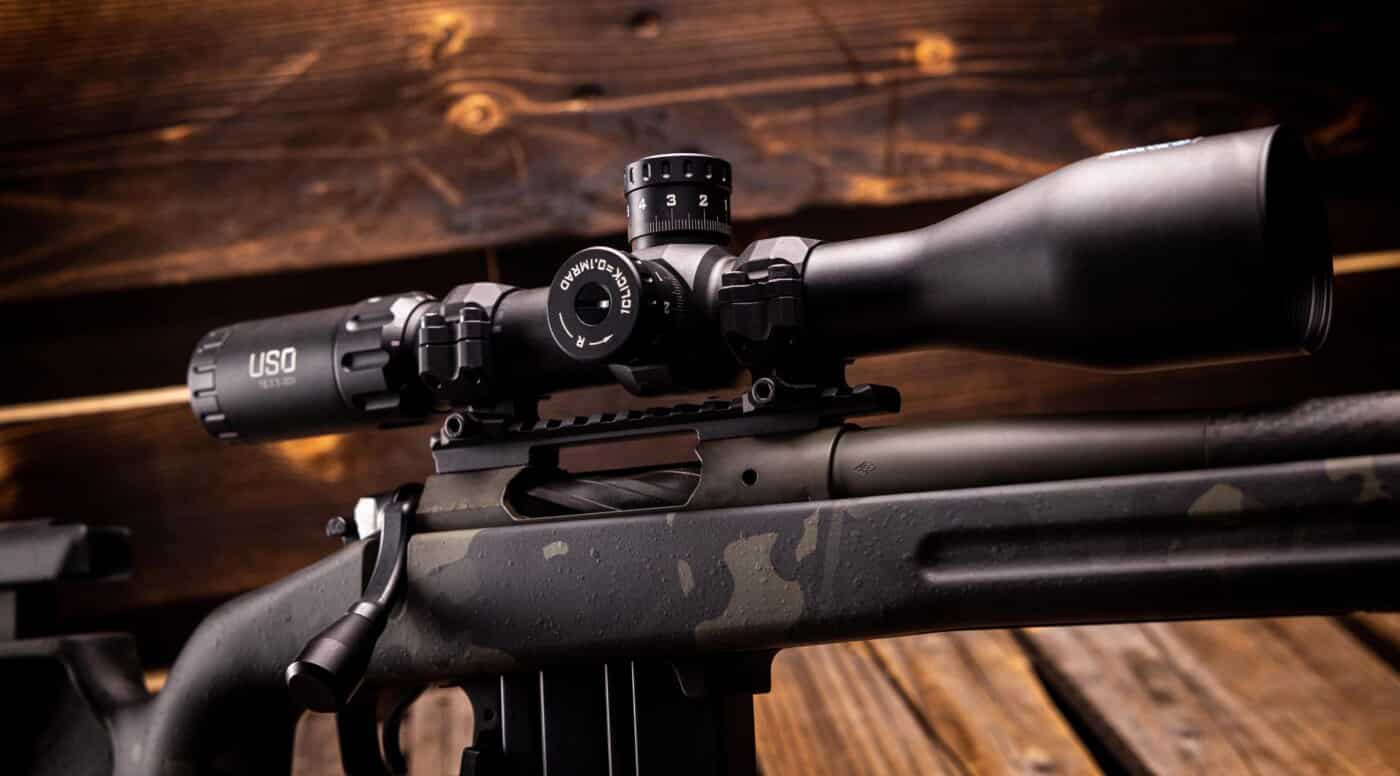 For me, a bolt-gun requires a suppressor. Another awesome Phoenix company making some great suppressors is Thermal Suppressors. I used their Glacier TI suppressor for this build. The Glacier TI is a titanium-baffled suppressor with a proprietary two-stage 17-4 stainless-steel heat-treated blast chamber that reduces first-round "pop" significantly. I went with the direct-thread version since it's on a bolt-gun and doesn't need a quick disconnect.
The stock trigger in the Waypoint is fantastic, but it's also nice to know how it compares to what else is out there. Keeping with the local theme, another Phoenix company is Timney Triggers, just up the road from the OMG HQ. I chose the Timney two-stage trigger which has a 1-lb. first stage and a 1-lb. second stage pull. I've grown fond of the two-stage triggers for precision shooting. It seems to be easy to take up that first stage and then once you are ready for your shot, it's a very light break.
Finally, I went outside the state for the optic and called the kind folks over at U.S. Optics who have been designing and manufacturing incredible quality optics in the United States since 1991. I've had some experience with their Foundation series optics, which are fully designed, engineered and manufactured in the USA. But I was also intrigued by their new TS line of optics, which are designed in North Carolina and imported from overseas for a final QC and testing.
The optic I went with was the TS20X. With an incredible range from 2.5-20X, I was intrigued. They also sent some of their high-quality ZRO Delta scope rings that allowed me to sit the scope lower on the rail for a comfortable cheek height and a low height over bore.
Hands-On
Putting the rifle together was a breeze, and all the instructions were easy to follow and intuitive. The rifle was ready for the range in no time. Using the bore-sighting method, I quickly got the TS20X zeroed, which was a breeze. The Grayboe Phoenix stock was extremely comfy with the Limbsaver pad on the butt, and the adjustable cheek comb was comfy and offered a generous amount of adjustment.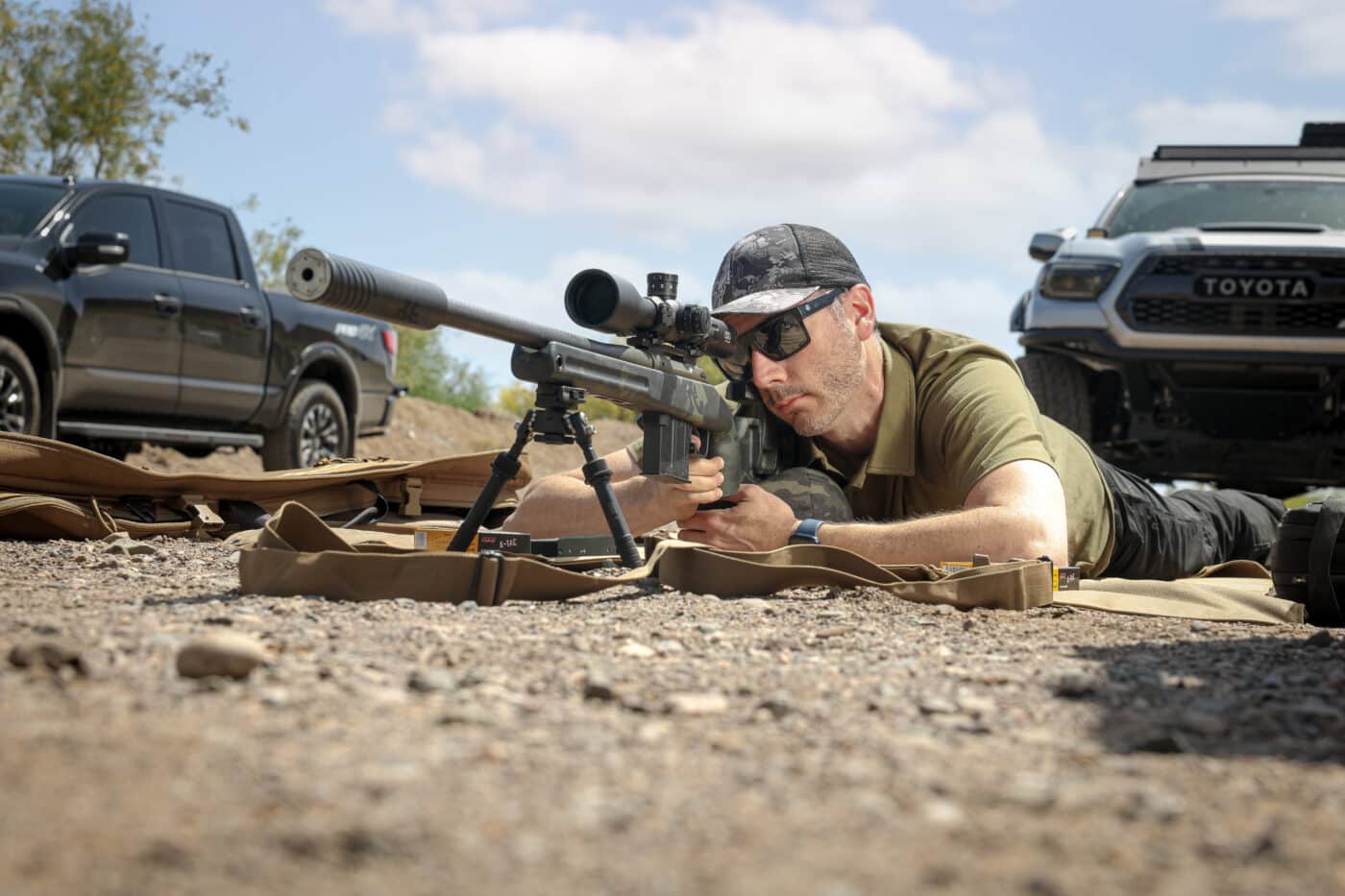 The Thermal Suppressors Glacier TI was quiet and had very little POI shift, which is to be expected when adding a suppressor. The difference between the first and fifth round were nearly the same decibel, and the suppressor dissipates heat rapidly, which is great for reducing mirage on a bolt-gun shooting at distance. They also recently released a muzzle break that replaces the end cap. I am very interested in this for the lighter rifle set up to reduce muzzle rise.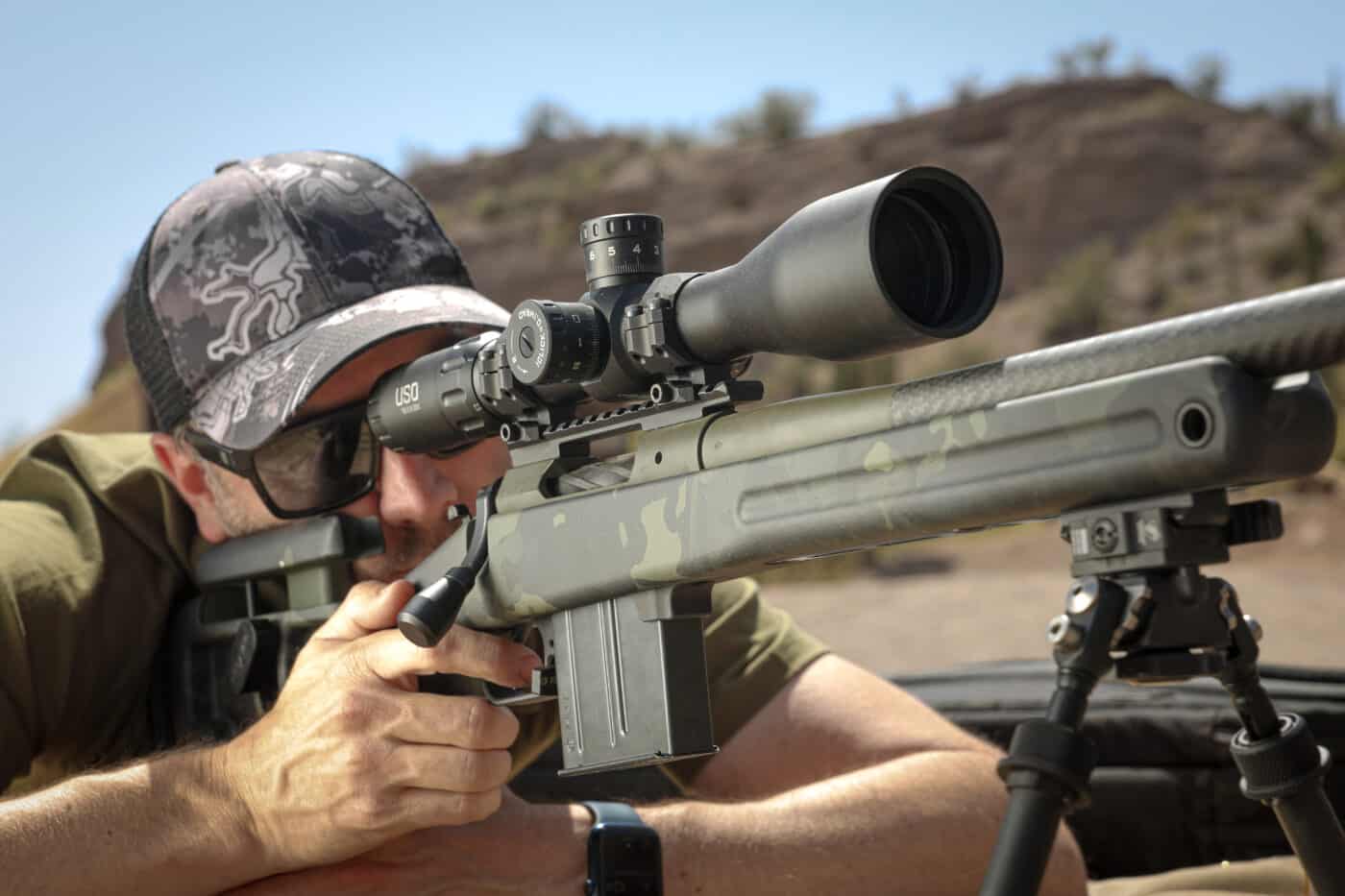 Testing out the TS20X from 2.5 power all the way to 20 was very impressive. The clarity was great and the light transmission was impressive for the 2.5-20 range. The TS20X uses ED glass (extra-low dispersion) for optimal clarity at all magnification ranges. I love that they use the JVCR reticle as it's intuitive, with a lot of usable information, but not too busy as to clutter up your field of view. I was able to sight in at 10 power and then zoom into 20 to check my impacts rather than walking 100 yards downrange every time.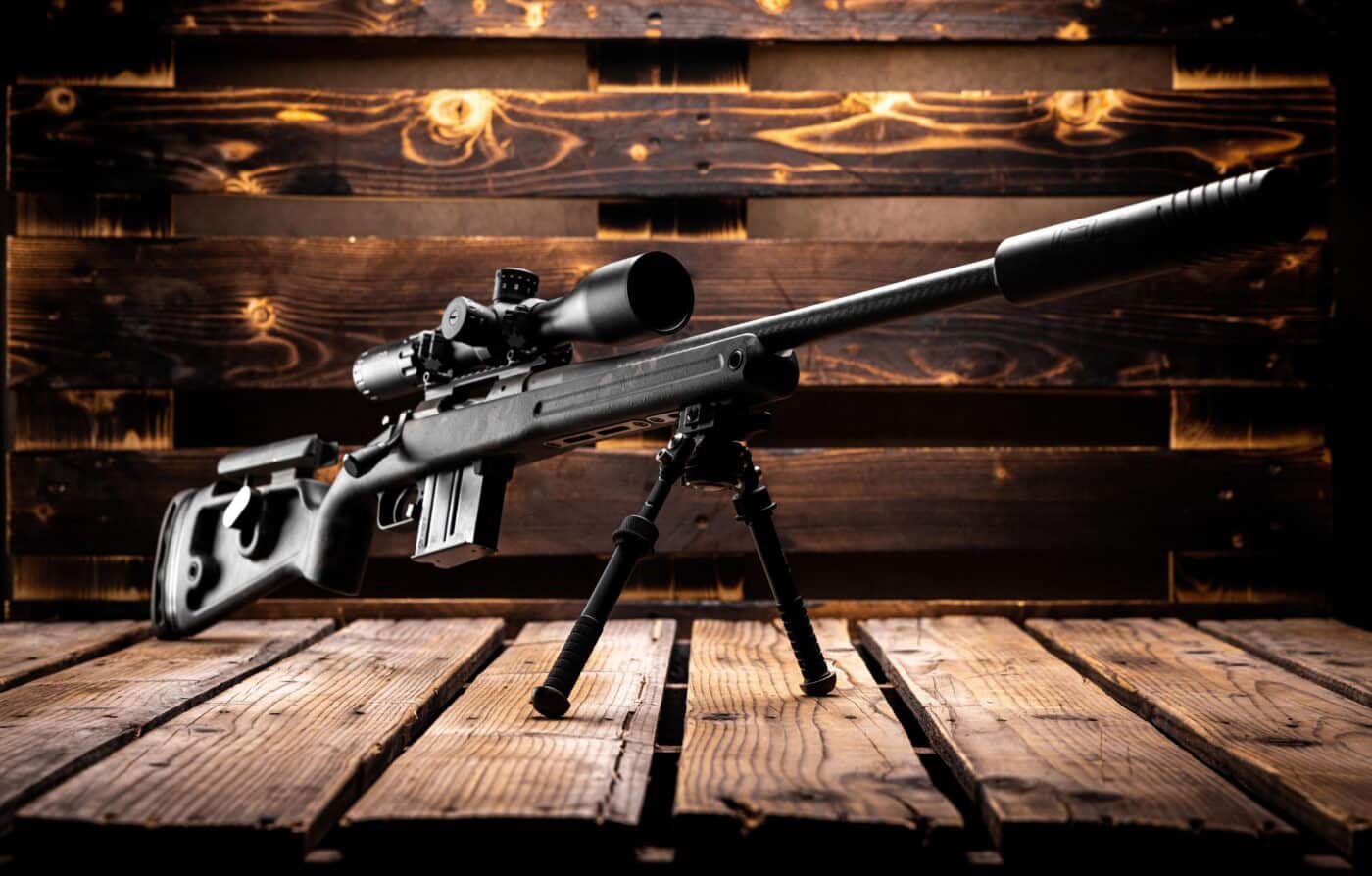 The Timney two-stage Rem700 trigger was as good as expected. The break of the trigger is satisfying, reliable and very repeatable. The two-stage trigger makes precision shooting just a bit easier in my opinion. A heavier trigger can be nice as it will surprise you, but once you dial in your shooting skills it's nice to have that lighter pull to put as little pressure on the rifle as possible creating more accuracy in the end.
I'm looking forward to spending more time with this set-up and dialing it in perfectly for the opportunity when I one day get an elusive deer tag in Arizona!
Editor's Note: Be sure to check out The Armory Life Forum, where you can comment about our daily articles, as well as just talk guns and gear. Click the "Go To Forum Thread" link below to jump in!