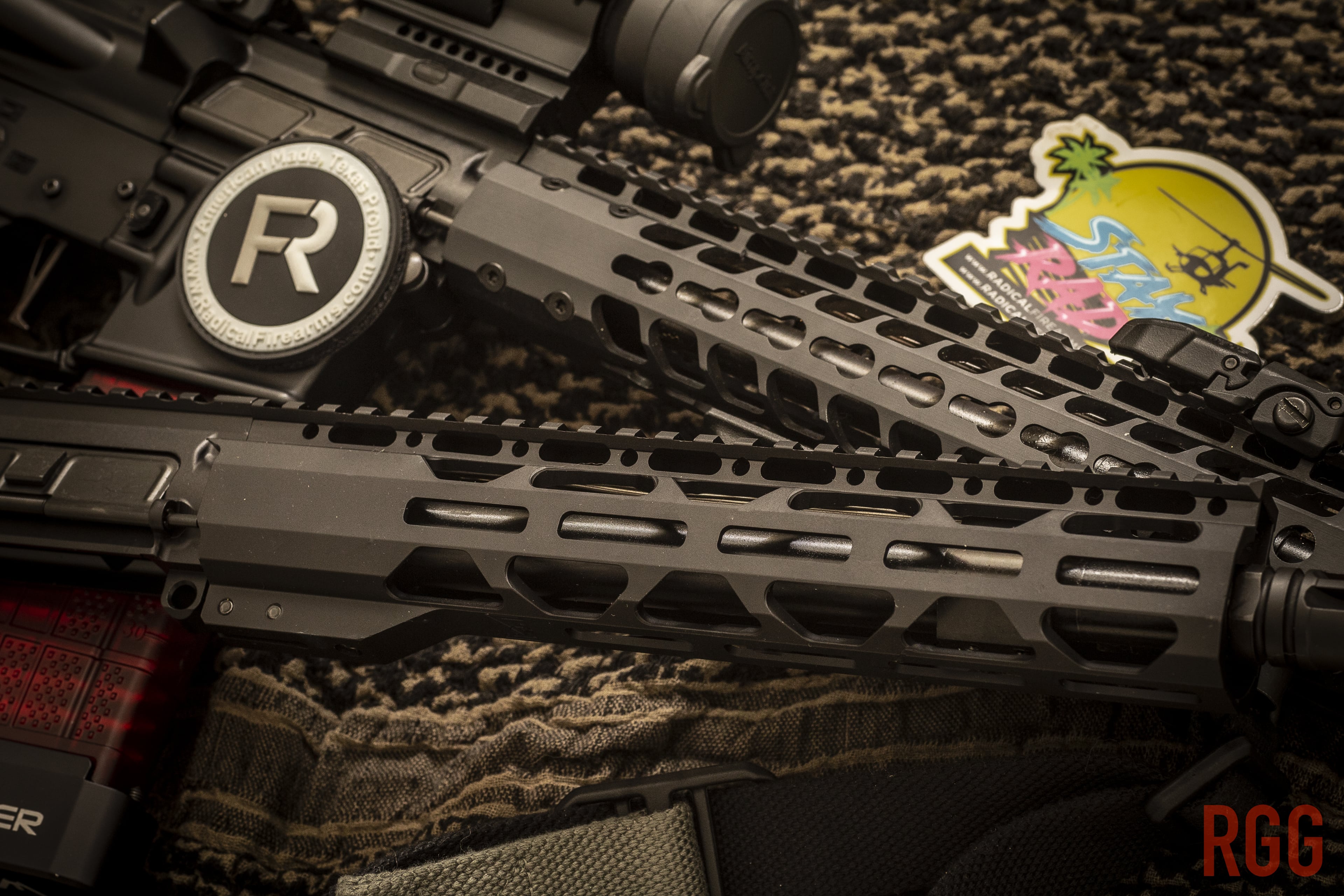 Thank you for reading this post, don't forget to follow and signup for notifications!
Whether it's your first rodeo with the AR-15 platform, or your fifth, you've undoubtedly been faced with an array of rail attachment systems in your defensive rifle purchasing process. You do know that funky metallic thing around your AR-15's barrel can have things like lights, lasers, and bipods attached to it, right?
For years, the only real option for attaching accessories to your AR-pattern rifle, or many other firearm types, was the Picatinny rail. Known as MIL-STD-1913 in military circles, this familiar rail system was a standardized descendant of the civilian Weaver rail system. The Picatinny rail was made "official" in the 1990s with the introduction of the M4A1 carbine. Citizen AR-15s, especially after the 2004 AWB sunset, soon followed suit with Picatinny rails. Despite it's ease of use, complaints remained about the weight of the handguards, and the ergonomics.
Enter Magpul's M-LOK and Keymod…
Both M-LOK and Keymod were designed to address the shortcomings of the Picatinny rail system. Weight, ergonomics, durability and ease of use were all being considered. While some will argue that the Picatinny rail system represents the pinnacle of accessory attachment design, there's always room for improvement. With regards to both M-LOK and Keymod, there's going to be supporters and detractors. While both systems are functionally similar, there are stark differences.
Fortunately, for the purposes of this guide, the amazing people at Radical Firearms provided Regular Guy Guns with an M-LOK upper, to compare to a previously-purchased-using-RGG-funding Keymod upper. Stay Rad, guys.
FYI – Radical's old Instagram got nuked. Follow them @rf_llc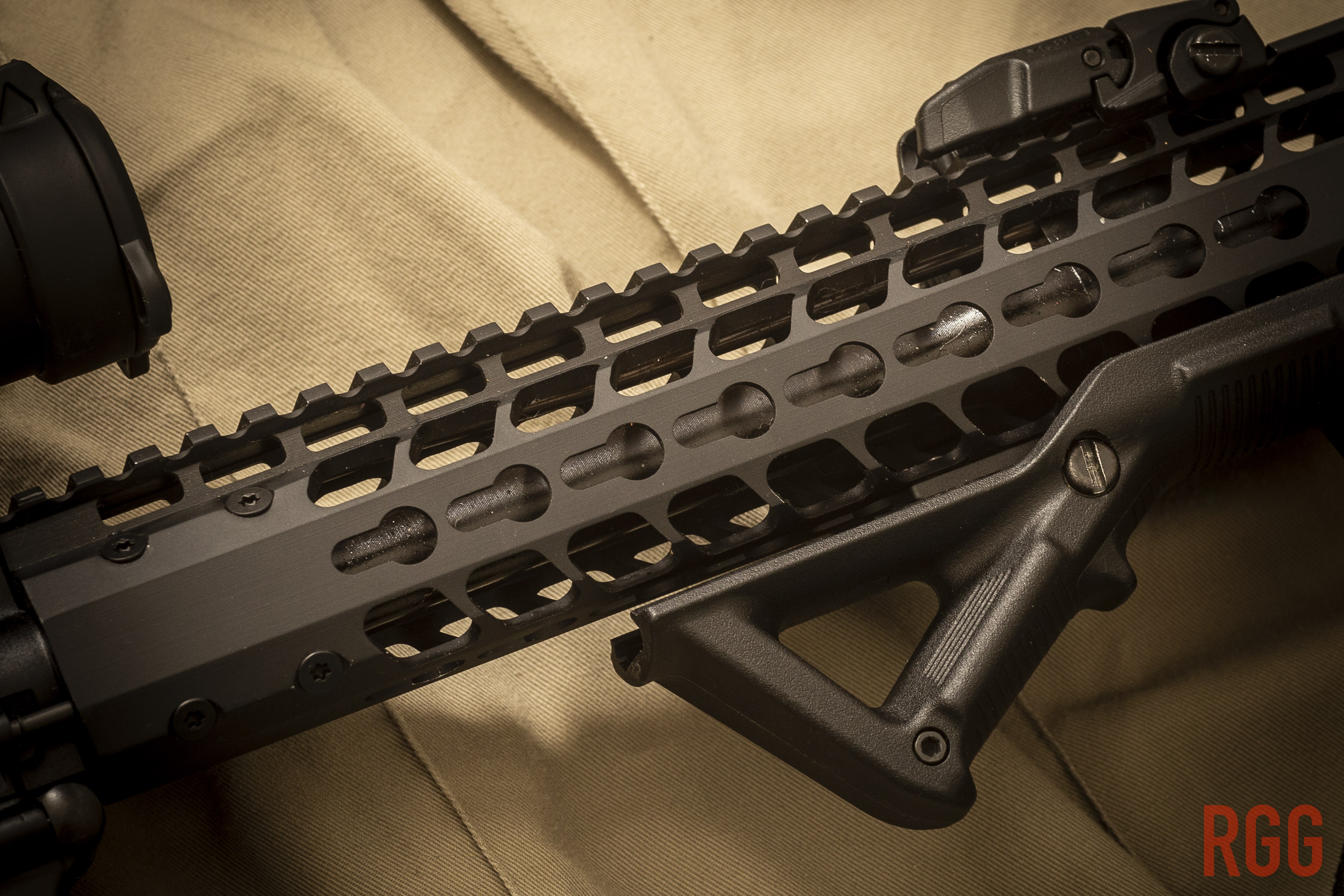 Keymod
In terms of product release, Keymod made it's debut first in 2012. Developed by Eric Kincel of VLTOR Weapons Systems with later collaboration by Noveske Rifleworks, Keymod appeared on the scene after John Noveske (RIP) decided to use the system on the NSR series of handguards.
Though VLTOR and Noveske could have chosen to copyright and license the system, they took the novel step of making it open-source. Much like the computing concept (where code is freely distributed with no costs attached), the Keymod specifications are available for everyone to use. In theory one could create a Keymod rail for a baseball bat or a drum kit. Download, mill, deploy.
Named because of the keyhole-shaped mounting slots, he KeyMod system consists of two parts: the KeyMod slot and the KeyMod nut. The slot is chamfered on the backside while the through hole is sized for clearance of a quick-detach sling swivel.
The nut is stepped and the larger diameter end is chamfered around 270 degrees of its diameter. The angled face created is meant to interface with the chamfer on the backside of the KeyMod slot. The full diameter is left intact to create two flats on the nut which align the nut to the slot, and allow it to be indexed to the accessory as well as to the KeyMod slot. This eliminates the need to align the nuts to the holes prior to accessory installation as well as the need for tools to tighten the screw/nut. Sounds complex, but it comes together simply.
First out of the gate, Keymod did enjoy some initial success. But like with anything, there's some upsides and downsides.
The Advantages Of Keymod
Keymod is easy to understand, because of the keyhole-shaped slot. Place accessory in larger part, push/pull into slot, tighten if needed, make sure it's working, and get on with your life. Also, having all those holes in an AR-15 handguard assist with keeping the barrel cool and ventilated.
The Disadvantages Of Keymod
Though VLTOR and Noveske are truly great companies, they don't have the "oomph" of a larger concern, i.e. Magpul, so dedicated accessories for Keymod are limited. You usually can't just attach a light or laser system directly to your Keymod rail. You'll need a short length of (yes) Picatinny rail to do the actual interface. This still cuts down on weight since the user is only placing a rail where needed, whereas a full Picatinny rail takes up the entire handguard length.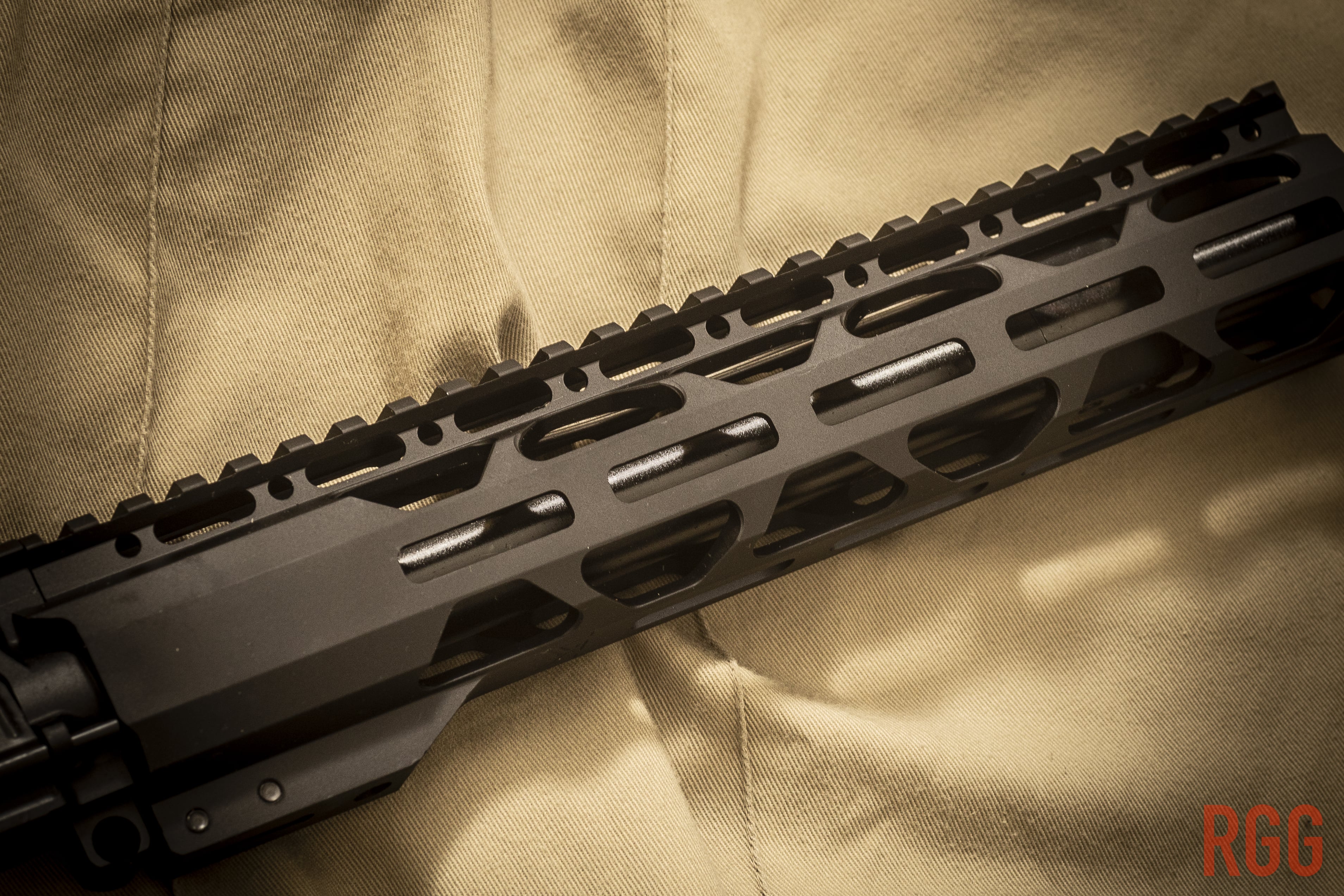 Magpul's M-LOK
M-LOK, which is short for "Modular Lock", not "Magpul Lock" was developed by (duh) Magpul as a rail interface system for attaching accessories to AR-15 and similar rifle platforms. Though Keymod made it to the market first, M-LOK technically started development earlier.
In 2007, Magpul actually prototyped and developed a full-on firearm, the Masada. It was a concept, taking features from several other platforms, with the intent on being a next-generation combat weapon for the military. Magpul didn't have any intent to mass-produce it, so the weapon found it's way into Bushmaster's hands, where it became the semi-automatic ACR. At the time, Remington was part of the same mess called Freedom Group and they offered it up in a select-fire version. The only takers were specialist units in Poland and Ukraine.
Anyways, despite the rifle itself being a low-seller, the one thing it had was the MOE slot system, which was Magpul's proprietary design for their then-new Magpul Original Equipment products. As time progressed, Magpul became the titan it is today, and in 2014, they debuted an updated variant of the MOE slot, the M-LOK.
Acknowledging shortcomings of the MOE systems, Magpul drafted M-LOK as a new and improved mount. The M-LOK rail specification includes metric dimensions instead of imperial, and utilizes a T-slot nut capable of only 90-degree rotation, with thread-locking fluid applied so it's easier to secure an item to a handguard. A simpler slot layout also means less milling and molding is needed to produce an M-LOK handguard.
The M-LOK specification distribution terms differ slightly from Keymod, in that the M-LOK spec is "free licensed". Magpul doesn't demand royalties, but they do ask that manufacturers contact them and let them know they plan on developing products compatible with M-LOK. This ensures a consistent quality of rails and accessories across manufacturers.
With Magpul's "oomph" in the industry, M-LOK rapidly gained popularity, with several major manufacturers adopting the standard. For a minute, M-LOK and Keymod were neck-and-neck, but critical adoptions by major defense contractors pushed M-LOK ahead in the "rail race". Unfortunately, Keymod suffered some reliability issues in a noted SOCOM test, where Keymod-equipped rifles were dropped and accessories flew off at random.
Though M-LOK seems to be the winner in this contest of the wills, there are some upsides and downsides to the system.
The Advantages Of M-LOK
By all accounts, M-LOK is a simpler system than Keymod at first glance. The uniformly-shaped slot makes for easier manufacturing, while at the same time retaining the ability to act as ventilation for a given rifle. With Magpul's backing, accessories with built-in M-LOK mounting screws are common, obviating the need for a Picatinny mounting plate. Things like bipods, weapon mounted lights, sling mounts, and handgrips are all available with native M-LOK mounts. Keymod? Not so much. M-LOK is also the standard mount for the Next Generation Squad Weapon, the US military's new rifle platform scheduled to (finally) replace the M4 over the next few years. With the trickle-down effect from armed forces to us citizens, M-LOK looks to be the standard.
The Disadvantages Of M-LOK
To be fair, M-LOK isn't perfect. Though it is freely licensed, Magpul can reserve the right to demand a given manufacturer cease production of an accessory. While this is good, it could be abused. But that's a small detail not worth really obsessing over, to be fair. Also, the accessory installation process may seem tricky at first, but with some practice, it becomes second nature. A tiny learning curve, but certainly not a deal-breaker.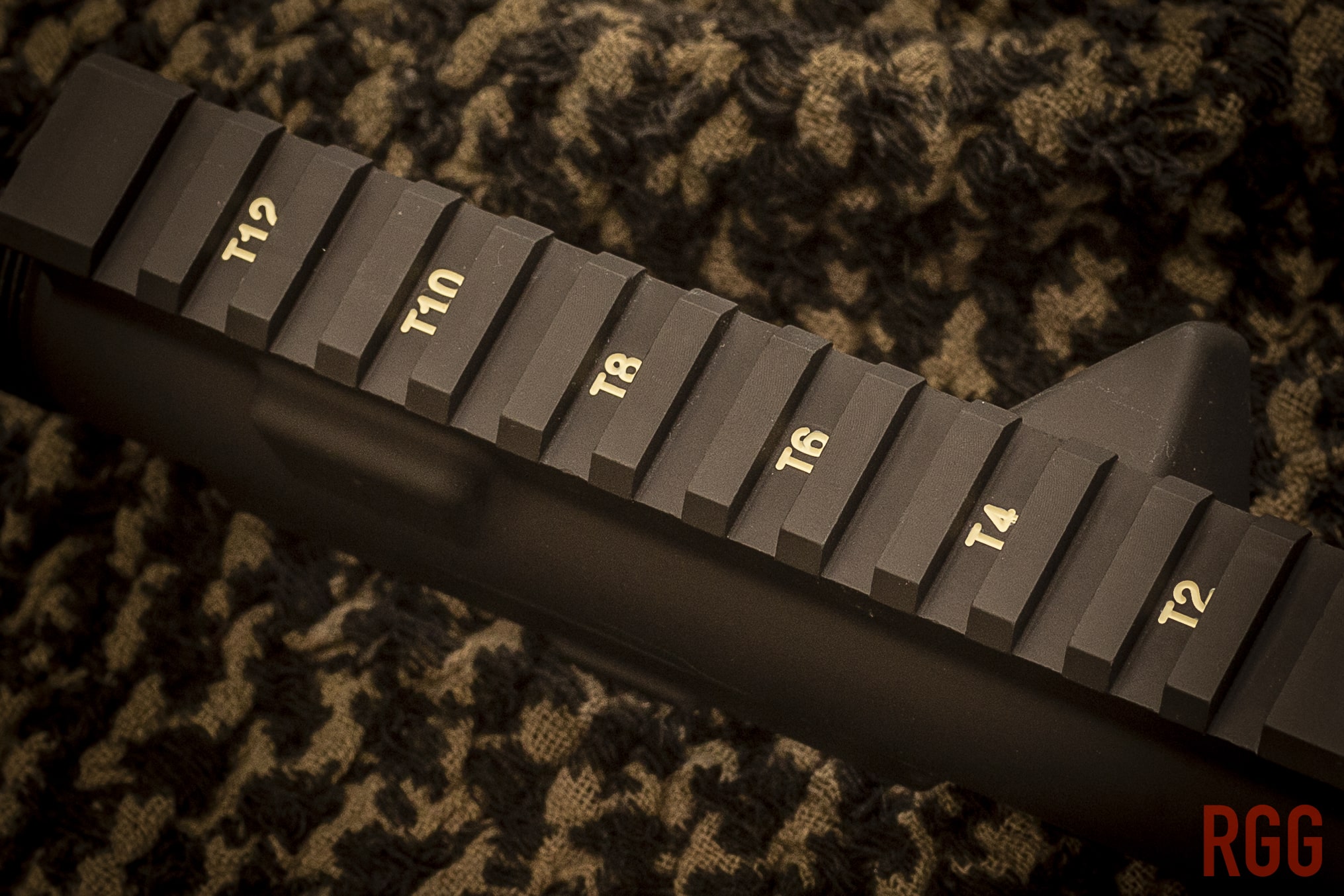 M-LOK and Keymod have been around for at least a decade, and in the case of M-LOK, the standard has been adopted by professional users around the world, with the requisite amount of big defense contractor backing. SIG, Colt, FN, and so on have all signed on to build firearms with the M-LOK mount. And Keymod hangs in there. One bad test doesn't mean the product is a failure, it just means one bad test happened.
But what of the Picatinny rail system? Is it done? Hardly. There exists a whole universe of Picatinny-compatible accessories out there, both new and old. In addition, the accessory rail on pretty much every modern handgun is technically a Picatinny mount. In that sense, the rail is here to stay.
In the world of rifles though, it's a little different. Ironically in pretty much every case, the top rail on an M-LOK or Keymod handguard is a Picatinny rail. Though optics and sights with M-LOK mounts exist, the preferred mount by all major optics manufacturers is Picatinny.
And yes, because the firearms community (thankfully) loves to make anything into a meme, the #QuadRailGang is a thing. A subset of Second Amendment Radicals out there hang on to and promote the quad rail, which means all four sides of the handguard sport that sweet, chunky Picatinny goodness. For those who worry about "ounces become pounds", some time at the gym is in order. And some cheap rail protectors or decent gloves will keep those hands safe from cuts and grooves.
M-LOK may be the new kid on the block, but Picatinny is apparently forever.
A Big Thanks To Radical Firearms
As I said before, material support for this article came from the great folk at Radical Firearms. I've purchased some of their product in the past, and for this specific article, they kindly provided a brand-spanking new 10.5″ M-LOK AR-15 upper for true nerdery. They've got some great new items on the shelves and in the pipeline – check 'em out at radicalfirearms.com.
Support This Site
Operating Regular Guy Guns and bringing you quality content costs money, money that I am more than happy to spend. I'm not really sponsored yet, so I have to pay for pretty much everything. However, I'm only able to do so much at a certain pace.
You'll see the articles peppered with affiliate links. I get a few pennies when you make your purchases via my links.
With that in mind I'm offering a whole spectrum of specialty t-shirts, stickers, and daily wear accessories with my own brand of low-key humor. Be a Second Amendment Radical In Style! You'll also notice affiliate links throughout the articles on this site. Go ahead and click on them and make your purchases. A few pennies and forints go to yours truly. Especially on ammo sales, and now is a very good time to stock up!

Click here to accessorize your life.
Donate Bitcoin: 36wKfH7wgQQna6BByvAe8oiEmdqREUXuYQ
Yes, I'm going to record a new episode soon! I'm tempted to just ditch the computer and record to a standalone unit and mix it live.