The GPNVG night vision is the pinnacle of night vision technology. They are the most advanced night vision goggles on the market today.
Thank you for reading this post, don't forget to follow and signup for notifications!
Be warned, they are expensive. I mean very expensive.
But for the person who already owns everything and has the money, they might want to check out the GPNVG.
This post is a comprehensive GPNVG review of the night vision device and will make you wish you had a set of these.
What is the EOTech GPNVG?
GPNVG stands for Ground Panoramic Night Vision Goggle. They are the first set of quad tube night vision goggles and provide the user with a wider field of view.
These use a total of four tubes compared to most modern night vision goggle setups that have only two.
The GPNVG is a helmet-mounted night vision device with a wide 97-degree horizontal field of view that allows for observation and/or target identification under adverse conditions and is ruggedized for ground applications.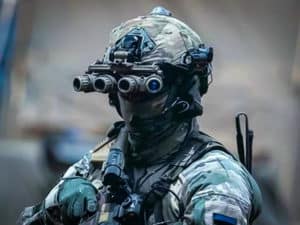 Individual monoculars can be detached from the system and powered with included power adapter to provide a low-profile handheld night vision monocular with onboard power supply.
These had been recently been made very popular because of video games and these are much better than standard goggles.
GPNVG Specifications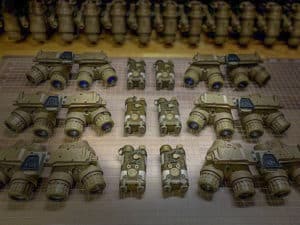 These GPNVG ground panoramic night vision goggles are heavy, but that is expective with the advantage and features these provide. They weigh 28.2 ozs by themselves and are wider than most other NVGs. With the battery pack, they will weigh slightly more.
They are 9.1″ long, 4.6″ wide, and 4.1″ high.
With the standard battery pack that is included, you should get about 8 hrs of continuous use and battery pack life. You can also carry an extra battery pack with you or purchase a larger battery pack.
All four of the monoculars and be individually focused and turn the objectives using outer channels. Their focus range is from 18″ to infinity.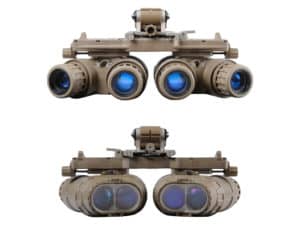 The horizontal field of view is 97 degrees, which is the main selling point for the ground panoramic night vision goggle. The vertical field of view is 40 degrees which are standard for most NVG units.
There are also snap-on diopter windows available, ranging from +0.5 to -2.5, that will help the user get the best image.
The overall construction and housings are very durable and rugged.
Click Here to check the current prices and availability of the GPNVG
GPNVG Operation
The ground panoramic night vision goggle has plenty of adjustments. You can adjust the IPD, tilt, and forward and aft placement by using friction locks.
They lock up solid and you do not have to worry about them shifting.
These are designed to be helmet mounted and have an image intensified night vision device that utilizes white phosphor tube technology. Target identification and recognition are amazing.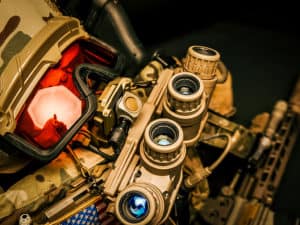 There is a lot of contrast between the white and black image that helps the user identify and notice greater details and better visual acuity. You will be able to process more information visually with the better image the GPNVG provides.
The EOTech goggles are a modular design so that cleaning and care is easy and there is aftermarket support for upgrading and adding accessories.
These were very well thought out with being able to detach a single monocular and using it as a standalone handheld night vision scope.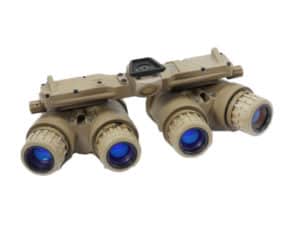 This is great for recon and you do not need a heads-up display in full night vision.
The button layout is simple and well-designed. It is easy to cycle on and off and easy to find with muscle memory while wearing the panoramic night vision goggle.
Using a battery pack as the only power source is nice with the added reassurance of unplugging the cable from the side of the goggle with zero worries of accidentally turning them on or leaving them on.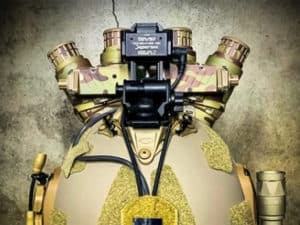 There are two versions of them. The BNVS version and the ANVS version. When stowing the NVGs with the BNVS version it will not turn off automatically. The ANVS version does turn off when stowed.
These are similar weight-wise to dual PVS-14s. Proper counterbalancing is something that needs to be considered.
GPNVG Illumination
The panoramic night vision goggle is surprisingly bright and this is due to the 4 unfilled white phosphor tubes. With more tubes, they gather more ambient light which helps create a brighter image for the user.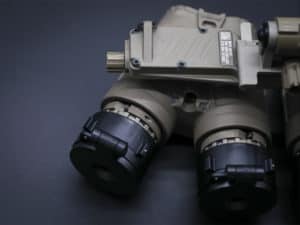 There is a noticeable difference compared to using traditional dual nods. Using an IR illuminator is still recommended and using one in conjunction will maximize the brightness.
With the brighter view, your eyes are less strained because you are not scanning as much and you have a clear visible image.
A very functional feature was the ability to focus the outside objectives to near distances. The optics perform exceptionally well. You lose peripheral vision with your unaided eyes however the extra FOV makes it up for it for the most part.
What Comes With the GPNVG
These come in a very well-made and durable case. The is very well padded and has a large-sized carrying case that will protect the device.
It comes with a battery pack that will take four AA batteries which is pretty standard on most night vision goggles. You also get the cable that will connect the night vision unit to the battery pack.
It also comes with a standalone battery pack that can be used to power just a single tube for handheld applications. You can also get a cold weather battery pack. Having a cold weather battery pack will increase the run time in colder environments.
It also comes with all of the official documentation like the owner's manual and a compass adapter that lets you connect a compass to the device.
Overall you get everything you need to familiarize yourself with the goggles and get started.
Click Here to check the current prices and availability of the GPNVG
Mounting the GPNVG
Having a ballistic helmet is the best way to mount the ground panoramic night vision goggles. If you are just using a bump helmet, it might be too light to counterweight the ground panoramic night vision goggles.
Also adding a counterweight might be required regardless because of the heavier weight of the four tubes.
If your setup is too light, you will feel an extra strain on your neck after extended use.
Team Wendy EXFIL Ballistic SL Helmet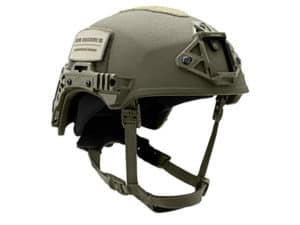 Biggest Downsides of the GPNVG
Heavy and expensive. All though not much heavier than other types of dual nods, the few extra ounces might be a problem for some people.
The 2 extra tubes can cause more snagging issues and have a larger and wider profile.
For half the price, you can have an awesome night vision setup so is the price of these justified?
That will depend on the person. They are better in almost every way but you definitely pay for it.
I am happy with the innovation in night vision and in ten to twenty years the GPNVG will be looked at as a stepping stone to how far night vision has come.
GPNVG Accessories
The GPNVGs just like any other night vision device is best used alongside a good laser aiming system, IR illuminator, and night vision capable optic.
There are a lot of choices when it comes to this, but I recommend using EOTech for both the illuminator and optic.
EOTech ATPIAL-C Laser Aiming System w/IR Illuminator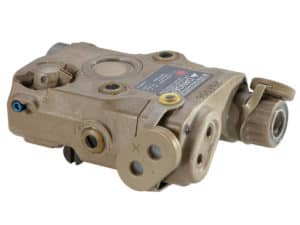 The best laser and IR illuminator to use with the GPNVG are the EOTech ATPIAL-C.
Click Here to check the current prices of the EOTech ATPIAL-C
EOTech HWS EXPS 3 Circle Red Dot Sight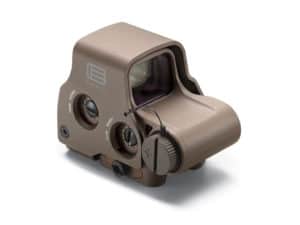 GPNVG Final Considerations
The GPNVG is the most iconic night vision device ever made, battle-tested by the most elite warfighters of the USA, and is arguably the most highly desired night vision goggle in existence.
They were used by Seal Team 6 during the Bin Laden raid and allow them to complete their mission successfully.
These are definitely worth it but only if you can afford them. Let's be real though, most people will not have or want to spend 40K on night vision.
If you are lucky or smart enough to have that much disposable income, then yes you should absolutely get a GPNVG. You will be very impressed and love them.
Click Here to check the current prices and availability of the GPNVG
Can average civilians own GPNVGs?
Yes, now civilians can own GPNVGs. Until recently you needed to have credentials to be able to purchase them. That is how much of a leap in tactical advantage they gave you.
Who makes the GPNVGs?
L3 Harris Technologies is the manufacturer of the GPNVGs. EOTech also made these units but has since discontinued making them.
Are night vision goggles legal to own?
Yes, here in the United States, U.S. Persons (Citizens, or Permanent U.S. Residents) may own and use Night Vision and Thermal Optics. However, it is against the law to take these devices out of the country, unless specifically approved by the U.S. State Department with proper licensing.
Complete List of Items Mentioned
(Click the links for the most up to date prices)
GPNVG Ground Panoramic Night Vision Goggles
Team Wendy EXFIL Ballistic SL Helmet
EOTech ATPIAL-C
EOTech EXPS3
Have you ever used any NVGs?
Did you initially start with a PVS-14?
Let me know in the comments below.
Further reading on Firstworldcrusader.com: Are you interested in learning more about guns and gear?
This list of the Best Red Dot Sights can help you choose the best optic for your rifle.
In addition, here are the Best AR-15 Upgrades & Accessories that can help you get more out of your primary battle rifle.