REMIND YOUR FRIENDS HOW MUCH COOLER THAN THEM YOU ARE WITH A S&W CHALLENGE COIN AND KNIFE!
The M&P 2.0 from Smith & Wesson isn't anything new to the market; in fact, this is a well-proven and reliable handgun. But sometimes, you can still make something newer and better than just your everyday offering.
Thank you for reading this post, don't forget to follow and signup for notifications!
If you've ever wanted an M&P 2.0 with all of the bells and whistles, here it is! This limited-edition Spec Series pistol kit comes with an M&P 2.0 that has been tricked out to include a host of excellent options from Cerakote to optics mounting to a threaded barrel and suppressor height sights and custom trigger.
Three magazines are included, two 23-round mags and one 15-round flush-fitting magazine.
Complete features:
M&P®9 M2.0™ 4.6˝ Bull Shark Gray Cerakote Pistol.
3-Dot Tall Sights.
Two 23-Round 9mm magazines and one flush-fit 15-round magazine.
M2.0™ flat face trigger for consistent finger placement that allows for more accurate shot placement.
Laser engraved "M&P Spec Series" logo on barrel.
Picatinny-style rail.
Forward slide serrations.
Optics mounting plates included.
BUT WAIT, THERE'S MORE
Just a pistol doesn't make it a "kit," so in addition to the cool pistol S&W also gives you an M&P branded folding knife, a Spec Series Challenge coin, and a custom-fit plastic case for it all to go in.
All of that for an MSRP of $800.
The M&P 2.0 makes for a great EDC or home defense gun. While this version is a bit extra in every way over the OG M&P, it will still serve you well in any capacity. With the addition of the threaded barrel, fancy trigger, and optics plates – this is well on its way to being a real fighting pistol too.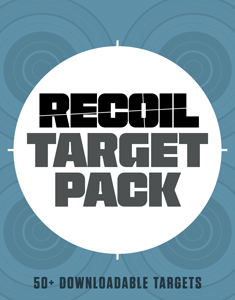 NEXT STEP: Download Your Free Target Pack from RECOIL
For years, RECOIL magazine has treated its readers to a full-size (sometimes full color!) shooting target tucked into each big issue. Now we've compiled over 50 of our most popular targets into this one digital PDF download. From handgun drills to AR-15 practice, these 50+ targets have you covered. Print off as many as you like (ammo not included).
Click here to get IMMEDIATE ACCESS to a digital PDF of this target pack!